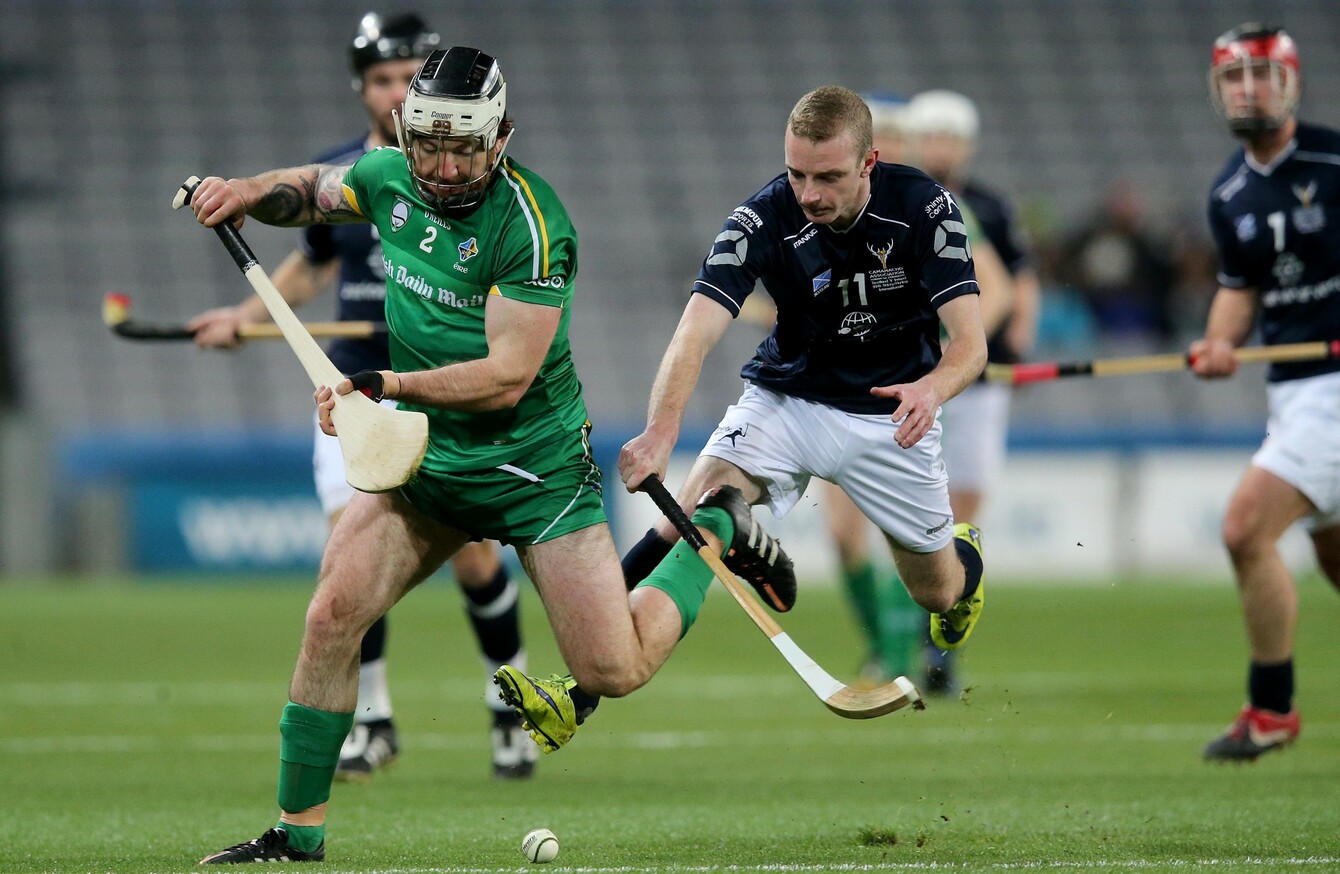 Meath's Mickey Burke was one of Ireland's heroes.
Image: Ryan Byrne/INPHO
Meath's Mickey Burke was one of Ireland's heroes.
Image: Ryan Byrne/INPHO
Ireland 16 (2-1-8)
Scotland 14 (2-4-0)
From Paul Keane at Croke Park
LATE POINTS FROM Kerry's Shane Nolan and Westmeath's Eoin Price secured victory for Ireland in the hurling/shinty international test at Croke Park, effectively tying up the series overall.
This year's two tests were played as stand alone fixtures so victory for Jeffrey Lynskey's Ireland side resulted in a 1-1 overall result.
Ireland left it late to seal the win, however, with the teams deadlocked for 16 minutes of the second-half at 14 points apiece until Nolan and Price each pointed in quick succession in the 79th minute.
Matthew Whelan of Laois was named the Man of the Match while county colleague Zane Keenan top scored with eight points.
Ireland lost the first test to Scotland by 10 points last month in Inverness, their heaviest defeat in the series since 2007, and trailed for the first 20 minutes or so here.
Fraser Heath's seventh minute goal for Scotland, after Steven MacDonald's free was only partially cleared, put the visitors 5-1 up.
But a succession of excellent scores from Keenan drew Ireland level at 7-7 by the 21st minute.
Tipperary's Patrick Maher moved the hosts ahead for the first time in the 28th minute with a fine goal after a strong run and shortened hurl finish from close range.
Scotland's second goal, four minutes later, from Kevin Bartlett, ensured they were just one down at half-time, 13-12.
The match was back level again in the 53rd minute following Bartlett's third free of the game, taking his tally to nine points and leaving the teams locked on 14 apiece.
Scotland manager Ronald Ross described Scotland's performance in the first-half of the Inverness tie as their best ever.
The quality wasn't nearly as high this time with just two scores registered in total in the first 39 minutes of the second-half, one from a free.
So they remained deadlocked at 14-14 until Nolan found some spaced to volley over a crucial point and Price split the posts shortly after to leave two in it.
Scorers for Ireland: Zane Keenan 8 (1-1-3), Patrick Maher 3 (1-0-0), Eoin Price 2 (0-0-2), Neal McAuley 1 (0-0-1), Derek McNicholas 1 (0-0-1), Shane Nolan 1 (0-0-1)
Scorers for Scotland: Kevin Bartlett 9 (1-3-0), Fraser Heath 3 (1-0-0), Stephen McDonald 2 (0-1-0)
IRELAND
1. Eoin Reilly (Laois)
12. Bryan Murphy (Kerry)
18. James Toher (Meath)
2. Mickey Burke (Meath)
19. Matthew Whelan (Laois)
5. Damien Healy (Meath)
11. Derek McNicholas (Westmeath)
10. David McInerney (Clare)
9. Neal McAuley (Antrim)
7. Zane Keenan (Laois)
17. Patrick Maher (Tipperary)
15. Eoin Price (Westmeath)
8. TJ Reid (Kilkenny)
13. Shane Nolan (Kerry)
Subs
6. Patrick Kelly (Kerry) for Healy (17)
4. Paul Divilly (Kildare) for McNicholas (20)
3. Bernard Deay (Kildare) for Nolan (20)
Nolan for Price (38)
McNicholas for O Muineachain (50)
Healy for Kelly (53)
Divilly for Nolan (54)
Kelly for Divilly (69)
Nolan for McNicholas (69)
SCOTLAND
1. Stuart MacKintosh
3. Finlay Macrae
4. Callum Millar
2. Steven MacDonald
5. Rory Kennedy
6. Lee Bain
15. Daniel Cameron
7. John Barr
9. Conor Cormack
10. Roddy MacDonald
11. Kevin Bartlett
12. Glen MacKintosh
8. Grant Irvine
14. Fraser Heath
Subs
16. Zander Ferguson for Millar (20)
13. Liam MacDonald for Irvine (25)
17. Neale Reid for Irvine (40+2)
19. Paul MacArthur for Cameron (57)
18. Shaun Nicholson for Heath (68)
Heath for Bartlett (73)
Referee: Sean Cleere (Kilkenny).