IN ORDER TO reach the top of any sport, a certain tolerance for pain and sacrifice is required, but this is especially true of tug of war.
Those aspiring for greatness in the sport generally require at least five years of training before they are anywhere near ready to seriously compete.
One such individual who's managed to show the necessary commitment to develop is Eddie Gallagher. A member of the well-respected Clonmany B team from County Donegal, Gallagher is set to represent Ireland in Castlebar in Mayo at the Tug of War World Championships, starting on 20 February.
Speaking ahead of the event, Gallagher describes the painstaking effort and dedication that has long been required for him to reach this pivotal stage.
"I've been pulling in tug of war now for the guts of ten years — it's not a sport, it's a drug," he tells TheScore.ie. "You get so attached to it. Your partners and wives know that it's an obsession. For seven or eight months, we eat, sleep and drink tug of war. The sad thing is, for the last World Championships [February 2013 in Perth, Scotland], we came back, there was no more training, and I was actually in depression mode. Every man was going around saying: 'there's no tug of war, I don't know what to do.' The worst thing about tug of war is finishing it."
However, although the sport may be addictive, it's not exactly a fun experience much of the time.
"When I started tug of war, I was told I need to be pulling for five years before I become a tug of war man. And it was exactly five years until I was comfortable. It's very hard to say to some young fella, you have to train for five years. It's not even just training for five years, you have to go through hell for five years.
"Everyone in the sport agrees that you're not going to go out in the first year and say: 'I'm a tug of war man.' You tend to say: 'why am I putting myself through this? My hands are all cut, my back is breaking, why am I doing this?' It's the kind of sport that doesn't always attract a lot of people because of the commitment you have to put into it — it's a massive, massive commitment. I played Gaelic football and soccer for years, but I stopped it all. I did a bit of weightlifting, I said I want to try something else — I thought: 'I'll try tug of war.' If I knew back then what I'd have to go through, I wouldn't have done this."
(Gallagher, third right, has been competing in tug of war for the past 10 years)
Yet despite many aspiring athletes' reluctance to commit to tug of war, it has experienced some increases in popularity over the years. Moreover, one of the more attractive aspects of the sport is that it is not necessarily a young man's game — competitors as old as 60 have won medals at a high level in recent years, while Gallagher himself has been competing for a decade now, having only taken up the sport at the age of 30.
"There has been a lot of clubs joining over the last ten years, but unfortunately, it's starting to go down again. The clubs in the lower divisions are finding it hard to compete with the top clubs. Clonmany or Mountain View or St Pats or Carndonagh or Cockhill are all clubs that are well established. We've had to pull for years. If you're 50, you can still pull tug of war. If you keep your body in shape, you can still tug. It isn't a high-intensity sport. The longest pull could last seven to 10 minutes, the shortest could last 50 seconds, it just depends who you're competing against.
"Unfortunately, the clubs are declining, just because of the reasons outlined, plus, the special mat we use could be anything up to two and a half grand just for that. It's hard to raise money, and if you're training, the shoes will only last you three weeks — that's another 40 or 50 euro. Then if you're going in a competition, you need three or four pairs of shoes. So it is a big expense and there are a lot more outdoor teams than there are indoor, because in the former, the one pair of shoes will do you for your whole career."
One other worry for many people is the risk of injury, with reports of some gruesome injuries occurring over the years, including accidents involving the loss of fingers and severed arms. Nonetheless, Gallagher is adamant that only those who have not been trained properly and lack any real experience are at risk of such harm.
"I wouldn't be concerned [about injuries]," he says. "The reason people get bad injuries is because they don't do it right. Our anchorman had a really bad back, but since he started pulling tug of war 10 years ago, he never had a day's bother with his back, his legs or anything else. I presume the men who get injured are outdoor men, which is completely different to indoor.
"When you bend your back away from your set position, that's when you get injured. In indoor tug of war, if you see the pictures, every man has a straight back. You can't bend over, because if you bend, the team's going to take it, and it's not going to get back. So you've more chance of getting hurt in outdoor tug of war than indoor tug of war. And there are instances of people with bad backs who are actually encouraged to start tug of war."
(The Irish team, pictured competing in Scotland in 2010)
All these potential deterrents, however, were no match for the passion invoked in Gallagher, when he was starting out, at the thought of representing his country.
"You do get hooked on it, and you will keep going because you will get there," he explains. "I started with a pub team in my home town and it's just a bit of craic. Then I was pulling at a festival and Clonmany Tug of War's scouts saw me and asked me to pull for them. They explained to me what this was going to be like and emphasised that it was going to be hard on me. They said that you get a chance to compete for Ireland at world level if you're good enough. I would be a keen sports fan and I told myself: 'I'm not going to stop until I get a gold medal.' In every sport I've done, I've pushed myself as far as I can go. So as we speak now, I have the bronze and silver at world level, though I haven't got the gold. The other guys will set themselves a goal for Irish titles. But I've actually set myself a goal for the World Championship.
"You need the whole squad to motivate you. You set yourself a goal — Irish title, club title, or world title. I suppose as well when you hear you're going to represent your country on 22 February, it'll be a proud day. It's my first time stepping out in an Irish jersey. I made the squad last time out, but I didn't make the team. This year, when I came back from Scotland, I had a think about it. I brushed up on stuff that I wasn't good at and now I'm exactly where I should be. Our full Clonmany team will be representing Ireland on the 22nd and the 23rd, so that's just pushed me on to wear an Irish jersey."
It's hoped that the championships will provide a considerable boost to the economy. Up to 20 countries from Europe, Asia, Africa and the USA are set to participate, and over 1,000 competitors will descend on Mayo for the event. However, being a veteran of tug of war competitions, Gallagher is no stranger to many of the opponents his team are set to face in Castlebar.
"We know quite a bit about the other teams, because we've competed with them before. In the lighter weight, you have Abadino from Spain, who are always in the top three — they're a world-class side. The Chinese Taipei are also good in the 560 and 600. You have Kilroe and Norton from England… Whenever you go to a World Championship, you get to know these teams and their colours and the way they pull. And obviously then, you come home and you try to improve what you do. So in regards to knowing about the teams, we know quite a bit about every team. But at the same time, they know all about us as well. Everything's on YouTube. Their National Championships in their own country is on YouTube.
"So you're kind of watching them. The English Championship finished there last week and came up on YouTube. All the teams in the world have watched it to see how Norton and Kilroe are pulling. So we do know quite a bit about the opposition.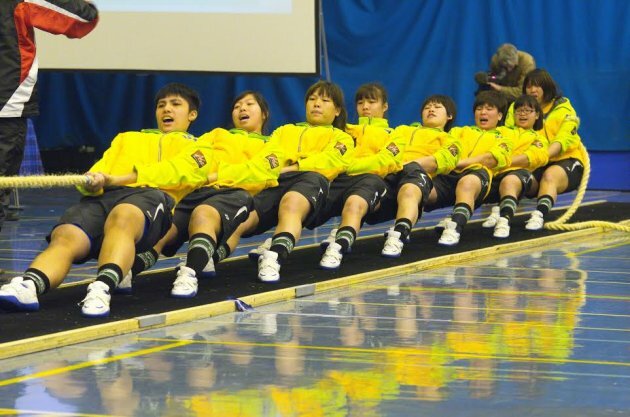 (The Chinese Taipei ladies will be one of the teams competing at the World Championships in Castlebar)
"In the 560 KG class, I think it's going to be the Chinese Taipei  and Abadino from Spain who are favourites. And I think Chinese Taipei will win that in the open competition and the closed competition. The 600 kilo class, hopefully Clonmany B or Norton from England. In the 640 kilo class, hopefully Clomanny B or Ayrshire from Scotland. Uppertown from England or Ayrshire should also do well. Some of the Dutch teams — such as Heidenskip — wouldn't be far away."
Furthermore, the Irish side are particularly familiar with the Chinese Taipei ladies team, who visited the Clonmany club for a training camp in Donegal during the summer.
"They wanted to pull against the men," Gallagher recalls. "Those women are in a class of their own. They've been world champions the last seven times. They're actually coming back on 12 February — the men and women — for three nights. And we're going to have an open exhibition of tug of war in St Bridget's Hall.

"We have taken a few pointers from them. At the same time, they take some of our training techniques as well. It's good to mix up stuff and try different stuff, but if you were talking to the men's team, they wouldn't give anything away. Like every sport, you don't want to give too much away."
Over the course of their history, Clonmany B have won 10 world gold medals, as well as numerous silvers and bronzes. Going into this year's event in Breaffy House, they are bound to be confident, having already secured three national senior titles this year.
"This is the first year that Clomanny B has won three-in-a-row ever since the club joined the association in 1973. No club has won a three-in-a-row the year of a World Championship, apart from St Pats a couple of years ago. We knew we'd have to put a massive effort in and thank God it's paying off."
Nevertheless, there seems little danger of the team being complacent, with their training becoming more intensive as the event approaches.
"Clonmany B are representing Ireland in the 600 kilo class on the Sunday and the 640 kilo class on the Saturday. So we'll be pulling over a period of four days. It's going to ask a lot of the men because you could be pulling anything up to 40 times in four hours. There are two weights a day [in training], so with the preparation, we've left no stone unturned.
YouTube credit: RichhillTOW
"We're training since June. We trained two evenings a week from June until September and we increased it to three nights a week until the start of the Irish Championship, which we finished just before Christmas. There were four weights up for grabs and Clonmany won the first three outright and got to the final in the last one with seven men. It was the 560, and we were against a lighter team, so we ended up putting seven men against eight. We topped the group and were beaten in the final, so it was three golds and a silver in the Irish Championship.
"After the Championship was over, we increased our training to an extra night, so we're basically training four nights a week, as there are only a few weeks to go. Obviously, our diet is very important, and the way we recover is very important, because certain people have to get to a certain weight for the whole team to get in.
"We're really looking forward to getting stuck into the World Championships, because it's been a long eight or nine months training, and we just can't wait to get it over with."
Moreover, there has been a palpable sense of intensity and even aggression in the Clonmany team's training sessions of late — and Gallagher believes this is ultimately an encouraging sign.
"In the training, we're kind of bickering and barracking at one another, and it's good in any club in any sport that that's happening, because it still means the fight is there. If you train too hard and train too long, you lose that edge.
"Our preparation has been travelling all over the country. We aren't a big sport that's entitled to money, so we have a private members tour once a year to cover our cost, but to go to a world championship, it's expensive.

"We have a sponsor for a new outfit and new jerseys and stuff, but it is hard in that way. There isn't a very good support system in Ireland, as there is in other countries, like with the Chinese Taipei, or in England or Scotland. They're sponsored by the National Lottery, so their overheads and expenses are not much. But at the same time, if you're into tug of war, it's not about the money."
Indeed, there are some nights when Gallagher won't get home until midnight, having had to balance training with a long day's work, though he is hopeful it will all be worth it come the end of February.
"There are two of us who travel an hour and a half to training each way. There are nights where you put the head down and think: 'I don't want to do this anymore.' It's very emotional as well, because the team has been training together for so long. Your emotion is playing on your mind and you kind of play with the demons in your head. You think: 'am I good enough, am I not good enough, can I do this?'
"In the last couple of weeks, we've trained twice a day. Tuesdays and Thursdays are when we train with the squad. So we go up and do our spinning class or whatever. It does take an effect on the body but our recovery now is gone back down again. We leave the gym, do a spinning class, do a row machine, come back to the house and get a bath of ice. For two minutes, it's shower, ice, shower, ice and then you rest and train again that evening. At the end of the day, you only get one chance. A guy who represented Ireland in long jump said to me you only get one chance and this will not come around again and in 20 years' time, you don't want to be telling yourself, 'what if, what if, what if…' This is your one chance to do this."
All images used with permission from the Irish Tug of War Association.
More info on the Tug of War World Championships can be found here.