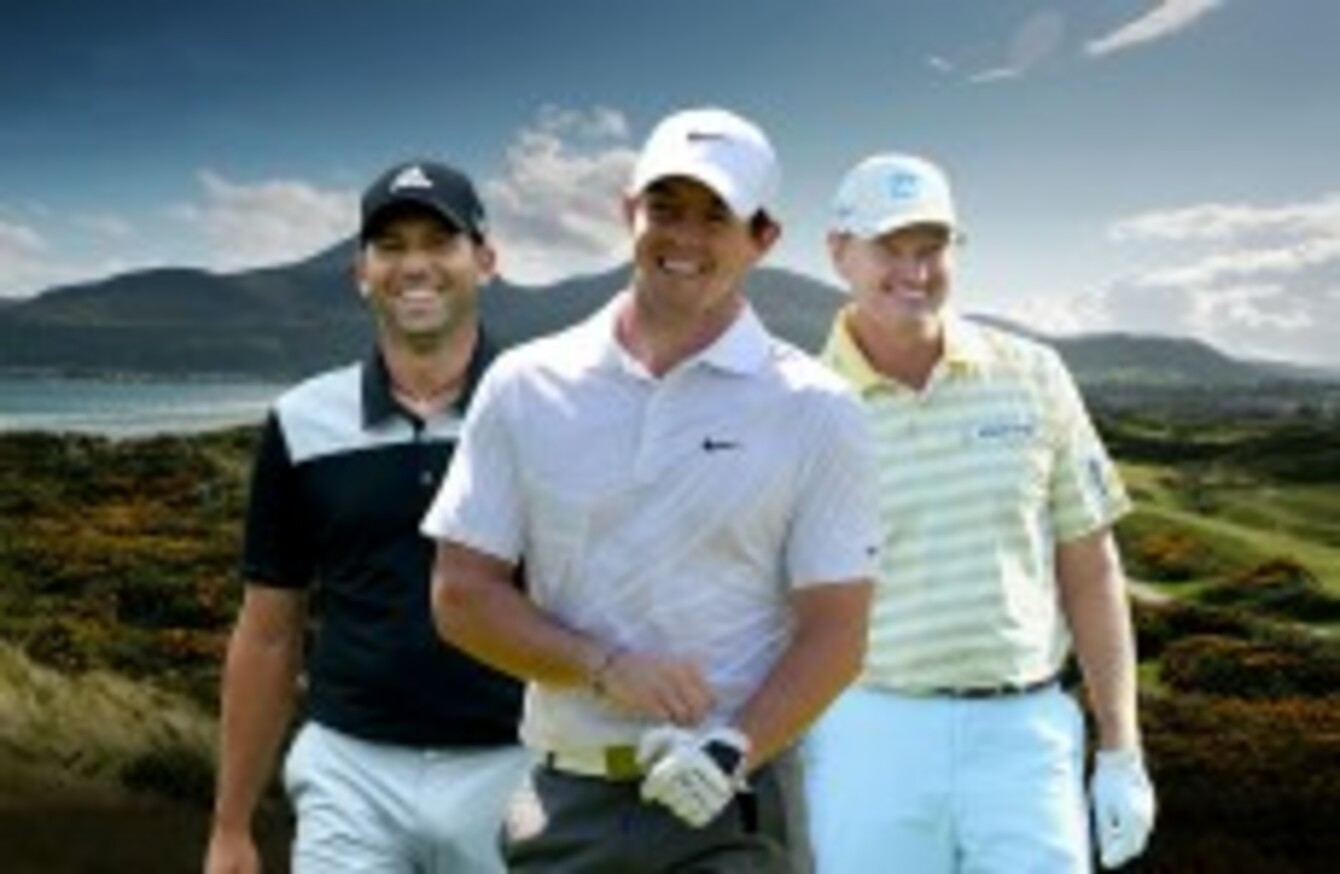 More big names have joined the Irish Open field this week.
Image: Irish Open
More big names have joined the Irish Open field this week.
Image: Irish Open
THERE ARE EXACTLY 100 days to go to the start of the 2015 Irish Open and two more big names have been added to the event.
Four time Major winner Ernie Els and former world number two Sergio Garcia will join Rory McIlory and Rickie Fowler at Royal County Down.
It will be the Spaniard's first appearance at the Irish Open since 1999 when he famously won his first European Tour title at Druids Glen. Els, for his part, has won 20 times on the European and PGA Tour since his last apperance at the event 17 years ago.
Their participation adds to the hype around an event that can already boast the participation of Fowler, Lee Westwood, Darren Clarke, Graeme McDowell and defending champion Mikko Ilonen.
Garcia said: "I cannot wait to return to a tournament which has such great memories for me. You could say this event is where it all began for me. I was just 19 when I won in Druids Glen in 1999, only two months after I turned professional.
"Not only am I returning to a very special event, but to a venue of which I have heard some incredible things. Royal County Down is a world-famous links and going by what Rory has been telling me, it could possibly be the best course I play this year.
"I feel like I have a great connection with the Irish golf fans, not only from my victory back in 1999 but also from The 2006 Ryder Cup at The K Club. They are knowledgeable and respectful and also good fun so it is going to be a great week."
Els, meanwhile, is relishing the opportunity to claim a second career title in Ireland, having won the WGC – American Express Championship at Mount Juliet Country Club in 2004.
"I haven't played in the Irish Open for a while and I spoke with Rory in Dubai recently about the event and am very happy for him that he is involved in hosting such a prestigious event. It is a similar role I have taken with the South African Open and it is a great honour to be able to host your national open."
More than 80,000 spectators are expected and tens of thousands of tickets have already been sold for the event, which is supported by Tourism Northern Ireland.
Tickets for the 2015 Irish Open are available here from between £30 and £35 per day and kids under the age of 16 will be admitted free as long as they are accompanied by an adult.