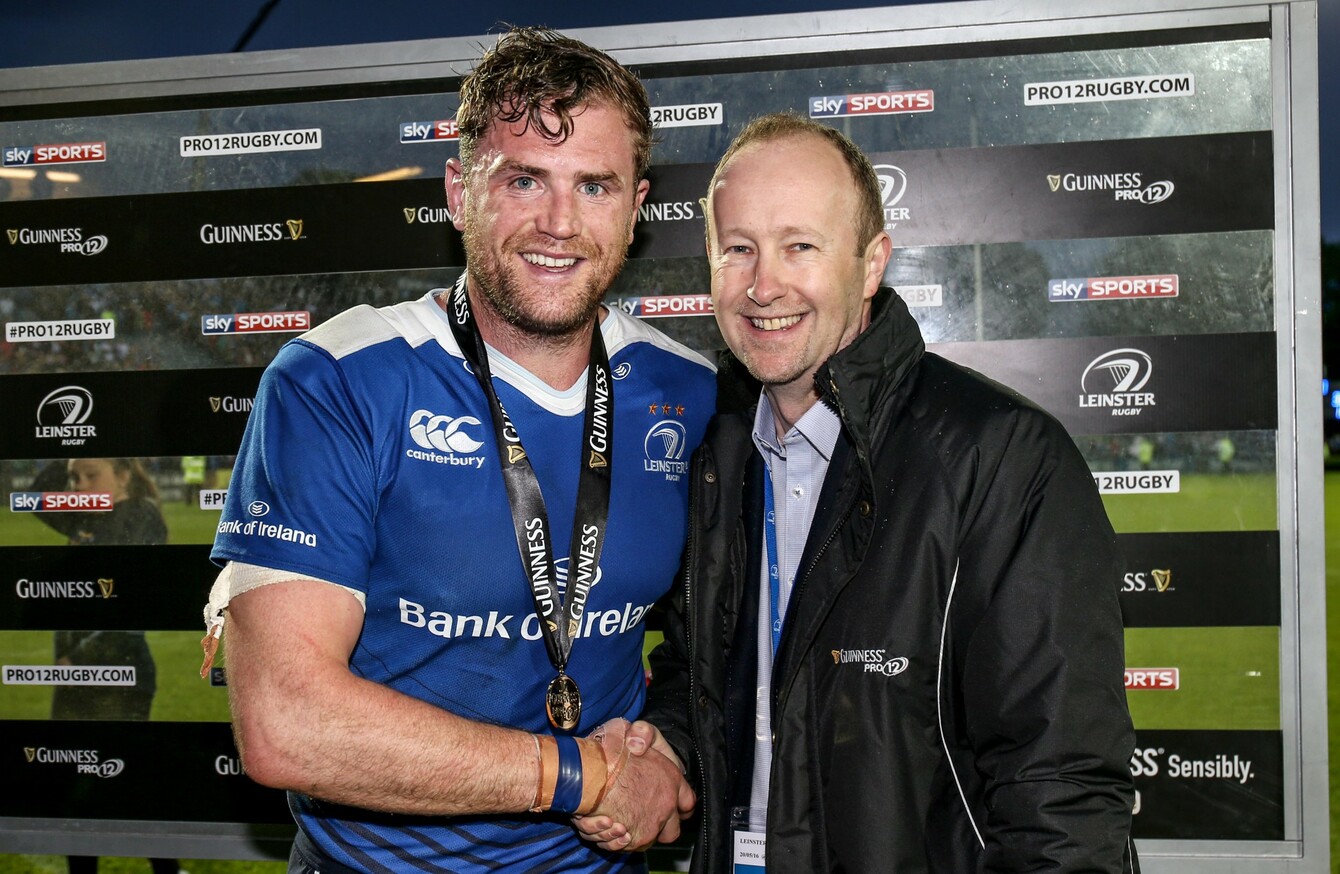 Leinster's Jamie Heaslip receives the man-of-the-match medal from Rory Sheridan of Guinness.
Leinster's Jamie Heaslip receives the man-of-the-match medal from Rory Sheridan of Guinness.
Updated at 09.48
JAMIE HEASLIP WAS a relieved man on Friday night.
The Leinster star delivered a man-of-the-match performance as his side beat Ulster 30-18.
In the weeks prior to the game, the province were under a degree of pressure.
When asked about a recent loss to Ulster, Sexton acknowledged there were issues that needed to be addressed at Leinster.
Leinster also came under fire from former player Neil Francis following the defeat by Ulster, and when asked about the criticism, Heaslip said:
"Maybe some of the other guys had to understand what it takes to win in this competition. What it takes to be successful in general. Success just doesn't happen. You gotta work at it, day in, day out. You gotta live it. You basically got to commit to the professional life of a rugby player. I know there's a lot of lovely things that come with it. But there's a lot of stuff that comes with it which nobody sees. A lot of sacrifice, a lot of understanding from family and friends. Some lads just needed to see that.
"Johnny is a very emotional man. He wears his heart on his sleeve. And he says what he feels.
"I've been playing this game long enough. You shouldn't get carried away with the losses, or the wins. You can't go extreme. You need to waver somewhere inn the middle and keep learning I suppose, keep evolving. That's what we're trying to do."
Often in sport, heartbreaking losses can be as unforgettable as glorious victories, and certainly with Leinster, it seems to be the case.
Heaslip can vividly recall certain disappointments in particular.
"Ospreys twice, Munster. I don't know if you guys have been into our gym but on the wall that we see every day, it covers all moments from Leinster. Good or bad. The Ospreys one always catches my eye. 31-30. When they came back and caught us in the second-half.
So like anything, you take your learnings from games like that. We're fully aware that whoever we come up against next week, it's a neutral ground, it's going to be tough. A final, semi-final, it's knockout rugby. You've been watching it long enough. It's the team that makes the fewest mistakes on the day that generally wins. We probably made less errors today. But come next week, it's another game. You're starting from scratch all over again."
While Heaslip is an exception, many of Leinster's younger players are not yet especially accustomed to winning major trophies, though the forward is still highly complimentary when asked about his less experienced colleagues.
"The guys who come in from the Academy and Sub-Academy, they're streets ahead of where I was at their age, both physically and mentally. You've seen it this year, we've used 56 players, 11 straight from Academy.
That's the effort we need. Those guys, they live it, they see it, they breathe it every day and it's there where the senior guys like us have to lead and show by example. Those guys added value and even those not involved this week."
And for all their talent, these younger players have had to get used to an intense environment, in which competition for players is as fierce as ever.
"There's always honesty. It's competition. It's knock-out rugby. Guys want to be playing in those knock-out games, they want to be repping. It can just get tasty at training, which is great."
Heaslip also believes the changes made to the Pro12 of late have added to the sense of intensity, while making contests such as Friday night's clash more unforgiving than ever.
The change of format in this competition has added real spice to the tail-end. It shows the standard of the Pro12 and how exciting it can be. It was a bloody hard game and I presume it was a nice game to watch. After 30 minutes, I was questioning if I could play rugby any more it was so bloody fast. But that's where the standard is at and that's where you will learn. This is the tempo we have to play at the start and what we have to maintain all game, keep pushing it."
And as for Leo Cullen? The coach has come in for some criticism after Leinster's Champions Cup challenge ended in disappointing fashion earlier this year, yet he will have been feeling much better owing to recent results.
And despite the difficult times he has endured of late, Heaslip suggests his former teammate has stuck to his principles throughout.
With Leo, I've played with him, been in the trenches with him and he's the exact same as a coach. Very down the line. He doesn't ever go extreme on either end. Very matter of fact. Very focused. Very job driven. I wouldn't be too dissimilar to him like that. He cuts out a lot of bullshit. He just focuses in on what you have to do. You hear a lot of players talk about drills and job role; that's what he and Fogs and Girv and Kurt do, they break it into their sections, scrums with Fogs, lineouts with Leo, tackles with Kurt. It's very methodical."
And as for Jordi Murphy's performance? Heaslip has nothing but praise for his talented teammate.
"I played a lot of rugby with Jordi. He is a fantastic athlete. Fantastic pro. An unbelievably good guy off the field, such good humour in the changing-room and personality. Unbelievable pro.
"Rugby is tough, there are highs and lows on and off the field in terms of selection and that. We all know you have to step up when you get the opportunity. I am sure he was upset with different decisions throughout the season. But come the semi, he steps up and he has had an unbelievable game. You're going to have to ask Joe (Schmidt) about (playing him in) South Africa, I'll get in trouble."
The42 is on Snapchat! Tap the button below on your phone to add!