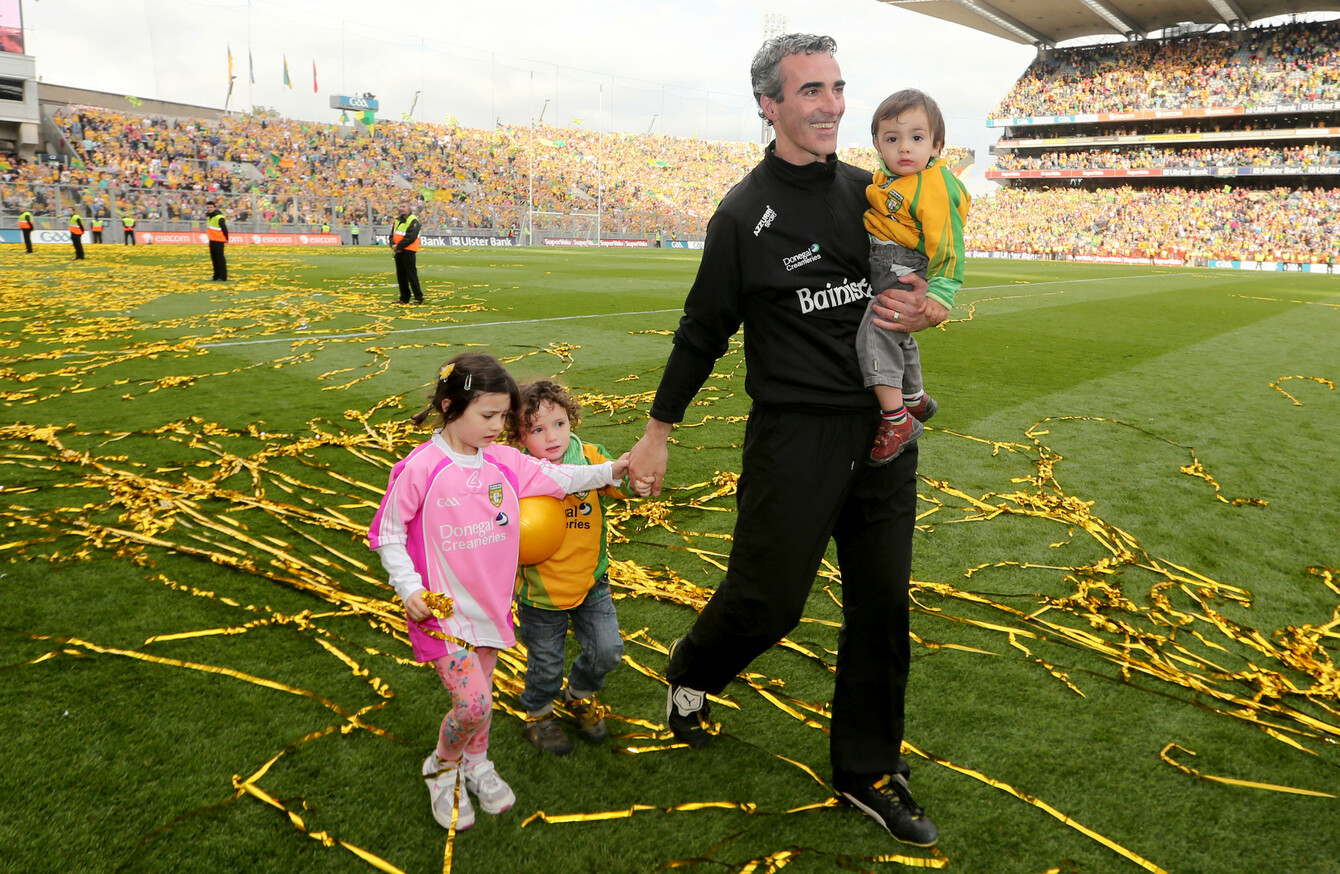 Jim McGuinness celebrates Donegal's 2012 All-Ireland win with his kids.
Image: James Crombie/INPHO
Jim McGuinness celebrates Donegal's 2012 All-Ireland win with his kids.
Image: James Crombie/INPHO
FROM GLENTIES TO Glasgow and now in Beijing, Jim McGuinness has had a crazy few years.
He'll always be best known for guiding Donegal to All-Ireland glory in 2012, but he's been making a name on the association football scene further afield since.
He took up a role with Celtic, and worked in sports psychology with their first team there, before undertaking a coaching position with the U20 side.
In June, Chinese Super League club Beijing Sinobo Guoan came knocking and he obliged.
He signed a two-and-a-half year contract, and he's been working alongside ex-Bayer Leverkusen and Red Bull Salzburg coach Roger Schmidt since.
"It's a very exciting project," McGuinness told Brendan O'Connor on RTÉ Radio 1. "Culturally, it's a big shift but in terms of football, it's been fantastic so far.
"They're one of the most valuable, and historically, one of the biggest if not biggest clubs in China," he said of his charges.
"Our club would scare a lot of other clubs going into games. It's a bit like Man United, a lot of teams feel under pressure just by walking in the door.
"It's a really interesting time in China at the minute. Every club can play three foreign players, a maximum of four in the squad. They become very important and they tend to be high value players because there's only so many of them you can have. The rest is made up of Chinese players. There's also a stipulation that you have to play one Chinese player that's U23.
"The government in the country is unified in trying to move the national team to a higher level. That stipulation is going to move to three U23 players next year.
"You have a situation where you have top, top, top international players and then you can have three u23 chinese players. It's a small pool of players. It's just one national team and everybody that's at that level and then the other guys.
"Chinese players become very, very valuable as a result of the dynamics of how it's set up. From a Chinese point of view, it's about development. Forgeign players, it's about getting really high end players that can add a lot of value.
"At a coaching level, it's fantastic to see that. It's been a good education for me at a higher level since I've gone over there and something that I've really enjoyed."
"We were very fortunate that we hit the ground running and we got five victories on the bounce. A lot of the Chinese players would be very excited about working with a top European coach and to be involved in a culture where people are looking to push boundaries in all aspects of their development."
With things going to plan football-wise, they've also been coming together nicely off-the-field for McGuinness.
The big move was daunting at first, especially leaving his six children behind. The eldest is 10 while the baby of the house is just nine months, with an eight-year-old, seven-year-old and four-year-old twins in between.
He's still alone in Beijing, living in a hotel, but plans to move the whole family over in the coming months.
"Hopefully in the coming months we'll look to maybe move everybody to China again," he continues.
"When I left first of all to join Celtic, Toni Marie — the oldest girl — was only four, coming five. Four years later, she was a big girl heading for nine and ten. It doesn't be long happening.
"That was the reason we made the decision last year to move everybody across [to Glasgow], because time just goes in so quickly. I was in Glasgow on my own for four years, we were too long apart. Time keeps on rolling.
"Rather than waiting two and a half years to be reunited again, I think we'll probably look to get somewhere nice to stay over there and a good school, and then move everybody over at the beginning of the season.
"I've really really enjoyed the year here with the family, everybody being together and coming home in the evening and everybody being there. We just want to have that in China as well."
It's been a big step for McGuinness, but one the rest of the family are relishing too.
"The funny thing is they're very very excited about it, the older three in particular. The twins are only coming four so they don't really know what's going on.
"The move initially from Donegal to Glasgow, and everything that that brought, the new school and the way they've integrated, that helped them hugely. They're incredibly resilient.
"It's all really positive with them at the moment, in terms of the potential to go to China, which is fantastic. It would be a difficult ask otherwise.
"It is a different world. There's just bicycles, mopeds, cars going everywhere, and that's not talking about pedestrians. You're thinking 'This is absolutely crazy!' The amount of people.
"Culturally, it's hard to take it in sometimes. On the bullet train, the vastness of it is incredible. It's very difficult to get your head around, it's very challenging. Even from a spiritual point of view, it's just so vast.
"You come from a very small town in Donegal and you think to yourself that that is the epicenter of the world. You stretch your legs, go to college, go to work in a different country, but you always have that ground.
"You end up in a country with 1.4 billion people, and you're looking at cities that are built but there's nobody living in them. You think to yourself 'How does that work?'
"It opens up much bigger questions in terms of your own belief systems and what it's all about, because of the vastness of it.
"It's always important to be reflective. Probably the landscape there lends itself to it quite well."
And in terms of the All-Ireland final between Dublin and Mayo on 17 September, what does he reckon?
"I think Mayo can do it. It's going to be a very, very tough assignment. Their performance level has been so high over the last while. At this stage of the game, they deserve to win an All-Ireland.
"It will be physical, competitive and high-scoring. If Mayo can continue to add that aggressive running to their kicking game, they definitely have a chance in this game.
"There's only been a kick of the ball between the teams over the last couple of finals and semi-finals. It's all to play for."
Source: RTÉ Radio 1/SoundCloud
Source: The42 Podcasts/SoundCloud
Subscribe to The42 podcasts here: