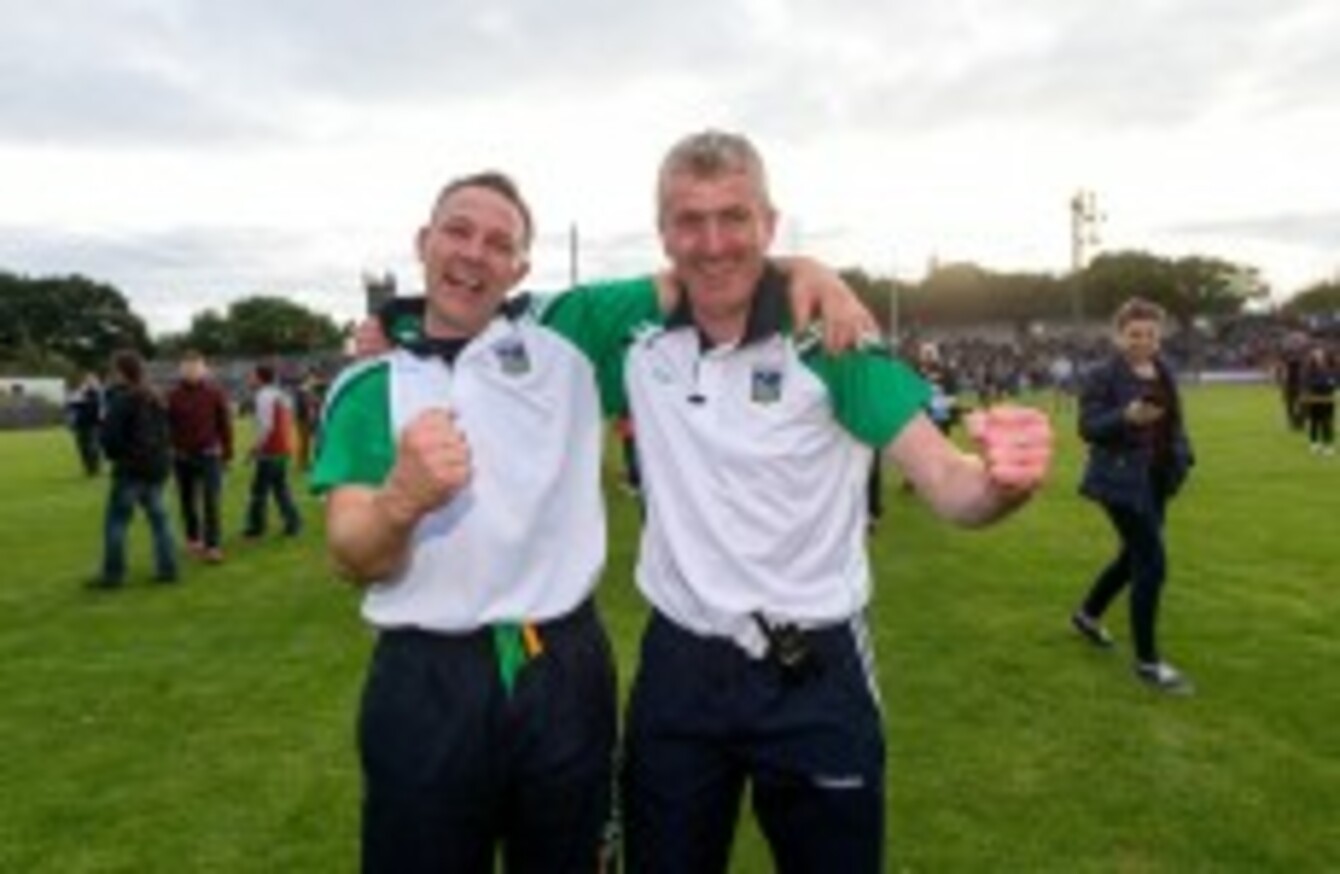 Limerick boss John Kiely (right) with coach John Flavin.
Image: Ryan Byrne/INPHO
Limerick boss John Kiely (right) with coach John Flavin.
Image: Ryan Byrne/INPHO
SATISFIED LIMERICK BOSS John Kiely compared his side's stunning display against Wexford in last night's Bord Gáis Energy All-Ireland U21 hurling final to an unstoppable 'tidal wave.'
The Shannonsiders hammered their opponents by 16 points in Thurles to claim a first All-Ireland U21 crown since 2002.
And Kiely hailed the collective effort on and off the pitch for Limerick's victory, pinpointing a number of key figures in his backroom team.
Kiely, a member of the Limerick senior squad defeated by Wexford in the 1996 All-Ireland decider, claimed sweet revenge after almost 20 years.
"As the game is going on, you're just waiting for that moment that's going to put you under pressure again," he said.
"They (Wexford) got the goal but listen, the manner in which the boys went about getting the next point, their determination to run forward was just incredible.
"At every opportunity, our lads just dropped the shoulder and ran, and there was nothing going to stop them.
"There was always somebody else on the shoulder waiting for the pass.
"Everything we had spoken about for weeks and weeks just came off and I'm so delighted for the lads, Jimmy Quilty, a phenomenal coach, he's unbelievable, so good at coaching it's off the charts.
"A quiet guy, he goes about his business quietly but he's super at what he does.
"Ross Corbett, his strength and conditioning work is well known at this stage, he does a lot of the drills as well actually with the lads, and John Flavin, he's involved in everything with the set up.
"He's that go to man between the players and management, which is important as well.
"That's why we've been able to manage 40 players on the panel for so long. It's a challenge to manage that number of players.
"You can't keep them all happy but to give them a sense that they still have something to offer and they shouldn't walk away. That's credit to the lads and the work they've done."
And Kiely recalled how the gritty Munster semi-final victory over Tipperary, when Limerick won despite finishing with 14 players, was the springboard for a memorable campaign.
The Garryspillane man, selector alongside John Allen when Limerick claimed Munster senior glory in 2013, added:  "We just needed to get over Tipperary, that win over Tipperary was so important, it just gave us that opportunity to get that monkey off the backs over the last three years, give the boys confidence and give the lads the launchpad to get the boys into training and work hard with them.
"Momentum just built and built. We were like a tidal wave with them in the finish. That momentum was visible. There was no stopping them, that was it."