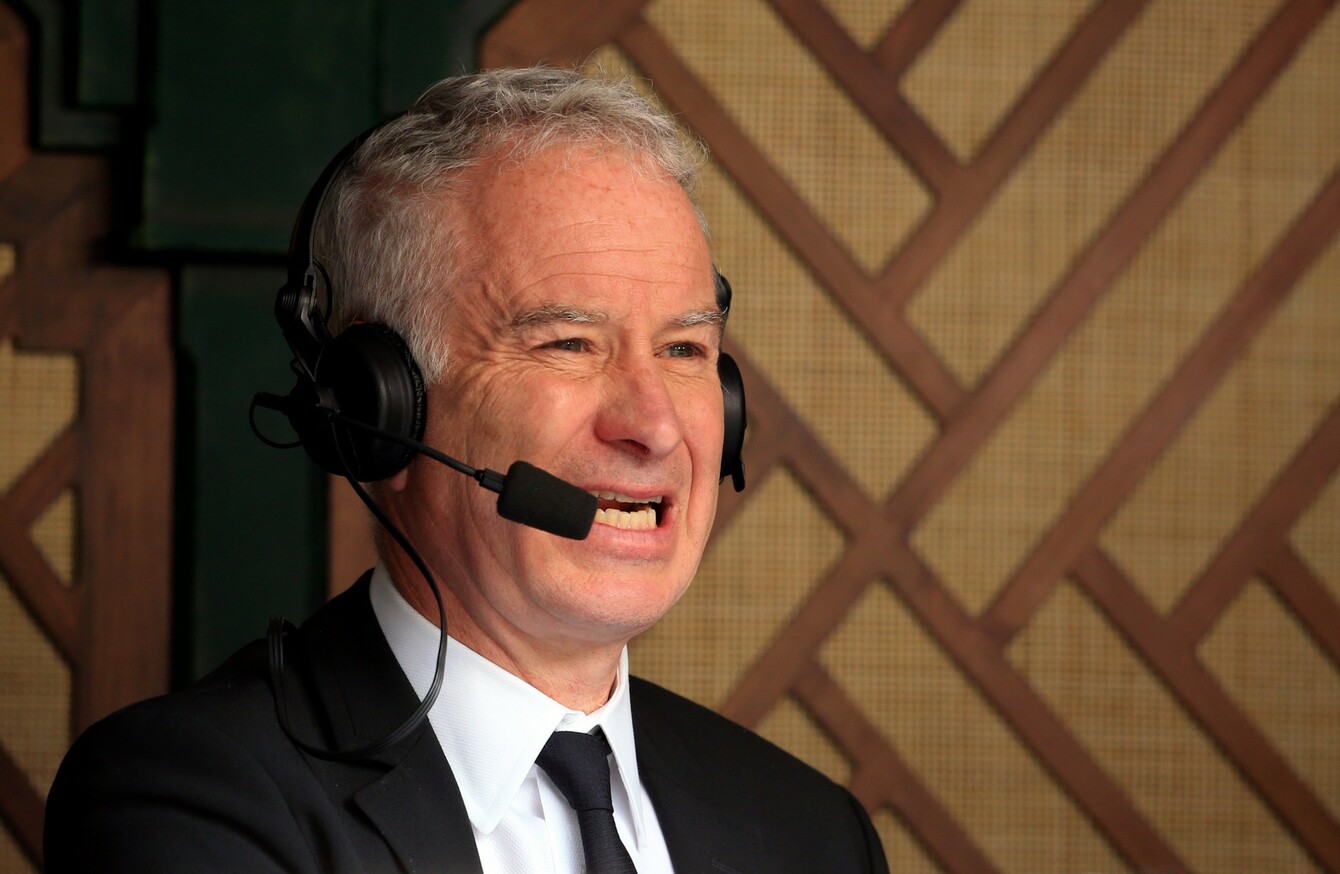 Image: PA Archive/PA Images
Image: PA Archive/PA Images
FORMER WORLD NUMBER one John McEnroe has refused to apologise for his comments about Serena Williams in his latest interview to promote his new book.
23-time major winner Williams last night responded to McEnroe's comments in which he claimed Williams would struggle to break the top 700 on the men's tour.
McEnroe had been speaking on National Public Radio (NPR) in the States on Sunday to promote his new book, 'But Seriously', and while accepting that Williams is the greatest female player of all time, suggested the 35-year-old would scarcely hold her own if she was to compete against the opposite sex.
"If she played the men's circuit she'd be like 700 in the world," he said. "And on a given day, Serena could beat some players. I believe because she's so incredibly strong mentally that she could overcome some situations where players would choke 'cause she's been in it so many times, so many situations at Wimbledon, The US Open, etc. But if she had to just play the circuit — the men's circuit — that would be an entirely different story."
Williams subsequently addressed the issue on Twitter, saying she loved and respected the 58-year-old McEnroe but would prefer that he keep her out of his "statements which are not factually based."
Dear John, I adore and respect you but please please keep me out of your statements that are not factually based.

— Serena Williams (@serenawilliams) June 26, 2017
I've never played anyone ranked "there" nor do I have time. Respect me and my privacy as I'm trying to have a baby. Good day sir

— Serena Williams (@serenawilliams) June 26, 2017
During his appearance on Tuesday's CBS This Morning in the US, McEnroe was asked by co-host Norah O'Donnell if he wished to apologise for his comments on NPR.
"No," he replied.
He was then asked if it had been necessary for him to make the comments at all, to which he responded:
She's the greatest female player that ever lived, then the lady said to me – I don't remember which one – but she said, 'why did you say woman, why don't you just say the greatest, you know, tennis player that ever lived?' And so then I felt the need – however unfortunately, probably – to defend myself. I don't know, just say what I really felt, which is about what I think she would be.
The outspoken former star later admitted that his assertion probably wan't necessary, telling CBS: "I didn't know it would create controversy."
However, he also suggested that if his opinion was so controversial, the ATP and WTA should converge in order to disprove it.
"Why don't you combine? Just solve the problem. I'm sure the men would be all for this: the men and women play together and then we don't have to guess," he said.
Of Williams' response on Twitter, McEnroe said: "I don't want anything to go wrong with Serena because she's pregnant. I don't want to upset her or whatever it was. She's — I think she was doing a tongue-in-cheek as well. And I think that deep down we're talking about something — I can't even believe we're talking about it."
McEnroe also suggested he'd currently rank "1,200th" if he was still an active on the men's circuit.
The42 is on Instagram! Tap the button below on your phone to follow us!