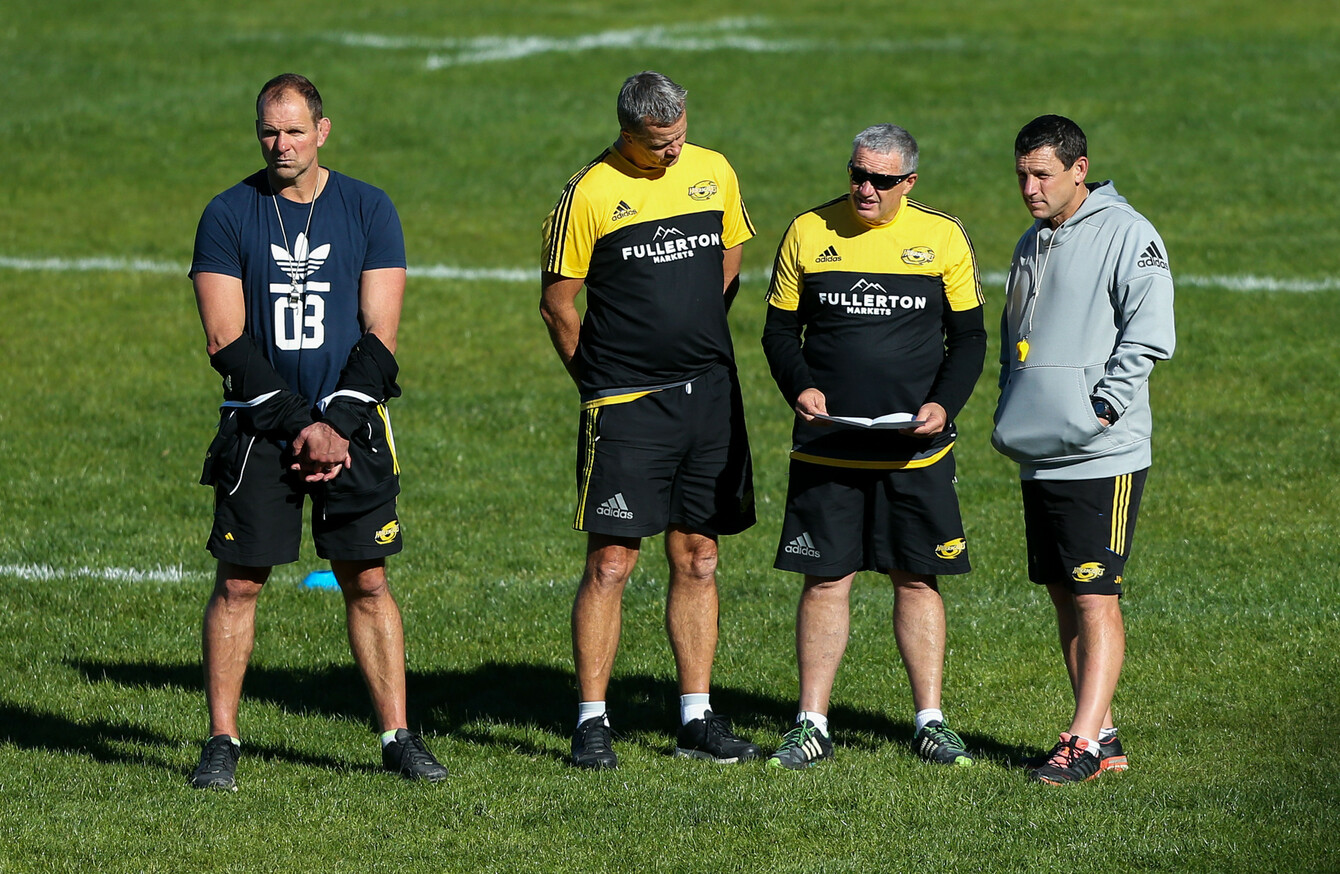 Plumtree, far left, and Holland, far right, will take charge of the Hurricanes from 2019 onwards.
Image: Hagen Hopkins
Plumtree, far left, and Holland, far right, will take charge of the Hurricanes from 2019 onwards.
Image: Hagen Hopkins
FORMER IRELAND FORWARDS coach John Plumtree will take over as head coach of Super Rugby giants the Hurricanes next season, with former Munster man Jason Holland as his number two.
Plumtree and Holland have both been involved in the Hurricanes setup under current head coach Chris Boyd, who is set to leave the franchise at the end of the season to take up a new role as Northampton's director of rugby.
Both Plumtree and Holland have agreed three-year deals as head coach and assistant coach respectively which run until the end of the 2021 campaign. The remainder of the coaching staff is still to be confirmed.
"New Zealand Rugby is lucky to have a home-grown coach with such vast experience in a variety of high performance rugby environments," New Zealand Rugby General Manager Neil Sorensen said.
"The Hurricanes' performances over the past three years have reflected Plum's influence, especially his defensive expertise, and no doubt that will grow further as he takes the head coaching reins."
Plumtree was a key part of Joe Schmidt's Ireland backroom in 2013/14 before leaving for family reasons to return home to his native New Zealand.
He joined Boyd's staff at the Hurricanes as a coach in 2015, with the Wellington team finishing as Super Rugby runners-up that season before winning their first-ever title in 2016.
Holland, who earned 102 caps during his time at Munster and played in the Heineken Cup final defeats of 2000 and 2002, has been an assistant coach at the Hurricanes since 2015.
"We're fortunate that someone of Plum's calibre has already been a key part of the Hurricanes environment," Hurricanes CEO Avan Lee said.
"Having both him and Jason at the helm will certainly ensure some important continuity and familiarity, but more importantly, we know they are a formidable coaching combination.
"We know that these appointments will be pretty popular with our fans.
"This does mean that with both Plum and Jason working alongside Chris this year, we are in the best position for a smooth transition to a new management team and new season in 2019.
"In the meantime, it is important to acknowledge that Chris has done a fantastic job in steering the ship and he continues to keep everyone focused on our current season."
The42 is on Instagram! Tap the button below on your phone to follow us!