When St Jude's GAA club was set up in Tempelogue 40 years ago, they could hardly have dared to dream that one day they would be crowned the football kings of Dublin.
After missing out to Ballyboden St Enda's in 2009, today Jude's have their shot at history again as they take on a Kilmacud Crokes side who have enjoyed plenty of glory days of their own, but would desperately love another county title to bridge the gap to their most recent success back in 2010.
Throw-in has been put back by 15 minutes so we'll be underway in Parnell Park at 5.15pm.
TEAM NEWS: Here's how Jude's will line out.
1. Liam Mailey
2. Oisin Manning
3. Ciaran Fitzpatrick
4. Cillian O'Reilly
5. Tom Lahiff
6. Niall O'Shea
7. Chris Guckian
8. Mark Sweeney
9. Seamus Ryan
10. Tom Devlin
11. Barry Fitzgerald
12. Kieran Doherty
13. Niall Coakley
14. Kevin McMananom
15. Padraic Clarke
TEAM NEWS: Here's the Crokes starting XV.
1. David Nestor
2. Liam Flatman
3. Andrew McGowan
4. Cian O'Sullivan
5. Cian O'Connor
6. Ross McGowan
7. Cillian O'Shea
8. Craig Dias
9. Conor Casey
10. Shane Cunningham
11. Paul Mannion
12. Shane Horan
13. Pat Burke
14. Dara Mullin
15. Callum Pearson
There's no doubt who has taken the bigger scalps en route to this evening's decider. Jude's pulled off a late, late heist against Ballymun Kickhams in the quarter-finals, coming from three points down with three minutes to play to eke out a one-point win.
And then in the semis, they put holders St Vincent's to the sword, blowing the Marino men away by nine points to cement their own claims as serious title contenders.
Dubs star Kevin McManamon is one of the survivors from the Jude's side which lost in 2009 final. Will this year's adventure have a happier ending?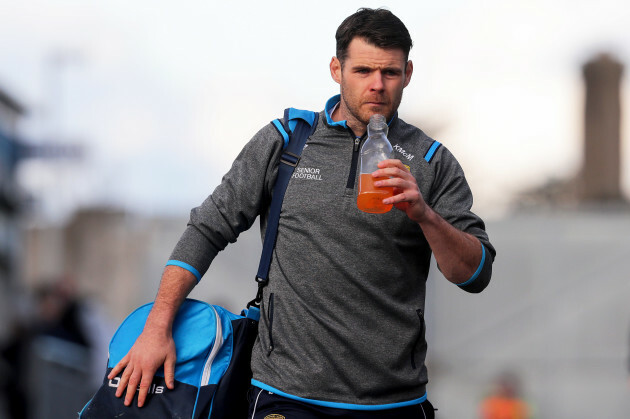 Laszlo Geczo / INPHO Laszlo Geczo / INPHO / INPHO
For their part, Kilmacud started the bank holiday weekend with dreams of a cross-code double. But the drama of last week's hurling decider was followed by heartbreak against Ballyboden in yesterday's replay, and so all eyes are on Paul Mannion and the footballers to make Parnell Park a happy hunting ground once again.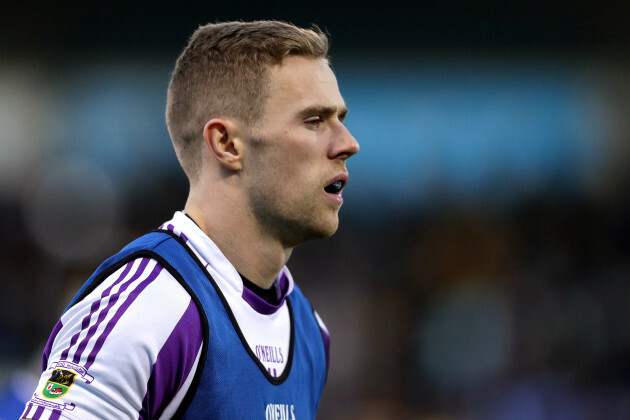 Laszlo Geczo / INPHO Laszlo Geczo / INPHO / INPHO
THROW IN: Sean McCarthy from St Vincent's is the man in the middle and he gets us underway.
1 min – Patient build-up by Crokes but when Craig Dias tries to break through the line, he spills the ball forward and is beaten to it Mark Sweeney. He catches Sweeney high – right in front of the referee – but it's a Jude's free and nothing more.
3 mins – Again, Crokes dictate the play inside Jude's territory but the Templeogue men have plenty of men behind the ball and it's hard for Crokes to find a way through. Shane Horan takes it on himself to make something happen but scuffs his shot wide.
5 mins — Kilmacud Crokes 0-1 St Jude's 0-0: Crokes move the ball a bit quicker down the right side and this time, it ends in a point. Paul Mannion drifts a yard or two off his marker Ciaran Fitzpatrick and snaps the opening score over the bar.
7 mins – Kevin McManamon goes up against Andrew McGowan and tries to power his way past the Crokes full-back and down the line, but he's whistled for a foul. There didn't look to be a huge amount in that.
8 mins – Half-chance for Crokes' Callum Pearson but he doesn't catch his shot cleanly and it bobbles well wide of the Jude's goal without troubling goalkeeper Liam Mailey.
9 mins — Kilmacud Crokes 0-2 St Jude's 0-0: Majestic from Paul Mannion! There wasn't much of a shot on for him, with Cillian O'Reilly hot on his heels and forcing him away from goal towards the touchline on the stand side, but Mannion took two quick steps to make an angle and then curled over a score from a very tricky angle. Beautiful.
11 mins — Kilmacud Crokes 0-3 St Jude's 0-0: Space opens up for Shane Cunningham and he adds another score to extend Crokes' lead. After a nip-and-tuck start from both sides, it's clearly Crokes who have settled the best now.
13 mins – Two Crokes wides in quick succession, first from Shane Horan and then from Pat Burke. Jude's aren't seeing much ball in the opposition half at the moment.
14 mins — Kilmacud Crokes 0-4 St Jude's 0-0: All too easy for Crokes. They pounce on a poor kickout from Jude's keeper Liam Mailey, pop it off to Mannion, and he converts an easy chance for his third score from play.
18 mins — Kilmacud Crokes 0-4 St Jude's 0-1: Jude's play a low ball in towards the full-forward line and in the scramble, Simon King is fouled by Liam Flatman. Niall Coakley points the free and after almost 18 scoreless minutes, Jude's are on the board.
19 mins – HUGE shoulder from Chris Guckian on Cian O'Connor.
20 mins – Callum Pearson catches Oisin Manning a little bit high and a little bit late in the tackle, right in front of the linesman on the stand side, and he earns himself a yellow card for his trouble.
20 mins – Niall O'Shea drills in a shot but it ends only in Jude's first wide of the evening.
21 mins — Kilmacud Crokes 0-5 St Jude's 0-1: In what should be news to absolutely nobody, Paul Mannion looks a class apart out there this evening. Crokes hit him with a beautiful angled ball, he gets a run on Ciaran Fitzpatrick, and clips over another fine point.
25 mins — Kilmacud Crokes 0-6 St Jude's 0-2: Seamus Ryan bursts forward from midfield to kick Jude's first point from play, but Crokes' response is a swift one and Craig Dias restores their four-point advantage.
26 mins – Bad, bad wide from McManamon, who was under a bit of pressure, but still missed the target by a good three metres to left.
27 mins — Kilmacud Crokes 0-6 St Jude's 0-3: Much better from Jude's. They push up on the resulting kickout and put David Nestor and Cian O'Sullivan under pressure. Simon King nips in in front of them and knocks the ball away, and then does enough to win the free. Coakley scores to bring Jude's back within three.
28 mins — Kilmacud Crokes 0-7 St Jude's 0-3: Lovely score from Cian O'Connor. Crokes doing just enough to keep Jude's at arm's length here.
30 mins – Jude's attack through Coakley but his handpass bounces back off Seamus Ryan and the momentum of the attack is lost.
One additional minute to be played here…
HALF TIME: Kilmacud Crokes 0-7 St Jude's 0-3
SECOND HALF: We're back underway. Can Jude's offer a little bit more in this second 30? Can they contain Paul Mannion?
30 mins + 10 seconds — Kilmacud Crokes 0-7 St Jude's 0-4: Well, Jude's couldn't have asked for a better start. They win the throw-in, find McManamon and he scores after just 10 seconds of the second half.
32 mins — Kilmacud Crokes 0-8 St Jude's 0-4: It's that man again. Paul Mannion wins the ball in a crowd, finds just enough room, and points.
34 mins – Frantic defending from Jude's as Dara Mullin fists the ball across goal. It drops over a few heads at the back post where Shane Horan stabs it towards goal, and into the side-netting.
36 mins — Kilmacud Crokes 0-8 St Jude's 0-5: Ronan Joyce thunders through a Crokes defender and then lays it off to Padraic Clarke who points. Jude's are back within three again and while Crokes have been comfortably on top so far, their lead is looking precarious.
37 mins — Kilmacud Crokes 0-8 St Jude's 0-6: Two-point game! Tom Lahiff is up from wing back and he sticks over another very welcome score for Jude's.
37 mins — Kilmacud Crokes 0-8 St Jude's 0-7: And another one! Chris Guckian's shot just drops over the bar. Jude's really enjoying a purple patch here at the start of the second half.
38 mins — Kilmacud Crokes 0-9 St Jude's 0-7: If ever there was a man to spoil the party, it's Paul Mannion and this one — going away from goal, falling off-balance — is up there with his best of the day. Another highlight reel score.
40 mins — GOAL FOR KILMACUD CROKES! Kilmacud Crokes 1-9 St Jude's 0-7 (Burke, 40′)
Huge moment in this Dublin senior football final — and it's gone Kilmacud Crokes' way. Jude's haven't quite been keeping the same mass of bodies behind the ball and Pat Burke is allowed to roam free. A quick ball inside finds him and after jinking one way and then the other, he rifles a shot past Mailey at his near post. Smashing finish. And just like that, all of Jude's hard work is undone.
41 mins — Kilmacud Crokes 1-9 St Jude's 0-8: Kevin McManamon makes it a four-point game again.
46 mins — Kilmacud Crokes 1-9 St Jude's 0-9: Niall Coakley points a free to close the gap to three again with a quarter of an hour to play. Can Jude's come again?
46 mins — Kilmacud Crokes 1-9 St Jude's 0-10: Jude's are having a bit of success by pushing up on the Crokes kickout and not letting them play out from the back. Tom Devlin, who has just been introduced, clips over a score off his left and there's only two in it again.
49 mins — Kilmacud Crokes 1-10 St Jude's 0-10: Cillian O'Reilly can't get close enough to Callum Pearson and he twists and turns before pointing.
50 mins — Kilmacud Crokes 1-10 St Jude's 0-11: Kieran Doherty does well to secure possession under pressure and lays it off to Padraic Clarke who points. All set for a grandstand finish here.
52 mins — Kilmacud Crokes 1-11 St Jude's 0-11: Craig Dias for Crokes. Eight minutes to play and they lead by three. Is this to be a first county football title since 2010?
56 mins — Kilmacud Crokes 1-11 St Jude's 0-12: Kevin McManamon wins possession deep inside his own half and tries to get Jude's moving from there. Ciaran Fitzpatrick switches the point of attack to Tom Lahiff, and then Niall Coakley is fouled. There's no advantage, so play is brought back for the free, and Coakley dusts himself off to point. Two in it again.
GOAL FOR KILMACUD CROKES! Kilmacud Crokes 2-11 St Jude's 0-12 (Mannion, 57′)
That might well be the winning score and if so, it's fitting that it comes from Paul Mannion who has been head and shoulders above everyone else on the field today.
Dias picks him out inside, Ciaran Fitzpatrick makes himself big and tries to block his path to goal, but Mannion jinks to one side and then finishes through Liam Mailey's legs.
Crokes have one hand on the cup now…
58 mins — Kilmacud Crokes 2-11 St Jude's 0-13: Jude's need a miracle, but for now, they have to settle for a Padraic Clarke free. Four in it but time is running out.

60 mins – Three additional minutes to be played. Jude's need a goal.
60+1 mins — SMASHING SAVE FROM LIAM MAILEY! It might not count for much when all's said and done but a superb close-range stop from the Jude's keeper has just denied Callum Pearson his side's third goal.
60+2 mins — Kilmacud Crokes 2-12 St Jude's 0-13: Cian O'Connor sticks over the 45 and now it's only a matter of time until Crokes are champions of Dublin again!
KILMACUD CROKES ARE DUBLIN SFC CHAMPIONS!
FULL TIME: Kilmacud Crokes 2-12 St Jude's 0-13
It's been eight long years since Kilmacud Crokes could call themselves Dublin football champions but there'll be some party out Stillorgan way tonight.
For Paul Mannion, the clear man of the match with 1-6, it is a first county title — and he certainly deserved it today.
If he can carry on that unplayable kind of form, who'd bet against Crokes making a real run at the Leinster title over next few weeks?
Up next for the new champions of Dublin is a Leinster quarter-final against St Peter's Dunboyne. They're back out again on 11 November, so at least they'll have the chance to enjoy their night tonight.
Congrats again to Crokes, and commiserations to Jude's. That's all from us for now, but we'll have lots more reaction from Parnell Park over the course of the evening. Thanks for reading.
Exclusive Six
Nations Analysis
Get Murray Kinsella's exclusive analysis of Ireland's Six Nations campaign this spring
Become a Member