JURGEN KLOPP SAYS a summer rebuild is on the cards and he decided to sign a new contract as Liverpool manager last season so he could oversee it.
The current campaign has been a disappointing one and is in danger of unravelling after the chastening 5-2 Champions League defeat to Real Madrid left them looking at the race for a top-four Premier League finish to save face.
Their problems have been blamed on Klopp failing to refresh the squad in the right areas – specifically midfield – but the German said things were not as straightforward as "splashing the money" last summer.
Instead a more strategic approach has been taken and with midfielders James Milner, Alex Oxlade-Chamberlain and Naby Keita, forward Roberto Firmino and third-choice goalkeeper Adrian all out of contract in June, it appears that is when the significant transfer work will start.
Last April Klopp extended his contract until 2026 and he did so knowing that major changes were necessary.
"We know we have to change things and we will. We cannot do that now but it is already clear we have to do something in the summer," said the Reds boss.
"The way this club is led is not by splashing the money and having a look to see if it works out or not. Our transfers always have to be on point.
We cannot make four transfers before we know who will leave the club. I knew it would be tricky, that is one of the main reasons I signed a new contract.
"Not because I'm that great just because imagine the same situation with another coach. Everyone would have said 'Bring Klopp back'. We don't have that.
"Some of them want me out, that's fine, I can understand that as well. But it is about the stability we can get in. Last season was not a season for big change.
"We played until the last moment and if you want to change at this club you cannot just bring in new players and realise 'Oh, no-one wants to leave'. It doesn't work like that.
"It is not possible to start it (transfer planning) early because we had final after final after final, played the season until the last minute, played the Champions League final and then we had a short break, then we had a lot of injuries and the World Cup."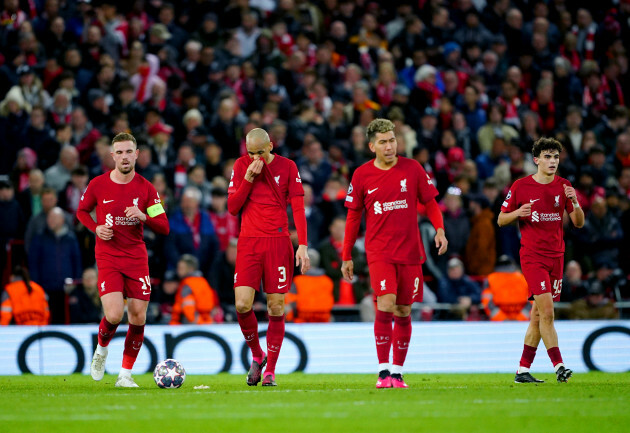 PA Beleaguered Liverpool players in midweek. PA
Klopp said this season's poor performances had had little effect on their long-term transfer plans.
"Not so much. We are all influenced by the things that happened recently but we are not that dumb," he added.
"All the problems we knew we would have this (poor results) came on top.
Now we are in this heated atmosphere where we lose a game and it is 'Everybody out'. We win a game and it's 'Give him a new contract'. I'm too old for that.
"We have to make our own plans and that is what we do but based on the way this club is led.
"It is obviously different to other clubs but that's how it is. It worked out so far and we have to see if it will work still or if we have to adapt."