Kansas City Chiefs tight end Demetrius Harris celebrates his touchdown.
Image: Charlie Riedel
Kansas City Chiefs tight end Demetrius Harris celebrates his touchdown.
Image: Charlie Riedel
SUPER BOWL CHAMPIONS Denver Broncos saw their slim hopes of returning to the NFL post-season extinguished overnight with a 33-10 loss to the Chiefs in Kansas City.
The Chiefs went into the contest assured of a playoff spot after the Pittsburgh Steelers defeated bitter division rivals Baltimore 31-27 in the first of two Christmas Day games.
That victory gave the Steelers the AFC North crown, and with Sunday night's result in Kansas City all of the American Football Conference playoff teams were set, the final berth going to the Miami Dolphins with Denver's defeat.
Chiefs tight end Travis Kelce and wide receiver Tyreek Hill scored early touchdowns to give Kansas City a lead they wouldn't relinquish.
Hill scored on a 70-yard running play and Kelce delivered an 80-yard touchdown on a screen pass from quarterback Alex Smith.
Kansas City improved to 11-4 and are headed to the playoffs for the third time in four seasons under head coach Andy Reid.
The Chiefs can still claim the AFC West crown if they can beat San Diego and division leaders Oakland fall to the Broncos next week.
The Broncos, less than a year removed from their Super Bowl 50 triumph over the Carolina Panthers, are the eighth champion in 20 years to fail to reach the playoffs the next season. The Panthers have also been eliminated from post-season contention.
Kelce and Hill combined for 255 of the 484 offensive yards Kansas City piled up against Denver's vaunted defense, which endured a bruising night.
Defensive end Derek Wolfe went into the game with a neck injury and departed with the injury in the second quarter. Cornerback Kayvon Webster departed with a concussion after absorbing a frightening first-half hit.
The Chiefs defense, meanwhile, forced two Denver fumbles and seized a last-play interceptions, surrendering only one touchdown and limiting the Broncos to just 246 offensive yards.
346lb defensive tackle Dontari Poe also made NFL history by becoming the heaviest player to throw a touchdown pass — finding Demetrius Harris with what Reid called a "bloated Tebow pass".
https://www.facebook.com/realnflnewsandupdates/videos/1918406905047423/
In Pittsburgh, the Steelers exploded for 21 points in the fourth quarter to get past the Ravens, who were eliminated from playoff contention.
Ben Roethlisberger connected on a four-yard touchdown pass to Antonio Brown with nine seconds remaining as the Steelers overcame a 10-point deficit in the final period.
The Steelers beat their bitter division rivals for the first time in five clashes.
"We punched our ticket, and that's an awesome thing," Steelers coach Mike Tomlin said of securing a playoff berth.
Roethlisberger, limited to an opening drive touchdown through three quarters, drove the Steelers to three touchdowns in 12 minutes.
That included two TDs from Le'Veon Bell some four minutes apart that helped the Steelers erase a 20-10 deficit and take a 24-20 edge.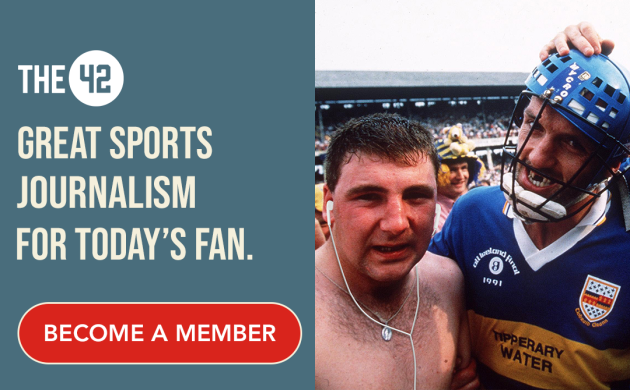 But Baltimore surged back as quarterback Joe Flacco mounted a 75-yard, go-ahead touchdown drive capped by Kyle Juszczyk's 10-yard scoring run.
Roethlisberger had just enough time to fashion a game-saving 75-yard drive, capped by Brown reaching with an arm to get the ball across the goal line.
"I have to get the ball in. I have to get the ball in," Brown said of his mindset. "I know I'm going to take some contact, and I knew after that I was going to be able to get the ball in."
Added Roethlisberger: "When AB came in there, I thought I could get it to him. He caught it at the one (yard line) and he reached over and it was just an awesome play by him."
The42 is on Instagram! Tap the button below on your phone to follow us!