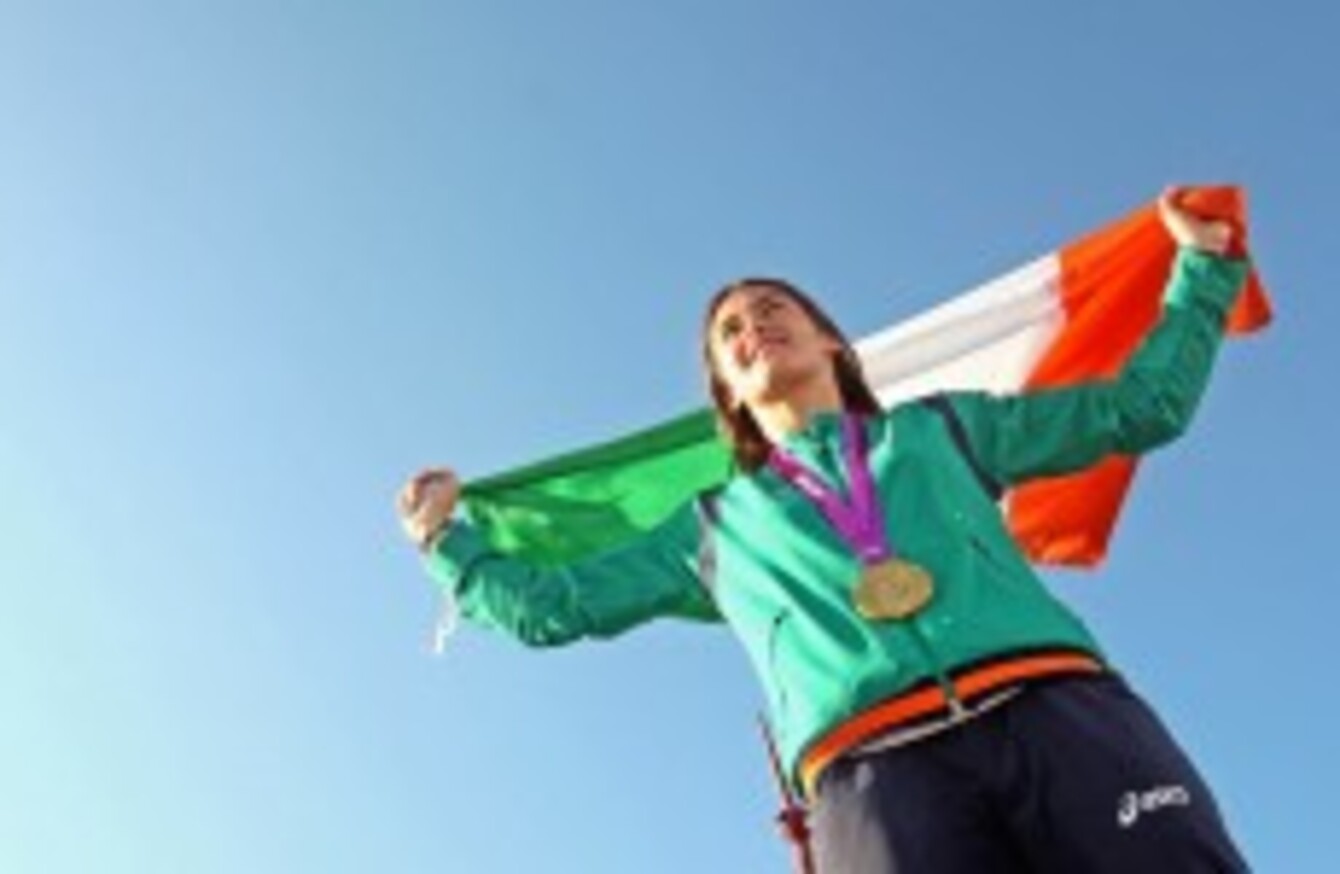 Image: ©INPHO/Donall Farmer
Image: ©INPHO/Donall Farmer
SHE WON THE hearts of the nation in London this summer and now Katie Taylor's Olympic gold has been overwhelmingly chosen as Ireland's most iconic sporting moment of 2012.
Taylor's thrilling win against Sofya Ochigava in the ExCeL Arena was the consensus highlight of the year with 75% of votes, according to figures released in Pembroke Communications' Sports Sentiment Index (SSI).
Rory McIlroy's second Major golf title at the US PGA Championship was a distant second with 7% of the vote while 6% chose Michael McKillop's 1500m Paralympic gold, presented to him by his mother Catherine in a surprise ceremony.
But following another remarkable 12 months in which she won her fourth successive world title and was named AIBA World Female Boxer of the Year for the third time, 2012 was unquestionably "the year of Katie."
The 26-year-old lightweight was chosen as Ireland's greatest current sports star by 53%, ahead of previous winners Rory McIlroy (16%) and Brian O'Driscoll (13%), while her gold medal was seen by 60% as the top Irish sporting achievement of the year.
The Olympic fever which gripped the country this summer was also reflected in the Team of the Year vote, with 38% picking the Irish Paralympic squad which brought home 16 medals from London.
89% believe Irish sporting success has a positive impact on the country's reputation overseas, and 40% said the Olympics provided the most positive image of Irish sport this year ahead of the Paralympics on 21%.
One thousand people were surveyed as part of the SSI, described by Pembroke as "a nationally representative survey that examines the attitudes of Irish people towards sport, their sporting heroes, participation levels, the impact of sport on the Irish psyche and the contribution sport is making to local communities."
The survey also found continued growth in participation sports in Ireland as 40% say they regularly walk, 22% swim, 16% run and 15% cycle.
Only 12% of the population now take no part in any form of sport, with women (14%) more likely than men (10%) to do no physical activity at all.
Who, in your opinion, is Ireland's greatest current sports star? (selected)
53% — Katie Taylor
16% — Rory McIlroy
13% — Brian O'Driscoll
5% — Henry Shefflin
4% — Robbie Keane
3% — Tony McCoy
2% — John Joe Nevin
What was the best/most memorable/iconic sporting moment of 2012? (selected)
75% — Katie Taylor winning gold at London 2012
7% — Rory McIlroy winning the US PGA title
6% — Michael McKillop being presented with his gold medal by his Mum
3% — Joe Canning's last minute equaliser against Kilkenny in the first All-Ireland Hurling Final
3% — Tony McCoy's win in the Gold Cup
2% — Michael Murphy's opening goal in the All-Ireland Football Final
2% — Connacht's first ever win in the Heineken Cup against Harlequins
1% — Sean St Ledger scoring for Ireland at Euro 2012
What are you most looking forward to in 2013? (selected)
22% — 6 Nations Championship
19% — World Cup Qualifying campaign in soccer
15% — Heineken Cup being hosted in Dublin's Aviva Stadium
12% — All Ireland Football Championship
11% — All Ireland Hurling Championship
8% — Cheltenham Festival
5% — Lions Tour 2013
3% — 2013 Airtricity League