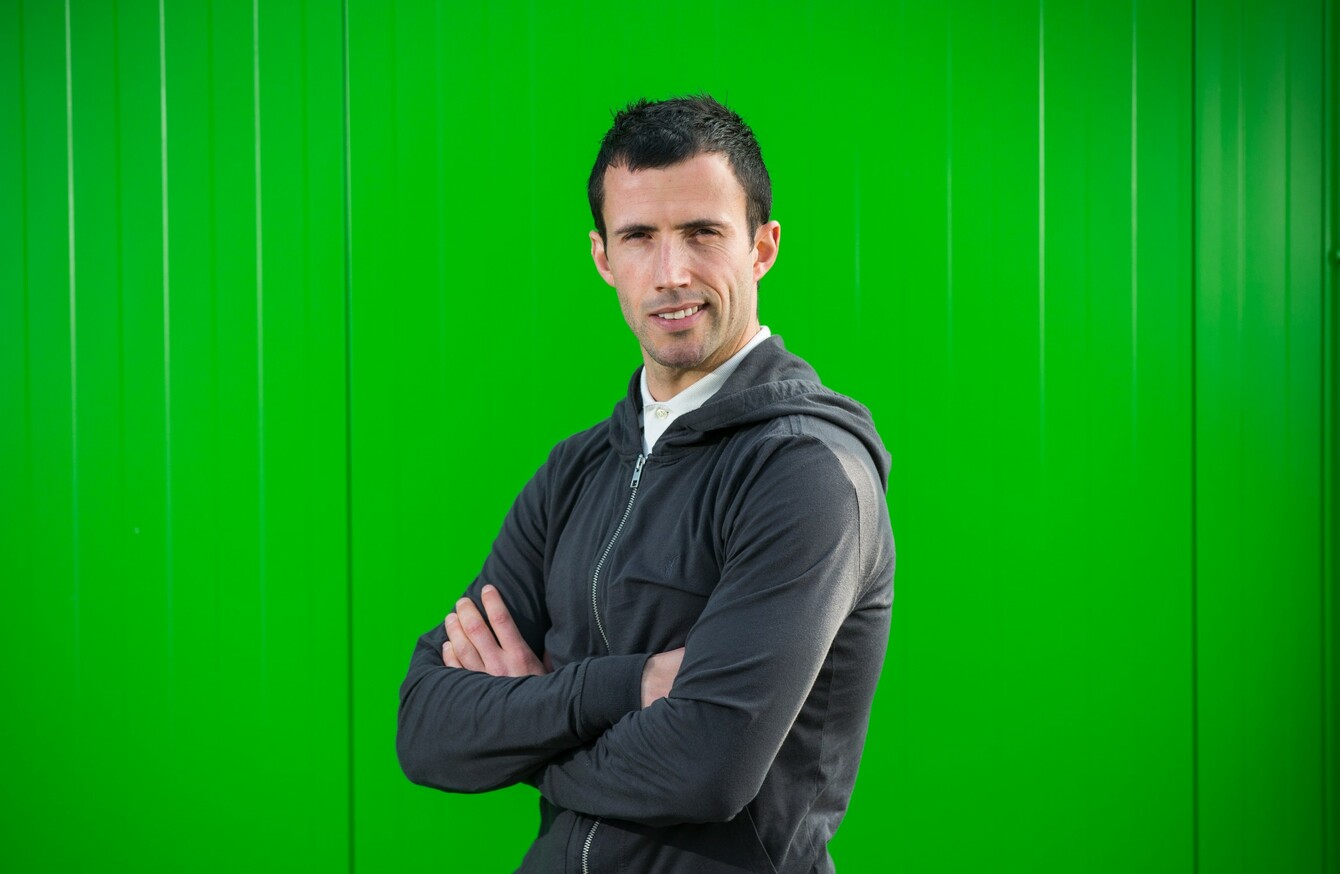 Keith Fahey is best known for his stints at St Pat's and Birmingham.
Image: Cathal Noonan/INPHO
Keith Fahey is best known for his stints at St Pat's and Birmingham.
Image: Cathal Noonan/INPHO
KEITH FAHEY HAS a love-hate relationship with football.
Playing the game itself is his passion. In a senior career spanning 13 years, he excelled in the game at various levels, with high points including a League Cup triumph with Birmingham in 2011 and an FAI Cup victory with St Pat's in 2014, in addition to scoring three goals in 16 caps for Ireland.
On the other hand, it's everything in and around football rather than the game itself that he often finds difficult. The greed of certain individuals, the long periods spent far away from family and friends, the toll it can take on your body — basically, the stuff you didn't read about in Shoot Magazine when you were younger.
Before it was complex though, it was simple. Growing up in Tallaght, he began playing locally, often on his brother's team against older players from the age of five. Seven years later, he moved to top Dublin schoolboy side Cherry Orchard and it was there that he caught the eye of Arsenal.
It is virtually every young Irish footballer's dream to earn a big move to England, and Fahey was no different. However, as if often the case, the move did not exactly work out as the young midfielder had imagined. Just 15 at the time of his switch to living in London, homesickness — a common issue for young Irish footballers who move across the water — made life incredibly difficult.
"I was never very confident when I was younger," he tells The42. "I didn't realise that I was that good. I got a chance to go to Arsenal and went without having to think about it. I never settled when I was there. I always wanted to be somewhere else. I wanted to be at home to be honest, in the early stages of my career.
I didn't really want to be in England. My friends were at home. My family was at home. I never wanted to be away living in someone's digs. A stranger's house was very strange for me. When young lads go away now, it's a struggle for some of them, and some of them take to it."
Fahey was part of a youth team that included Steve Sidwell. Jeremy Alliadiere, Jermaine Pennant and Graham Stack, all of whom went on to make a good living in the game, albeit away from Arsenal where competition for places was extremely intense.
It was a very talented age group. The year I left, we went on to win the League Cup. There were some very good players there."
At the time, Liam Brady — the former Irish international and noted RTÉ soccer pundit — was in charge of youth development at Arsenal. While he never reached the same heights, Fahey was a similar type of player to Brady — a technically gifted footballer who was extremely comfortable on the ball. Perhaps the former Juventus star saw elements in himself in Fahey.
"He understood where I was coming from, coming away on your own," Fahey says. "He was helping as much as he could. But I don't think anyone could have helped me when I was younger. My mindset was just I didn't want to be there.
I enjoyed parts of it. I enjoyed playing with some of the players — seeing them go on to do things and seeing a lot of them not going on to do things.
"It makes me think, after I finished, how lucky I was to get a second chance when I was older.
"I was told like every other kid was told that if you're good and doing well, you'll get your chance. I think Liam Brady really did believe that in me, but again, I just didn't settle."
Fahey attributes the impressive technical ability he acquired to some unconventional footballing habits as well as an innate obsession with the game from a young age — a mindset he suggests is not so common in aspiring footballers nowadays.
I was technically very good and always was. I put it down to playing a lot with a tennis ball when I was younger. I was as comfortable playing with a tennis ball as I was with a football.
"Kids don't play enough football these days.  I wouldn't have much of a say on the coaching side of it, what they're doing, what they're not doing.
I just notice the fields round the estates aren't as busy. There used to be loads of young fellas playing football, you just don't see it any more.
"There's an awful lot of pressure on kids' shoulders from what I've seen. There are little things said – 'if you don't do this, you won't go to England'. I just think a lot of it is so, so wrong."
Indeed, football in England, as Fahey discovered, was a world away from the game he knew and loved.
"It just got very serious," he says. "Football was friends in schoolyards, tennis balls, and playing it around the field, training and playing games with Cherry Orchard.
It went from that into (people being) very strict about tracking runners. It just got very technical and very serious all of a sudden. I was like 'what is going on here? This isn't how I remember playing football. I just never enjoyed it.'
"I never enjoyed life outside of football as well. There's not much you can do. Especially at 14 or 15 years of age. There was nobody around that I knew. It was just very lonely, very long days. I was very isolated… I'd isolate myself from people I didn't really know."
"You're just trying to fill in hours really. It was the same when I went over later in my career. It was just about putting in hours until you go training… But the second time was different. It was a lot easier but it was similar trying to put in hours.
There's not a lot you can do and not a lot you want to do other than play football. People tell you to do things and get interested in something else, but when you're that young or even when you're older, you're thinking 'no, my football's more important' and you're just concentrating on the football."
After two largely miserable years at Arsenal, Fahey wanted a new start and joined Aston Villa in April 2000 for a fee of £250,000 — an eyebrow-raising figure for an untested youngster, particularly back then. He spent three more years in Birmingham but not much changed in terms of his restlessness.
The same thing happened again. I ended up spending a year at home in between my three-and-a-half-year contract. I went back (to England) and then got released."
Like the majority of teenage Irish footballers who go over to England with big dreams, Fahey was returning to Ireland having not made a single first-team experience.
Without any obvious pathway following this failure, Fahey joined a team that a friend of his happened to play for — Bluebell United.
Yet the young Dubliner was far too good for the Leinster Senior League and it wasn't long before St Patrick's Athletic came calling — the side he would ultimately enjoy three spells with.
The Pat's manager at the time, Eamonn Collins, immediately identified Fahey's immense potential and gave him license to play with the sense of freedom he craved.
He saw great belief in me, put me in the team, so it just went from there," Fahey recalls. "I established myself in the team and that's when I really started enjoying playing football.
"He put confidence in me by telling me how good I was all the time. Sometimes he was probably blowing smoke up my ass, but to me, it was nice to be welcomed, it was nice to be playing in front of the fans. I used to love playing down in Richmond Park as well. I played my best football there. Just travelling from home, going to games, it wasn't really a job for me. I was not getting paid a lot of money, but I was back enjoying playing football and that's what I always wanted to do.
I played a lot of my football on the right-side of midfield… Sometimes I used to like a little shift out on the right. There's less pressure out there. Sometimes you'd come up against a full-back where you'd have the beating of him and knock it by him.
"I don't think I was every really 100% developed as a central midfielder. I ended up playing in there, but from a younger age, I probably could have got a lot more coaching as to knowing the position and that."
With family and friends in close proximity again, Fahey felt more at ease. He helped St Pat's win the League of Ireland Cup in 2003 while that same year, he was pivotal in the team's run to the FAI Cup final. It ended in big disappointment, however, as the Saints lost 2-0 to Longford Town, and Fahey received a 77th-minute red card for a two-footed lunge on Sean Prunty.
Shortly thereafter, following two-and-half largely impressive seasons with Pat's, Fahey was on the move again in what would turn out to be another unhappy experience.
Midway through the 2005 season, he joined Drogheda United. However, a failure to see eye to eye with manager Paul Doolin meant he was released having made just 22 appearances for the club.
I learnt a lot from Paul Doolin. Not that you have to be best friends, but from day one, we didn't click.
"I joined mid-season, the lads were in a cup final and I lost interest. I wasn't interested really in going into training. I had a falling out. He played me on the left side, which I wasn't too happy about. I was more of a defensive left-sided midfielder.
I did take a lot from the training up there, about set up and shape. Defensively on the left side, I took in a lot of information. But I didn't like travelling up, I didn't like being up there, I didn't like where we were training, the whole thing. I don't think I even lasted a year up there.
"It wasn't right for them, it wasn't right for me, I just didn't fit."
A return to Pat's was the obvious next move and it was in this second spell where Fahey played arguably the best football of his career. Between 2006 and 2008, he became an integral player for the Dublin side.
Pat's played in the Uefa Cup against a Hertha Berline side that included experienced Germany international Arne Friedrich, Łukasz Piszczek, who has since gone on to become an important player for both Poland and Borussia Dortmund, and Andriy Voronin, on loan from Liverpool at the time. Yet while Pat's lost the tie, Fahey earned rave reviews and eclipsed many of his more reputed counterparts.
The 2008 campaign also saw Fahey score 11 goals in all competitions, while picking up the PFAI Player of the Year award. His team, however, were left trophyless as they finished the league runners-up to Bohs, while also being dumped out of the FAI Cup by their bitter rivals.
Source: MarkCallanan1985/YouTube
It was clear that Fahey was ready to play at a higher level and in October 2008, he made public his plans to leave the Saints.
I'd seen players getting moves away at that stage and was thinking to myself 'have I done something wrong? Am I ever going to get a chance again?' A couple of players I didn't think could lace my boots I saw going away.
"The last season (in Ireland), I said: 'I'm going to give this a right good go'. The season went well for me. I got some great assists and cracking goals. We went on a European run.
"I was just thinking: 'Am I actually getting good or is the league going backwards or what?'"
A sense of regret and unfinished business was also spurring Fahey on.
I was a little bit older. I was probably, looking back, going: 'Jesus, I'm after throwing away a chance here'. When you're younger, coaches tell you: 'You don't want to look back in five or 10 years' time and say I could have done this or I could have done that.' That drove me on a little bit. I had more determination. I was more settled at home. I saw players going away and it bugged me, it really bugged me.
"I ended up being more determined every game and was quite disappointed I didn't win anything (with Pat's) that season."
Both West Ham and Sunderland, who were managed by Roy Keane at the time, were linked with moves for Fahey.
In the end, Birmingham were the only club making a firm offer and Pat's reluctantly agreed to let their star man leave
I said 'look, I'm going'. I was worried it wasn't going to happen. Then when I went over to negotiate, I was disappointed with what I was being offered. You hear about what you're going to be getting, but I was on nearly the same money at Pat's. That was disappointing. But I just said it's a start again in England and you have to take it.
"If you do well, you can make an increase on it. I'd just turned 26. I felt I'd a good few years left in me."
Fahey would urge any young Irish player in a similar position to do likewise. "If you stay here, you might never get that chance again, you might never develop," he adds.
Source: Birmingham City Football Club/YouTube
Joining the club in January 2009, Birmingham were going well in the Championship at the time. The Dubliner made a swift impact in his new surroundings, scoring four goals in 19 appearances as his team gained promotion to the Premier League after finishing second in the table. Fahey was immediately a regular fixture in the side despite competition from loan signings Scott Sinclair and Hameur Bouazza.
"It was a massive step up in standard (playing in the Championship)," he says. "I remember my first few days, I was starting to shine. I enjoyed it because players were quicker with their head, quicker with their touch. It was just a lot sharper.
I was probably a better trainer than I was a player when I was over there, because there's more at stake at that level and you have to adjust your game. You can't be flicking balls over people's heads, pinning 60 or 70-yard passes.
"There's sometimes 30,000 people watching games in the Championship, so I was quite aware of that without wanting to be aware of it. I was quite safe over there. I played a lot on the left side of midfield as well. I didn't give much away. It wasn't until my second last season there that I played in centre mid with Chris Hughton, where I felt comfortable again playing, I was playing with confidence."
His Premier League debut the following season couldn't have seemed more daunting — a trip to face Manchester United at Old Trafford — a game the visitors ended up narrowly losing 1-0.
I was nervous but a good nervous," Fahey recalls. "We didn't win but we played reasonably well. I played the full 90 minutes. I was happy with my game. I surprised myself. I was just delighted to get there. My dad, god rest him, he died soon after, but he was out there (watching).
"That was a big thing for myself and my father that he got see me playing at the top level.
People ask a lot now (about the best player I played against). Ones that would stand out would be Gareth Bale, Steven Gerrard, I played (for Ireland) against Messi in the Aviva. But when I played them, they never really ran amok against us, but you could see they were good players.
"I don't remember playing against one player over there that absolutely killed us. It was more coming up against strong teams.
The way (Birmingham manager) Alex McLeish had us playing, we were a team that were hard to beat. We worked hard for each other. We had a couple of hidings, but there weren't many massively outstanding players (that did damage)."
In his first season in the top flight, Fahey made 18 starts and 34 appearances overall, helping Birmingham secure their highest-ever Premier League finish as they came ninth.
At the end of campaign, he was rewarded with a contract extension having proved his worth for the club.
The following season, the highlight and lowlight of his time in England came within a couple of months of each. In February 2011, he started for the Birmingham side that stunned Arsenal 2-1 in the League Cup final. Though Fahey didn't score in the game, he came desperately close, as his powerful shot hit the woodward.
"I know what people think of the League Cup, but everyone competes in that now as much as the FA Cup," he says
"It was great. 90,000 at Wembley. Nobody expected us to win. I had family and friends over and all. I could have scored the winner but hit the post.
"I was nervous in the week leading up to the game, whether I'd be picked, I was just hoping he'd put me in. But I made the starting XI. I made a contribution in the game as well, so I was delighted.
"Having a few pints afterwards, it felt very surreal."
Yet within months of this fantastic achievement, the Blues were relegated. How did a team good enough to beat Arsenal descend into such a dramatic slump all of a sudden?
We missed (team captain) Barry Ferguson, our main playmaker and screen in front of the back four. He got an injury. There were a couple of older players we lost near the end of the season and I think the wheels came off for the last few games. We went on a bad run of form. I'm not sure what the exact points tally was, but you could kind of sense it was happening. It went down to the last day of the season and it was devastating.
"Everyone at the start of the season was saying 'you'll be safe'. I'd watch out for that season by season. There's always one team that surprises everyone and just has a fall.
I wouldn't say it was complacency. We'd just put so much into the season before to stay up."
Around this period, Fahey was also starting to make an impact for Ireland at international level.
He had been involved from a young age at underage level, and was part of the squad that reached the last-16 of the 2003 FIFA World Youth Championship squads, with other notable names including Glenn Whelan, Kevin Doyle and Stephen Elliot also part of that group.
It was surreal, because I was after being out all weekend. I got a phone call saying 'you're going into the squad' and I was like 'oh my God'. My head was wrecked. I think Sean Thornton got injured and I ended up filling in."
After making his debut for the senior side in a May 2010 friendly against Paraguay, Fahey went on to become a vital squad player during the Euro 2012 qualifying campaign, scoring the winner after coming on as a substitute in the tricky away tie against Armenia.
To this day, Fahey remains a big fan of the man he describes as "very eccentric" — former Ireland boss Giovanni Trapattoni.
"I enjoyed it and I wouldn't have a bad word to say about him, because he gave me my debut, he always picked me when I was fit.
It was just disappointing how quickly the fans turned on him. He was a hero, but that's football. A few bad results and he's the villain straight away, (people were saying) 'the football's bad'. The football was always bad. It was just, we got away with it, we got results."
With other technical gifted, creative players such as Andy Reid and Wes Hoolahan effectively ostracised from the team, was Fahey surprised that Trap had so much time for him?
When I went away I kind of switched on a defensive part of my brain where I would always think safe. At that level, managers pick a lot of players that they trust not to make a mistake.
"There's different kinds of managers that would pick gamewinners over players that are safe and it's just his mentality to pick a safe player. Fortunately enough, I got a bit of game time out of him.
"I started a few games and I scored. I came on in most of the games in that (Euro 2012) qualifying campaign, which is a proud memory to look back on."
Source: dinadangdong/YouTube
Sadly, though, despite making the initial Euro 2012 squad, a last-minute injury aggravated in training forced Fahey to withdraw — a moment, he feels, in hindsight, was the beginning of the end of his career.
"I wouldn't have made a difference (for Ireland at the Euros). I think I dodged a bullet. But it was very disappointing with the build-up in the hotel. I had all my gear and was packed. It was devastating, I don't think I ever really recovered from that in football. It was a slow decline from that day.
I had a hip operation only after I left Birmingham, but it should have been done earlier. I had groin problems because of it and I had an underlying knee problem as well. It just seemed after that it was a downward spiral.
"It was wear and tear from over the years. My groin took a battering from my hip.
I was taking injections into my hip, which I regret now. The hip one was the main one, the cartilage was wearing away. So there's nothing you can do. If you keep pounding on it, you'll be needing hip replacements fairly soon."
Following their relegation, Fahey played just one more full season at Birmingham. The following campaign, however, injuries continued to take their toll and restricted him to just nine appearances in the Championship.
Once Birmingham decided not to renew his contract at the end of the 2012-13 campaign, he took a few months out of the game, before moving back to the team he knew and loved best — St Pat's.
"I scored two crackers in my first two games, I thought 'Jesus I'm back here,'" he recalls. "But I just never got going personally after that."
There was at least one positive note to end on, however, as Fahey and St Pat's finally got their hands on the FAI Cup in 2014, after beating Derry City 2-0 in the final
In the second half of the season, after we got knocked out of Europe, we went on a good run of form. I personally played well — I felt sharper, I felt fitter. And it was nice to go back and win the cup, after being sent off (in the final against Longford) years ago.
"I know what it means to the fans. How long it took to win. Would they ever win it again? It was like there was a hoodoo every year. But it was important for myself personally coming back and giving something back to them. I knew I was leaving even before the cup final. I was promised this and that at Pat's. I just went with my gut instinct (to leave)."
I signed for (Shamrock) Rovers with Pat Fenlon, who was straight up and no bullshit. I enjoyed just speaking to him about what he was doing at the club. When I went to Rovers I actually didn't have one moan about things.
"There had been a lot of investment (at Pat's). Before I went away, Andrew O'Callaghan had just taken over the club. There were sports scientists, the food, the training and all that, the kitman, the gym, it was as close to what you'd get in England over here. And it was great.
But when I came back, where we were training was poor, we had to do pre-season on astro-turf. I felt it had gone backwards and I felt the league as a whole had gone backwards."
His spell at final club Shamrock Rovers was similarly short-lived, as his continuing battle with injuries prompted his retirement in 2015.
At the time I was a little bit relieved after the injuries and the whole thing. I was disappointed with how my career had ended up.
"When I retired, I was going 'happy days,' but after a while, you're looking back and gong 'jaysus I probably should have played as a bit-part player, just going into training, because it's hard now."
Aged 34, Fahey is currently undertaking an online strength and conditioning course as he adjusts to life after playing.
I was doing a bit of personal training. I kind of rushed into doing that course and once I had it, I started doing a little bit of it. I didn't stick it out and assumed it wasn't for me.
"I haven't figured out what I want to do yet so I'm still very much in transition to be honest.
I'm trying to find something to do and it's not easy. I'm going to give myself a bit of time and just see what I want to do. I don't want to rush into something and I'm not under any pressure."
And does he still harbour hopes that his future will involve football in some form?
There are a lot of things personally that I dislike about football. It ruffles my feathers. I couldn't carve out a living being dishonest and a lot of (people involved) do. The main part that I like about it is playing it and I can't do that. It's something that I have to look at. I couldn't tell you if I'll be involved.
"I need to do a lot of work on myself and just see where I can be happy."
The42 is on Instagram! Tap the button below on your phone to follow us!