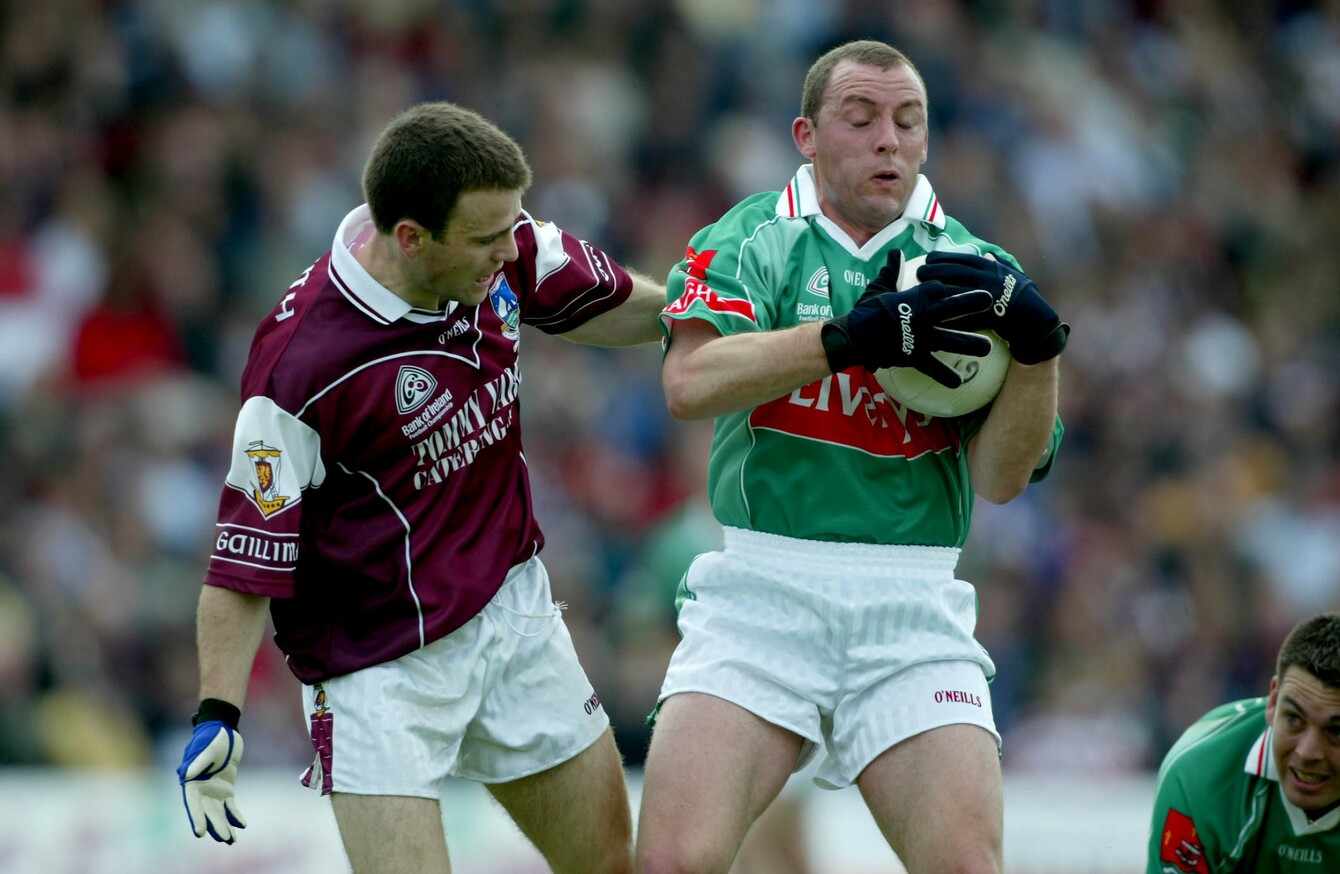 Kenneth Mortimer in action against Galway in 2003.
Image: INPHO
Kenneth Mortimer in action against Galway in 2003.
Image: INPHO
KENNETH MORTIMER WOULD gladly trade his two All-Star awards from 1996 and 1997 for a coveted Celtic Cross.
Renowned as one of the finest corner backs of his era, Mortimer played in the drawn final with Meath in 1996, and subsequent replay, and lined out against Kerry a year later .
On both occasions, Mayo came up short in their quest for a first All-Ireland SFC title since 1951 – and that long wait still continues ahead of Sunday's final with Dublin.
The 1996 final replay with Meath will forever be remembered for the infamous mass brawl that led to sendings-off for Colm Coyle and Mayo's Liam McHale.
Source: MuscularChristianity/YouTube
But Mortimer recalls a set-to in the drawn match that's "never, ever mentioned."
He says: "It was more handbags that anything. It was more a case that everybody decided to get involved but it didn't escalate into anything of significance, like the replay.
"I wouldn't necessarily say there was any significant historical rivalry between the counties.
"There had been some previous meetings but it was never a regular pairing.
We did play them that year in the National League quarter-final, and won that game, but there was nothing in that that would have suggested there was a likelihood of what followed."
Coyle's late point that bounced over the crossbar ensured that Mayo and Meath would have to do it all over again.
And all hell broke loose in the replay and Mortimer believes that Mayo suffered most when McHale was sent off.
"Did it have a big bearing on the game from a Mayo perspective? Sure.
It resulted in the loss of one of our more senior figures, one of our leaders, which was always likely to have an impact."
Brendan Reilly scored the winning point but Mortimer unfortunately slipped to present the Meath forward with the space to clip over the decisive score.
"I slipped in the corner and he went around me. It's just one microsecond in the overall game, that you don't generally tend to remember. I got enough abuse about it but I don't pass a blind bit of heed to that. It's history and that's where it will stay."
Source: DunboyneGAA/YouTube
Mortimer, older brother of fellow former Mayo players Trevor and Conor, gained some consolation when he was honoured with an All-Star at the end of the season.
He earned individual recognition again a year later but Mayo were still licking their wounds following another final defeat, this time against Kerry.
"Look, the harsh reality is that everyone plays to win.
"And while we had a group that was largely good enough to win it, it just didn't happen.
Individual awards are great and all of that but I don't think anybody plays the game to be an All-Star. I certainly didn't.
"Some people might decide to engage in self-pity but that's not in my character. And so I just got on with it. Life is too short."
Ahead of Mayo's latest quest to crack the Sam Maguire code, we ask Mortimer if the pressure is on his native county or champions Dublin ahead of the Croke Park shoot-out.
"It's a good question to ask," he says. "However, it's very difficult to explain what pressure individual players are under. Every individual is different and will react to and deal with pressure in different ways.
"My suspicion is that the Mayo players will not feel any additional levels of pressure.
"They've been at this stage for quite a number of years and will have all of the requisite experience to deal with it. That's one significant benefit and all of the focus and hype around this game rests on Dublin's shoulders.
"They're overwhelming favourites for a reason but the curious thing is, on reflection, if you look at the performances between these teams over the last three or four years, Mayo are more than capable of competing with them.
"The argument cane be made that Mayo haven't beaten them when it mattered most but there's never much between them. So, are Mayo stronger or are Dublin stronger than previous meetings?
"With the losses of Rory O'Carroll and Jack McCaffrey, you'd have to suggest that, in areas, Dublin are probably not. I'd be pretty confident that will at least provide the Mayo group with a level of confidence as they approach it. I don't envisage they will feel under any pressure.
"It is an All-Ireland final, that brings its own pressure, but the vast majority of the group have been there, done that. I don't necessarily think it will have any great bearing for both sets of players – they are largely very experienced at this stage."
The42 is on Snapchat! Tap the button below on your phone to add!