PRESUMABLY EVERYONE HAS heard of The Fear but if not, here is the urban dictionary definition – 'the sense that you have massively embarrassed yourself after a night of drinking'. Leinster players suffer from The Fear too, but in a different sense.
Their version comes in the form of a warning from management during the summer holidays. While we like to go away on J1 trips or Thai booze cruises, the Leinster squad get a light – but firm – warning that they can have fun; just not too much fun.
"We call it 'The Fear Email' and we get it at the start of our holiday," Leinster flanker Kevin McLaughlin said.
"It gives you targets that you have to hit on your first day back in terms of body fat and how much muscle you have to retain. It isn't the nicest email to get when you are going off on a big holiday but it just reminds you that your body is your work and you have to keep it in order."
That is just one of the many reminders rugby players get on a daily basis that their job is a little different. Sure, there are massive perks but they also have to lead a very disciplined life away from the pitch (well, unless you are Gavin Henson).
McLaughlin is currently experiencing one of the downsides to professional rugby as he has been sidelined since week two of the Guinness Pro12 with a knee injury.
"I caught the last line-out against Scarlets and my knee twisted a bit," McLaughlin says.
"I've been struggling since and what is annoying about the injury is that there is no exact time frame for it, it could take anywhere from between 2-12 weeks depending on how you react but I'm hoping to be able to get back playing rugby next week."
McLaughlin hopes to be involved against Castres next weekend but says he would be happy to get a run out for the A side to pick up some match fitness. He doesn't know if he will watch Leinster's Champions Cup game against Wasps this weekend because 'as any professional will tell you, it is hard to watch the team when you aren't playing'.
But besides doing some extra rehab work on his knee, he hopes to catch at least one course of this weekend's rugby feast and also adds that when they aren't playing, the Leinster squad are regular fans of the game – to an extent.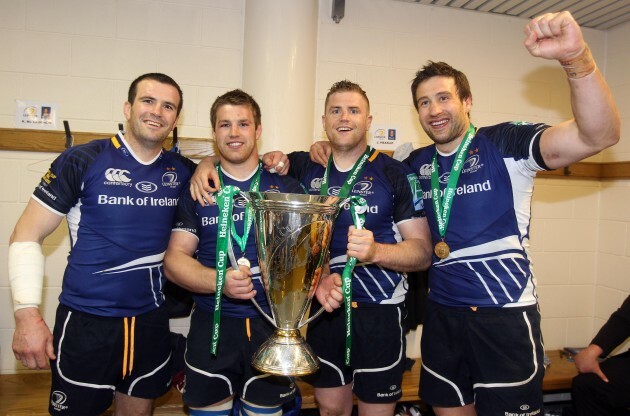 Dan Sheridan / INPHO McLaughlin started two Heineken Cup finals at flanker for Leinster. Dan Sheridan / INPHO / INPHO
"Most of us our massive rugby fans and when we are away, our resident techie Rossie [Mike Ross] will put whatever game is on up on the big screen and we will watch it," McLaughlin said.
"Some of the lads say they don't really like rugby but I think they are lying to be honest. It is hard not to like it when you immersed in it all the time.
"When we come in on a Monday we talk about what we saw over the weekend but it would be a bit more technical than your average rugby punter. We might talk about a certain pattern Clermont ran or something like that."
There were some shots fired from the Wasps camp earlier in the week after their flanker Nathan Hughes gave an interview saying that he couldn't name a single Leinster player. McLaughlin thinks the days of pinning up material on the dressing room wall are largely over but does remember one of his old Leinster coaches doing it from time to time.
And the fact that a Wasps player said it doesn't surprise him either because Eoin Reddan said of his time there that the team was always focused on what they can do and didn't bother much with analysing the opposition. You can probably get away with that to an extent when you have Lawrence Dallaglio and Josh Lewsey. When you have Andy Goode at out-half? Probably less so.
Exclusive Six
Nations Analysis
Get Murray Kinsella's exclusive analysis of Ireland's Six Nations campaign this spring
Become a Member
"Well, I hope by seven on Sunday evening he will know the name of each and every one of our players," McLaughlin said.
"Maybe he doesn't know any of the players so that would make him one of the few who claim to not watch rugby.
"Cheiks [Michael Cheika] used to do a bit of that stuff with the newspaper clips when he was here but it would be a bit futile to do it this weekend because we don't need any extra motivation."
Part of the reason that those motivtional tools have died down a bit is because of how professional the game has become. It isn't just one weights session, one pitch session and then the lads play Call of Duty on the XBOX for the rest of the day.
Lorraine O'Sullivan / INPHO McLaughlin made his first big impact in a Leinster jersey against Munster in October 2009. Lorraine O'Sullivan / INPHO / INPHO
Every day, the Leinster squad have what is called an MSR protocol where they document how much they slept the previous night and do a bunch of muscle exercises to see if they have any possible twinge or tweak in any part of their body. Up to a half an hour can be spent stretching one single muscle if there is a tightness.
Monday is particularly busy for McLaughlin.
"On a Monday, I do pilates before training so I am up at 6.30," McLaughlin said.
"Then we have weights, a review session, lunch, another review and then training. I wouldn't usually be home until about five."
There is some time designated to let loose, but it isn't like the halycon days when at the final whistle the captain points to the clubhouse and screams 'To the bar, lads'. Rather, each player can go out as much or as little as they want – provided their performance reaches the usual heights.
"We are actually able to go out as much as we want as long we can still train to the best of our ability," McLaughlin said.
"If someone wasn't delivering at training it wouldn't even be the coaches who said anything; the players would let them know that they needed to sort their lifestyle out.
"It varies from player to player. Some guys would go out every couple of weekends but I usually go out every one or two months and grab a few beers. It can be good for team bonding to do it now and again."
Under Armour ambassador Kevin McLaughlin was speaking at the launch of Under Armour's STORM technology. For further information log on to www.underarmour.com