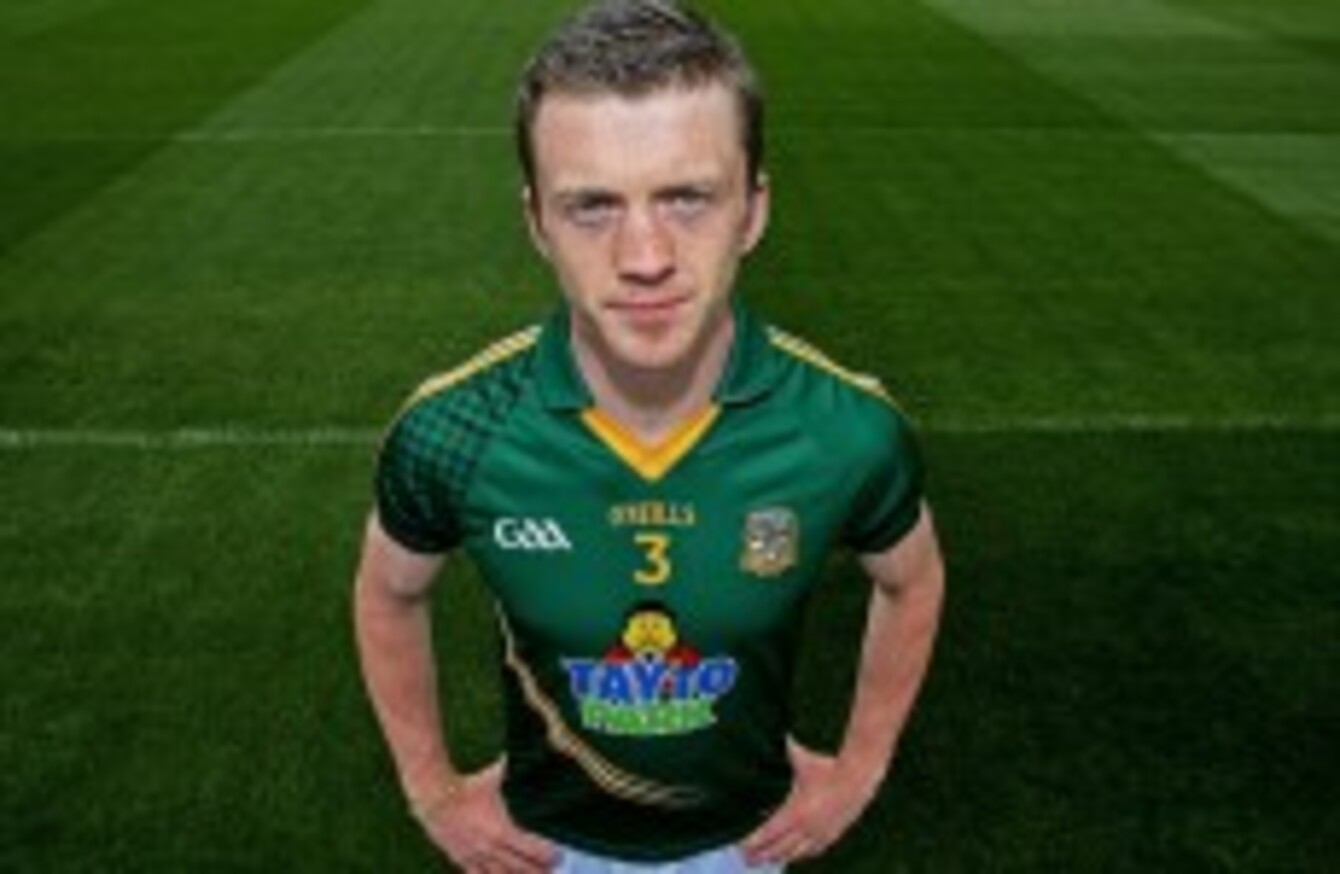 Kevin Reilly in the famous number 3 jersey.
Image: Donall Farmer/INPHO
Kevin Reilly in the famous number 3 jersey.
Image: Donall Farmer/INPHO
FOR THE PAST 10 years Kevin Reilly has done a pretty decent job of filling the Meath number three jersey — a position he was born into.
Following in the enormous footsteps of Darren Fay, not to mention the likes of Mick Lyons, Jack Quinn and Paddy 'Hands' O'Brien, who before him manned the famous green and gold jersey — Reilly has built a reputation of his own over the past decade.
"I'm privileged to be able to wear that jersey. It's a great honour, considering the people that have worn it before me.
"It's well documented in that book that's written about Meath full-backs (Four Kings by Philip Lanigan), and there is a great, proud tradition there."
"Growing up my two brothers played at full back, and I was just put there straight away, just because they were defenders and I've stayed there since."
"Unfortunately, players just passed through that jersey, and before long, there'll be somebody else wearing that number three. You just hope you're able to do it proud, put in some big performances, and help the team as best you can.
"But there is something special about that number three jersey."
Growing up as a young defender in Meath during the 90s; there was one man in particular who a young Kevin Reilly looked up to.
"Darren Fay was very much an idol of mine, and I was fortunate to be able to play with him for a couple of years."
"When Darren came back in 2007, I would have played full-back and he would have played centre-half and the year after we swapped. It was a great opportunity to play with Darren Fay and learn from him. We all know what he did in the past and his successes as well, he was a role model growing up and we just hope to live up to the standards he set for himself."
Source: ForKingAndCountry2014/YouTube
"Mick Lyons and them were a little before my time. But I've seen many a clip, and he was a colossal full back, he dominated that small square.
"I suppose the forwards coming in now are much more agile, but look, that's for us to deal with."
At 28 years of age, Reilly has won just one Leinster title in his nine years thus far for Meath. By contrast, a young Darren Fay had won three Leinster titles and two All-Irelands in his first five years for the Royals.
Despite the lack of success, the pressure to succeed in the county remains as strong nonetheless — a pressure Reilly relishes.
"There is a lot of expectation within the county, and rightfully so. There's a lot of expectation among the players and squad as well. I think we have the ability to challenge any team. I just think we have to put in a plan, train hard to get up to that level.
"That's where we aspire to be, but in terms of supporters, I think they're right to expect the best out of this team. Meath, as a proud football county, should be contesting for honours."
Playing there for as long as he can remember, Reilly had little choice over his future position, but he does enjoy his rare opportunities further afield.
"I do relish the chance to get out the pitch a little more, at club or county level. In fact, I made my debut for the senior club team at full-forward."
For now though, Reilly can't look past the challenge of this weekend's Leinster semi-final with Kildare, as he aims to write his own history in the Meath number three jersey.
"We're not going to fear any team. I think we'll be concentrating on our performances and we'll be going out to do our very best."