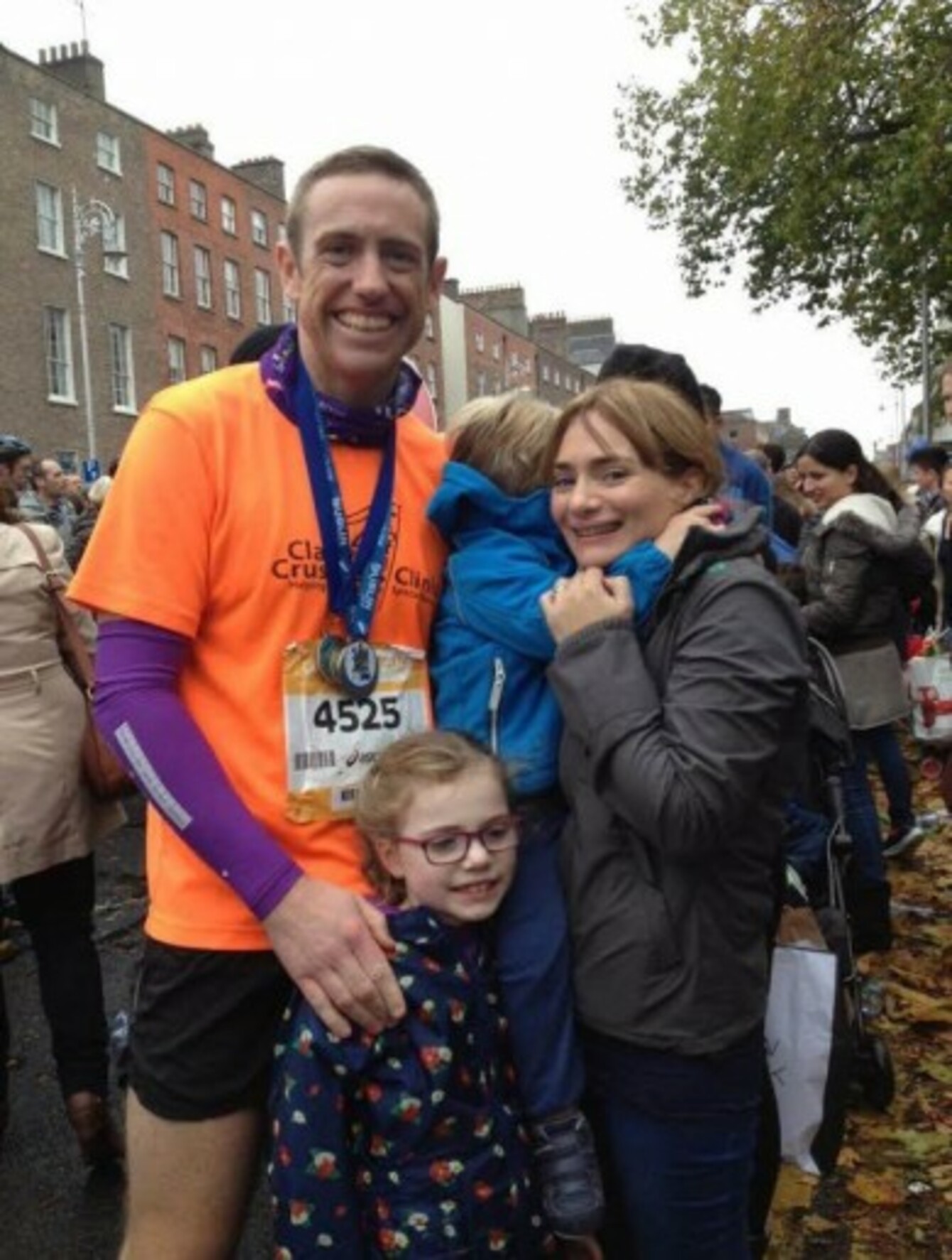 Kieran McCarthy went over 24 hours without sleep to complete his challenge.
Kieran McCarthy went over 24 hours without sleep to complete his challenge.
Updated at 22.16
FOR MOST PEOPLE, competing in the Dublin Marathon is a test of their physical limitations, but for one competitor in particular this year, completing the event amounted to an incredible act of bravery, willpower and generosity.
A seasoned Dublin Marathon runner, around a year and a half ago, Clare native Kieran McCarthy came up with an ambitious idea — he would compete in the event, but only after cycling from Dublin to Shannon and back again (over 400km alone), while swimming 10km in between.
'Team Aoibheann' was the name given to the challenge — fellow members of McCarthy's family both competed and helped with fundraising, while the Aoibheann in question is McCarthy's daughter.
Aoibheann suffers from cystic fibrosis and as well as hoping to create awareness of the disease, through his participation in this challenge, McCarthy was aiming to raise thousands in aid of two charities —  TLC4CF (Tipperary Limerick Clare for Cystic Fibrosis) and Clare Crusaders Clinic.
Consequently, at 6am on Sunday 25 October, Kieran and his brother John (who accompanied him on the first part of the journey and also took part in the marathon) set off on their bikes to begin this epic challenge.
McCarthy, who works as a Shannon Airport fire and police officer, completed the initial cycle and the swim relatively seamlessly, however, adverse weather conditions made the remainder of this journey particularly arduous.
"We had to cut the second cycle short because the weather just got too windy," McCarthy tells The42. "We were around Portlaoise and the weather was too bad. I said to the lads we had to make a judgement call.
"The wind was horrendous… I felt it was against us going to Shannon, which I didn't mind. I felt okay, it's going to be with us going back. But it changed direction and we just had it in our face. We didn't get any respite at all, and that really drained me… You changed direction and it would just go with you. Wherever we were facing, it just decided to blow against us.
"We were really running the risk of missing the start of the marathon. At that stage, we were over 130 or 140 km, so we had it pretty much done, it's just that we were running out of time. At that stage, I was in a bad way. I don't think I've felt that tired in my life. It wasn't that I was sore — it was just that every part of me was empty."
By the time McCarthy reached Dublin ahead of the marathon, his morale was low and he was unsure if he had the ability to persevere, having gone more than 24 hours without sleep. However, a timely, unexpected boost helped him get a second wind and ultimately finish the race in just under four hours.
"We got to Dublin and I said, if I have to walk the marathon, I'll walk the marathon. I was at the hotel and my wife told me I was after getting the Lord Mayor's medal award, which I didn't know about. That distracted me, because we had to get to the starting line and meet the Lord Mayor of Dublin. That helped to bring me back around again. So I was able to switch off. And then suddenly, I was standing at the start line. So I said: 'Right, I have to do a marathon now.'
"I just tipped away at the start and just as the race went on, I could feel the body re-charging. So I just kept going and eventually, it was finished. When I crossed the line, I couldn't believe it was all over."
As someone who has competed in every Dublin Marathon since 2008, McCarthy was aware of the significance of the Lord Mayor's medal and felt humbled to receive it.
"Getting that medal gave me a boost because I would always be someone that looked up to see who got it. I do Dublin so often — I always looked at everything to do with it. When I got it, it really gave me a boost and it distracted me from the whole thing. I was going to walk the race, because I'd never felt so weak.
"People around Clare, Tipperary and places like that, even further afield, from Australia and America had been donating. Those people had backed us so much — so I felt during the race, if the body can do it, I said: 'I owe an awful lot of people.'"
This week was the first time McCarthy had ever swam 10km — the most he had attempted previously was 7km — and he admits that preparation for the challenge was unconventional.
"I've had no coaching or anything like that," he says. "I just let the body dictate it. I've done marathons, I've done three or four triathlons over the years, but mainly, the thing I stick to is just doing the Dublin Marathon. I know my body, if it's okay, I keep going.
"I set little targets, it's like building blocks, get to here and then move on. All year, I'd been blanking out that I had to do (the challenge). I practiced, as I had to get to the point where I had to cycle 100km. Then I thought, I need to cycle 100km and swim 3km. So that's what I was doing. Every time I reached a milestone, I'd build a little bit on and build a little bit on. I thought, I've reached those and just have one left — let's get it done.
"Someone said to me 'what training plan was I following,' and I said: 'Well, I'm kind of winging it.' I don't take these things too seriously, so I said — if it works, keep going, if not, change it."
Having initially planned to do the marathon as a one-off, McCarthy describes how he hasn't been able to resist coming back year after year since 2008.
"I crawled in in four hours and 50 minutes, or something like that. After finishing, I changed things again and reckoned I could take a few minutes off (my initial time).
"I said: 'I'll do one more. I'll do 2009. I'll see if I can take a half hour off it or something.' I took a bit off it and when I crossed the line in 2009, I said 'that's it, never again'. Unfortunately, a couple of months later, my daughter Aoibheann was diagnosed with cystic fibrosis. Straight away, I said to myself: 'There goes that plan to never run again.' I said I reckoned I'd be running the next Dublin City marathon for Cystic Fibrosis, so that's what I've been doing since."
He also explains how the two aforementioned charities this year are close to his heart.
"There's over 400 children with various illnesses or conditions. They give free physiotherapy. They give occupational therapy. They have a range of facilities for children. They don't charge for what they do — it's all fundraising.
"People in Ireland are very good at giving to charity, so I'm always afraid to say we'll raise x amount because there's always another charity with just as good a cause. I said 'we'll see if we can raise 10,000 — if we get it, we get it, if we don't, we don't.' But it looks like we will get it and even a small bit more.
The donations are all the more remarkable given that the website in question was down for two weeks just prior to the event, and McCarthy is keen to stress the role of others in helping to raise such a phenomenal amount in cystic fibrosis aid.
"I'm Aoibheann's dad. It's just something I feel I should be doing. I'm not a politician. I can run. I can swim. I can cycle. I feel when I'm doing that, I'm in complete awe of the other people doing this. My brother John cycled from Shannon to Dublin and he ran his first marathon yesterday. Peter had run one marathon last year and he cycled from Shannon to Dublin. He did it in 3.25, so I stand back and say these guys have no reason only to help me. Fair enough, John is Aoibheann's godfather, but they're going above and beyond, whereas I'm expected to do these things.
"That's why I called it 'Team Aoibheann'. This is everybody. The reality is — friends, family, the school, everybody got behind it. I was wondering how am I going to complete this, but so many people had backed me. If they hadn't, I'd probably have just called it off and stopped running. It drove me on."
For more information and to donate to Kieran's charities, click here. Check out the 'Team Aoibheann' Facebook page here.