IT'S REMARKABLE TO think that last year's Heineken Champions Cup trophy was the first real silverware in La Rochelle's history. Talk about starting with a bang.
There were a couple of successes in the now-defunct French League Cup back in the early 2000s, but you won't hear anyone bragging about those.
Times have changed. These days, Stade Rochelais – the club's official name – are a big deal and while it might seem like they've had a sudden rise to the top, it has actually been a gradual, patient, deliberate upward trajectory. Brick by brick.
La Rochelle is a truly lovely town on the west coast of France. Visit if you get a chance. It's a small place, with a population of only around 70,000, so it's not a major metropolitan centre by French measures. The club has had to box clever.
Ronan O'Gara's arrival in 2019 was crucial in helping les Maritimes to take that big step and win their European title. Everyone who knows the La Rochelle story is in agreement about the impact of ROG. But the charismatic Irishman works on solid foundations that have taken nearly two decades to create.
Central to the journey is long-serving club president Vincent Merling. He's the "architect" of the club, according to Yann Sternis, a journalist who covers La Rochelle for L'Équipe.
Born and bred in La Rochelle, Merling played for the club in the 1970s and has a successful business in the coffee industry. He has been president since 1991 and is still going strong in that position at the age of 73. 
La Rochelle were in the second-tier Pro D2 for pretty much the entire 2000s and after they bounced up to the Top 14 for the 2010/11 season and straight back down, Merling and co. launched a five-year strategic plan called 'Grandir Ensemble' [Growing Together] to ensure that the next time they went up, they'd stay in the Top 14. They were promoted again in 2014 under Patrice Collazo's coaching and have never looked back.
"Progress is one of the big values of the club and I think it's one of our biggest selling points," says La Rochelle's sporting director Robert Mohr, who played for the club from 2002 to 2012 and rejoined in his current role in 2019.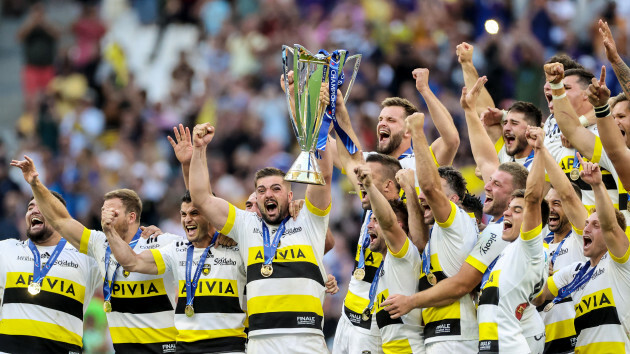 James Crombie / INPHO La Rochelle lift the Champions Cup last season. James Crombie / INPHO / INPHO
"Even when I played here, you always came back at the start of the season and it was like coming back to a new club because things would have improved."
Merling is no sugar daddy. Instead, he and La Rochelle have attracted investment from pretty much everyone who's anyone in the region. Every year, slowly but surely, their budget has crept up and up.
"Unlike a club like Toulon or Racing, La Rochelle don't have a big financial boss like a Mourad Boudjellal or Jacky Lorenzetti," explains Vincent Bissonnet, a journalist with Midi Olympique.
"They have had a long-term project where they attracted more and more financial partners every year."
The official club website lists 548 partners at this stage. Their total operating budget reportedly now stands at more than €30 million per season. The salary cap – money spent on players' wages – in the Top 14 is €10.7 million and La Rochelle maximise their spending power. They've developed into one of the wealthiest clubs in France.
La Rochelle's partners have a say in how the club is run. They're not just shareholders, so it really is a community project. Adding to that sense of community is the fact that many of La Rochelle's admin staff and coaching staff are former players. They know the place better than anyone.
Another key to increasing the budget has been the brilliant support La Rochelle enjoy. Incredibly, their Stade Marcel Deflandre, which was boosted to its current 16,000 capacity in 2017, has been sold out for 80 games in a row. When La Rochelle returned home with the Champions Cup trophy last year, 35,000 people turned out at the Vieux Port for a raucous welcome.
"The last time you could actually just come to the stadium on the day of the game to buy a ticket was 2015," says Mohr.
La Rochelle have 13,000 season ticket holders and they could sell another 3,000 tickets of them if they wanted. Instead, they retain scope to allow potential new fans a chance – even if it's a slight chance – to come and watch the team. Not overreaching with the size of the stadium was deliberate.
"The stadium isn't too big, but it's always full," says Sternis. "A bigger stadium might not always be full all the time. It's so difficult to get a ticket for a match in La Rochelle."
Le Parisien / YouTube
It has helped that the team has continued to improve. By 2017, La Rochelle had stunned the country to finish top of the regular season table in the Top 14 before losing in the semi-finals. They've only got better since.
Recruitment is an important part of La Rochelle's set-up, particularly given that their local population base isn't huge, but there is a focus on the academy. Sometimes, young players come from other parts of the country and La Rochelle put the finishing touch on their skills.
For example, captain Grégory Alldritt and hooker Pierre Bourgarit joined from Auch at the same time when they were 20.
"Now they're some of the best players in the world," points out Bissonet.
Signings from abroad have been pivotal too. Ex-All Blacks lock Jason Eaton was one of the first big ones of the modern era when he joined in 2014 and his positive experience paved the way for others to follow. 
Now, the likes of Wallabies lock Will Skelton and former All Blacks scrum-half Tawera Kerr-Barlow are having a huge impact for O'Gara's team.
Mohr, a native of Germany, is in charge of recruitment for La Rochelle and he explains the fine art of it. First, though, it's important to note that his role as sporting director means O'Gara can just focus on being a rugby coach.
Former Ulster boss Jono Gibbes was La Rochelle's director of rugby from 2018 to 2021 but when he left, the club decided that head coach O'Gara's contribution would be maximised by having Mohr deal with most of the off-field matters.
"ROG's mission is to make the team perform. He wants to win week in, week out," says Mohr.
"I look after the recruitment, organisation, staffing, and sporting project for the middle and long-term. He doesn't want to do what I do and I can't do what he does, so it works well."
So how does the recruitment work? It starts with Merling, O'Gara, Mohr, and general director Pierre Venayre – another former La Rochelle player – sitting down to assess what they need to add to the squad, working three years in advance.
They discuss whether an academy player will be able to fill the hole and if not, Mohr researches a wider group of possible recruits, scouts them with some of the coaching staff, then delivers a final shortlist to O'Gara. 
"At the end of the day, Ronan decides who he wants from that shortlist," says Mohr.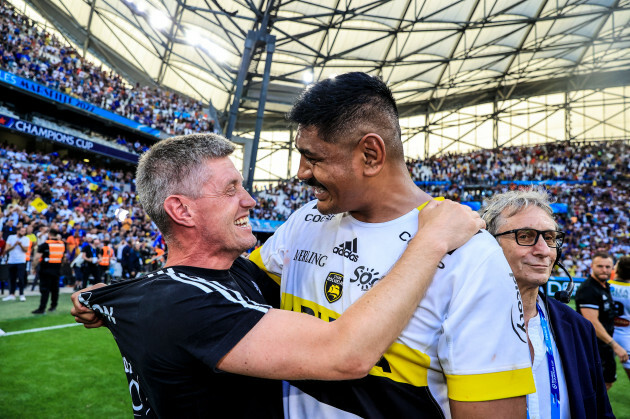 Billy Stickland / INPHO O'Gara with Will Skelton. Billy Stickland / INPHO / INPHO
Mohr explains that he and Venayre consider all of this in light of the club's payroll, again working three years in advance, and with a view to the worst-case scenario in terms of finances. They can't afford to take big risks.
"Because we don't have one rich owner, if we get it wrong and the club gets into a deficit, there's no protection to catch us. We can't make a mistake, so we have to be very careful."
Mohr also says that La Rochelle have gone against the French trend of having big senior squads with four of five players competing for one position. They're going to have only 30 senior professional contracts next season, with trust placed in the academy to provide squad depth. Whatever is saved on senior contracts is invested into the medical side of things, strength and conditioning, and recovery facilities.
"If you look over the last three years, our injury rate has decreased dramatically, we don't have a lot of injuries," says Mohr. "That allows us to have this approach. Everything is related."   
Part of the club's 'Ecrire Notre Histoire' [Write our History] strategic plan from 2016 to 2020 was constructing their impressive high performance training centre called Apivia Parc where O'Gara's squad work every day.
La Rochelle are keen for every signing from abroad to be a world-class player and they've done well in this regard. Take Skelton, for example.
"He had a taste for winning," says Sternis. "He obviously brings his skills and he's a huge guy but Skelton has also helped that winning mentality. It was the same with [former All Black] Victor Vito, who left last summer. He was a massive recruit."
It helps to convince possible recruits when La Rochelle or the nearby island of Ile de Ré are such nice places to live, particularly if the players have families.
It's also worth pointing out that La Rochelle have done well by bringing in players who haven't been the biggest names. France tighthead prop Uini Atonio was plucked from obscurity in New Zealand in 2011 and is now a true local, while Fijian flanker Levani Botia arrived in 2014 without hype.
"They've made a lot of good picks," says Bissonet. "Levani Botia was playing in Fiji 10 years ago when they recruited him. Now he's this amazing player."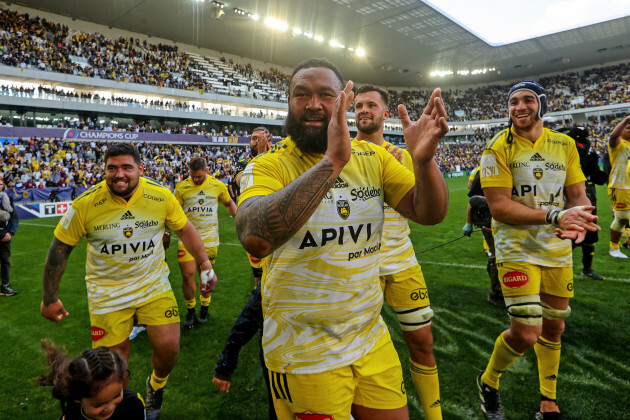 Ryan Byrne / INPHO Uini Atonio joined as an unheralded 21-year-old. Ryan Byrne / INPHO / INPHO
The results of all of this long-term planning and execution have been plain to see. La Rochelle are currently preparing for their third Champions Cup final in a row, with a big challenge to come against Leinster in Dublin on Saturday.
They made the final of the Top 14 in 2021 and winning the domestic league is now a major ambition.
"For the fans, the Top 14 would maybe be even more incredible than winning the Champions Cup," says Sternis.
"The Bouclier de Brennus is very special in France. Ronan knows it's really hard to win but he knows what it would mean to the fans. Maybe this year." 
O'Gara has been pivotal in helping La Rochelle to take the final steps and become winners, as they did in Marseille last year by beating Leinster.
La Rochelle was always seen as a humble club. They had no history of winning, no expectation of great things. As we know, O'Gara is wired differently.
Having worked under Jono Gibbes initially, the former Munster and Ireland man got full control in the summer of 2021 and drove La Rochelle to their Champions Cup title in his first season.
"He had a new vision," says Bissonet. "La Rochelle has such humility so to have Ronan as the head coach, it brings a new dimension.
"He told them they can win trophies, no limits. He has been really important with the way he thinks and speaks. He also attracts players, they want to be coached by him."
La Rochelle are currently finalising their next strategic plan, which will run until 2030 and involves lots of focus on the infrastructure of the club.
Tommy Dickson / INPHO La Rochelle have some of the best fans in rugby. Tommy Dickson / INPHO / INPHO
Having reached their current heights, the challenge now is to stay amongst the elite. They believe their foundations are solid. O'Gara is contracted until 2027 and will be desperate for more Champions Cup glory, as well as that first-ever Top 14 title.
"He gave the club a second acceleration," says Sternis. "Ronan is there to win."
All the while, Merling, Mohr, Veynard, and the club's partners will be focusing on all of the pieces that make La Rochelle sustainable.
"The purpose of this club is not to win a title," says Mohr. "The purpose of the club is to create a great experience for all its members and employees. Obviously, winning a title contributes to that but our mission is to improve the club and create great experiences for every fan in the stadium, for the shareholders, every employee in the club, every kid that comes into the rugby school.
"That needs a performing team, which Ronan drives.
"If you lose every match and end up in the third division, you won't have many fans."
It makes sense that O'Gara tells us it would be so hard to leave La Rochelle. He's right in the heart of a good thing.