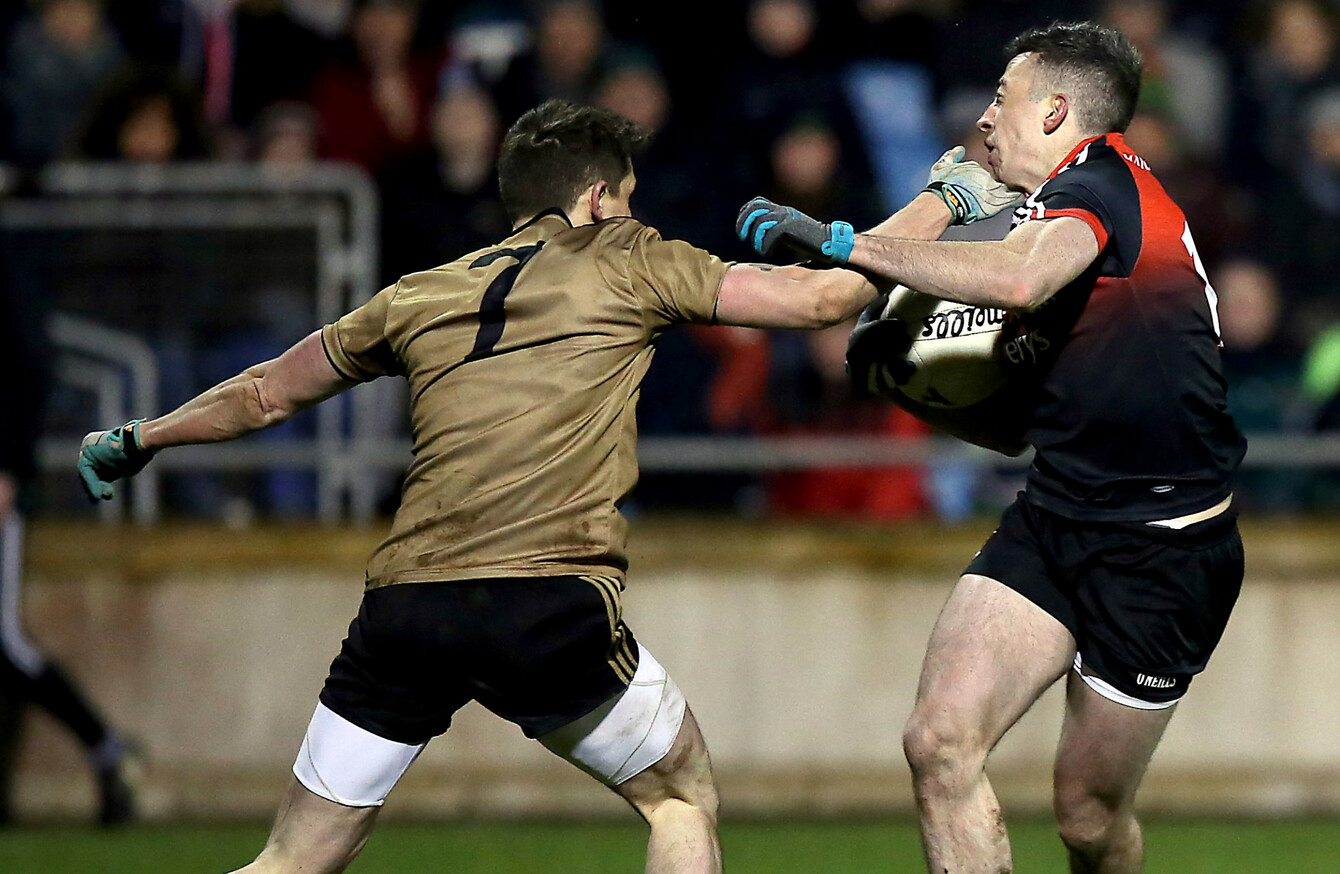 Evan Regan in action on Saturday night.
Image: John McVitty/INPHO
Evan Regan in action on Saturday night.
Image: John McVitty/INPHO
2016 FOOTBALLER OF the year Lee Keegan has slammed a 'very dirty tackle' which has left his Mayo team-mate Evan Regan likely requiring surgery.
During the Westerner's National Football League Division 1 defeat to Kerry in Castlebar, Regan was forced to leave the pitch nursing a facial injury after an incident involving Ronan Shanahan.
The Kingdom defender was dealt a yellow card at the time, and subsequently given his marching orders for a second bookable offence in his side's 1-15 to 2-9 win.
The official word from the Mayo camp is that Ballina Stephenites man Regan has sustained a 'facial bone fracture and concussion injury,' and Westport defender Keegan confirmed yesterday that he'd be joining him on the sidelines for some time.
"Evan Regan got a bad injury at the weekend, so that could curtail his league campaign again," he told the media on Monday.
"I thought he was doing ok, I thought he had a good game against Monaghan. Got a bad tackle at the weekend, a very dirty tackle and he had a bad outcome there.
"He's going to have to try and look after that for a couple of months anyway.
He continued: "A very bad challenge to be honest.
"It was bad now I have to say. I was chatting to him yesterday and he was in a bad way still. I know he got a bit of bad news, he has to get surgery now I think.
"That's the outcome of that which is unfortunate because again, it was a prime opportunity for him to put his name in there and try get a starting spot for championship. It's something he's been trying to do for the last couple of years.
"As I said, he had started well in the league and it's unfortunate. I think it happened again actually, it happened a few years ago against Kerry where he broke his collarbone as well. Kerry seems to be a bit of a bad omen for him at the moment which is unfortunate."
Keegan himself expects to return towards the end of the league  following two hip surgeries last November. He's one of several — Donie Vaughan, Chris Barrett and Seamus O'Shea, among others — out of action.
There were initial fears that Davitts defender Colm Boyle was facing a spell in the sickbay after leaving the field in their campaign opener against Monaghan two weeks ago.
But four-time All-Star Keegan confirmed that all is well, with Boyle coming off the bench against the Kingdom in the 52nd minute on Saturday night.
"I think initial fears were maybe a knee or an ankle injury but it was a severe dead leg," he explained.
"It flared up quite badly actually after the (Monaghan) game. It didn't flare up until Monday or Tuesday morning now and he had a lot of bruising on the side of his leg.
"He's fine, he came on at the weekend for a few minutes but that was a more just a protocol, didn't want to give him a full game. If he got a hit on that again, he'd be probably looking at longer injury recovery. He's fine, he's definitely fine.
"We're trying to get a lot of guys back from injury. Again, we have a good few there, we're just trying to maintain and look after lads at the moment. It's a long year, especially with the new structure of the championship so we need to be very careful with how we use a lot of our senior guys this year."
Lee Keegan, Jack Guiney, Dotsy O'Callaghan and Jack Barry were speaking at the recent renovation of the Sports Physio Ireland clinic in Dublin 2, fitted out by Ardco Construction. Sports Physio Ireland are experts in sport specific injury management, returning clients to play better than they ever were before. 
The 42 is on Instagram! Tap the button below on your phone to follow us!