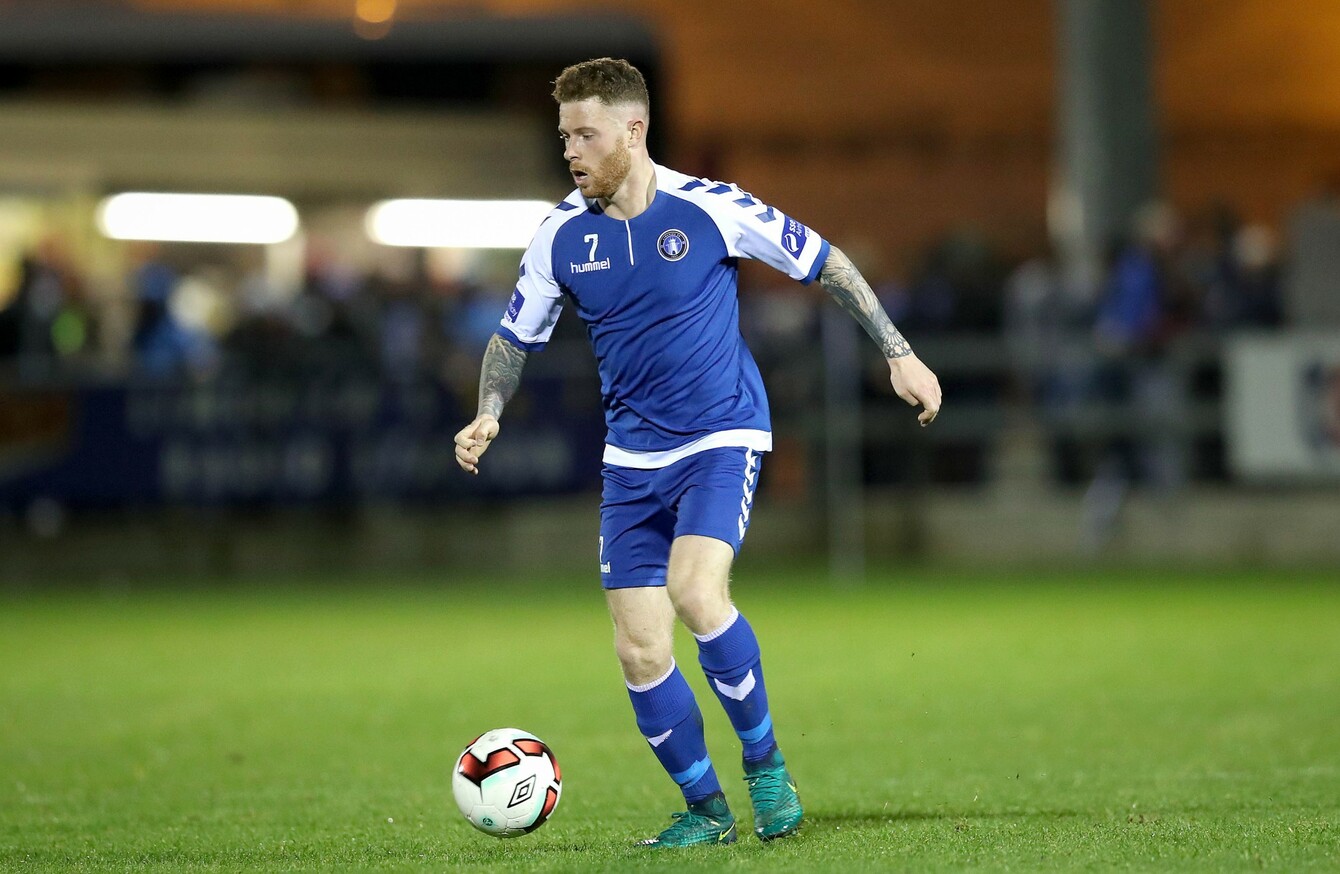 Lynch lining out for Limerick earlier this season.
Image: Ryan Byrne/INPHO
Lynch lining out for Limerick earlier this season.
Image: Ryan Byrne/INPHO
AS A BALL-PLAYING midfielder who's all about expansive football, it's easy to see why Lee-J Lynch would look up to someone like Glenn Hoddle.
The former Tottenham captain is regarded as one of the most gifted footballers of his generation, and Limerick native Lynch got the chance to spend a season developing under him in the south of Spain.
Two years earlier, the then Regional United youngster had earned his first big break in the game after catching the attention of several scouts during an international double-header against Finland.
Lining out for the Ireland U17s alongside the likes of Robbie Brady, Conor Hourihane, Greg Cunningham, John Dunleavy, Gavan Holohan and Conor Clifford, Lynch scored twice in a 3-0 win at Buckley Park.
The invitations to go on trials in England soon began to pour in and, he admits being a bit overwhelmed by it all at the time.
"It was thrust upon me quite early," he told The42 earlier today. "I went on a few trials with Reading, Blackburn and West Brom. I was over and back to them five or six times.
"Newcastle and Everton also wanted me and maybe at that stage I should have gone to all the clubs and seen what they brought, but I chose West Brom as it was a good family club and it had good people behind it."
His decision looked a shrewd one early on. Tony Mowbray was manager of the Baggies when Lynch signed and he soon found himself training with the first team after impressing in a pre-season friendly.
He was playing regularly for their reserves — with Saido Berahino and Chris Wood – when Mowbray got the sack and Roberto Di Matteo took over. However, a couple of injuries didn't help his progress and Lynch was released in 2010.
"I enjoyed it and got my education out of it," he says. "You learn your trade in football over there and I took a lot of things from it. I got a few injuries and that's just the way it goes but the way I look back on it now is that going over definitely helped me."
That's where Hoddle and his football academy come in. Coaches Graham Rix and Nigel Spackman regularly attended reserve matches and approached the newly-unattached midfielder about the prospect of joining their 22-strong squad.
"It's for players who go over to the professional game in England or Europe but need that extra year training. You go out to a hot climate with a nice hotel and you're looked after, but you do double sessions-a-day and really put the work in."
Lynch credits his time in Montecastillo — where he featured for local Spanish club Jerez Industrial — with improving his game significantly.
That's where I learned positional play and tactical awareness," he explains. "I really feel that year benefited me more than coming home or trying to go to League One or League Two would have. I appreciate what the people out there did because it really helped me.
"Glenn was there everyday and he was one of the best players of his time so getting to learn from him and the experienced coaches was amazing."
Current St Patrick's Athletic striker Christy Fagan had been at the academy the previous year, while Hull City midfielder Sam Clucas was a team-mate.
"Sam has got on really well at Hull," says Lynch. "I spent a year out there with him and he has come back and done well coming up through the divisions, so fair play to him.
"Christy had just left when I arrived. We caught up and talked about our time there when I signed with Pat's a few years later."
Now a more rounded player but still raw, Lynch was offered the chance to train with Dundee United but opted to move to Drogheda United, where he knew he'd get regular football.
The teenager only spent one season with the Drogs but made a big impression — winning Fan's Player of the Year. He is also full of praise for Mick Cooke, who is "one of the best man-managers" he's worked under.
Sligo Rovers had just finished runners-up in the Premier Division under Paul Cook and the club was looking to add a couple of talented, young players to get them over the line.
Lynch signed and, although Cook departed to be replaced by Ian Baraclough weeks later, the Bit O'Red would go on to claim a first league title in 35 years before adding the FAI Cup 12 months later.
As a regular in the team, he still holds fond memories of that period in his career.
It was a very successful time for the club and that team has gone down in Sligo Rovers history. It was great to be a part of that because we had a very good squad and for me personally it was my first time winning silverware. I think I was only 19 but I played a big part in us winning the league.
"I was delighted and it gave me that experience. I will always be thankful to Ian for the chance and he has gone on to do well for himself, which is great.
"It's always great going back up to Sligo as you're well looked after every time because of those achievements."
A huge believer of getting the ball down and playing attractive football, Lynch was then enticed to link up with Liam Buckley at St Patrick's Athletic.
"People know how Liam wants to play and I was attracted to that, but it didn't go as well as I had hoped," Lynch admits. "I was in and out of the team too much. I was only 21 and I wanted to be involved very week."
As luck would have it, Buckley's assistant Martin Russell took over at Limerick and offered him an escape route out of Inchicore.
The Blues, playing at Thomond Park while Markets Field was being redeveloped, had put together an experienced side with Joseph Ndo, Sam Oji and Rory Gaffney all in their ranks.
Lynch was excellent and helped them to a sixth-place finish in the top flight, but the lure of the Scottish Premiership was too strong. After a week over with Hamilton Academical, he agreed to make the switch at the end of 2014 but wouldn't be available to play until the New Year.
"I went over and thought Alex Neill was a really good manager — the way he set up and how he had them playing. I really wanted a piece of that, so the deal was done.
"They were third in the SPL at the time but I wasn't eligible to play until 3 January. That's the other side of football when the luck doesn't go in your favour.
"In the week leading up to the date I was available, I did my quad and was out for six weeks. During that period, Alex got the phone call to go to Norwich City.
"He came into the changing room to tell the lads and I didn't even end up getting a game under him. The new manager, Martin Canning, took over. We got on okay but I just wasn't his type of player and he mightn't have been my type of manager.
That's the way football goes. I had a year and a bit left on my contract and we managed to come to an agreement."
So, three months later, it was back home to Limerick and he's been there nearly two years.
The club was relegated to the First Division last season but the nucleus of the squad decided to stick together in order to win promotion straight back to the top flight.
"It was fairly hard going down," he recalls. "That's no offence and there have been some great players that have played in that division, but you want to be involved in the top league. Relegation was difficult but we all agreed that we would stay and see if we could do something special. We were rewarded with the league title and a good cup run."
After a respectable start to the current campaign, Russell parted company with the club at the beginning of April and academy director Willie John Boland was named interim boss.
"What went on between Martin and the board is between them," he says. "We were head and shoulders above the rest last season because a lot of us stayed and wanted to go down with the club.
"Everyone knows the style and brand of football Martin tries to play and that suits me personally. It was a shame to see him go but as players we just have to keep going and it's up to the club who they want to appoint. They've found a manager with bags of experience now so let's see what he brings."
The 25-year-old adds: "As his first managerial position, I think Willie has done a brilliant job. We all respect him and especially us Limerick boys, who know that he had such a good career himself.
"We take what he says on board but I think it was difficult because he just had to keep the boat steady when he might have seen changes he wanted to make but he couldn't. We all thank Willie and I think he's going to be a brilliant manager in the future."
After weeks of searching, there was big news at the club this morning as they finally announced a permanent replacement in former Blackpool boss Neil McDonald.
After his unveiling to the media, the players met the new man ahead of tomorrow's league meeting with Dundalk, which Boland will remain on for.
"A lot of people have been going on about European places but it's just about establishing ourselves in the Premier Division and making sure we're in the top half of the table," says Lynch, when asked about their ambitions for the remainder of the campaign.
"Limerick have been going up and coming back down in the past few years and we don't want that. We're looking okay as far as the first round of games have gone. Maybe one or two changes will help us but we just want to make sure we stay up there and do it the right way — playing good football.
The Markets Field is such a good ground now and we have a great fanbase behind us so we need to make sure that we're doing it, especially in our home games."
Lynch is focused on Limerick right now but his current two-year contract is up at the end of the season, and where he ends up after that is anyone's guess.
"It's my hometown club so it's always good to come back here but it's never really about that," he adds. "I love the brand of football that Martin brought to Limerick and I wanted to be part of that.
"With the ambition that [club chairman] Pat [O'Sullivan] has and under the new gaffer, the club could go far. We're just going to have to wait and see.
"There are a lot of good clubs in this league so I don't know what's going to happen at the end of the year. I've just got to make sure that I play well and we finish in the highest possible position that we can."
The42 is on Instagram! Tap the button below on your phone to follow us!