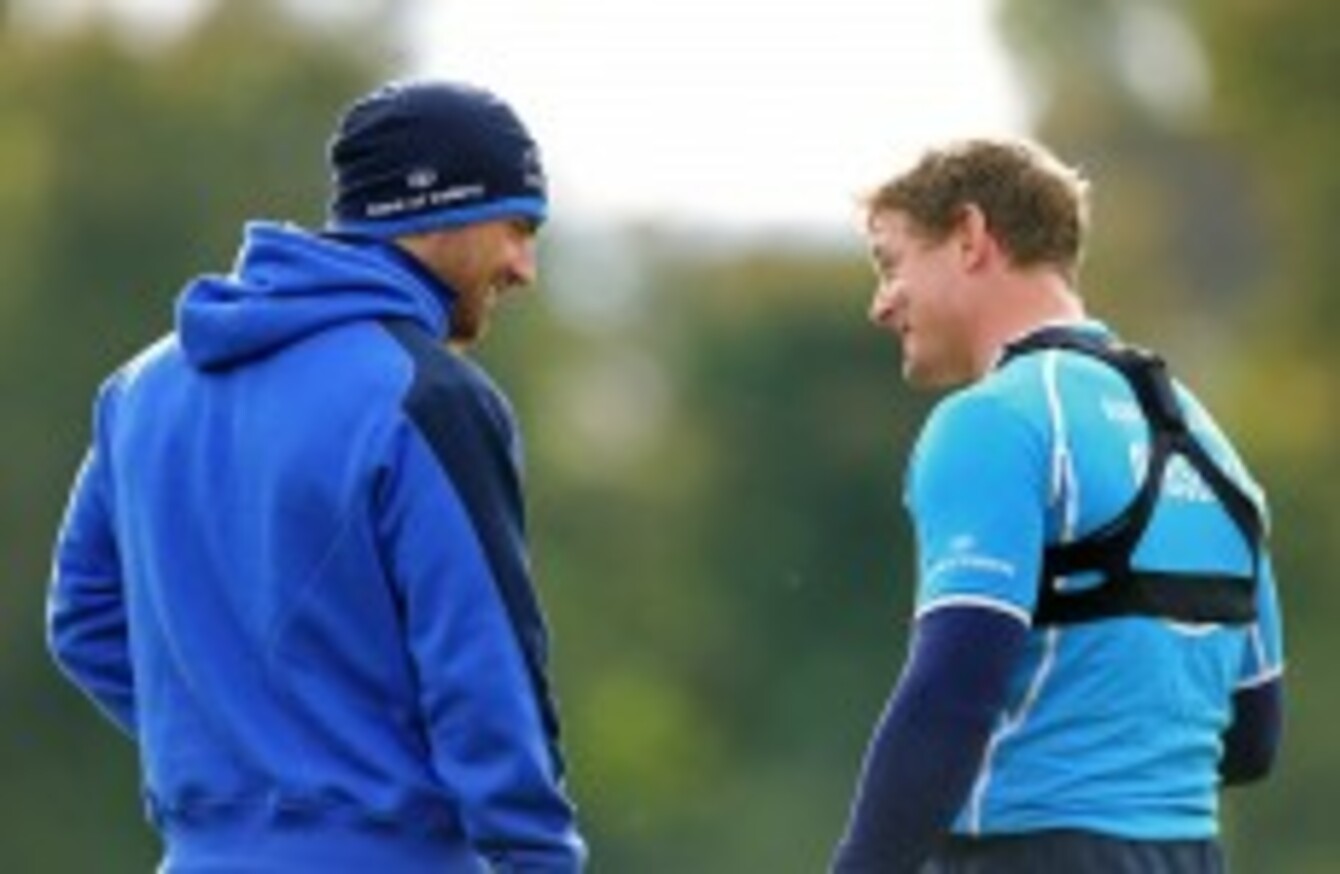 Rob Kearney and Brian O'Driscoll will be back in early 2013.
Image: ©INPHO/Ryan Byrne
Rob Kearney and Brian O'Driscoll will be back in early 2013.
Image: ©INPHO/Ryan Byrne
JOE SCHMIDT LOOKED a relieved man at Leinster's training facilities at UCD yesterday.
His side had, putting it euphemistically, scrambled to an away win in Glasgow at the weekend, the international contingent arrived back with nothing to report but bleary eyes, and his injury run-down was mercifully short.
"All of the guys have returned in really good shape," said Schmidt. "A couple a little bit tired and couple a bit red-eyed although I wouldn't count that as an injury.
"It is great to get them back in good head space as well and in a really positive frame of mind and deservedly so."
Eoin O'Malley, Luke Fitzgerald and Dominic Ryan are close to returns but Quinn Roux looks set to four to five months on the sidelines after dislocating his shoulder after an awkward fall in Scotland.
Schmidt was pleased with the performance of Leo Cullen in the victory and ruled out a long distance call to New Zealand for Brad Thorn.
"Thornie's already signed with the Highlanders so there's no going there," he remarked.
January for O'Driscoll and Kearney
Schmidt and his players were conscious of mentioning Zebre – their weekend opponents – a couple of times in their press briefings but it is clear that the Heineken Cup double-header against Clermont Auvergne is the focus.
They will miss the 9 and 15 December clashes but Brian O'Driscoll and Rob Kearney should be back in contention for rounds five and six. Schmidt said:
Brian and Rob, mid-January is their expected return-to-play date. We will be guided by the surgeons and specialists who determine what sort of state they are in and as soon as they are back and ready to be fully integrated we will be delighted to include them again."
Schmidt has 'a balancing act' to perform over a crucial two-month festive period.
"There are guys who are very keen to be integrated straight away and the sooner we do that the better because we will get a bit more continuity," he said.
"[Clermont] have had a fair bit of continuity at the Marcel Michelin and they have a fair bit of power to bring to the game.
"Whatever we can do to best prepare ourselves to have some good continuity and the right people at the right places is only going to help us out."