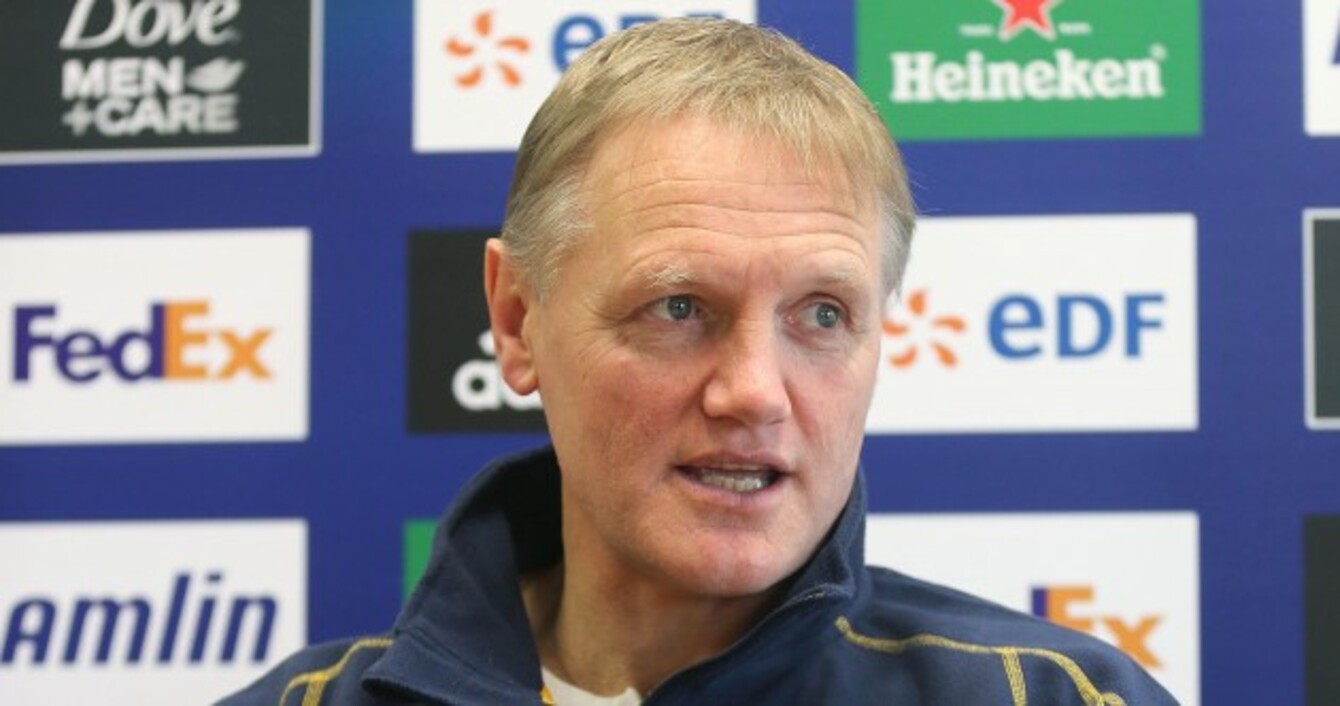 Joe Schmidt brooks no arguments at the Leinster press conference.
Image: ©INPHO/Lorraine O'Sullivan
Joe Schmidt brooks no arguments at the Leinster press conference.
Image: ©INPHO/Lorraine O'Sullivan
THE FALL-OUT OVER Mike McCarthy's impending summer signing for Leinster, from Connacht, continues.
Leinster coach Joe Schmidt, speaking at today's press conference in Dublin, responded forcibly to claims made by Connacht Rugby CEO Tom Sears that the Heineken Cup champions had 'persistently targeted Connacht players in recent years'.
It was announced yesterday by Connacht that McCarthy, who has established himself in the Irish international set-up, would be joining Leinster, on the three-year deal, from 2013/14 onwards.
To give the clearest picture of Schmidt's proclamations, the following is an extract from today's top-table press briefing:
Your reaction to Connacht's statement about the move?
Joe Schmidt: "I know [Tom Sears] used the word disappointed a lot. I'm pretty disappointed in the misinformation that has been passed around. To claim that we've just consistently pursued Mike McCarthy is just false.
We have not consistently pursued Mike at all. I know that if you contact the IRFU, they will say we abided by all protocols and those protocols, set down, are very, very clear. Mike almost came to Leinster two years ago. He was very much on the cusp of doing that.
Eric Elwood, I think, was a key in keeping him there and I've got massive respect for Eric. I think that was pivotal in Mike staying.
There's obviously going to be a new coach there next year. One thing that there's not going to be is the same certainty with Eric as there was for Mike.
To be honest, I haven't spoken to Mike about any motivations or anything else. I had a very brief phone call with him when he said he was interested, and the protocols had been ticked off. I just said to him that I was delighted and that was the end of it. That's the only contact I've had with Mike."
Disappointed Leinster's reputation has been questioned?
"I'm massively disappointed because we've done everything by the book. Mike is certainly not the only player to express an interest to come to Leinster. I mean that's a natural thing, to a degree, where there is one team that is consistently performing at the top end.
Part of us, over the last two years, performing at that level has really helped Connacht a lot and I think a lot of people have expressed a lot of opinions. There is a disappointment in trying to build a team when players choose to move on but we would believe that we have helped them build that team. We've helped them by them qualifying for the Heineken Cup, which has got a lot of people excited.
I've got the utmost respect for Connacht in the way they have acquitted themselves in the Heineken Cup last year, with a fantastic win over Harlequins last year and the win last week against Biarritz."
Be part
of the team
Access exclusive podcasts, interviews and analysis with a monthly or annual membership.
Become a Member
Conception Connacht is a recruiting ground for other three provinces?
"It's a misconception. We don't choose Connacht players. As I've said, Mike McCarthy is not the only Connacht player that has shown an interest in coming to Leinster or a Connacht player that is interested in going to Munster or Ulster. Players, as individuals, look for opportunities. They look for opportunities in their current club or it may be elsewhere.
It is no different to Nathan Hines going to Clermont. We're not particularly happy to see him [play against us] and I thought he played particularly well last weekend. Players make choices like that all the time. The ability of players to make choices is up to them.
How to you keep players in your environment? It's not financial. Again, a misconception in a newspaper today is that we can offer greater bonuses. It's just not true. We can not offer any more financial incentive than what Connacht set as the margin, or the bar. We can only match the base that they set up."
Sean O'Brien sits alongside coach Joe Schmidt at the Leinster press conference today. (©INPHO/Lorraine O'Sullivan)
Schmidt continued, "There's a lot of misinformation about this particular issue and it is frustrating for us as it paints us in a bad light. I think one of the challenges for Connacht is to build an environment where people would choose to stay. That's challenging when important players do leave but they've got some exciting, young players there.
If they can keep them excited, and interested… it's no different to the challenge we face every year when we are doing contracts, when some players, reportedly, get offered twice as much money from a French club or elsewhere. Japanese clubs are offering a lot of money. We have to make sure that our environment is as positive as possible so those people choose to stay and it's not a financial decision. This decision of Mike's is not a financial decision."
Any sympathy for Connacht?
"I do feel a sympathy for Eric Elwood and that was a conversation we had two years ago but, at the same time, I have a responsibility that we have to perform as best we can and we've been a little bit unlucky. We've tried to find solutions elsewhere. Injury has not really allowed those to take hold and I guess you've got to look at other solutions."
Move is not good for Irish rugby?
"If you say that, and Richardt Strauss is in the Irish team and he's throwing to Mike McCarthy, and Mike McCarthy is playing against Clermont and he's pushing behind Mike Ross or Cian Healy and he's surrounded by Sean O'Brien or Jamie Heaslip, I think there's a fantastic continuity for the Irish team right there. Combinations tend to get selected in teams."
A spokesperson for the IRFU has confirmed to TheScore.ie that all off the correct protocols were followed by Leinster in securing McCarthy's signature.
*Additional reporting by Sean Farrell