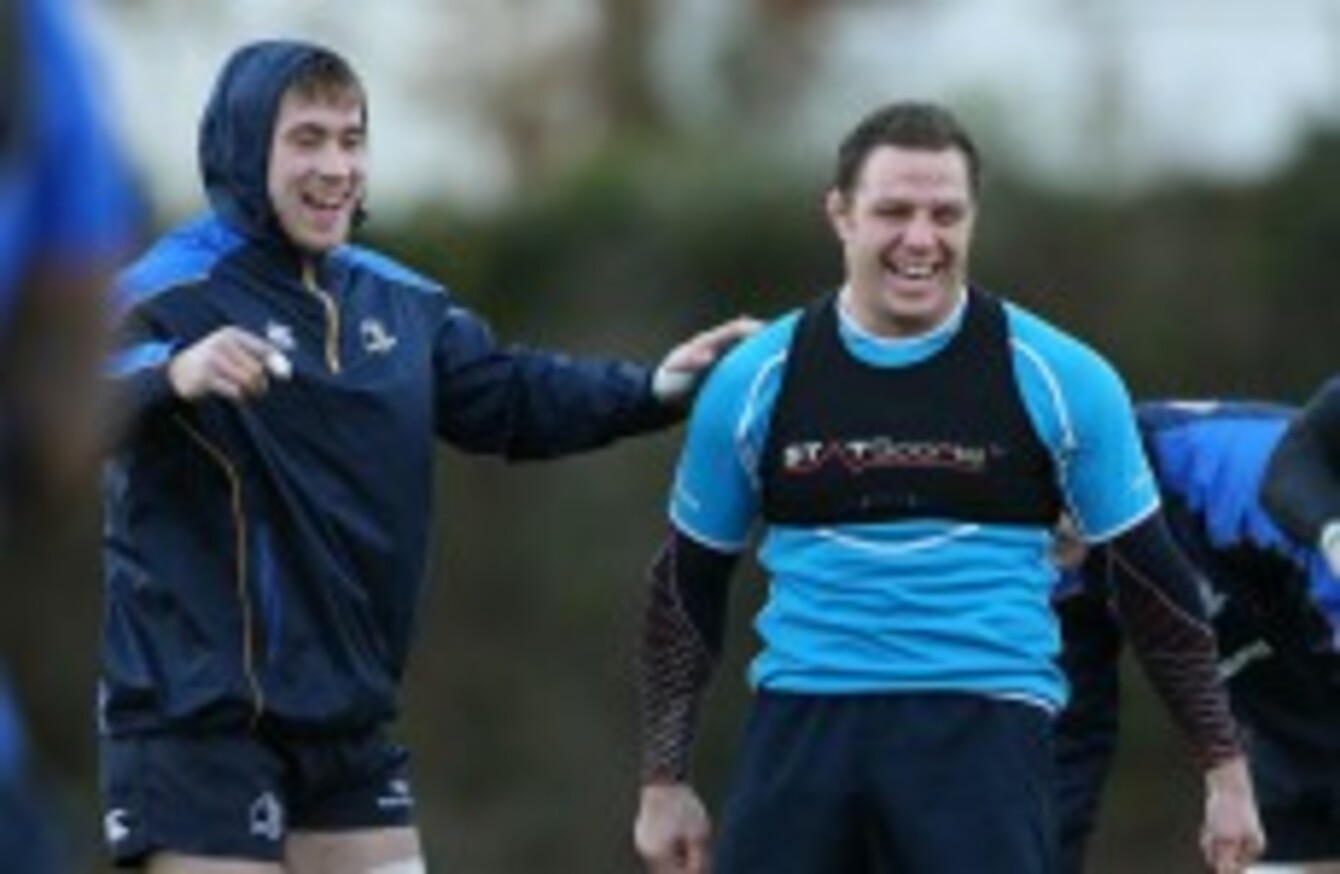 Dominic Ryan and Heinke Van Der Merwe having a great laugh.
Image: ©INPHO/Lorraine O'Sullivan
Dominic Ryan and Heinke Van Der Merwe having a great laugh.
Image: ©INPHO/Lorraine O'Sullivan
LEINSTER'S TRAINING SESSIONS are not known for their peaceful serenity, but this week the noise levels were conspicuously high.
As Eoin Reddan addresses the media, he intermittently has to raise an octave or two as his team-mates combust in uproarious laughter.
It feels very forced.
The gimmick within a warm-up game is to put on a brave front, to break the tension of back-to-back Heineken Cup defeats.
Only A few hours earlier, with a selection of players gathered at a sponsored event, the mood was downbeat indeed.
By the afternoon – and after a lengthy team meeting – the message from the field and is clear: the Clermont debacle is over and done with, now Ulster must be reeled in.
"The reason people are in good form is we're trying to focus on Friday and move on." Says Reddan in his usual straightforward way, "If we perform well on Friday then it's a good thing. And If we don't, it's not a good thing."
He adds: "What's done is done. We have to come back to the Heineken Cup in a few weeks, but right now we're in the Rabo and we've a fight on our hands in that as well."
Reddan outlines the 'fight' in simple terms: though last year's beaten finalists are currently in third place, they are 12 points off Ulster at the summit. Last year they became accustomed to sitting comfortably on the top of the tree. Should they lose for the third week in succession, it will be an insurmountable 16.
Smile
On the pitch this season, Ulster have had plenty to smile about, but while Leinster were still licking their wounds on Saturday, the amazing winning run came sputtering to a halt. They too have reason to play angry on Friday.
Tommy Bowe and Dan Tuohy may have hobbled in to join Johann Muller and Stephen Ferris in the treatment room, but many of the men who created that winning run will still be in situ. Joe Schmidt looks likely to use this inter-pro period as a route back to full fitness for his young backs; Dave Kearney, Eoin O'Malley and Luke Fitzgerald.
Reddan highlighted the importance of helping the cold players bed in.
"It's important for lads that have been playing to make it as easy as we can for lads coming back in. It's not easy coming back midway through a season when guys you've been playing about have been playing so much.
"I feel for them coming in and playing against guys who have played 10 games in a row and you're playing your first. It's important that lads around you make the day as easy as possible."
The last time these sides met was the Heineken Cup final in Twickenham, but a lot of water has passed under the bridge since May and it was a curious effort from Reddan to try and install the European Champions as underdogs.
"We've both had a bit of an eye-opener, so it will be a very good game at the weekend. They're still in control of their Heineken Cup group and played very well overall, so I'd say they're strong favourites on Friday to be fair."
Ordinarily, Leinster are comfortable no matter what odds the bookies offer on their fixture, but there's nothing gimmicky about the white noise from Ravenhill on a Friday night.