Kilkenny 5-25
Wexford 0-16
– Niall Kelly reports from Nowlan Park
CLINICAL AND RUTHLESS.
Kilkenny may have lost 48 senior All-Ireland medals to retirement over the winter but they have lost none of the traits that make them a force to be feared and revered.
A little bit of rust was to be expected as the champions opened their Leinster campaign against Wexford after a 12-week layoff. That they still won by 24 points should sound an ominous warning to Galway, and to the rest of the country.
Don't bother reading too much into their stuttering league campaign. The lords of the summer are going to take all of the beating once again.
They showed their intent by playing against the strong breeze in the first half, and still managed to take a six-point lead into the break. After the change of ends, they won the second half by a mere 2-18 to 0-6.
Donall Farmer / INPHO A crowd of just under 20,000 packed into Nowlan Park to watch Kilkenny's facile win. Donall Farmer / INPHO / INPHO
Richie Hogan made championship 2014 his own and it was a pleasure to watch the Hurler of the Year at his majestic best. His fingerprints were all over Kilkenny's three first-half goals, scoring the first and creating the other two.
Even with Hogan in full flight, the predatory Ger Aylward can legitimately claim to have upstaged the Danesfort Messi. The 23-year-old rattled in 3-5 on his first championship start to show that while the legends of the Cats old guard might never be replicated, they can be replaced.
Rebuilding after such a hefty defeat will leave Liam Dunne with a tough task as they face into their qualifier run. It is well within their grasp though though not even a talent like Jack Guiney, dropped for disciplinary reasons, could have saved them today.
They arguably won most of the individual battles in the first half, undone only by their own mistakes which Kilkenny punished.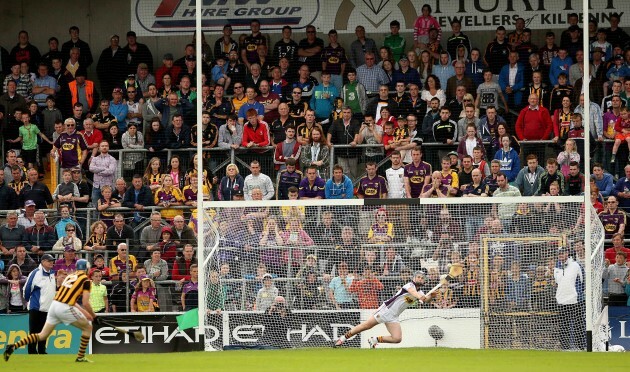 James Crombie / INPHO TJ Reid smashed home a penalty for Kilkenny's third goal. James Crombie / INPHO / INPHO
Wexford arrived with intent and in front of 19,134 they took the lead through Ian Byrne after just 20 seconds.
Kilkenny responded through John Power — in as a late replacement for the injured Colin Fennelly — before Byrne and Aylward traded points.
Wexford sought to use possession wisely in those opening 10 minutes but despite the intensity of their start, they were muscled out of the way in the lead up to Kilkenny's opening goal on 10 minutes.
Michael Fennelly, a colossus in midfield, dug the ball out of a scrum and laid it off to Hogan who batted it past Wexford keeper Mark Fanning.
The composure that the visitors had shown to that point quickly abandoned them as the mistakes crept in. Paul Morris hit a bad wide when offered the chance to respond immediately at the other end while Lee Chin squandered possession by overcooking a long delivery.
The Wexford defence seemed to have switched off when Aylward struck for Kilkenny's second goal in the space of four minutes. Perhaps they were waiting for the referee's whistle but it never arrived and the Glenmore forward punished their hesitancy with a rasping finish.
Another Hogan point, borne out of some dogged hassling and a timely block from Fennelly, took Kilkenny's total to 2-2 without reply.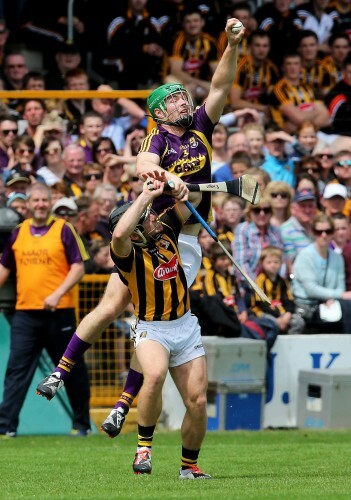 Donall Farmer / INPHO Matthew O'Hanlon wins a high ball above Richie Hogan. Donall Farmer / INPHO / INPHO
But even as Wexford's unforced error count mounted, they found a way to keep themselves in the contest. Liam Og McGovern, David Redmond and two Byrne frees drew them ever closer in a purple patch which saw them outscore Kilkenny by 0-4 to a single point.
That too was a gift from the Wexford defence; Eoin Moore duffing a sideline cut which afforded Power a simple opportunity.
It was another loose delivery by Chin that paved the way for Kilkenny's third goal. From the turnover, Kilkenny drove straight back down the pitch where Hogan soared above Liam Ryan to win possession. He lost his hurl, but not his wits, and popped the ball to TJ Reid who was clearly fouled.
The new one-on-one penalties may have tilted the advantage away from the attacking team and back in the goalkeeper's favour, but those fine margins matter little when the Ballyhale man is standing over the ball. He arrowed his shot to the right, giving Fanning no chance even though he guessed correctly.
Kilkenny led by six then. Dunne introduced Aidan Nolan and as Wexford desperately tried to close the gap while the breeze was still at their backs, he shot a pair of wides.
Hogan was guilty of two misses himself late on, a free and a 65, and when the sides re-emerged after the break, Reid had assumed placed ball duties.
Wexford did live with them for the first 10 minutes after the restart, and were still within six when McGovern pointed to leave it 3-10 to 0-13 in the 43rd minute.
Reid was the creator for Aylward's second when it arrived five minutes later, and he completed his hat-trick with a neat finish in the 53rd minute.
The game was already over as a contest long before that point but as Cody emptied the bench, withdrawing Jackie Tyrrell, Eoin Larkin, and Paul Murphy, the scores kept coming.
Relentless to the end.
Scorers for Kilkenny: Ger Aylward 3-5, TJ Reid 1-7 (1-0 pen, 2f, 0-2 65), Richie Hogan 1-5, Eoin Larkin 0-3, John Power 0-2, Cillian Buckley, Michael Fennelly, Kevin Kelly 0-1 each.
Scorers for Wexford: Ian Byrne 0-11 (9f), Liam Og McGovern, David Redmond 0-2 each, Andrew Shore 0-1.
Kilkenny
1. Eoin Murphy (Glenmore)
2. Paul Murphy (Danesfort)
3. Joey Holden (Ballyhale Shamrocks)
4. Jackie Tyrrell (James Stephens)
5. Padraig Walsh (Tullaroan)
6. Kieran Joyce (Rower-Inistioge)
7. Cillian Buckley (Dicksboro)
8. Michael Fennelly (Ballyhale Shamrocks)
9. Conor Fogarty (Erins Own)
10. Walter Walsh (Tullogher Rosbercon)
11. Richie Hogan (Danesfort)
12. TJ Reid (Ballyhale Shamrocks)
13. Ger Aylward (Glenmore)
22. John Power (Carrickshock)
15. Eoin Larkin (James Stephens)
Substitutes:
25. Kevin Kelly for Power (56)
17. Shane Prendergast for Tyrrell (60)
19. Robert Lennon for Murphy (61)
24. Mark Kelly for Larkin (63)
Wexford
1. Mark Fanning (Glynn Barntown)
2. Liam Ryan (Rapparees)
3. Matthew O'Hanlon (St James')
4. Eoin Moore (Oulart the Ballagh)
5. Andrew Shore (Davidstown/Courtnacuddy)
6. Lee Chin (Faythe Harriers)
7. Ciaran Kenny (Buffers Alley)
8. David Redmond (Oulart the Ballagh)
9. Diarmuid O'Keeffe (St Annes)
10. Shane Tomkins (Askamore/Kilrush)
11. Daithi Waters (St Martin's)
12. Ian Byrne (Ferns St Aidan's)
13. Paul Morris (Ferns St Aidan's)
14. Conor McDonald (Naomh Eanna)
15. Liam Og McGovern (St Annes)
Substitutes:
20. Kevin Foley for Morris (18)
17. Aidan Nolan for Moore (32)
19. Harry Kehoe for Tomkins (H/T)
21. Podge Doran for Waters (H/T)
18. Eanna Martin for Shore (62)
25. Gareth Sinnott for McGovern (65)
Referee: Diarmuid Kirwan (Cork)