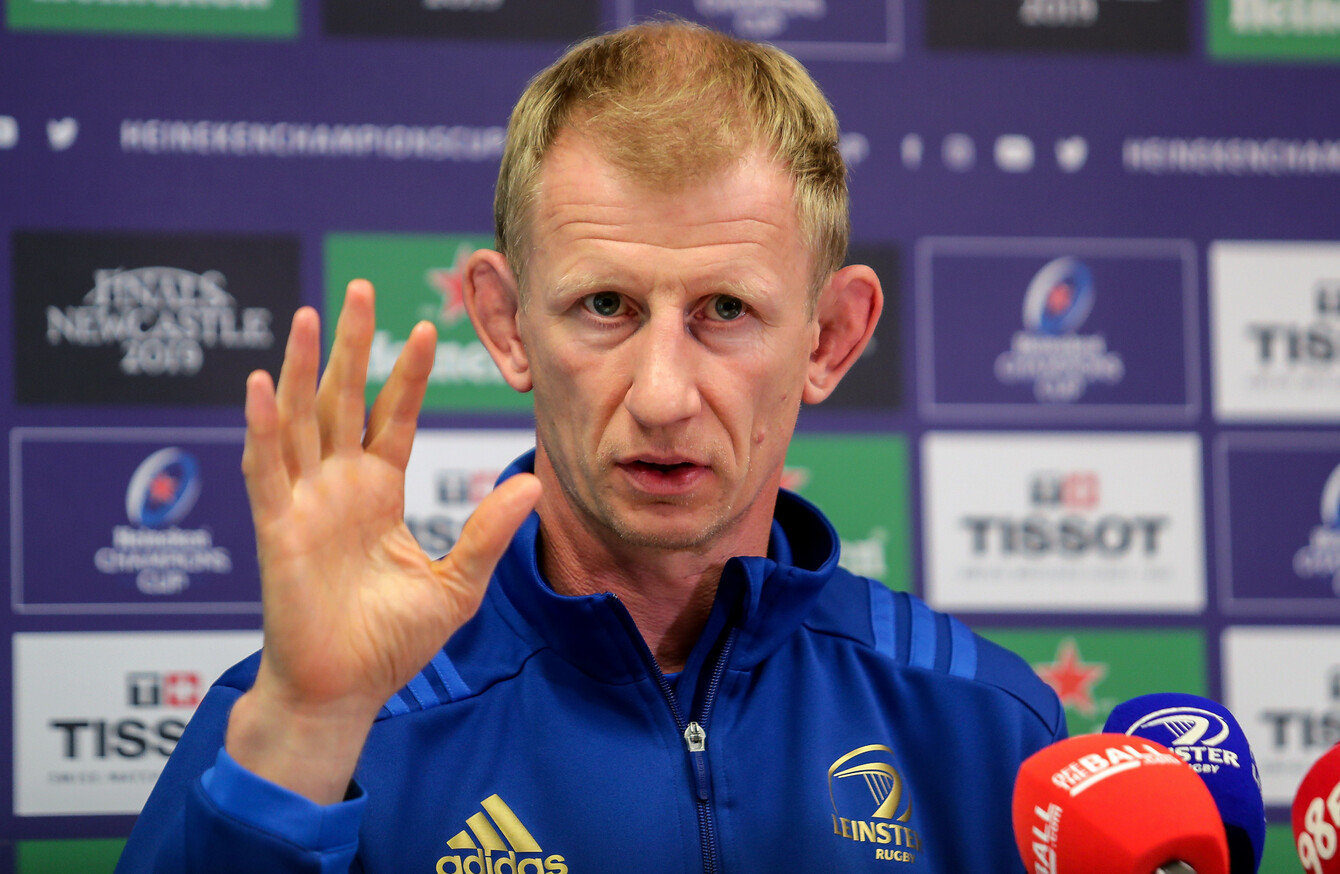 Image: Laszlo Geczo/INPHO
Image: Laszlo Geczo/INPHO
LEINSTER HEAD COACH Leo Cullen yesterday took issue with the recruitment efforts of rival provinces 'targeting' young talent emerging in the eastern province.
Leinster's academy is renowned as a European standard bearer and the talent it produces for the eastern province has been the bedrock of their success.
With the influence of David Nucifora and the IRFU, provinces are encouraged to sign Irish-qualified players wherever possible. So Munster, Connacht and Ulster have increasingly turned to Leinster for potential additions to their ranks.
This summer, Jordi Murphy and Joey Carbery vacated their place in the Leinster dressing room for the promise of game-time in their preferred position in Ulster and Munster respectively. They were moves brought about to broaden the pool of international talent playing regularly.
However, this week brought confirmation that Nick McCarthy would follow Carbery to Limerick, a move that was not carried out with the union's impetus, but rather due to the province and player coming together to agree a two-year deal.
After naming McCarthy in his matchday 23 for Sunday's Heineken Champions Cup clash in Toulouse, Cullen wished the 23-year-old well, but also bemoaned the moves made to lure talent out of the Leinster depth chart.
"We're aware of other teams close to here ringing up young players and selling them stories about what they are going to get somewhere else," Cullen said.
"We know that that's there, the club is very aware of it and what we can do about it is limited."
'15 Leinster players running out in green'
The former lock often makes a point of flagging the number of players he has used during the course of a season. 55 was the number during the last campaign. For some, this comes across as a sort of humblebrag attesting to the unrivaled depth at Cullen's disposal. For the double-winning head coach, it's a gauge of the challenge he faces as bulk supplier to the national team — 15 of the 32-man squad for the series in Australia are current Leinster players, five more passed through the province at an earlier point –  and the player management guidelines that extend from that.
"It's a very competitive environment. That's what we want… we hope there's going to be a lot of players who go on to represent Ireland."
With a mischievous grin, he added: "it's one of the things I'd like to see, 15 Leinster players running out in green. It would be good, wouldn't it?"
"But we still obviously have to field a team when (the November Tests) takes place. So we'll work away, and try and improve the players as best we can, because that's what in our control… to make sure that the place is somewhere they want to play rugby as well.
"Somewhere they're enjoying themselves and feel like they're getting better. Even sometimes when they're not starting or on the bench, they feel like there is a plan and a programme in place for them to improve and they enjoy the experience of being here as well. That they feel like the club is taking care of them."
We can just control trying to create a very good environment here where we think we'll make ambitious players better, try and maximise their potential and do all of those things.
"It's hard to know exactly what the future holds, players will decide to do different things and we understand and respect those decisions as well."
http://soundcloud.com/user-200743868/how-is-james-lowe-so-good-heineken-cup-predictions-and-november-international-candidates