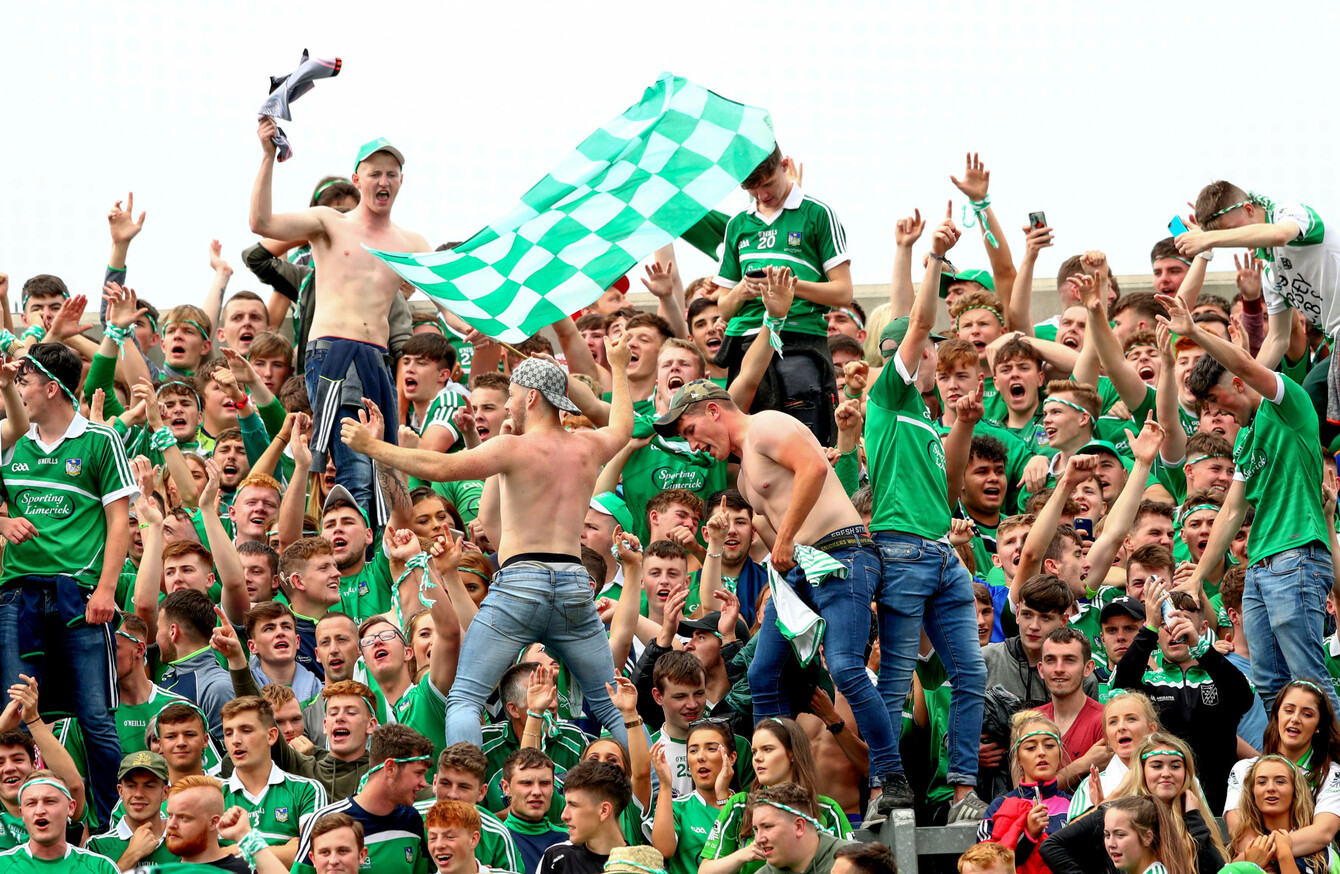 Limerick: "We were lucky to get such a big crowd for the semi-final."
Image: James Crombie/INPHO
Limerick: "We were lucky to get such a big crowd for the semi-final."
Image: James Crombie/INPHO
LIMERICK SELECTOR BRIAN Geary is determined to heed the lessons of 2007 — and make sure that history doesn't repeat itself in Sunday's All-Ireland hurling final.
Geary and veteran defender Seamus Hickey are the only two surviving links to the Treaty's last All-Ireland appearance 11 years ago, where they lost by seven points to Kilkenny.
Managing the hype, buzz and expectation ahead of Sunday's game has been a priority for manager John Kiely from the moment the final whistle blew in their epic semi-final triumph over Cork.
Geary admits that he was affected himself by the colour and noise of final day when he stepped out into a packed Croke Park against the Cats.
"It's a long time ago now but the county went mad, same as every county before an All-Ireland," he says ahead of the showdown with defending champions Galway. "How players and teams deal with that is another thing.
"It was a great buzz. The one thing that sticks in my mind is the roar coming out that day. There was a huge Limerick crowd there. It probably unsettled me a small bit for a few minutes.
It was a great buzz. Looking back on it, it was a great year but there's always regret there that there was no All-Ireland at the end of it.
Having Hickey in the dressing room, another man who has been there and knows the bitter taste of defeat, has been a huge asset this time around.
"[We were] crying on each other's shoulders -  Seamus was only a young fella, 19, his first year. But he has the experience from it and I'm sure he'll pass it on to the boys.
"It is a big day. We were lucky to get such a big crowd for the semi-final to prepare them. We all know an All-Ireland final is a different build-up and different scenario.
"Any bit of wisdom I suppose that can be passed on, Seamus has done. Hopefully it'll stand them in good stead."
Geary adds: "You try to throw your arm around them a small bit but in reality they're working, they're not going to be at home for the week. They're in the gym a couple of times a day. They'll get to experience x amount of hype, and they have to too. It's a big day.
You can't get carried away with it either. At the end of the day finals are there to be won for players. In 10 years' time, when I'm looking back on 2007 now, it isn't the hype I remember really. It's the fact we've lost the match.
"I'm sure the boys in time, not being told, but they know they need to shield themselves a small bit if they want to perform to their ability."
The42 is on Instagram! Tap the button below on your phone to follow us!