THE STORM THAT blew around the time that Limerick exerted their first period of sustained hurling dominance might have passed off without comment, but for a startling intervention from The Irish Press.
Played at the Cork Athletic Grounds on 6 August 1933, it happened to be Waterford's first day at the Big Dance of a Munster final.
They were a spirited bunch but up against it. With eight minutes remaining, Chris O'Brien of Limerick struck a point that left 11 points in it. What happened next depends on what reports you read.
It should be remembered at this point, that there was no culture of reporting at that time on some of the more unsavoury happenings in hurling and football games. Reporters glossed over incidents. Sendings off were scantly recorded, if at all. There was a discreet culture at play that GAA officials certainly appreciated.
That it was the Irish Press first to significantly break ranks with the long-held tradition was mildly surprising. While it hadn't even been going for two full years at the time of the game, it was the paper established by Éamon de Valera and funds raised during the War of Independence. The first editor was Frank Gallagher, the prominent anti-Treaty figure.
Aimed at teachers and schools, it championed and gave greater coverage to Gaelic Games than was the prevailing orthodoxy.
Nonetheless, the match report noted that referee P. Fitzgerald of Kerry abandoned the game after O'Brien was 'felled by a blow of a hurley.'
It continued, 'Almost immediately Dave Clohessy of Limerick, who was also a target all through for rough handling, was also set upon.
'In a twinkling, many of the players on both sides joined in a pitched battle with upraised hurleys swinging dangerously at one another. In a minute, a big portion of the spectators, obviously Waterford to judge by a flag they carried, invaded the playing area. Rowdyism and general fighting followed.'
Irish News Archives The Irish Press, August 1933. Irish News Archives
Now, the archives don't allow for reporters' allegiances or anything, but 'The Irish Independent' witnessed events from a more sympathetic viewpoint for Waterford.
'Shortly after Limerick had scored their third goal, a Waterford player was so severely injured that a doctor had to be called for. As he was struck, other players lifted their camáns, not in play but in fight and rival supporters rushed in from the sidelines. Jim Ware the Waterford goalkeeper was carried off on a stretcher with head injuries. Gardaí and stewards were unable to clear the field.'
And so it went on for weeks and weeks. History records it has having been abandoned with the scoreline at Limerick 3-7 Waterford 1-2. The result stood.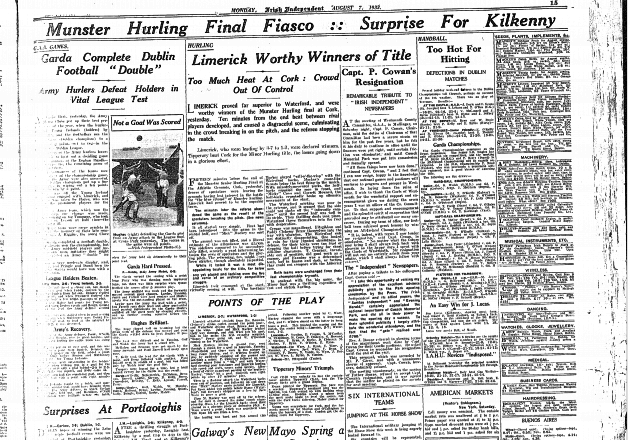 Irish News Archives Irish Independent, August 7 1933. Irish News Archives
It was the beginning of a period of dominance for Limerick in their province. They would achieve four consecutive Munster titles.
The winning streak record is held by Cork, who have done five-in-a-row three different times, but Limerick are favourites to equal that feat this Sunday when they take on Clare.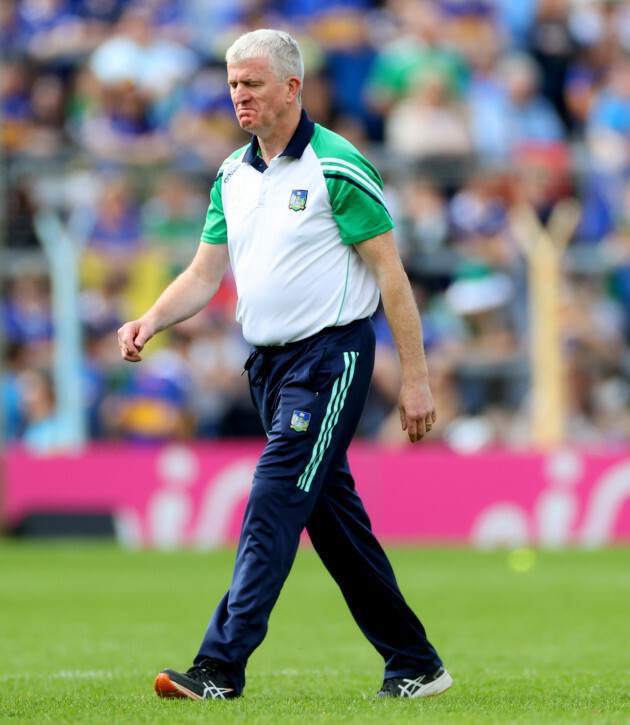 James Crombie / INPHO Limerick manager John Kiely. James Crombie / INPHO / INPHO
Back to that Limerick team.
The year after (1934), they won the National league. Then they won it the year after that. And the year after that and they didn't stop until they had won five in a row, the record still standing to this day.
While Kilkenny won the most All-Ireland titles in the 1930's, it can be argued that in an overall sense, that generation of Limerick hurlers dominated the game for the decade.
In an era that hummed with the swing of jazz and the first moving pictures with any degree of clarity recorded the sport, the personalities of that period have resonance today.
None more so than Mick Mackey. He was described by the most prominent hurling writer of the 1930's, PD Mehigan, pen-name 'Carbery', as 'The greatest playboy and stunt artist in the game, dummying and swerving his way through, shooting goals and points with easy freedom.'
Even though Gaelic football was a harmless diversion for him, he still managed to compile 2-5 off the legendary Kerry full-back Paddy 'Bawn' Brosnan in a Munster championship game in 1945.
Alongside him on the half-forward line was his brother, John.
Paddy Scanlon was a cool custodian between the sticks, almost a century before Nickie Quaid, and Dave Clohessy was found of rattling the net multiple times in a game.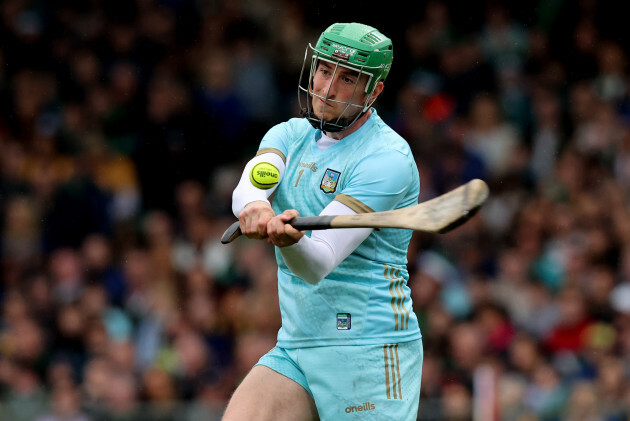 Bryan Keane / INPHO Limerick goalkeeper Nickie Quaid. Bryan Keane / INPHO / INPHO
Ned Cregan, father of former player and manager Eamonn, Timmy Ryan, Mick Ryan, all names that live on.
Such was their appeal, that a reported crowd of over 40,000 paid in to the Polo Grounds in New York to see Limerick play an exhibition game of some rounded-up ex-pats in April 1936.
As is the way of such sporting curiosities, some local ball-game writers chanced upon the occasion. Here are the words of Dan Parker, Sports Editor for the New York Daily Mirror; 'Hurling is no game for a fellow with a dash of lavender in his make-up.
'…It is little wonder that the Irish have no plagiarists in hurling. They invented the game and though they haven't copyrighted it, no other race has attempted to play it. I supposed the explanation is that no other race is constituted temperamentally like the Irish.'
In style and strategy, the Limerick team were a mixture. They were a train on miles of straight tracks. They deviated little and devoured what was directly in front of them.  
But not always. They could be a bit, well, tippy-tappy of themselves. The Mackey brothers were said to have over-egged moves on the odd occasion.
Mick Mackey was an innovator, perfecting the solo run with the ball on the end of his hurl, captured by the sculptor Seamus Connolly in the Mackey statue in his home village of Castleconnell.
#OTD 1912 Mick Mackey, of @AhaneGAAClub & @LimerickCLG, was born. He was named on the both the Centenary & Millennium hurling teams. pic.twitter.com/XTq8OKSXej

— GAA Stats (@GAA_Stats) July 12, 2017
When rule changes were introduced in the 1960s in the latest effort to 'clean up hurling,', Ryan announced that they were trying to 'turn it into tennis.'
It's a trope as old as the GAA that the winning teams are playing beyond the edge. Such accusations are levelled at the current team, they were levelled at Brian Cody's Kilkenny and you can be sure that by the use of detached euphemisms that Limerick's games were 'somewhat hot,' they were under a relative amount of scrutiny then too.
Albeit without 149 weekly podcasts all proclaiming it and fighting for eyeballs and ears.
Not everyone agreed. 'Carbery' wrote this in Camán, the Gaelic Games periodical; 'Discipline, speed, science are the orders of the day. Have we overstepped the mark? Are we catering for a diminutive race of men? Are the magnificent six-foot giants, wide shouldered and of surpassing power, being elbowed out in the recent evolution of the game?'
Further, colourful support in this view came from the former Cork hurler of the 1900's, Jamesy Kelleher who called the average 1930's player; 'hair-oil hurlers.'
At a time of crippling economic circumstances, hurling was nonetheless box-office and attracted huge crowds everywhere.
It also could, despite the protestations listed earlier, be a seriously dangerous pursuit and Limerick were caught up in incidents.
In the 1935 Munster semi-final between themselves and Cork, a high ball was contested between Limerick's Mick Ryan and Cork's Tommy Kelly.
Kelly was caught on the forehead and dropped, unconscious. The medics surveyed a grave scene and asked for a Priest. Kelly was administered Last Rites while players, officials and spectators recited a decade of the Rosary. He went into a coma but thankfully made a full recovery to play on for years with Cork.
The run couldn't last forever. Tipperary brought an end to the Limerick gallop, 6-3 to 4-3 in the 1937 final in the Cork Athletic Grounds in front of a reported crowd of 30,235.
But the success of that Limerick team brought the players a prestige throughout the city and county. Doors were opened. Jobs were offered. Privileges were granted.
The week after they won the 1936 All-Ireland final, the panel were asked to come along as special guests to the Savoy Cinema in the city.
Hundreds of people arrived and more hundreds were turned away. At the movie interval, the players were introduced to the crowd and the cinema's organist Jack Courtenay played a special tune he had composed in their honour.
When Mackey was invited to address the crowd, he gave the Liam MacCarthy Cup a good shake and said one simple message into the microphone.
"We won the All-Ireland final this year, and we mean to do the same next year."
They didn't. They lost the 1937 Munster final to Tipperary and the '39 Munster final to Cork.
In 1940, they beat Cork and went on to win the All-Ireland. Mackey's third, and the last big kick in that team.
What followed was a bitter winter of 33 years without an All-Ireland.
In their history, Limerick have become used to it, a boom-bust culture that they are riding high on, right now.
Last summer's triumph, their fourth Munster final on the bounce, saw them emulate the hurling class of 1933-36.
Declan Hannon lifted the Mick Mackey Cup, bestowed upon the victors for the first time. 
On Sunday they have the chance to carve out a new slice of Limerick hurling history.