Hello, and welcome to tonight's liveblog.
As always, we'd love to hear your thoughts on the game. E-mail paul@the42.ie, tweet @the42_ie, post a message to our Facebook wall, or leave a comment below.
You may need to refresh the page for YouTube videos and other elements to display correctly.
Kick off for the game is at 7.45pm.
Apr 25th 2018, 7:49 PM
3'
Bright start for Bayern straight away.
Lewandowski drives a shot across goal, after Carvajal concedes possession.
Apr 25th 2018, 7:51 PM
4'
It's been an intense start to this game.
A Ribery cross is blocked by Carvajal. There are claims of handball, but it clearly came off his shoulder.
Apr 25th 2018, 7:52 PM
6'
Worrying scenes for Bayern fans as Arjen Robben is down receiving treatment.
It's unclear whether he'll be able to continue.
Apr 25th 2018, 7:54 PM
7'
Good game already. Eggbox at hand again, I'm saying that no Neuer, no Vidal and no Coman is going to make this a difficult night for Bayern. If they go down that Bayern left flank with Ribéry "protecting" Rafinha, Real should get a lot of joy.

— Matt Scott (@Matt5cott) April 25, 2018
Apr 25th 2018, 7:56 PM
9'
Blow for Bayern already! Robben has gone off injured, with Thiago taking his place.
That said, the Spanish international is a fine player in his own right, so that change has not necessarily made the hosts weaker.
Apr 25th 2018, 8:00 PM
14'
Bayern have looked the better side so far.
They are dominating possession and territory.
Apr 25th 2018, 8:06 PM
19'
Rafinha shoots from distance, but Navas makes a comfortable save.
For all their possession, Bayern haven't really looked like scoring.
Apr 25th 2018, 8:09 PM
23'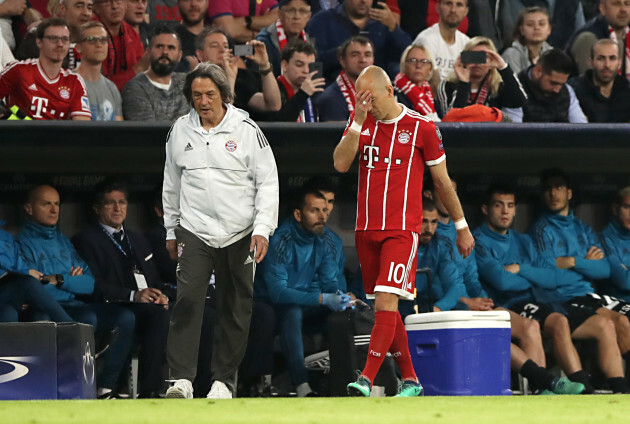 EMPICS Sport Bayern Munich's Arjen Robben shows his frustration as he is substituted off. EMPICS Sport
Apr 25th 2018, 8:13 PM
25'
Thiago having bit of a shocker so far - three passes wildly astray, two out for throws

— Dermot Corrigan (@dermotmcorrigan) April 25, 2018
Apr 25th 2018, 8:14 PM
25'
BAYERN 1-0 REAL MADRID (KIMMICH 28)
Apr 25th 2018, 8:17 PM
30'
Real are wide open as Bayern break at speed, with loan star Rodriguez playing the decisive pass.
Kimmich is put through on goal and scores from a tight angle, when it looked like Navas was anticipating a shot.
Apr 25th 2018, 8:20 PM
33'
Another injury blow for Bayern, as Boateng hobbles off.
His replacement will be 22-year-old Niklas Süle, who they only signed from Hoffenheim last year.
Apr 25th 2018, 8:22 PM
36'
Deary me!
The ball is worked across the box to Ribery, with Thiago playing the final pass.
The French star has a clear sight at goal, but he takes a heavy touch and Navas collects the ball comfortably.
Apr 25th 2018, 8:27 PM
40'
Real have offered almost nothing in attack so far.
As I type though, Hummels nearly makes a dreadful mistake, almost laying the ball on a plate for Modric, who doesn't react quickly enough to capitalise on the error.
Bayern have had 56% possession so far.
Apr 25th 2018, 8:28 PM
42'
Decent chance!
Lewandowski flicks on a corner, and Hummels' subsequent volley is off target.
Apr 25th 2018, 8:30 PM
43'
Rafinha's cross finds Muller, whose volley is deflected off target via a Ramos block.
Bayern remain dominant.
Apr 25th 2018, 8:30 PM
44'
REAL MADRID 1-1 BAYERN (MARCELO 44)
Apr 25th 2018, 8:32 PM
45'
Out of nothing, Real equalise!
The ball comes to Marcelo on the edge of the box, and the full-back blasts the ball into the corner of the net brilliantly.
Apr 25th 2018, 8:34 PM
46'
Bayern have been the much better side and have controlled the game, missing more than one excellent chance.
They will wonder how they are drawing this game.
As I type, Lewandowski gets on the end of Rodriguez's free kick, but his header is straight at Navas.
Apr 25th 2018, 8:34 PM
45'+2
HALF-TIME: BAYERN MUNICH 1-1 REAL MADRID
Apr 25th 2018, 8:50 PM
46'
The second half has begun.
Marco Asensio is on for Isco for Real.
Apr 25th 2018, 8:52 PM
47'
Apr 25th 2018, 8:56 PM
52'
Ribery makes space on the left and his cross just misses the onrushing Muller, with Ramos appearing to get a touch to divert the ball away to safety.
Bayern still look the stronger side.
Apr 25th 2018, 9:01 PM
56'
BAYERN 1-2 REAL MADRID (ASENSIO 57)
Apr 25th 2018, 9:03 PM
58'
Rafinha plays a sloppy ball and Real capitalise.
The Spaniards break at speed, with substitute Asensio producing a clinical finish, when one-on-one with Ulreich.
Apr 25th 2018, 9:04 PM
62'
Ribery inside the area, dribbles by two defenders, and forces a good save from Navas.
It's starting to feel like it's not going to be Bayern's night.
Apr 25th 2018, 9:11 PM
66'
Real make a change.
Carvajal, who appears to have picked up a knock, is being replaced by Benzema.
Apr 25th 2018, 9:13 PM
69'
There's a goalmouth scramble, before Real clear.
Looking at the replay, Muller and Lewandowski got in each other's way, as they tried to put the ball in the net from close range.
Apr 25th 2018, 9:17 PM
72'
Ronaldo blasts the ball home from the edge of the box, but it's correctly ruled out.
He controlled the ball with his arm, before producing a fine finish.
Apr 25th 2018, 9:20 PM
75'
Bayern haven't really rallied as you would have expected them to since conceding the second goal.
It's looking fairly comfortable for Real at the moment.
Meanwhile, the hosts are making another change, as Martinez is replaced by Tolisso.
Apr 25th 2018, 9:22 PM
78'
Looking like my 2 old teams in The Champions League Final.🤞🤞🤞

— michael owen (@themichaelowen) April 25, 2018
Apr 25th 2018, 9:24 PM
79'
Bayern suffering without some of their best players. They haven't arrived yet from Schalke, Dortmund, Leipzig etc. #BayernReal

— Danny Kelly (@dannykellywords) April 25, 2018
Apr 25th 2018, 9:28 PM
84'
Real make a final change. Casemiro comes off, with Kovačić taking his place.
We won't be seeing Gareth Bale tonight.
Apr 25th 2018, 9:33 PM
88'
The Allianz Arena is very quiet now. There is a sense that this game is a bit of a lost cause now from a Bayern perspective.
As I type, Lewandowski is played through by Tolisso, but the Polish striker clips the ball wide.
Apr 25th 2018, 9:35 PM
90'
There will be four additional minutes…
Apr 25th 2018, 9:38 PM
92'
Bayern have been pretty underwhelming tonight.
The Germans have missed a couple of good chances, but they've really struggled to create much of note since the second Real goal.
Apr 25th 2018, 9:38 PM
90'+2
Apr 25th 2018, 9:39 PM
90'+3
FULL-TIME: REAL MADRID 2-1 BAYERN MUNICH
Right, that's all from me.
You can read our match report here.
Thanks for reading and commenting.
The42 is on Instagram! Tap the button below on your phone to follow us!