Liveblog
We've got the taste for gold now. Let's do this.
As always, we'd love to hear from you, so send us your thoughts and comments on all the action.
E-mail us at sport@thescore.ie, tweet us @thescore_ie, post to our Facebook wall or leave a comment below.
Headlines
Good morning folks. Did you all have a good night? Feeling spritely for another run at it?
Well have I got news to perk you up a bit: Andrzej Jezierski ha qualified from his C1 200m sprint heat. The Ballincollig/Poznan man came in second in heat one in 41.404 seconds.
the heat also contained Valentin Demyanenk the reigning European Champion, but he was knocked out after coming seventh and last.
After watching the heats that followed Jezierski's heat one, it seems he has done well to qualify from that. His time is currently fifth overall, he should be well positioned for the semis which are coming up at 11.30.
Here comes the fourth and final heat…
Ukraine's Yuri Cheban took first place in heat four of this c1 competition. That means Jezierski is the sixth fastest man through those heats. More in the tank, I reckon. We'll find out at 11.30.
While we eagerly await some more thrilling canoe sprint action RTE have the fantastic Timmy McCarthy calling last night's encounter between Russia and France in women's basketball. Just a heads-up for you there.
Good ol' Timmy has the office rolling in laughter here with the immortal lines (count the 'shots' here):
"She wanted the shot, she needed the shot, she took the shot, she made the shot and she loves it."
France leading 72-56 at this stage, so TMC's excitement is likely to trail off now as Les Bleus wind down the clock.
Here it comes. The moment we've all been waiting for – since we woke up this morning – Andrzej Jezierski is out to make his mark and sprint to a place in the C1 sprint final.
We're told that this is the toughest of the three semis as it contains European silver and bronze medallists.
Jezierski will go in semi-final two, the first is just underway. The top two from each semi will qualify automatically for the final with the tow best third places filling the remaining lanes.
Whoa, Lithuania's Jevgenij Shuklin bossed that race. Taking his paddle right out of the water over the last five metres so he could drift over the line in first. 41.483 his winning time. Goubel takes second and Li Qiang is third with 42.149.
Jezierski needs to beat that time and finish in the top three now.
RTE's resident paddling expert tips Jezierski for a comfortable third in this heat with Lubo Hagara the man likely to lead the way. Let's see.
Ah no. Jezierski was a little slow out of the blocks and never recovered. As Ivan Sthtyl and Alfonso Benavidez led the way with Hagara holding onto third.
Jezierski's time was 42.012. A good effort, but he'll have to be content with the B final tomorrow.
And Yuri Cheban wins again, this time the third semi final ahead of Dzianis Harazha and Naoya Sakamoto.
The Japanese canoeist will advance to the final, as will Lubomir Hagara who beat Jezierski to third place in heat two.
For those of you who suddenly can't get enough canoe sprints, those finals (A and B) will go under the gun at 9.45 tomorrow morning.
There's Andrzej, looking uber-buff!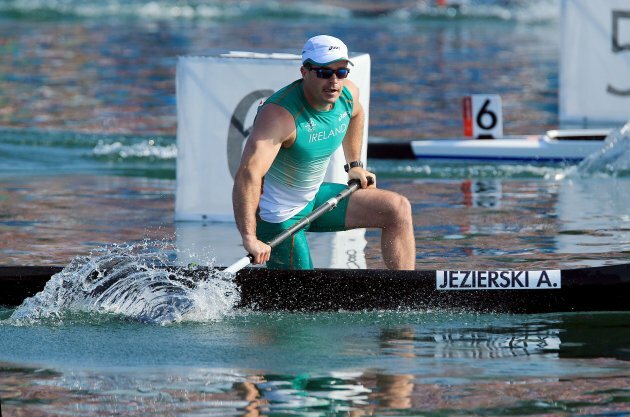 ©INPHO/Dan Sheridan
Less than an hour to go now before Paddy Barnes three rounds of reckoning with Shiming Zou. The Belfast brawler says he'd be happy to score just one point after drawing blank last time out, but we sense he's got something a little special planned.
So, Paddy Barnes' daily celebrity shoulder-rubbing is a spiky little exchange with nobody's favourite, Piers Morgan.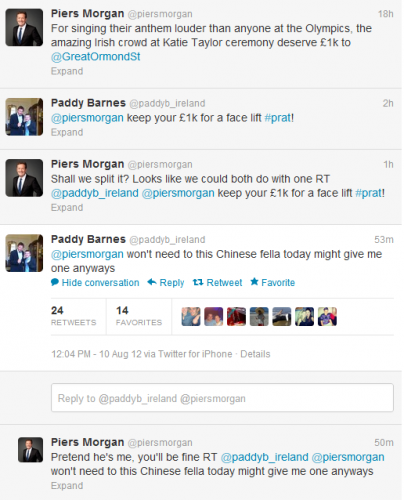 H/T @MurphyVincent
Kenneth Egan wardrobe watch: We're not sure how many denim-ish jackets Kenny owns, but he appears to have donned something similar to the atrocious garb he had on last week. Didn't think I'd say this yesterday, but I miss the massive yellow tie.
Mick Dowling and Bernard Dunne continue to laud Zou as an unbeatable force of nature. We're sure they'd love to be proven wrong.
This is your 15 minute warning: Paddy Barnes is about to get his gloves strapped on.
You know what, McGeady's right. I'm never going to scoff, laugh or snigger at Kenneth Egan's fabric choice again.
Anyway, on with the fight. Even as we close in, nobody can see Barnes taking this. Dunne says he doesn't have the footwork and that Zou is the full package.
Barnes in blue for this bout, looks much more focused than we're used to. A quick glove touch and we're off.
The crowd not quite as loud as yesterday, but the chant 'Paddy, Paddy, Paddy' as Barnes bears down on the Chinese 30-year-old. Zou is looking lively, dodging and weaving, picking his punches. He looks comfortable.
At the bell the scores come up and it's bad: 8-5 Zou leads.
Barnes warned for taking a shot while Zou's arm was interlocked with his. He's fighting the brave fight, is Paddy. But the class divide is undeniable.
Zou expertly ducks out of Barnes' barrage of punches. That round was scored level, 3-3. Barnes outclassed but still in touch for final round.
we're having an all-out brawl at the ExCel both men standing toe to toe and trading punches. COME ON, PADDY!! …
There's the bell. Barnes put in a terrific final round and had Zou on the floor at one stage. Absolutely thrilling stuff, but did he take as many blows as he landed?
Barnes took the final round by three. 15-15, but Barnes loses on a count-back. What an absolute warrior! 15-0 four years ago, 15-15 today.
Michael Lyster on RTE reporting that the count back result was 45-44 in favour of Zou. Could Barnes have lost by a narrower margin? Incredible.
We've said it before over the past fortnight, but watching the Olympics is an event in itself. Now we all have to pick our jaws off the floor and cheer on John Joe Nevin. Suck it up.
One last nod before we move on, Jon Coates has it all summed up.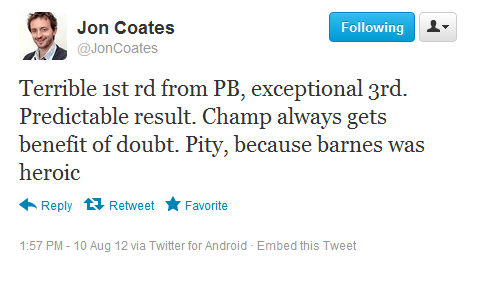 Now, Lazaro Alvarez Estrada is our sights. John Joe Nevin is making his way to ringside. This is going to be another super fight. Let's just hope we fall out on the right side of the scorecard this time.
There's the bell and we're underway again in the ExCel Arena. Nevin is in blue and both fighters are on their toes trying to assert some authority. Nevin, though, looks to have connected with the Cuban's head twice already.
There's the end of round one, it's been a good one for John Joe. He leads 3-5 and has been absolutely brilliant. Masterclass.
Alvarez touched the canvas after JJ left, not sure if it counted though. The Cuban doing his level best to convert this into a brawl.
End of round two in a terrific fight and Nevin won that too. He leads 12-9! Come on.
I felt Nevin would be level at best after that second round, but the Cavan BC boy's punches come with stealth so happy to be proven wrong. halfway through round three and Nevin still being his evasive best and he's catching the Cuban with expert counters.
Nevin show-boating a bit in final minute. The chickens were counted, he threw in an Ali-shuffle and pointed at his chin. He celebrates at the final bell.
A huge win for John Joe Nevin. 19-14 is the final decision. You absolute beauty.
Chalk up another (minimum) silver medal on the board. Nevin is in the Bantamweight final and can relax now as GB's Luke Campbell and Satoshi Schmizu meet in the other semi.
We'll stay with that fight now, as it's going to be a big big bout tomorrow night.
Ah here, either these guys are doing brilliantly to cancel each other out or they're not fit to lace JJ's boots. Luke Campbell leads 5-2 after round 1.
Campbell is a decent fighter, and doing well to negate Schmizu's reach, but the pace of this fight is so pedestrian compared to what we have just seen. Looks like Nevin will be up against Team GB in the final as Campbell takes round two 6-4.
Paddy Barnes retaining his sense of humour despite the pain of defeat:
Patrick McCarry here to glide you through proceedings for the next while. There was some swimming out at Serpentine earlier today – Oussama Mellouli swam the Tunisian rear off himself to win gold in the men's 10km Marathon. He still had enough in his lungs to bellow his way through the medal ceremony and knock in the national anthem too.
Taekwondo: That, my friend, is what I call a three-point kick to the head.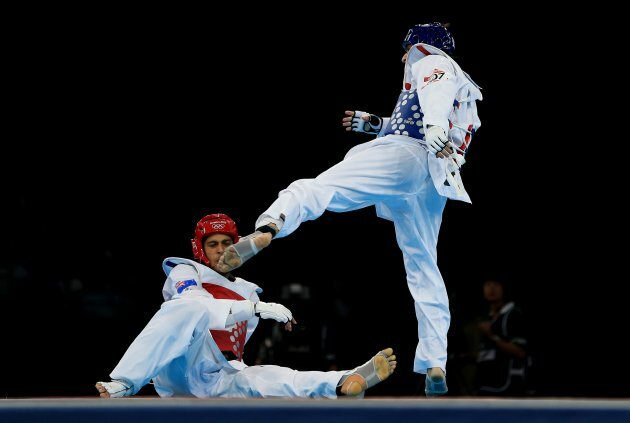 Argentina's Sebastian Eduardo Crismanich (blue) fights New Zealand'sVaughn Scott. (EMPICS Sport)
In the sailing, there were gold medals handed out follow the Men's and Women's 470 classes. Jo Aleh and Olivia Powrie of New Zealand came out on top after their medal race. There was success for the Australians in the men's event as Matthew Belcher and Malcolm Page were victorious, ahead of the British duo of Stuart Bithell and Luke Patience.
It didn't take some pundits long to get cocky about the achievements of Team GB: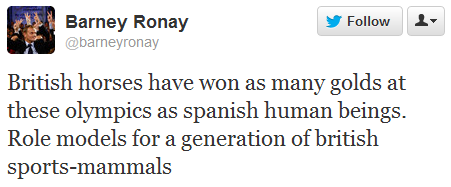 Anthony Ogogo, on of Britain's best amateur boxing hopes, has lost his Men's Middleweight semi-final 16-9 to Esquiva Falcao Florentino of Brazil.
Here is some of what Team Ireland captain Darren O'Neill had to say to RTÉ Sports:
Paddy (Barnes) was very unlucky. He was in against a word-class opponent that he lost 15-0 to at the last Olympics … We thought he won the last round by a bit more.

John Joe was phenomenal. It was the best I've ever seen him box. It was 20 years, before Katie, that we won (boxing) gold but there's a chance that we will come home with two or three.

I was talking to Michael (Conlan) earlier and he is oozing confidence.
Conlan boxes later this evening against a tough Cuban and O'Neill warns that, after Nevin's resounding victory over Lazaro Alvarez Estrada, the Cubans will be out for revenge.
You could not plan or dream of a better picture. Supporters of John Joe Nevin in Mullingar swarm around the statue of Joe Dolan and an inflatable boxing glove is placed on the arm of the late singer.
Ain't no show like a John Joe show. (©INPHO/James Crombie)
The women's synchronised swimming is heating up. Canada held the lead until the Spanish team rocked up and started synchronising all over the place. That gave them the lead until the Russians dropped in to upset the party. The Chinese are in the pool now, let's see what happens …
Oussama Mellouli, who won that 10km Swimming Marathon, today also won gold (in the 1,500m Freestyle) at Beijing 2008. Stunning stuff from the Tunisian.
As for the women's synchronised swimming – the Chinese could only manage a total score of 194.010 to finish second to the mighty Russians.
That bronze medal confirmation for Paddy Barnes mean Ireland sits at 39th overall on the medal table, for now. If Michael Conlan and John Joe Nevin can realise their boxing dreams, we could finish up in the top 30 by the time (and I'm speculating here) pop sensation Gabrielle makes a triumphant singing return at the closing ceremony.
"Dreams can come true …"
Team GB's Women are drawing 0-0 with the hockey dames of New Zealand at half-time.
The finals of the Women's BMX have been decided with hometown/country favourite Shanazae Reade qualifying along with fancied stars such as Magalie Pottier (France) and Mariana Pajon (Colombia).
You can never count the Bulgarian Men's Volleyball team out. They were two points away from Olympic elimination to Russia in their semi-final but won the third set 25-23.
We have just heard from RTÉ that 1.1m people tuned in to watch Katie Taylor's gold medal win yesterday afternoon. The rest of the country was watching it out in Bray.
Great Britain lead NZ 1-0 in the women's hockey semi-finals but the Kiwis are putting all hands to the pump and come close with a penalty corner. Kashmir by Led Zeppelin rang out in the arena just before GB took the lead.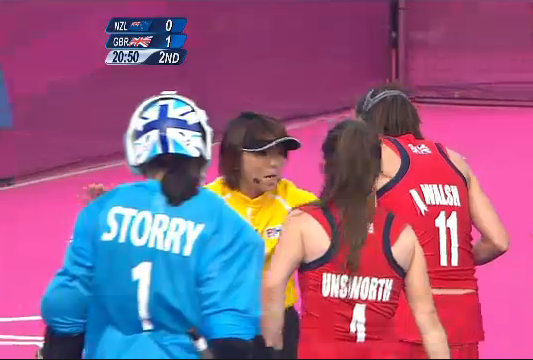 'Storry ref?!' (Credit: Eurovisionsports.tv)
Mariana Pajon of Colombia has won Gold in the Women's BMX Final. Great action as she pips Sarah Walker of New Zealand by 0.42 to win. Laura Smulders of The Netherlands is right on Walker's wheel to claim bronze. Men's final coming up soon.
Gavin Noble, Olympic triathlete, just what the holy smokes is going on at the Olympic Village?!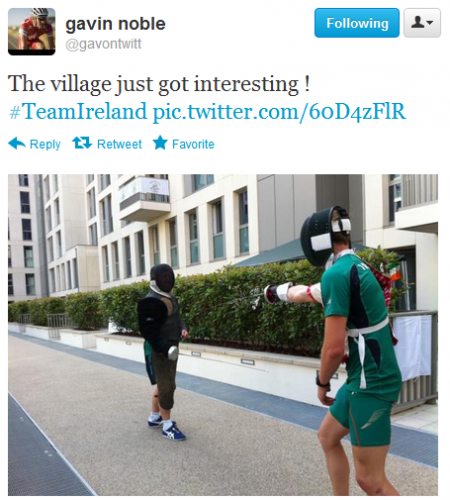 3-0 to the British ladies in the hockey and all three goals have come from well worked penalty corners. The 80% blonde-haired New Zealanders look set to lose out in the bronze medal play-off.
Even tighter in the Men's BMX final as Maris Strombergs of Latvia gets gold, just over 0.35 ahead of Australia's Sam Willoughby, while Carlos Mario Oquendo Zabala of Colmbia gets bronze and another biking medal for his country.
3-1 to GB and their inspirational captain Kate Walsh. They win bronze.
There are only two events going on live at the Olympics at the moment. Lull or what? The gold medal match – Netherlands and Argentina – is on at 8pm.
The Bulgarian volleyball players I praised earlier have taken me for a chump. They lose to Russia three sets to one.
Hold the phone – five events going live now. Men's Basketball semi-final the highlight as Russia take on Spain – the team with two Gasols and a Jose Calderon.
Spain are level with Russia in the Men's Basketball semis while Hungary lead Sweden 7-6 in the Men's Handball semi-final.
The Russians are leading 29-16 against Spain in the basketball. The Gasol's need to up the ante. Not the same looking at basketball on BBC Three. No Timmy 'Downtown' McCarthy.
This woman (below) came back from a shattered jaw early on in the games to lead her team to Olympic hockey bronze. Super effort.
Kate Walsh (left), the Team GB captain, and Helen Richardson. (Rebecca Naden/PA Wire)
We have trawled through some of the best Olympics images of the day for you. Have a look:
The Swedes are narrowly leading Hungary in the handball semis while the basketballers of Russia hold a six point advantage over Spain.
Japan are going for their first Olympic Gold in boxing for 48 years and they may just have found the man to do it. Ryota Murata won his middleweight semi-final 13-12 today and will fight Esquiva Falcao of Brazil on Saturday.
Murata beat Falcao on his way to world championship silver last year and declared that he will do his best 'to knock him out'. That might get you a gold, I'd say.
Nine points on the trot for Spain and they now lead Russia 55-49 in the fourth quarter. The USA follow, against Argentina, at 9pm. LeBron and his buddies will gobble either of these teams up.
The Women's 4x400m Relay gets going at 7.10pm but Ireland are not up until Heat 2, at 7.21pm. 12 of the 18 teams taking part have better season's bests so the Irish ladies will have to go above and beyond to reach the final on Saturday evening.
Sweden beat Hungary 27-26 to reach the Men's Handball Final. Spain look like advancing into the Men's Basketball Final as they lead Russia by eight points going into the closing stages.
Spain beat Russia 67-59 in the Men's Basketball semi-final and will meet the US or Argentina in the gold medal match.
This Team BG hockey player is chuffed with her medal:

Here comes the first heat of the Women's 4x400m Relay. Ireland up in 10 minutes.
Jamaica take that relay at a canter, with Ukraine in second and France third. Quick time – just over 3:25. The fastest losers may well come from this heat.
Ireland last after the first leg. Cuddihy trying to make up ground …
Season's Best time of 3:30.55 for Ireland's 4x400m Relay Team but they will not make the final. They finished sixth in Heat Two and Joanne Cuddihy was immense on the second leg. She dragged Ireland from last to fifth before the baton change. First time Ireland had a team represented in the event. The United States won that heat in a great time of 3:22.19.
Jamaica throttle through in their Men's 4x100m relay heat in a time of 37.39 – no big surprise there with Yohan Blake and his speedy buddies in the team.
We are hearing that Team GB have been disqualified in the Men's 4x100m Relay. The USA run 0.02 faster than the Jamaicans to win Heat 2.
Just to confirm, Team GB were disqualified for a late baton change. There were five national records set in those two 4x100m heats and 13 Season's Bests. Sloppy stuff from Germany and Hong Kong!
The Women's 5000m is about to go to the starter's gun.
Dog Day Afternoon: Great Britain's Adam Gemili reacts after learning his relay team has been disqualified for a errant baton change.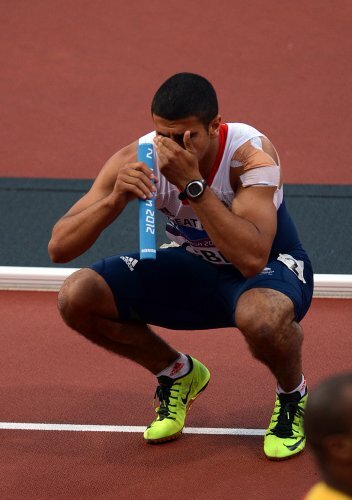 (Owen Humphreys/PA Wire)
Mesret Defar of Ethiopia wins Gold in the Women's 5000m and is just half a second ahead of Vivian Jepkemoi Cheruiyot of Kenya. Defar's teammate Tirunesh Dibaba gets bronze.
Michael Conlan from the St John Bosco Boxing Club is in the ring in just over five minutes. Mick Dowling in the RTÉ studios has described the 20-year-old as one of the most natural boxing talents he has seen in all his time covering the sport.
South Korea are 1-0 up against Japan at the Millennium Stadium in the Men's Football bronze medal match.
Gold and a World Record for the USA as the Women's 4x100m Relay Team glide home in a time of 40.82 to win. The time smashes a record that was set in 1985 by East Germany. Jamaica were second and Ukraine third.
Ok here we go – Michael Conlan …
6-3 to the Cuban after the first round and he got the majority of them in the last 90 seconds.
Toe to toe and haymakers connecting from both boxers. Conlan looks to have edged this despite the Cuban's claims that he took a below the belt jab. Disaster in the last 10 seconds as he lands three clean blows to lead by four going into the last round. 10-6.
Standing count for Conlan – not looking good …
Waiting for the scores from the judges but it could be a large defeat.
Ramirez wins the last round 10-4 to win 20-10 overall. The Cuban is two years younger but looks a class apart. That being said, fantastic Olympics debut from Conlan and a bronze medal.
Not the best note to sign off on but the positive to take is that Ireland have officially earned two bronze medals today and John Joe Nevin will go for gold tomorrow. Feel free to leave your comments and observations below.
Stay with us for more reactions from London 2012 and our wrap of the day's action in Olympic Village.
Contribute to this story: