Liveblog
Hello, and welcome to today's liveblog.
Just three points separate these two teams in the table, with Chelsea currently fourth and Spurs seventh.
The intriguing subplot to the game is that of the master versus the pupil.
Jose Mourinho managed Frank Lampard for so many years at Chelsea, with the pair enjoying great success together during that time,
Now, they find themselves in opposition dugouts.
Ahead of the game, Mourinho has said the two are unlikely to enjoy a post-match drink together.
"I don't think so because our stadium is built in the way that our office is completely on the inside of our private headquarters.
Until now I didn't invite any managers to go there and I don't think I'll do that with Frank.
"But like I used to say, a big hug before the game and another after the game, that's for sure, independent of results and who is happy.
"I think our feelings will be forever. I'll always be grateful to him for what he gave me as a player. Nothing is going to change that.
"I love the guy, I will always love the guy. I hope he loses on Sunday.
Confirmation of today's teams…
#THFC: Gazzaniga, Aurier, Alderweireld, Sanchez, Vertonghen, Dier, Sissoko, Dele, Son, Lucas, Kane (C)

📲 @WilliamHill latest (18+) https://t.co/eVVmFnmdb6 #THFC ⚪️ #COYS pic.twitter.com/ai8jfBIBLb

— Tottenham Hotspur (@SpursOfficial) December 22, 2019
Today's team to play Tottenham!

Thoughts? 🤔 #TOTCHE pic.twitter.com/ifTTe2GRLI

— Chelsea FC (@ChelseaFC) December 22, 2019
There's already been one Premier League game today, with Watford beating Man United 2-0 in a result that will please both Chelsea and Spurs.
You can read the match report here.
Who do you think will win?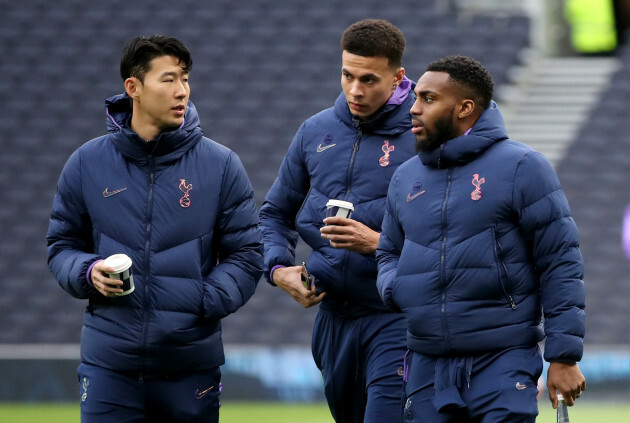 (left to right) Tottenham Hotspur's Heung-Min Son, Dele Alli and Danny Rose inspect the pitch ahead of the Premier League match. Source: Nick Potts
0 - Tottenham manager José Mourinho has won 12 and lost none of his 13 home games in all competitions against sides he's previously managed, including winning all three against Chelsea (once with Inter Milan, twice with Manchester United). Special. #TOTCHE pic.twitter.com/IMwpJSPwl7

— OptaJoe (@OptaJoe) December 22, 2019
It's a fairly aggressive start from Chelsea.
Their attackers are playing very high up the field and trying to stop Spurs playing out from the back, with the hosts resorting to going long on a couple of occasions already.
Kante crosses for Tammy Abraham, whose header is deflected wide.
It's been a decent start by Chelsea — they've had a lot of possession and look the more dangerous of the two sides.
Great, noisy minute's applause for Martin Peters. A line of Spurs stars from the past stood by the side of the pitch throughout to acknowledge the Tottenham and England legend.

— Alasdair Gold (@AlasdairGold) December 22, 2019
Flag
TOTTENHAM 0-1 CHELSEA (WILLIAN 12)
A short corner is played back to Willian.
He escapes the attentions of Aurier before firing an unstoppable shot into the far corner of the net.
It's the goal Chelsea's start to this game has deserved.
Tottenham just haven't been able to get their attack going at all so far.
Chelsea's intensive pressing has been effective, with Spurs' defenders regularly conceding possession mainly from hopeful long balls.
Chelsea have had five attempts on goal compared with zero for Spurs, according to Sky.
That gives an impression of just how lacklustre Tottenham have been so far.
Alli gives the ball away, before Abraham and Mount counter. The former finds the latter with a fantastic lofted pass, before Sanchez gets back well to make the recovery tackle.
It's been an excellent start by Chelsea, whereas Spurs have looked toothless.
Finally a chance for Spurs!
Sissoko cuts the ball across the box for Kane, whose curled first-time shot drifts over.
Better from Tottenham, who have been second best for much of this game.
Another chance for Tottenham!
Moura plays it to Kane who fires the ball across the box for Son.
However, the South Korean's first-time finish from a tight angle is blazed over.
Zouma has just picked up a cheap booking for preventing Harry Kane from taking a quick free kick.
There's been a bit of life about Tottenham of late that was conspicuously absent in the opening 20 minutes.
Worrying scenes for Spurs fans.
Sissoko is currently down injured. It looks like he'll be okay to continue though.
Dier tries to find Alli with a long ball, but Arrizabalaga gets to the ball before the attacker.
Spurs have looked short of creativity in midfield.
If the game continues in this manner, surely Christian Eriksen will be making an appearance sooner rather than later.
Sissoko charges forward in an attempt to get on the end of a stray backpass.
Arrizabalaga gets there first and the France international charges into him dangerously.
Thankfully, the goalkeeper looks okay to continue. It was a rash challenge from the midfielder, who is probably fortunate to escape a booking.
Tottenham's frustration is boiling over.
Alli and Kovacic have both been booked after clashing angrily and squaring up to one another off the ball.
Spurs fans getting really frustrated at some of their pedestrian approach play.

— Phil McNulty (@philmcnulty) December 22, 2019
Gazzaniga goes to kick the ball, misses it and clashes into Alonso.
VAR confirms it's a penalty.
It's a mad moment from the goalkeeper.
Flag
TOTTENHAM 0-2 CHELSEA (WILLIAN 45)
Willian sends Gazzaniga the wrong way to double Chelsea's advantage.
It's probably deserved on the balance of play.
Can't argue with that VAR decision. Strange goalkeeping.

— Gary Lineker (@GaryLineker) December 22, 2019
Flag
HALF-TIME: TOTTENHAM 0-2 CHELSEA
So Chelsea lead after producing a first-half performance characterised by composure and clinical finishing.
Spurs have been woeful though. They have lost the midfield battle and as a consequence, have barely created a single chance in the opening 45 minutes.
One goal could see them come back in it, but they hardly look capable of scoring with the current 11 on the pitch.
The likes of Son, Kane and Moura have been virtual bystanders so far, with Spurs' midfield unable to get the ball to the attackers.
A dreadful error by Gazzaniga on the brink of half-time merely compounded their woe.
That's two nailed on penalties (foul on Rashford v City / Gazzaniga on Alonso) that Anthony Taylor has failed to give in live action. Are PL refs now becoming cricket umpires and leaving everything to VAR?

— Mark Ogden (@MarkOgden_) December 22, 2019
Spurs have made a half-time change and it's a fairly obvious one.
Christian Eriksen has replaced Eric Dier, who didn't impose himself on the game at all really.
The second half has begun…
Eriksen plays a through ball to Son, but Arrizabalaga is alert to sweep up the loose ball.
Already, Spurs are looking a bit more threatening.
Chelsea manager Frank Lampard celebrates after Willian (not pictured) scores. Source: Nick Potts
Tottenham are looking better now.
They've matched Chelsea's system and are starting to play with more conviction.
Abraham has the ball in the net, but it's correctly ruled offside.
It was a tap in, after Alonso's pot shot had been spilled by Gazzaniga.
That won't do the goalkeeper's confidence — which is presumably fragile already — any good.
100 – Willian's penalty was Chelsea's 100th Premier League goal against Spurs – in the competition's history, only Man Utd v Everton (101), Liverpool v Newcastle (101) and Arsenal v Everton (107) have scored more goals against a single opponent. Century. #TOTCHE pic.twitter.com/3y4fdfZYfF

— OptaJoe (@OptaJoe) December 22, 2019
RED CARD FOR SON!
Son kicks out at Rüdiger after being fouled.
The defender makes the most of it, and the South Korean is sent off after a VAR review.
It's a slightly harsh call. The defender clearly exaggerated the contact.
But at the same time, it was very ill-disciplined from Son.
It's getting very overheated in the stadium now.
Some sort of object has been thrown in the direction of Arrizabalaga, with the referee pausing the game as a result.
Aurier goes down under a challenge and no free kick is given.
Spurs and their fans are growing really frustrated with the referee and how this game is generally panning out.
Sky Sports are reporting that there was racist abuse aimed at Antonio Rüdiger from someone in the crowd.
Co-commentator Gary Neville laments how "regular" such incidents are becoming at English football grounds.
It's just ridiculous refereeing that Anthony Taylor can spend time on the pitch doing nothing at Spurs waiting to hear feedback from the VAR on Son without just going over to watch the screen himself.

Premier League seem to be ignoring official guidance on VAR from IFAB https://t.co/xqskWTEMkr

— Rob Harris (@RobHarris) December 22, 2019
Spurs make a change in an attempt to rescue this game.
Ndombele is on in place of the ineffectual Moura.
Aurier goes down under a challenge from Kante as a corner goes into the box.
A VAR check deems it not to be a penalty.
"Racist behaviour among spectators is interfering with the game," announcement at #TOTCHE. Suggestion something was said to Rudiger. #kickitout

— Henry Winter (@henrywinter) December 22, 2019
Chelsea make an double change.
Tammy Abraham is on for Michy Batshuayi, and Reece James replaces César Azpilicueta.
This game has felt really dead in the last few minutes.
Spurs have looked a beaten team ever since they were reduced to 10 men.
Eriksen's set pieces have been really poor since he came on at the break.
A blocked free kick of his is quickly followed by an underhit corner to emphasise this failing.
There will be eight minutes of stoppage time…
There are protests from the Spurs bench, as Alli goes down under a challenge from Alonso as a corner goes into the box.
The officials ignore these claims.
Chelsea break.
A fantastic pass from Willian, who has just been announced as the man of the match, finds Michy Batshuayi, whose shot from the edge of the area goes inches wide.
Ndombele slips through Kane, but Tomori makes a good challenge to prevent him getting a clear shot on goal.
The England striker's been very quiet today, mainly due to a lack of service.
Flag
FULL-TIME: TOTTENHAM 0-2 CHELSEA
Honeymoon over for Mourinho at Spurs. A manager out of his time.

— Oliver Holt (@OllieHolt22) December 22, 2019
Well that's that.
Chelsea were too good for Spurs tactically and technically ultimately.
Tottenham didn't help themselves, with Gazzaniga's moment of madness occurring at a key point in the game.
The red card for Son may have been slightly harsh, but the damage was done at that stage, and it seems unlikely Spurs would have recovered even if the South Korea international stayed on the field.
Right, that's all from me for now.
You can read our report here.
Thanks for reading and commenting, and we'll have more reaction to follow.
Contribute to this story: