Hello and welcome along to our live coverage of today's clash between Manchester United and West Brom at Old Trafford.
Pep Guardiola's City will be keeping a close eye on their rivals – if United lose to their bottom of the table opponents today, City will be confirmed Premier League champions. Simple as.
How do you see this one going? Will United put the celebrations on hold once again, keep the champagne on ice? Or are we in for an unexpected result?
Kick off is 4pm and we'll have team news very shortly.
Two changes for United, West Brom are unchanged.
Valencia and Brunt skipper their respective sides. The starting XIs plus subs are below:
Man United: De Gea, Valencia, Lindelof, Smalling, Young, Matic, Ander Herrera, Pogba, Mata, Lukaku, Alexis.
Subs: J Pereira, Jones, Marcos Rojo, McTominay, Lingard, Martial, Rashford.
West Brom: Foster, Nyom, Gibbs, Livermore, Rondon, Phillips, Brunt, McClean, Rodriguez, Dawson, Hegazi
Subs: Myhill, Yacob, Sturridge, Gabr, Krychowiak, Field
With just over half an hour until kick-off, the atmosphere is building around the ground: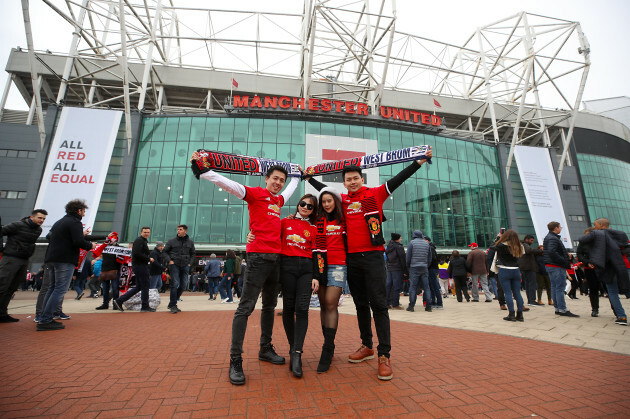 Nick Potts Nick Potts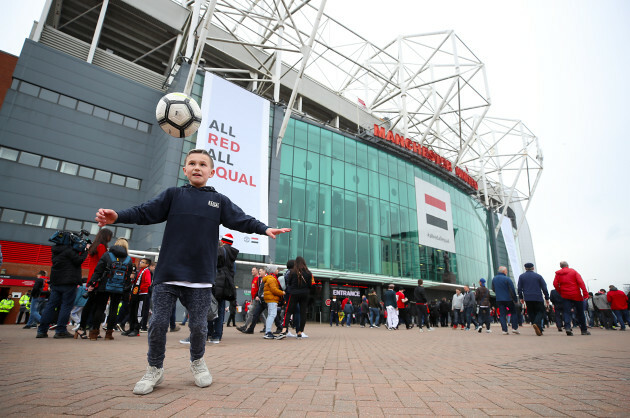 Nick Potts Nick Potts
Nick Potts Nick Potts
After Liverpool's win yesterday, Jose Mourinho's side are just one point clear in second place but a win today would extend the gap to four once again, with five games to play.
West Brom meanwhile have other ideas.
"We know it's a big game for them but we're just focused on ourselves and getting the three points," Matty Phillips said in his pre-match interview.
🎥 Pre-match prep...#MUNWBA #COYB #WBA pic.twitter.com/si8A8Bgs1V

— West Bromwich Albion (@WBA) April 15, 2018
Eric Bailly is a notable absentee for United, with Lindelof starting in his place. This is what Mourinho had to say earlier of the late change, as quoted by manutd.com:
"A decision again. Victor played the match against Swansea at home and it was very suited to his qualities.
"Normally, we are going to have more of the ball and, normally, it's when we need somebody from the back to add extra technical quality in the middle of the back [four].
"We have three matches in a week. Bournemouth in a few days [Wednesday night] then Spurs after a few days again. In that semi-final, they are having one day extra to us to recover so I need also to think about that."
It's almost time to go. Call it?

We're underway – West Brom kick things off. Paul Tierney is the man in the middle.
Apr 15th 2018, 4:04 PM
4'
2 mins - The sides are settling into this. Pogba is on the ball early, slipping up while United's first attack amounts to nothing. Mata can't just connect with Sanchez's cross.
Apr 15th 2018, 4:08 PM
8'
7 mins – It's been low-key to start, United are playing the ball around nicely as they attempt to take control early on. Few attacks here and there, but nothing major.
Apr 15th 2018, 4:10 PM
10'
9 mins - West Brom's defending has been good so far, they're keeping Mourinho's side out. United have all the possession though, Sanchez looks lively.
Apr 15th 2018, 4:13 PM
13'
12 mins – United unlock the West Brom defence, with Foster forced to save Mata's effort. He was offside though. At the other end, the hosts are given a scare. De Gea keeps Livermore's shot out though, as they breathe a sigh of relief.
Apr 15th 2018, 4:15 PM
14'
14 mins - The visitors have upped the ante here with James McClean causing trouble on the wing. His cross is headed over by Rondon though.
Apr 15th 2018, 4:17 PM
16'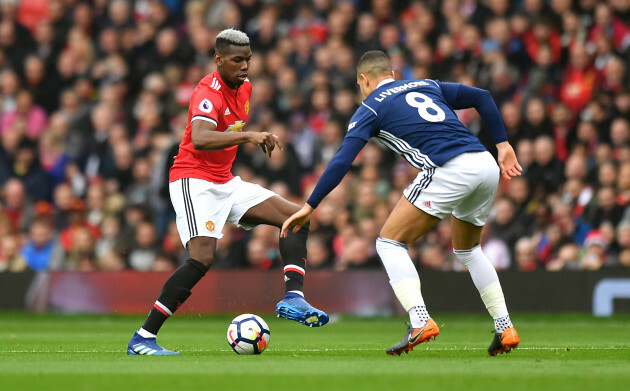 Anthony Devlin Anthony Devlin
Apr 15th 2018, 4:20 PM
19'
19 mins – Herrera goes down in the box but the referee sees nothing, he waves on proceedings. Moments later, Lukaku has a chance on the volley but Foster does well to keep it out. The deadlock is yet to be broken, but it's started to look more likely that it may happen soon.
Apr 15th 2018, 4:26 PM
24'
24 mins – United continue to dominate possession and have started to play some promising attacking football, with Sanchez prominently involved. West Brom are holding their own in defence though, and look threatening on the break. McClean's ball into the box finds Rondon but De Gea deals with his header accordingly.
Apr 15th 2018, 4:30 PM
29'
29 mins - Pogba finds Sanchez out wide and breaks into the box to get on the receiving end of the cross. He goes for it with his hand and he's booked for a deliberate handball in the area. Hand of Pog?
Apr 15th 2018, 4:33 PM
32'
32 mins – United have West Brom under the pump again, playing the ball around on the edge of the box but Pogba and Herrera lose it between them. West Brom look to break through McClean and Rondon but Mourinho's defence rule it out. This doesn't make for great viewing so far.
Apr 15th 2018, 4:36 PM
35'
35 mins - The atmosphere is pretty subdued too, it must be said. There is some noise though as Lukaku latches onto a through ball, but he miscontrols and Foster has things under control.
Apr 15th 2018, 4:40 PM
39'
38 mins – A sustained period of pressure for United ends as Pogba spoons over from 25 yards. The camera switches to an unimpressed Mourinho in the stands — can his side keep City's celebrations on hold for another few days at least?
Apr 15th 2018, 4:43 PM
41'
41 mins - We've just had our first corner of the match. McClean swings it in towards the back post but Dawson's header goes straight to Smalling who clears United's lines.
Apr 15th 2018, 4:46 PM
45'
45 mins – Pogba's effort is deflected over by Hegazi, and nothing comes off the corner. One minute of added time.
Apr 15th 2018, 4:47 PM
45'+1
Half-time: Manchester United 0 West Brom 0
Apr 15th 2018, 4:49 PM
45'+1
Anthony Devlin Anthony Devlin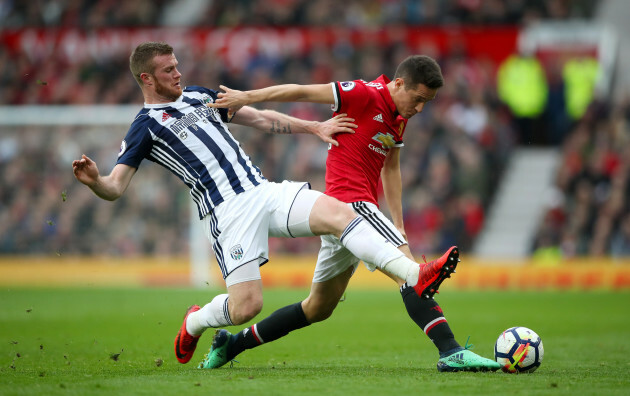 Nick Potts Nick Potts
Apr 15th 2018, 4:52 PM
45'+2
Thoughts on that half? Both sides had their chances, but United have been pretty poor against a spirited West Brom. You couldn't tell it's the clash of 2nd and 20th in the table…….
Apr 15th 2018, 5:02 PM
46'
46 mins - We're back, United get us underway. One change for the hosts — Lingard comes in for Herrera
Apr 15th 2018, 5:04 PM
47'
47 mins – Early chance for United and it's the substitute Lingard who gets it. The ball drops down to him on the penalty spot but Dawson launches himself onto the volley and keeps it out.
Apr 15th 2018, 5:07 PM
51'
49 mins – Another good save from De Gea to stop Rondon's header. Lukaku looks lively down the wing at the other end but the ball in is collected by Foster.
Apr 15th 2018, 5:11 PM
52'
52 mins – It's sligtly more end-to-end now. McClean is battling hard for West Brom, it must be said. Pogba plays the ball to Mata just outside the box but his effort whisps to the left and wide. There's some more noise from the crowd now as United look more promising.
Apr 15th 2018, 5:12 PM
55'
55 mins - McClean wins a free-kick in a dangerous area for the Baggies, after a challenge from Pogba. It's drilled straight at the wall though.
Apr 15th 2018, 5:15 PM
59'
58 mins – Chances at both ends but nothing of real note. Brunt's corner is too high for Dawson and United get it out. Pogba is replaced by Martial, who receives a warm reception.
Apr 15th 2018, 5:17 PM
59'
59 mins – Martial, with his first act, wins a free-kick as he's fouled by Nyom out wide on the left. Mata's delivery is headed out for a corner the other side.
Apr 15th 2018, 5:19 PM
62'
62 mins - Absolutely nothing came off that corner for United, it's headed clear by Hegazi. Rodriguez scuffs an effort wide at the other end. The rain has started to lash down.
Apr 15th 2018, 5:22 PM
64'
64 mins - Martial has been lively since coming on. He controls the ball in the air on the edge of the box and there are roars as fans feel Livermore has handled the ball, the referee waves proceedings on though.
Apr 15th 2018, 5:23 PM
66'
66 mins – SAVE! Super, super save from Foster as he gets a hand to Lukaku's header off the back of Matic's cross.
Apr 15th 2018, 5:28 PM
70'
70 mins - Lingard takes the ball off Mata just inside the D and has a go, but slashes it just wide. Moments later, Lukaku plays him through again but West Brom defend it well.
Apr 15th 2018, 5:30 PM
75'
73 mins – GOAL for West Brom!
It's Rodriguez!
Apr 15th 2018, 5:31 PM
75'
Brunt's corner swung beyond the back post but it was headed back across the face of the goal by Matic. That man Rodriguez arrived late and buryed a header into the back of the net!
Apr 15th 2018, 5:33 PM
75'
75 mins – As it stands, Man City will be crowned Premier League champions today. Rashford replaces Young for United as they go in search of an equaliser.
Apr 15th 2018, 5:34 PM
77'
77 mins - Grzegorz Krychowiak comes on for Matt Phillips. Nyom is booked for an ugly tackle on Martial. He's lucky it's only a yellow.
Apr 15th 2018, 5:37 PM
78'
78 mins – United have 12 minutes to save themselves the embarrassment of basically handing the title on a plate to their Manchester rivals, as they trail the Premier League's basement side. Before today, West Brom had won just one of their last 30 league games.
Apr 15th 2018, 5:40 PM
83'
82 mins – McClean surges forward but his cross come shot goes wide at the far post. West Brom are staying calm though and managing to keep their fair share of possession.
This tweet!
Apr 15th 2018, 5:42 PM
85'
85 mins - Salomon Rondon is replaced by Daniel Sturridge. West Brom are clinging on as United seek that all-important equaliser. Remember, if it's a draw City's champagne will be kept on ice.
Apr 15th 2018, 5:45 PM
87'
87 mins – Plenty of empty seats in the lower decks, and there's hardly any atmosphere as fans scratch their heads. The West Brom fans dotted around are loving this though. It doesn't really look like United are going to pull one back.
Apr 15th 2018, 5:47 PM
89'
89 mins – West Brom are defending well, Gibbs is leading the charge and heading away any danger. Martial plays a ball in towards Lukaku, he goes down but the ball ultimately ends up in Fosters arms. Four minutes of added time.
Apr 15th 2018, 5:50 PM
90'+3
92 mins – Valencia's floater finds Smalling but heads it straight to Foster. An easy one for the WBA keeper, he's had a great day between the posts though.
Apr 15th 2018, 5:51 PM
90'+3
93 mins - Yacob on, Brunt off. Looks like that's that as the referee looks at this watch.
Full-time: Manchester United 0 West Brom 1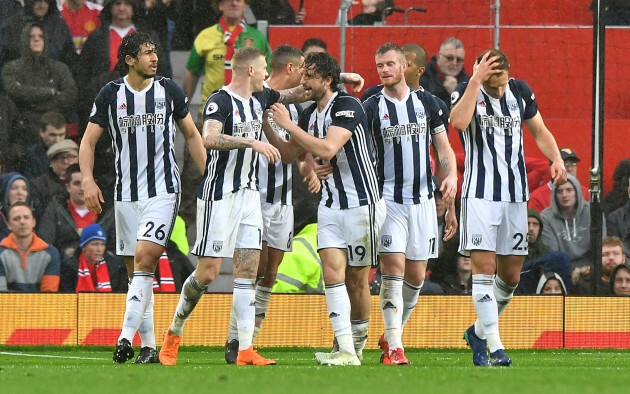 Anthony Devlin Anthony Devlin
Manchester City are now Premier League champions.
They can thank Rodriguez, who got the only goal of the game as United fell to rock-bottom West Brom at Old Trafford.
The42 is on Instagram! Tap the button below on your phone to follow us!