Liveblog
Hello rugby fans, and welcome along to our live coverage of the Guinness Pro12 clash between Munster and Leinster.
Hopefully you've all had a delightful few days of carb-loading for this inter-provincial battle, which promises to be enthralling.
Let us know where you're watching this one. Will you be part of the record crowd at Thomond Park, tucked away in the pub, or on the couch with a beer in hand?
Lovely clear day at Thomond Park for this one.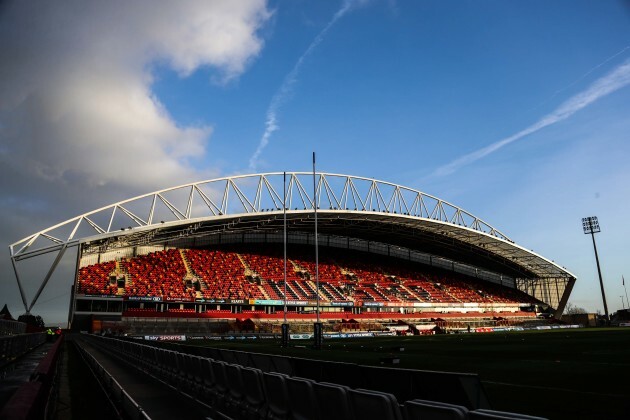 Source: Tommy Dickson/INPHO
Here are the teams and benches for Munster and Leinster:
Munster
15. Simon Zebo
14. Darren Sweetnam
13. Jaco Taute
12. Rory Scannell
11. Ronan O'Mahony
10. Tyler Bleyendaal
9. Conor Murray
1. James Cronin
2. Niall Scannell
3. John Ryan
4. Jean Kleyn
5. Donnacha Ryan
6. Peter O'Mahony (captain)
7. Tommy O'Donnell
8. CJ Stander
Replacements
16. Rhys Marshall
17. Dave Kilcoyne
18. Stephen Archer
19. Billy Holland
20. Jack O'Donoghue
21. Duncan Williams
22. Francis Saili
23. Andrew Conway
Leinster 
15. Zane Kirchner
14. Isa Nacewa (captain)
13. Rory O'Loughlin
12. Robbie Henshaw
11. Barry Daly
10. Ross Byrne
9. Jamison Gibson-Park
1. Cian Healy
2. James Tracy
3. Tadhg Furlong
4. Ross Molony
5. Mike McCarthy
6. Rhys Ruddock
7. Dan Leavy
8. Jack Conan
Replacements:
16. Richardt Strauss
17. Peter Dooley
18. Michael Bent
19. Ian Nagle
20. Dominic Ryan
21. Charlie Rock
22. Noel Reid
23. Tom Daly
Right, time for a few predictions. How do you see this one going?
12-point handicap with many of the bookies, while Leinster are available to win at 5/1 in some places. Let us know how you see this game panning out…
Santa hats everywhere in Thomond Park this evening!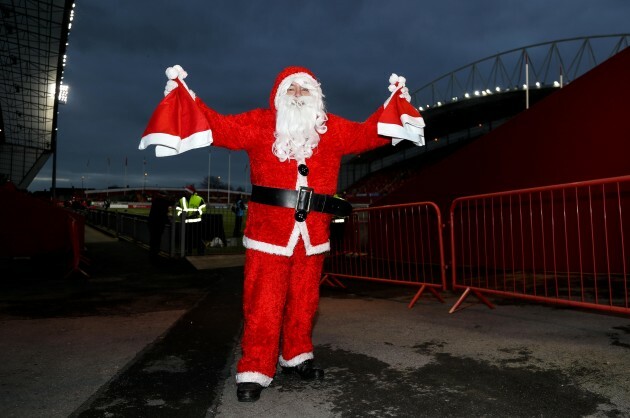 Source: Tommy Dickson/INPHO
Jack Dermody in the comments section is edging towards the visitors:
I think Leinster might be good bet.
Reader Chris Mcdonnell is also backing Leinster:
I think Leinster by 5.
As usual, Conor Murray is practicing his place-kicking before the game. Came in handy in Chicago last month!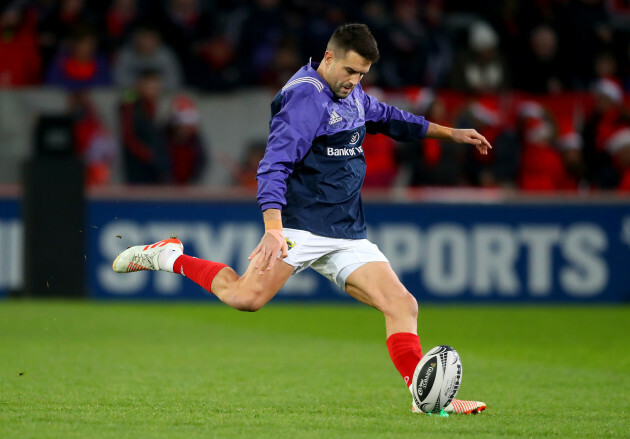 Source: James Crombie/INPHO
Better shots of those Leinster warm-up t-shirts here…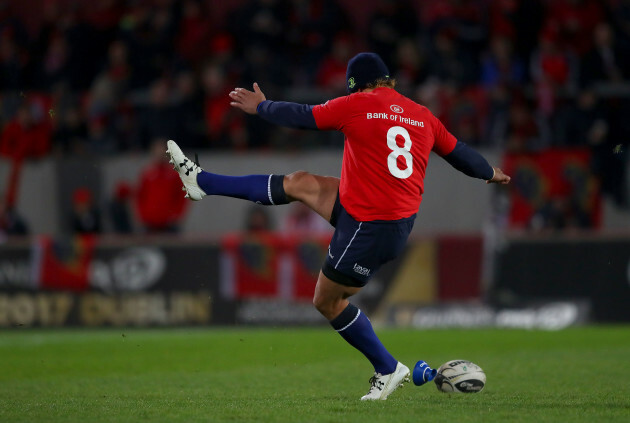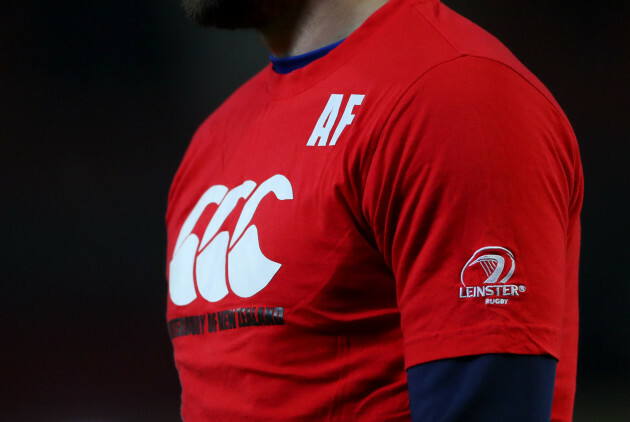 Source: James Crombie/INPHO
A shout for Munster from garrygag in the comments section:
Relaxed after a second turkey dinner plus additions in Dublin 15. Will be cheering on Munster as usual this evening. It promises to be a great game. Come on Munster
Both teams now back in the changing rooms. Thomond Park is filling up to its extended 26,200 capacity and we're all set for a cracking game…
All set for kick-off!
Great atmosphere here.
What a brilliant start! Munster get things going with a good exit after Leinster's kick-off, then they steal a lineout! Bleyendaal kicks in behind Leinster wide on the right for Sweetnam to chase, with Kirchner knocking-on as he covers across.
Scrum Munster close to the 22.
4 minutes - Huge defence from Leinster. The home side go through phase after phase of direct attack in close to the fringes, but Leinster tackle hard and compete at the breakdown, before Stander knocks at a midfield ruck.
7 minutes - A real kick battle there, but Leinster come out on top as Ross Byrne spirals a lovely kick in behind Bleyendaal and deep left.
8 minutes - Ross Molony stole the Munster lineout that ensued, but then a huge counter-rucking effort wins the ball back for Rassie Erasmus' side and Stander boots it into touch on the halfway line.
10 minutes - Ross Byrne has started well for Leinster. Kicking very well.
11 minutes - Leinster look to build an attack but there's a forward pass in midfield. They've not really managed to fire a shot with ball in hand just yet.
15 minutes - A loose kick from Bleyendaal gave Leinster a chance to attack there, with Conan throwing a nice offload on second phase, before a big Furlong carry.
But Munster's defence is up to the task after they find their shape.
Dave Kilcoyne on for Munster as James Cronin goes for a HIA.
And penalty against Stander for a dangerous clearout. Leinster kick up into the left corner…
Donnacha Ryan steals the lineout but knocks on as he comes to ground. A small bit of handbags follows…
TRY FOR LEINSTER!
Kirchner scores to the right of the posts!
Leinster 7-0 Munster!
Nacewa coverts
It was a lovely strike play from Leinster for the score, but Munster will be disappointed with their defence.
Gibson-Park hit Byrne moving diagonally right across the pitch, and the out-half drew up Jaco Taute for the big hit. But Byrne got his pass away and Kirchner straightened wonderfully to the inside of O'Mahony, beating the cover defenders to dot down.
Jean Kleyn and Tommy O'Donnell attack the breakdown and win a penalty for Munster.
They go into the right corner!
Off to the TMO here! Possible Zebo try in the right corner.
The Munster crowd like it…
But Nigel Owens seems to be having trouble communicating with his TMO…
TRY FOR MUNSTER!
Zebo is awarded the try!
Munster 7-7 Leinster!
Stunning touchline conversion from Bleyendaal.
What a finish that was from Zebo. Murray skipped to him on the right touchline, and the Ireland international somehow kept his feet in play, beating the tackles of both Gibson-Park and Daly to spin and dot the ball down. Stunning.
Bleyendaal's conversion from the right-hand touchline was excellent too.
After a quiet opening 15 minutes or so, this is living up to the billing!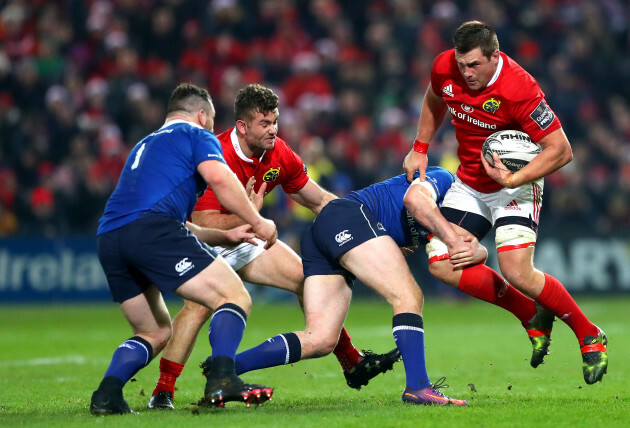 Source: James Crombie/INPHO
Penalty against Munster for a neck roll at ruck time.
Nacewa will have a shot at goal…
Munster 7-10 Leinster!
Nacewa is on target.
Excellent kick from Bleyendaal deep right behind the Leinster frontline and into touch.
Now it's Dan Leavy's turn for a brilliant bit of skill, as he gets into an excellent position over the ball and earns Leinster a penalty in midfield.
Byrne goes down the left touchline…
How many times has that happened since Jaco Taute arrived at Munster? He rushes up out of the defensive line, hammers into a carrier and a Munster turnover follows. Brilliant.
Extended period of Munster attack but they come up short. Big win for the Leinster defence. There was a brilliant chip and gather from Murray in there on penalty advantage, but Leinster recovered and made some punishing hits, before Scannell chipped the ball away.
Cian Healy gets a warning from Nigel Owens for his third penalty in a row. Scannell kicks Munster down the right touchline.
Another chance here…
TRY FOR MUNSTER!
Ronan O'Mahony in the right corner!
TMO check here as well for an off-the-ball hit on Sweetnam as he was skipped by Bleyendaal to find O'Mahony for the try. Kirchner levelled Sweetnam.
Flag
Munster 14-10 Leinster!
Brilliant conversion again!
Well, Munster fans were not happy to see Kirchner avoid sanction for his off-the-ball tackle on Sweetnam, but what a try from Munster.
They went through a huge phase count of aggressive carrying against a brilliantly muscular Leinster defence. Finally, they went to Bleyendaal on the right and Ronan O'Mahony looped around in behind Sweetnam from the left to create the overlap.
Huge work rate from O'Mahony to get there and Bleyendaal picked him out with a gorgeous skip pass. Converted it from the right touchline again too.
An image of that brilliant finish from Zebo for Munster's first try.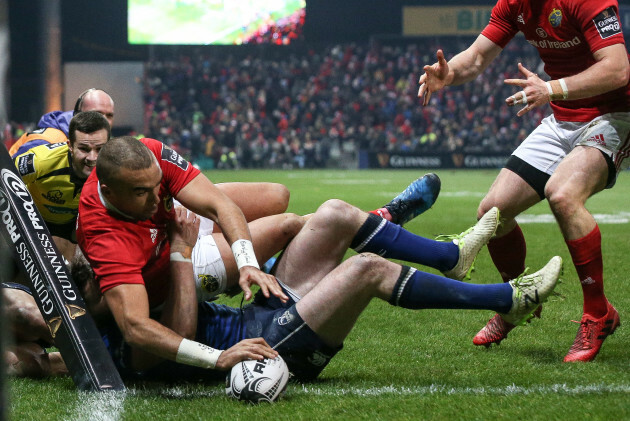 Source: Gary Carr/INPHO
All set for the second half here at Thomond…
And Bleyendaal restarts the game!
Darren Sweetnam off for Andrew Conway at the half-time break.
He was injured in that hit off the ball by Kirchner.
And that's brilliant from Conway! He wins a Bleyendaal bomb over Nacewa and Munster go on the attack…
Now Kirchner knocks on Zebo's attempted grubber through the Leinster defence and Munster will have an attacking scrum on the visitors' 22, about eight metres in from the left touchline.
Some kick tennis before Murray launches a Munster counter. Tommy O'Donnell surges down the left, Munster up to the Leinster 22…
TRY FOR MUNSTER!
Brilliant cross-field kick from Murray, O'Donnell scores.
Flag
Munster 21-10 Leinster!
Another right touchline conversion by Bleyendaal!
What a kick from Conor Murray. He scooped from a ruck under the posts and swing a lazy right leg at the ball, launching it cross field to where O'Donnell was marked by Barry Daly.
But O'Donnell reached higher and reeled in Murray's clever kick to muscle over. Bleyendaal with another stunning conversion.
TMO check for a possible late hit on Simon Zebo by Gibson-Park, but there's not too much in it.
Munster kick into the left corner with a penalty, however.
TRY FOR MUNSTER!
Bonus point from the maul. It's CJ Stander!
Munster 26-10 Leinster!
Bleyendaal wide from the left this time.
Zebo has a drop goal attempt with penalty advantage playing but it's wide!
Bleyendaal will have a shot at goal here instead…
Munster 29-10 Leinster!
Bleyendaal slots the penalty.
Huge cheer from the Munster crowd as Francis Saili comes on for his first appearance of the season.
There's also a quick chant of 'Jaco, Jaco, Jaco' as Taute heads off!
And Saili wins a turnover penalty for Munster! He looks very, very hungry. Certainly has a point to prove, particularly as Taute has become a huge fan favourite at 13.
Jack O'Donoghue is on for captain Peter O'Mahony.
Saili tries a diagonal grubber in behind Leinster for Bleyendaal to chase, but it rolls out for the 22 drop out.
Munster back on the attack now though!
Oooh! So close to a stunning Munster try. Zebo, Saili, Conway, Murray and Bleyendaal all link on counter attack down the left, with offloads being thrown freely. Then O'Donoghue offloads inside to Ronan O'Mahony, who juggles the ball before gathering in.
He's dragged down inches short and then Leinster force a turnover penalty to rescue the situation. Superb from Munster though.
The game is fairly fizzling out here at Thomond Park. Still six minutes or so to go and both benches have been emptied now.
TRY FOR LEINSTER!
Richardt Strauss bursts out of the maul to cross.
Munster 29-17 Leinster
Nacewa converts
Flag
FULL TIME! Munster 29-17 Leinster!
That's it from Thomond Park.
Thanks for joining us on the liveblog, keep those comments coming.
CJ Stander was named man of the match, who else impressed you?
Contribute to this story: