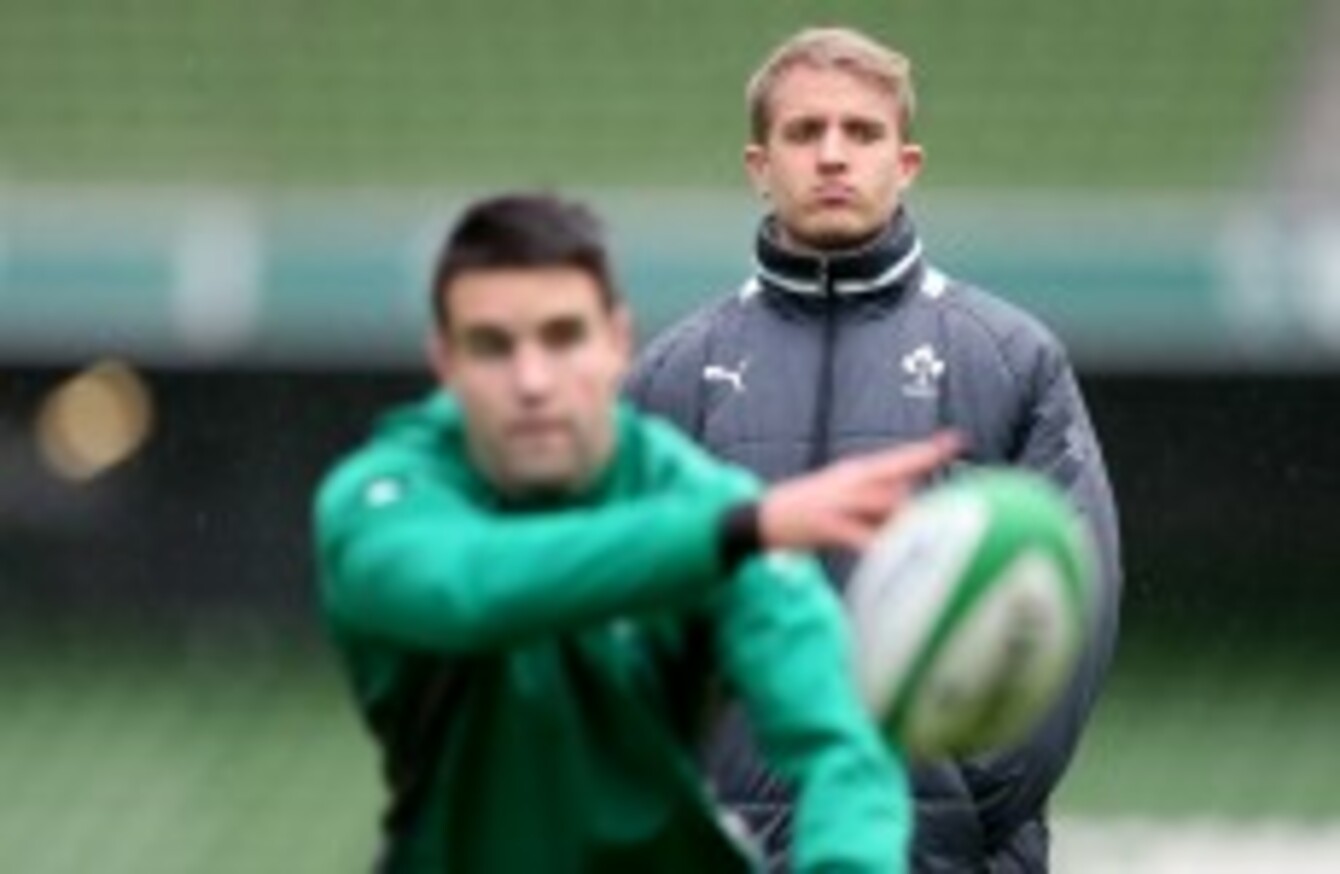 Luke Fitzgerald watches Conor Murray training with Ireland in January.
Image: ©INPHO/Dan Sheridan
Luke Fitzgerald watches Conor Murray training with Ireland in January.
Image: ©INPHO/Dan Sheridan
LUKE FITZGERALD WOULD have dreamed of preparing himself for an outing against Italy at Lansdowne Road next week. Instead, after his latest injury set-back, the winger will aim to play against other Italian team in two weeks' time. Zebre.
The 26-year-old, last night, was forced to sit out a second Leinster game in three weeks having initially been named in the starting XV. An abdominal strain to his upper leg is proving unshakeable and, with Fitzgerald's Six Nations hopes now dashed, he must focus on another week of rehabilitation before before he can resume full training.
12 games, and three tries, in four months had Fitzgerald on course to play a big part in Ireland's quest to win the Six Nations. Speaking to TheScore.ie in January, the Wicklow native commented, "I'm pretty hungry. I mean, the only reason I came back from the neck injury [in 2012] was because I felt very unfulfilled with how my career had gone in terms of where I feel I should get to and where I felt I left it."
He played just shy of an hour in the away win over Cardiff on 20 February but Saturday's withdrawal was another gnawing set-back. Leinster coach Matt O'Connor revealed Fitzgerald had an adverse reaction to the team's final training session.
"He's still got a little bit of referred strain in his pelvis; part of the abdominal strain of a few weeks ago," said O'Connor. "He trained quite well but he pulled up a bit sore after the captain's run. The thinking was that we gave him as long as we could today but with two weeks off it was just too risky to put him out there tonight."
O'Connor continued, "The medical team are working as hard as they can in relation to getting to the bottom of it. For an athlete like Luke, who changes direction and runs as quick as he does, we've got to find out what the underlying cause is. Once we do that, we can put in a treatment plan for him. They're pretty confident that the two weeks off [ahead of Zebre on 21 March] will be enough for him."
Asked if Fitzgerald took the latest injury blip badly, O'Connor responded that it was 'one of those things'. "It's part of the game," the Australian said. "He's very, very disappointed. He's keen to get to the bottom of it, as we all are.
"At the same time, he understands that there is no point risking three, four, five weeks on the sidelines when we can potentially repair it by him missing a game here and there and giving himself the best chance for the run-in for us."