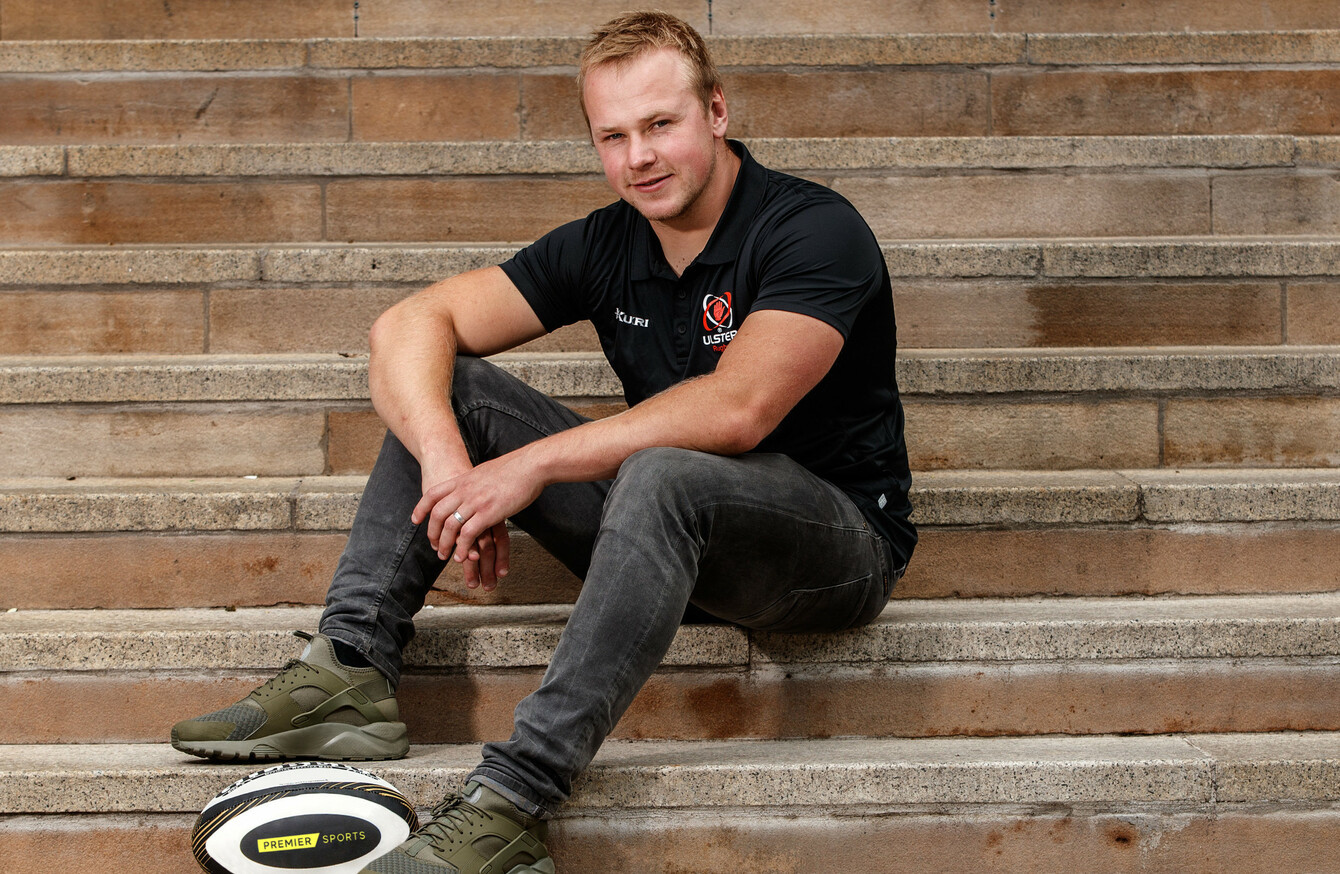 Luke Marshall launched Premier Sports' coverage of the new Pro14 season.
Image: James Crombie/INPHO
Luke Marshall launched Premier Sports' coverage of the new Pro14 season.
Image: James Crombie/INPHO
AFTER ONE OF their toughest seasons in recent memory, Ulster centre Luke Marshall believes the province can cause some upsets this season as teams will underestimate them in the new campaign
Ulster are coming off the back of a season where they failed to make the Guinness Pro14 play-offs or the knockout stages of the European Champions Cup, while they were plagued by off-field issues as well.
That campaign is now behind them and after a good summer of recruitment, and with new head coach Dan McFarland soon to arrive, there's cause for positivity at Ravenhill.
Of course, they will have to do it for the most part without Marshall, who ruptured his anterior cruciate ligament in the final game of last season against the Ospreys and is now facing a significant spell out.
After getting married in the summer, Marshall found that his wound had become infected, and an already lengthy rehab assignment was prolonged even further, meaning his return date is pencilled in somewhere in March or April of next year.
It's another injury in a long list of ailments for Marshall, who has been on the treatment table far more than he would have liked during his career, and continues to pose the question of where he could have been had he stayed healthy.
However, there's a dose of realism from Marshall in how he approaches the injury.
"I'm quite realistic, some people say I'm quite negative but moreso with stuff regarding myself, I'd always think… not that I'd think worst case scenario or best case scenario. Like with this injury, for instance, I'm thinking if I don't get back, what would I do instead?" he ponders.
"I think you've got to be realistic. When you play rugby, your career can end at any time. That's not me saying I'm giving up, but if you don't be realistic and know your career can be gone in a year, then you're in for a big surprise, and you can see that in how players struggle with mental illness.
"[Rugby Players Ireland], that's one of their big things they had last year, you can't put all your eggs in one basket."
Still, keeping a focus on the future doesn't make the story of how the injury happened any less easy to hear.
"It was an odd case actually. Most people think it happened in the tackle, but it actually happened when I was running towards the tackle and it just gave way. I think it was ready to go," Marshall explains.
"I can remember hearing the crunch. It was the pain. That was funny — I was speaking to a few people who have done their ACLs and they've felt nothing and haven't even noticed it. It's only when they've gone to move and their legs have given way because they felt no pain.
"Mine was very sore, I can tell you that."
Calls for Ulster to reassess their targets after last year aren't unfounded, and with such a young core of players at the centre of what they're trying to do, it seems realistic to suggest that a drastic change won't happen.
"I think teams will underestimate us this year," the Ireland centre confidently says.
"If you were one of the other teams and you saw us losing Trimby [Andrew Trimble], Tommy [Bowe], JP [Jared Payne], Charles [Piutau], Robbie Diack and a few others, you're thinking Ulster are a bit under par this year.
"But I think we have a real ability to shock a few teams with the young guys we have coming through and the new guys we've signed, the likes of Will [Addison], Billy Burns, Jordi [Murphy] – when he's allowed to play – and Marty [Moore].
"We finished the season very well, the last few games, so if we can hold onto that confidence and take it into the new season, hopefully we'll do alright."
When asked what the aim was, Marshall didn't hesitate in replying: "We want to get to the playoffs. I still think we're capable of winning a trophy this year, I'm not saying we're incapable of doing that because I think we are.
"Minimum requirement for me is the playoffs, and I think we're capable of the playoffs in both competitions. It's hard to say what's an acceptable target but I think we're definitely capable of that, and if you make the playoffs then there's always a chance you'll go on and win a trophy."
Now that he has time to spare given he doesn't have the rigours of training to go through every day, Marshall has found a new side to the game that he's quite enjoying: looking after the next wave of Ulster centres.
Ireland U20s star James Hume and recent academy inductee Stewart Moore are the two that are expected to be the next big things joining Ulster's back line, and Marshall is happy to guide them along.
And for the 27-year old, he's delighted that the once heavily criticised underage system is starting to get to the level that everyone expects it to be at, using Moore and Hume as key examples of the good work done by Kieran Campbell and Willie Anderson.
"If somebody's looking advice then I'll give it to them, I just find it exciting to see all the talent coming through," he smiles.
"We've come under a lot of scrutiny in the past four or five years that our Academy isn't producing enough, but if you look last year at the U20 World Cup, I think we had the most we've had for a long time at it.
"Even watching training and looking forward to the first game, you're going to have a lot of the Academy boys or those on development contracts who will show how good they are. It's exciting for me to see those young guys coming through.
"I saw Stewart play for the [Ballymena] Academy a few times last year, and when I was coaching with Rainey we did a training session against Ballymena school and, for me, he's probably the best schools player I've seen since I left school.
"He really has everything. Skills-wise he's exceptional, he's a good size and he reads the game very well. That's the thing, a lot of these guys are big, strong, quick, but they don't really read the game well, and he's miles ahead of anyone else at that age.
"You've got James Hume coming through too, he's only in his second year out of school, he's 19 or 20, and he's looked sharp in pre-season, so it's great to have two guys in the same position driving each other on."
The42 is on Instagram! Tap the button below on your phone to follow us!