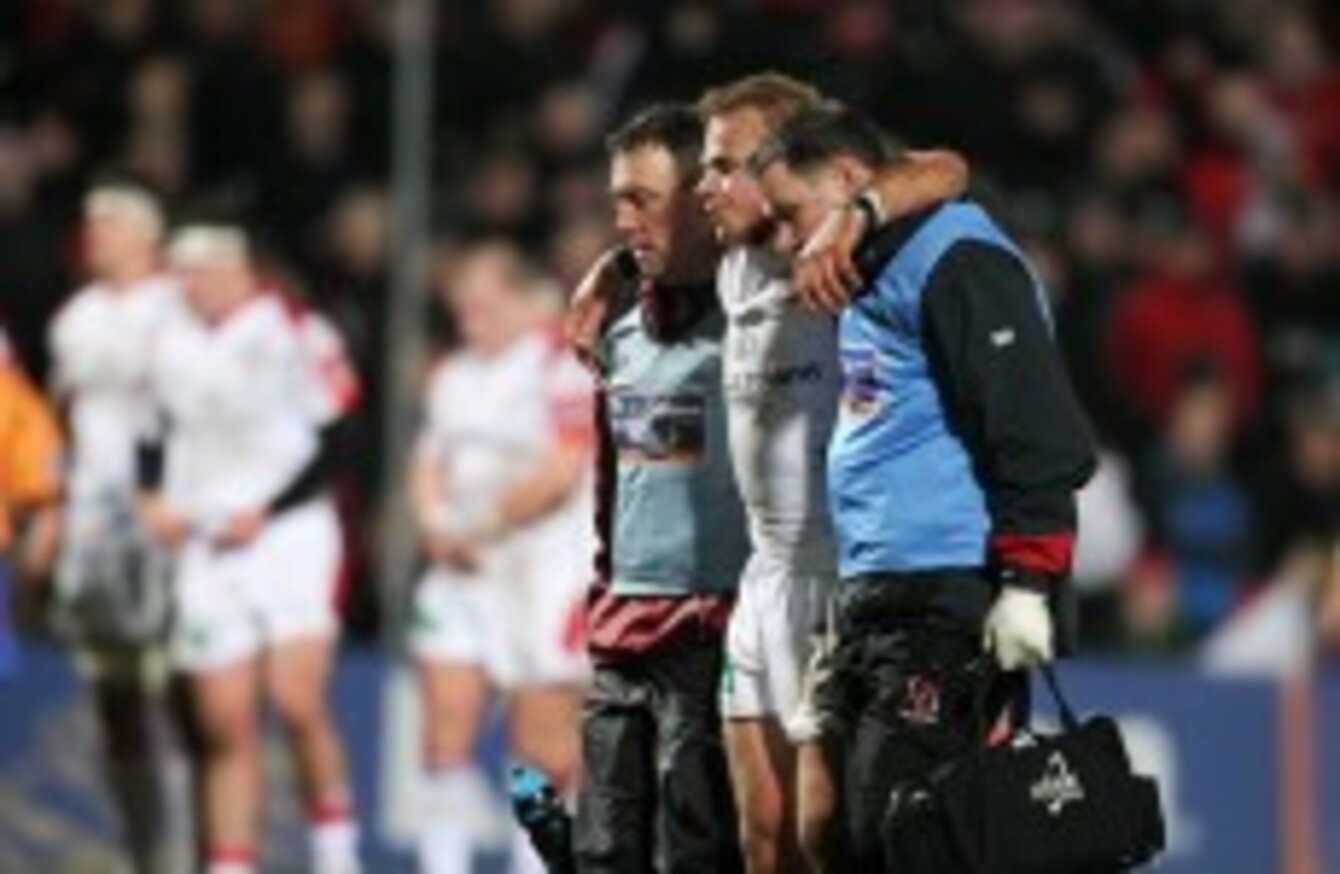 Luke Marshall is helped from the field.
Image: Darren Kidd/Presseye.com
Luke Marshall is helped from the field.
Image: Darren Kidd/Presseye.com
LUKE MARSHALL HAS admitted he feared for his rugby career after his latest run-in with concussion. The 23-year-old suffered his fourth concussion in just over 12 months when he took a loose boot to the head from Ulster teammate Roger Wilson.
Having been given the end of last season off to recover from a couple of concussions, in matches for Ireland and Ulster, the centre returned afresh for the new season. He has since taken some more heavy hits — the concussion in the home win over Dragons being the latest — but insists he is ready to help his team push for league and European glory.
In a wide-ranging interview with UTV, Marshall confessed he thought the worst after being helped from the field, at Ravenhill, on 28 February. He said, "My mum was pretty worried after it happened. She came down from the stands.
"As soon as it happened and I went down to the medical room with the doctor, I was pretty worried. It's probably the most worried I've been. I think I'm up to four [concussions] in the last year. I actually started thinking in my head 'this could be it, at 23′.
"I've recovered pretty well now. I got through [80 minutes] against Edinburgh last week and I didn't think about it at all once I got going. I'm feeling fine and looking forward to this weekend."
Marshall believes the new concussion protocols, and raised awareness of its symptoms among the players, have improved in recent years. He added that, in the past, if a player 'was able to walk he just played on'.
The Ballymoney native says he has suffered no ill effects, such as headaches or blurred vision, over the past season but he is hopeful he stays out of the line of fire in the coming months.
Marshall's Ulster and Ireland teammate Tommy Bowe is another to have suffered injury setbacks this season and is eager to continue his try-scoring return to play. "My fitness is coming on," he told Ulster Rugby.
"It was frustrating being out for a little bit longer than I had hoped but I am feeling like my fitness is getting there. I am getting a bit more game time, I had my first eighty against Edinburgh last weekend and I am feeling good. I was hungry to get back playing again."
Bowe added, " The match against Edinburgh [last Friday] was disappointing for us, it was difficult to play, very physical and the weather condition were terrible. But hopefully this weekend the conditions will be better and we will be able to play a nice style of rugby with the view to open it up against Saracens."
Like rugby? Follow TheScore.ie's dedicated Twitter account @rugby_ie >