I SPENT A year in New Zealand playing rugby from 2009 until 2010 and I remember thinking before I travelled over that I was going to learn huge amounts about the game.
I thought I was going to come back with a new depth of understanding of shapes and structures, tactics and game plans, all that theory on the game. The Kiwis know rugby better than anyone, so went my thinking.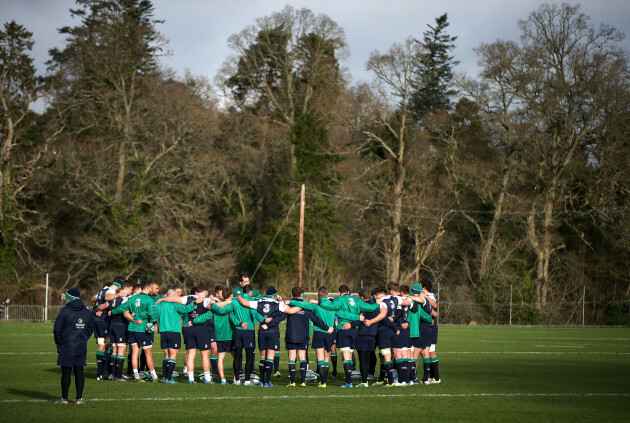 Cathal Noonan / INPHO Cathal Noonan / INPHO / INPHO
After a year with the College Rifles club in Auckland, I did come away a better player, but I honestly had no new comprehension of rugby tactics whatsoever.
In fact, that time in New Zealand highlighted to me that Northern Hemisphere rugby can understand the game better from a strategy point of view, tactics in a positional sense, and game management skills.
The key thing I did learn from the Kiwis was that if you can beat your opposite number or manipulate them so that you get over the gainline – if everyone can beat their opposite number or win a two-on-two – you make ground, score tries and win the game.
It's such a simple thing, such a simple way of viewing rugby. The actual footwork and passing skills required for this are obviously vital, but the mindset is the real key.
What is clear is that rugby is deeply embedded in New Zealand's culture. How that translates on a day-to-day basis is best seen in touch rugby. It's a social but competitive game in New Zealand and everyone plays.
The tenet of this simple game is that if your attack can create gaps in a defence, you score a try. The game is played locally across every town in New Zealand and promotes good handling, lots of communication and essential running support lines.
The receptionist where I was working played touch every week and she was in her 50s. She was a frail woman but she absolutely loved it.
I still remember our 110kg prop side-stepping me in a game of touch, then chipping and chasing, laughing with joy all the time. I couldn't believe it at first, but that was a mindset that I managed to embrace.
There's a playfulness in everything the Kiwis do in rugby. They don't have a fear of doing something wrong. You're supposed to express yourself and play. It's normal there, that attitude is promoted.
There has been so much talk about the need for Ireland to change their overall game plan coming into this Six Nations.  I don't agree entirely with that viewpoint, but I do think Joe Schmidt's players can benefit from a slight tweak in their mindset.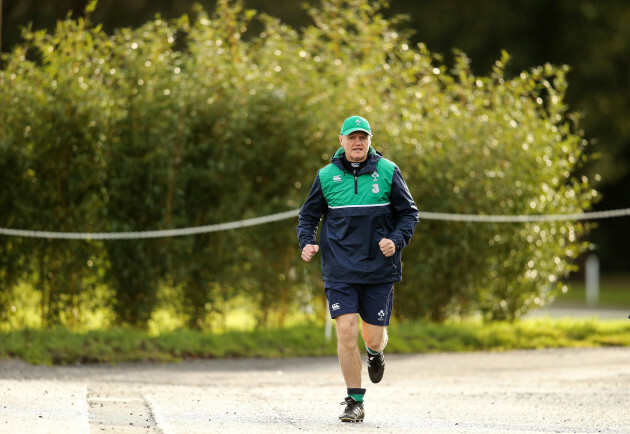 Cathal Noonan / INPHO Cathal Noonan / INPHO / INPHO
This is not a suggestion that we throw everything Ireland have been doing out the window and start anew. Far from it. I simply believe that adding an element of unpredictability to their attack in a number of ways can make them a more threatening force.
The structures and shapes Ireland operate with are really not that different to any other international team. Schmidt's side absolutely have plays similar to the ones Argentina used to cut them open in the first 20 minutes of that now infamous World Cup quarter-final.
The difference, I feel, is that players from Argentina and New Zealand – just to give two examples – don't have a fear of making mistakes and therefore see more opportunities to exploit space. They have fewer inhibitions about failing to beat their defender or the defence in any 'unstructured' situations.
The options are there for Irish players, their plays actually include options to move the ball away from the ruck and then look to beat defenders one-on-one in slightly more space, but they don't do it consistently.
I've always worked best with coaches who promote the idea of making errors. Now, that doesn't mean I look for leaders who accept poor standards, rather that pushing myself out of my comfort zone is a positive thing.
If you don't make mistakes it means that you're still inside your comfort zone. It's not until you're out of that comfort zone that you can improve and take another step forward, add more skills to your repertoire.
I'm not saying that we should just look to the Southern Hemisphere and try to copy them. I believe in an identity and a culture being reflected in how you play, and that's why I'm saying I believe in the type of rugby Ireland can produce.
I don't accept that we don't have the players and the potential to play lovely rugby. I think we have the players there, with an excellent repertoire of skills that I think we can get more from. It's about adopting a culture of freedom and playfulness.
Schmidt and most other coaches say they promote that environment, but we all know that they prioritise winning and sometimes that can be projected onto the players as being risk averse.
It's important to stress that I'm not dismissing the basic facts that for a team to be successful, they must be more effective with all of their plays.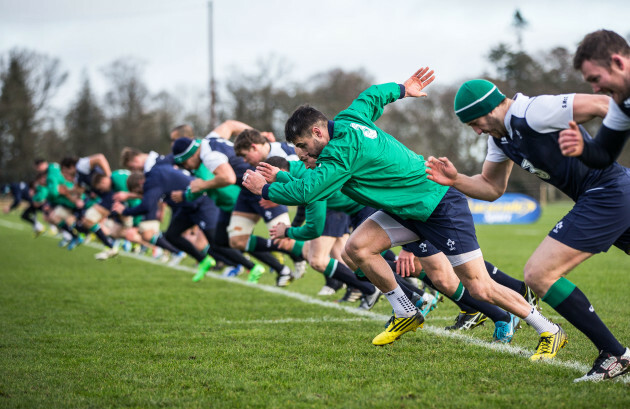 Cathal Noonan / INPHO Cathal Noonan / INPHO / INPHO
If we reduce our margin for error and are more effective with all our attacking plays and defensive efforts, and convert our possession to points more effectively, and do this better than our opposition then we will win games. But, I think by adding more threat and unpredictability to our attack, we put ourselves in better positions on the pitch to be even more effective.
I'm very pro-change and always comfortable with change. It can sometimes mean that you go and fail, but that simply means you're trying to find something new. That's a positive thing.
I understand that the world we live in is all about results and that it is a business, so you can't just sacrifice a game or a Six Nations to take loads of risks or maybe blood new players. If coaching and player contracts are short-term, this will focus attention on short-term results and not succession planning. I get that.
However, sometimes you need to acknowledge that what you have is only ok and that change can make it better.
I believe that Schmidt and Ireland have the ability to combine stability from senior players, who provide a strong strategic platform, while introducing a more flexible, open environment.
They have these fearless young players like Stuart McCloskey and CJ Stander to bring their freshness to the table saying, 'I've got all this new stuff up my sleeve, give me my chance'.
I also think it will be fascinating to watch Ireland's defence in this championship, particularly with Les Kiss having moved on. Schmidt is sharing the role with Simon Easterby and again it's tweaks that are required rather than overhaul.
Some of the defensive errors Ireland made during the World Cup, especially out wide, are worrying. Going into the Six Nations, teams would be stupid not to try and exploit that, especially Wales with their ability to play wide.
If you look back to that nightmare game against Argentina, it's obvious how weak we were out wide and how narrow we were. Teams have been targeting that area consistently in the recent past when playing Ireland and there is more of the same to come.
Dan Sheridan / INPHO Dan Sheridan / INPHO / INPHO
There are many reasons why defensive system errors occur. Les Kiss always talks about hustling and hunting on the inside, so your job isn't over until the ball is two channels past your zone. As a player on the outside you need to know that the teammates inside you are hunting across, allowing you to eat up a little more space.
When you don't know if they're there, you hold your zone longer. Even less than a second is enough for an attacker to get past you out wide.
A voice on the inside is hugely important so you can gauge how close they are or even just to understand who it is. If you can hear Jack McGrath on your inside, for example, you know you can't push too far. If you can hear one of the centres inside, you know you can push earlier as they have the pace to cover across.
In the Argentina game it just looked like everyone was dumbstruck, that there was a total lack of communication early on. It's not fair to base all the judgement on one game alone, but Ireland were in shock with people coming at them from all angles.
Aside from everything else he brought, Paul O'Connell is a loss to Ireland's defensive system. He was the guy who rushed up and led the linespeed and made those big hits close to the rucks.
One of the things I adore about team sports is the potential of a collective to work together all at one time. It's so powerful.
Paul blitzing up on the inside always showed his engagement in the game, something that is utterly infectious. He has that mental endurance to be switched on all the time when the ball is in play. Even when the ball is 40 metres away, he is switched on.
That kind of focus (and the linespeed and aggression it produces) demands the same from those around him, it brings people up to that level.
People in general are often guilty of lowering themselves to their common denominator. If people are playing badly, then everyone else gauges themselves to that level. If you see someone playing outstandingly well, it's where you want to be. That's human nature.
Expectations publicly appear to be quite low heading into this championship – Schmidt himself has looked to ensure that – and I don't think that's a bad thing. Ireland are not expected to win, so let's use this tournament to truly progress, not just look to squeeze out a title.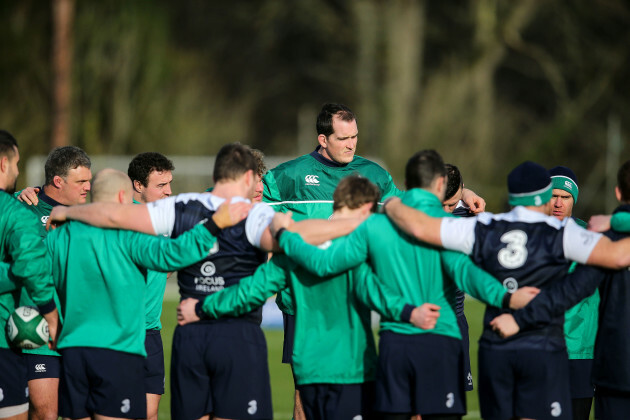 Cathal Noonan / INPHO Cathal Noonan / INPHO / INPHO
There's huge value in progressing the way we play and how we select our team. We're not trying to be reactive here, but basing how we approach rugby on what the trend is right now.
A trend is based on three points on a curve. One or two you can shake off and say that it's circumstantial but it's a trend now that we're not excelling when put on the World Cup stage.
As a result, I think that it is very healthy for us to try and explore what we can do to genuinely build on what we have. I think it's a really positive thing for us to try and change with those little tweaks.
It's not about completely sacrificing a Six Nations but in order to try new things you sometimes have to accept that mistakes, small bits of failure, are part of that.