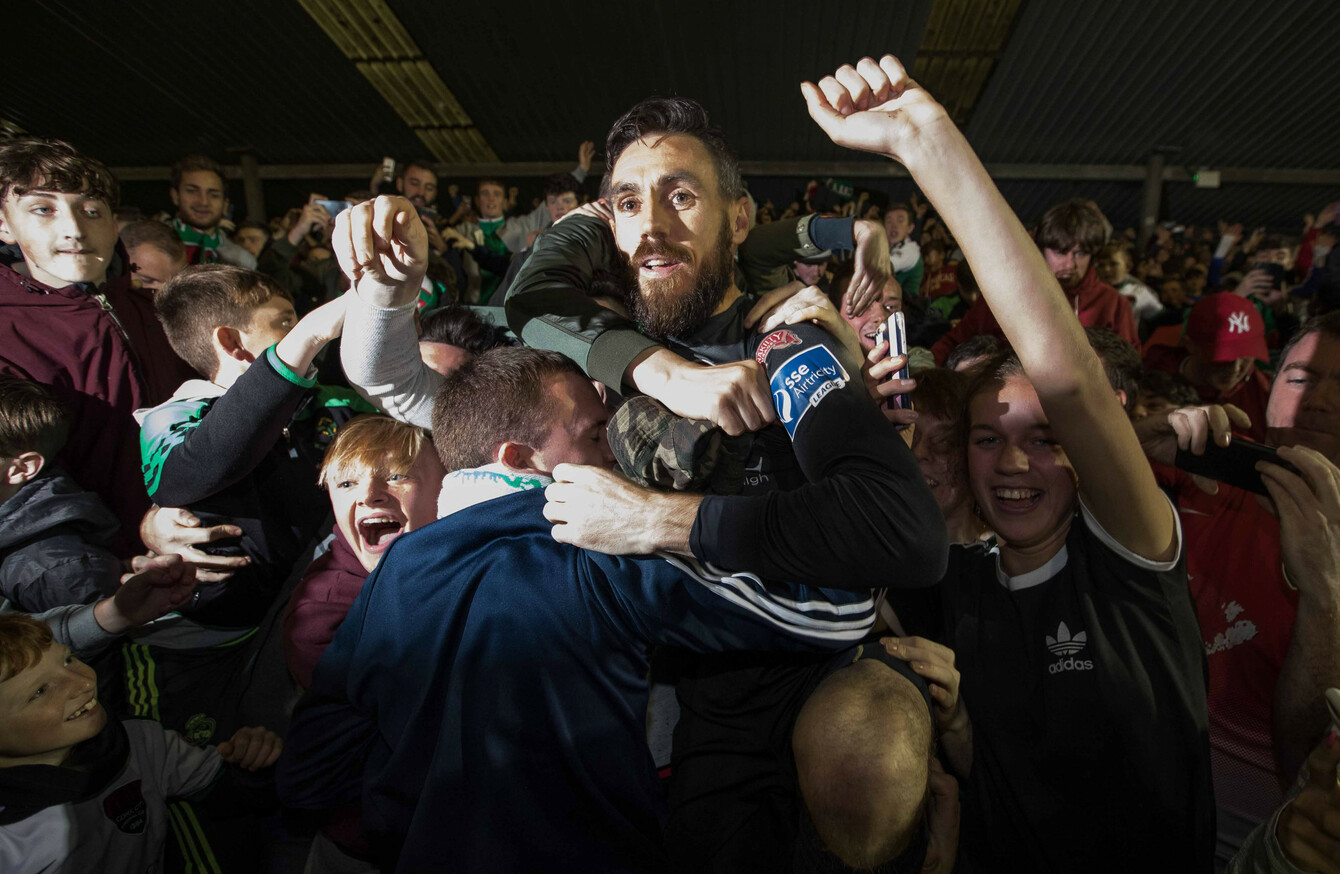 Mark McNulty jumps into the crowd at the shed end to celebrate after Cork's win over Bray last month.
Image: Morgan Treacy/INPHO
Mark McNulty jumps into the crowd at the shed end to celebrate after Cork's win over Bray last month.
Image: Morgan Treacy/INPHO
"FUCK THE LILYWHITES," says Mark McNulty.
In a bar packed with Cork City fans celebrating their SSE Airtricity League triumph, McNulty played to the gallery and the crowd lapped it up. He grew up as a fan of the club, is the longest-serving player at any SSE Airtricity League club and being a keeper, he's a bit cracked. The fans loved it.
The reaction was inevitable, and it was disingenuous.
As expected, Stephen Kenny was quick out of the traps, claiming McNulty had disrespected every Dundalk player, current and former, living and dead. He stopped short of claiming they were turning in their graves, but he came close.
"That's sort of out of the gutter, really," Stephen Kenny told a media gathering only delighted to be able to fill column inches with Kenny's latest Helen Lovejoy impersonation.
There was worse to come. Kenny took the opportunity to roll out a story — unheard until then — from 12 months ago when he claimed Stephen O'Donnell was the victim of a prank call from a Cork City player on the way away from the Aviva where they'd lost the FAI Cup Final. That it's been long known in City circles that the call came from a City supporter, not a player, was subsequently brushed aside. There were hankies to be held to shocked faces, who cares if the accusations were true.
Stephen O'Donnell is far from a delicate flower. On the lowest day of Cork City's recent history, when a bus driver refused to take them to a match unless paid upfront, O'Donnell mooned a supporters' bus from his seat on the Cork City team bus, as recounted in Neal Horgan's excellent "Second City" book.
If O'Donnell can treat a day like that, in the midst of ongoing unpaid bills and bouncing cheques that actually affected his livelihood with such a sense of humour, he didn't need Kenny to rush to his defence. He's no damsel in distress, and Kenny is no white knight.
The media followed suit, there were clicks to bait and papers to shift. "Mark McNulty's juvenile jeers lacked the class expected of a champion" tweeted Off the Ball. The class expected of a champion! What a load of shite.
In a week where Conor McGregor started backing out of media commitments made to promote his new film having called another UFC fighter a 'faggot', the outrage over McNulty's overt dislike and disdain for a rival rings hollow. McNulty's outburst wasn't clever, but let's not pretend that anyone, including Kenny or O'Donnell, could care less.
We're allowed to dislike each other. If there is respect between rival teams challenging for honours, it's usually begrudging. It's part of the game and the insults run in both directions. Kenny has repeatedly openly insinuated that Cork City cheat their way to victories by "manufacturing penalties" and tried to get into the heads of referees when he claimed: "If an empty crisp packet blew in front of the Shed End in Turner's Cross, a penalty would be awarded."
When those claims were made, John Caulfield bit back, but it's all noise. The hand-wringing is fake, it's just a way to get a dig in, to attempt to get in the other team's head. It sells the game.
There's nothing rash or cracked about Kenny's responses, they're always deliberate. So, when he more or less confirmed the signing of Karl Sheppard in the lead-up to the cup final, he was showing he was engaged in a much subtler form of mind games than McNulty's outburst started.
That's the game, that's the sell. So, thank God for Mark McNulty.
If it wasn't for his "Fuck the Lilywhites" comment last week, you'd hardly know it was FAI Cup final weekend. For the third year in a row, Cork City face Dundalk in the biggest day out in Irish football, and it's hard not to think that people are a little jaded.
The public is somewhat engaged again thanks to McNulty's outburst and Stephen Kenny's mock outrage. Column inches are being filled, people are talking about the rivalry between the clubs, they're taking sides, and there's an interest in the game being generated outside of the 90 minutes of the match.
It's welcome, because for a while there, the marketing of the event was being left up to the clubs as the FAI are –- understandably most would claim –- focused entirely on the upcoming play-off against Denmark. The Problem Child once again an unnecessary distraction.
Subscribe to The42 podcasts here: