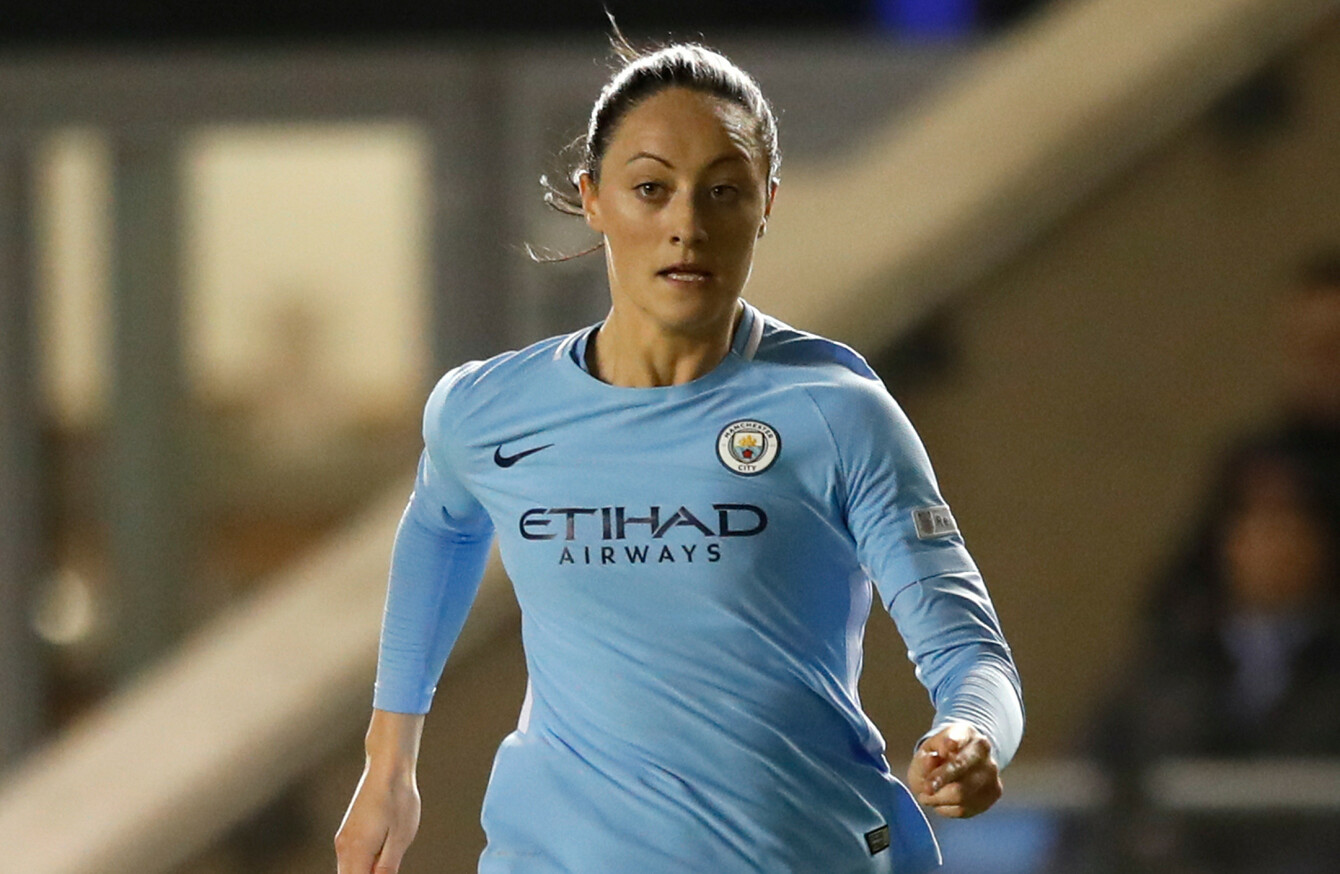 Campbell has been with Manchester City since February 2016.
Image: Martin Rickett
Campbell has been with Manchester City since February 2016.
Image: Martin Rickett
MEGAN CAMPBELL CAN take at least one positive from her latest injury nightmare — she has been here before and come back even stronger.
The Drogheda native could barely believe her luck when she returned from the US after completing a sports scholarship at Florida State University to learn that one of the biggest clubs in the world wanted to sign her.
She jumped at the chance to join the Women's Super League (WSL) club in February 2016 and was eager to impress straight away, but a series of setbacks would rule her out for over a year.
The most serious damage required ankle reconstruction surgery and eight months of rehabilitation. Meanwhile, Campbell's City team-mates claimed a domestic double that season as she watched on from the sidelines.
Countless hours in the gym were required and the full-back admits some days were more frustrating than others.
With that ankle injury, I did find it tough at times," Campbell said this week. "You're staring at the same four walls for the longest time and the girls are going out to train while you're stuck in the gym.
"You want to be a part of it but the staff know my ways and how I like to do things. They tried to get the best out of me in my rehab and we took most of my sessions outside last year so we could be on the sidelines next to them training."
Managing to regain full fitness in time to put herself in contention for the FA Cup final last May, Campbell was expecting to be named on the bench at best but manager Nick Cushing showed his faith in the Ireland defender by handing her a surprise starting berth.
And, in front of 35,271 fans at Wembley Stadium, she provided two assists — one of which was a pin-point cross for two-time Fifa World Player of the Year Carli Lloyd — as they overcame Birmingham City 3-0 to lift the trophy for the first time and complete a domestic treble.
"Playing at Wembley and lifting the FA Cup was definitely my highlight of last year," she says. "It was a great achievement for me personally and for the club as well — to win the treble that year was just phenomenal and hopefully we'll be able to repeat it. It was a really nice moment."
With her long-running injury problems seemingly behind her, Campbell began Ireland's World Cup qualifying campaign in outstanding form.
As first-choice left-back under manager Colin Bell, the 24-year-old was a stand-out performer in the opening 2-0 victory away to Northern Ireland. Her trademark long throw-ins caused real problems and one resulted in an own goal for Rachel Furness, while the full-back curled the second in from 25 yards to seal the three points.
Then, just days after losing her grandfather — renowned musician with The Dubliners Eamonn Campbell — she was excellent in the win over Slovakia last October and had a hand in one goal as the Girls in Green obtained two wins from two.
When I called my Dad to see if I should go to Slovakia or not, he just said, 'Go and enjoy football, it's what your Grandad would have wanted you to do,"

Megan told The42 last year

. "'Make the most of it and come back and we'll obviously still be here'."
"When I went out to Slovakia, mentally, it was very tough for me to even be in the squad and not be at home but I knew I had to do it for him."
With an away trip to face European champions the Netherlands on the horizon, the defender lined out for City in their Women's Champions League last-16 tie at home to LSK Kvinner of Norway in November.
After an innocuous challenge early in the second half, a stretcher was required to carry her off the pitch. You could sense it was serious. Results showed Campbell had ruptured anterior cruciate ligaments (ACL) in her right knee.
It was a cruel blow but she appears to be extremely strong mentally and even sounds upbeat about the future.
"It [the rehab] is going well," she explains. "I had surgery five weeks ago and I'm thankful that I'm already on the road to recovery. They say it's a 6-8 month injury so it's a long process but I'm thankful that I've already started."
Campbell adds: "I've been through serious injuries before. I've done my ankle and my foot so it's not something that I've haven't come back from. I know it's part and parcel of the game, you're going to get injuries — some more than others.
"I'm unfortunate enough to have got this but I've done it before and I'll definitely be able to do it again. Back in the day, if you did your ACL you would have been out for a long time and it could have been career-ending.
"Touch wood, it's thankfully not that way these days with all the specialists they have around. I'm in the best place to recover at Man City so it's definitely not something that will end my career."
Surely it must be even harder when Ireland are doing so well in the World Cup qualifiers and Man City sit top of the WSL though?
"Yeah, it's definitely frustrating as a player when you're watching on," she replies. "You'd rather be on the pitch than in the stands but I've been in the stands more than I've been on the pitch recently.
"It's tough but I've been there before and I've come back from it. I was out with my ankle for eight months and I came back and played at Wembley — a game which I didn't expect to be involved in at all if I look back on it now. They started me and put their trust and faith in me.
It is difficult mentally and physically. Sometimes it's harder mentally than it is physically but I know I'll get back again soon."
Without Campbell, Ireland earned an incredible result away to the Dutch — holding the reigning European champions to a 0-0 with a gritty backs-to-the-wall display. Englishman Bell has brought new confidence and a winning mentality to the group, while the strike over working conditions last April means there's a real sense of togetherness in the squad now.
"I think the belief that we can qualify, that it doesn't matter if you're 16 or 25, you've got a great importance to the team," Campbell says, when asked what's different under the current management team. "We know we can qualify if you do everything right on and off the pitch, and if we are together as team-mates. I think the gel we have now as a squad is second to none.
"Since Colin has come in, there is a different persona about the team. We're just enjoying it more."
With their eyes on a first-ever World Cup qualification, Ireland are in Portugal this week for a couple of friendly matches ahead of a double-header of qualifiers at home to Slovakia and the Dutch in April.
Campbell is still only 24 but, having made her debut back in 2011, she has become one of the more experienced players due to an influx of young talent in recent times — Tyler Toland (16), Leanne Kiernan (18), Roma McLaughlin (19) and Amber Barrett (22) to name a few.
"I do feel myself taking a more senior role, whereas previously I would have been a lot younger. There were the likes of Emma Byrne, Ciara Grant and Yvonne Tracey, who I would have looked up to.
"I know that the 16 and 17-year-olds are coming in and some of them are looking up to me. It's my job to make them feel comfortable and to make them understand their role in the team — that they are a vital part no matter what.
"I've taken on a more mature role and it's tough not being involved right now because a big part of it for me was to see the kids coming in. With every negative there is a positive and with me being injured, another 16-year-old girl is coming up. It's giving her an opportunity to be involved and she may not have been had I not got injured."
Injuries aside, she feels blessed with how her career has panned out after opting to move to the States to study social science following spells with Boyne Rovers, St Francis and Raheny United.
"I'm at the best club in England, I know that for sure," she declares. "It's phenomenal when I look back on it now and even chatting with mum and dad, we still can't believe that I'm at a club like City and I've been given this opportunity.
"But I didn't get it handed to me and I knew I had to work hard, keep my head down and go to college because football may not have worked out for me. That was why I went to America, I knew I wanted something to fall back on. Then Man City was something that I couldn't turn down."
The road to recovery is a long one but Campbell is confident that she can be back out on the pitch in time for Ireland's final qualifier — at home to Northern Ireland on 31 August.
I do have a target in mind," she says. "The girls have done phenomenally and drawn away in Holland. I think we have a great shot at qualifying for the tournament next year in France — through the play-offs or even out-right.
"The last game is against our old rivals Northern Ireland back home and that's definitely one I want to be a part of. I'm hopeful that I can get back in time to play in that or to just be involved."
The SPAR FAI Primary School 5s Programme was launched with a pop up training session at Scoil Mhuire CBS, Dublin this week, where former Republic of Ireland footballer and past pupil, Keith Andrews, and current Republic of Ireland women's footballer, Megan Campbell, provided a coaching masterclass to students from Scoil Mhuire CBS and St Vincent de Paul's Girls NS. The five-a-side school blitzes are open to boys and girls from 4th, 5th and 6th class, and puts emphasis on fun and inclusivity. Register for the SPAR5s by 9 February at www.fai.ie/primary5
The42 has just published its first book, Behind The Lines, a collection of some of the year's best sports stories. Pick up your copy in Eason's, or order it here today (€10):