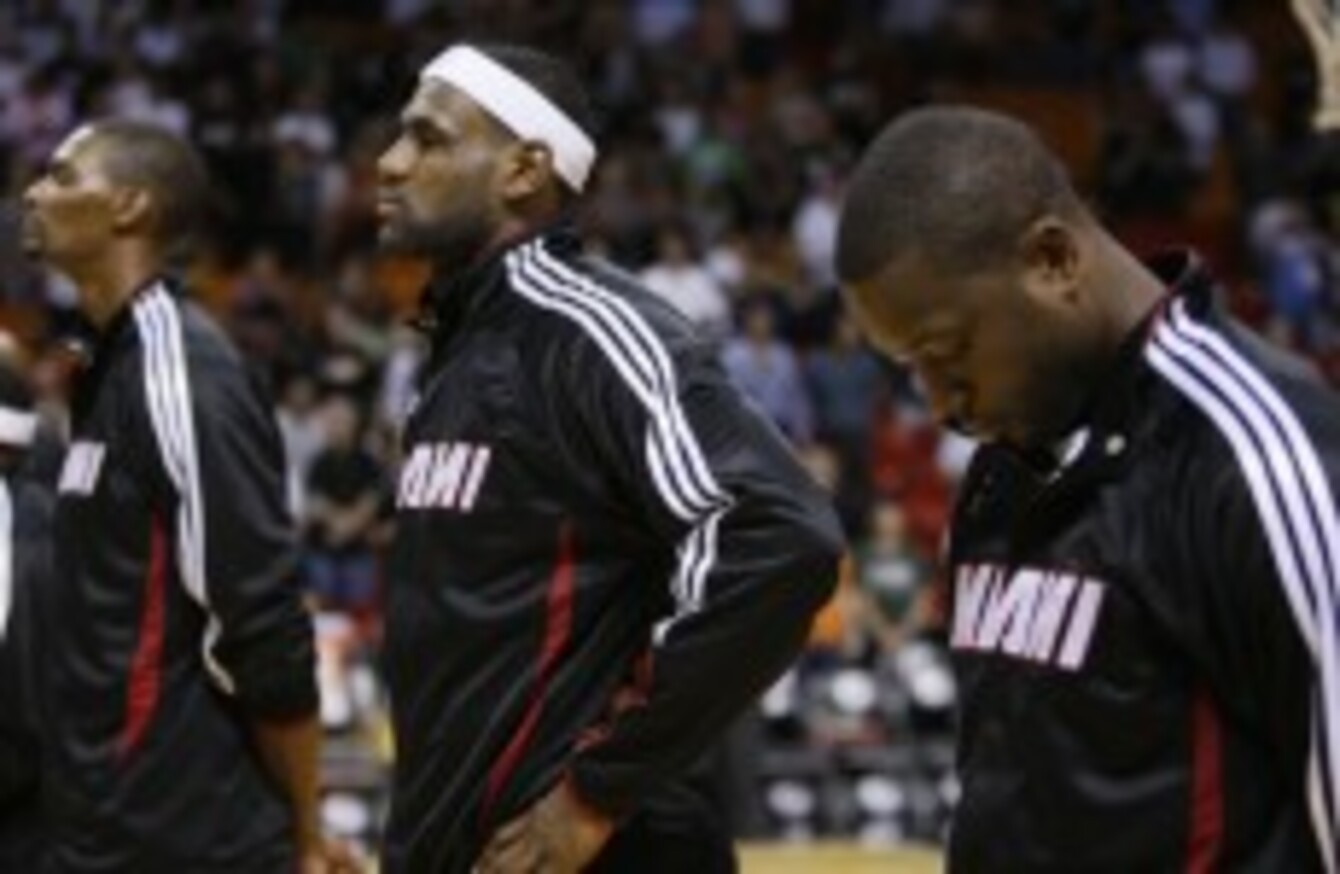 Image: Wilfredo Lee/AP/Press Association Images
Image: Wilfredo Lee/AP/Press Association Images
LEBRON JAMES KNEW he, Dwyane Wade and Chris Bosh were on the cusp of something unique.
He had no idea how rare it truly was.
For the second time in NBA history — the other coming 50 years ago — three teammates all posted at least 30 points and 10 rebounds in a regulation game. James had 33 points and 10 rebounds, Bosh added 31 points and 12 rebounds, and Wade finished with 30 points and 11 boards as the Miami Heat beat the Houston Rockets 125-119 on Sunday.
"One of the things we talked about when we came together was making history," Bosh said. And how.
James sneaked a late peek at the arena stat boards and noticed Miami was in position to have three 30-point scorers, with he and Wade already there. So the Heat got the ball in Bosh's hands, knowing Houston would foul him right away while trying to come back. Bosh went to the line with 26 seconds left, needing to make both free throws to join Wade and James with 30.
He missed the first, then made the second to reach 29 points.
"I didn't think he was going to get back to the line," James said. Bosh got another chance after all, getting fouled again 16 seconds later after the Heat made sure the ball went his way. He made both free throws this time, and with that, Miami had three 30-pointers — along with its eighth win in nine games.
Ah, that was only part of the story.

The last time three teammates had 30-or-more-points, 10-or-more-rebounds in the same game was November 14, 1997, when Portland's Isaiah Rider, Brian Grant and Arvydas Sabonis all did it against Phoenix — in a quadruple-overtime game. Before that, it was March 7, 1969, when the San Francisco Warriors (with Jeff Mullins, Joe Ellis and Nate Thurmond) doing it against the Baltimore Bullets, also in overtime.
In regulation, the only other instance was February 3, 1961: Oscar Robertson, Wayne Embry and Jack Twyman — Hall of Famers all, a "Big 3″ of their era, if you will — did it for the Cincinnati Royals in a loss to the Philadelphia Warriors. That game took place at Boston Garden, part of a doubleheader that night, and the Warriors got a then-Garden-record 52 points from Wilt Chamberlain.
Bosh found it all slightly mindboggling.
"We're trying to accomplish the major goal of winning a championship," Bosh said. "But sometimes you can enjoy the little things in between Point A and Point B."
It was a night filled with statistical anomalies.
Miami had never previously had three players reach 30 points in the same game.
Both games Miami and Houston played this season were 125-119 decisions, the Heat winning each time.
Miami's star trio combined for 94 points and 33 rebounds. Consider: There's been 62 instances of entire teams not doing that this season.
"It's a true testament to the reason we all came together," Wade said. "That was history. … It's a great feat."
Teams having three 30-point scorers in the same game happens, on average, about once every two years in the NBA. There's been 14 instances of it since 1986-87, according to STATS LLC, and coincidentally, the last team to have it occur was the Rockets.
Houston had Kevin Martin, Aaron Brooks and Luis Scola combine for 94 against San Antonio on Feb. 26, 2010. They almost had it again Sunday: Martin scored 29, Scola added 28 and Kyle Lowry had 25 for the Rockets, who saw their five-game winning streak snapped. And instead of celebrating offense, Houston spent its postgame lamenting defense.
"Too many points," Scola said. "When you play a team with Bosh, James and Wade, that's very dangerous."
Especially when they were clicking like that. Miami's star trio combined for 91 points Friday in a win over Philadelphia, and Wade and James talked following that game about what it would be like if the "Big 3″ each could score 30 in the same game.
That chance, somehow, came exactly one game later. And with the playoffs looming, the Heat seem to be ready.
"That's what makes great players special," Heat coach Erik Spoelstra said. "They can be great during the year and still find another gear and another level to go to. I think that's what you're seeing with those three guys."
The win didn't come easily, which made James appreciate Sunday's moment that much more.
"To go down in history, to have three teammates have 30 and 10 for the first time in over 50 years," James said, "I think it's unbelievable."
- AP