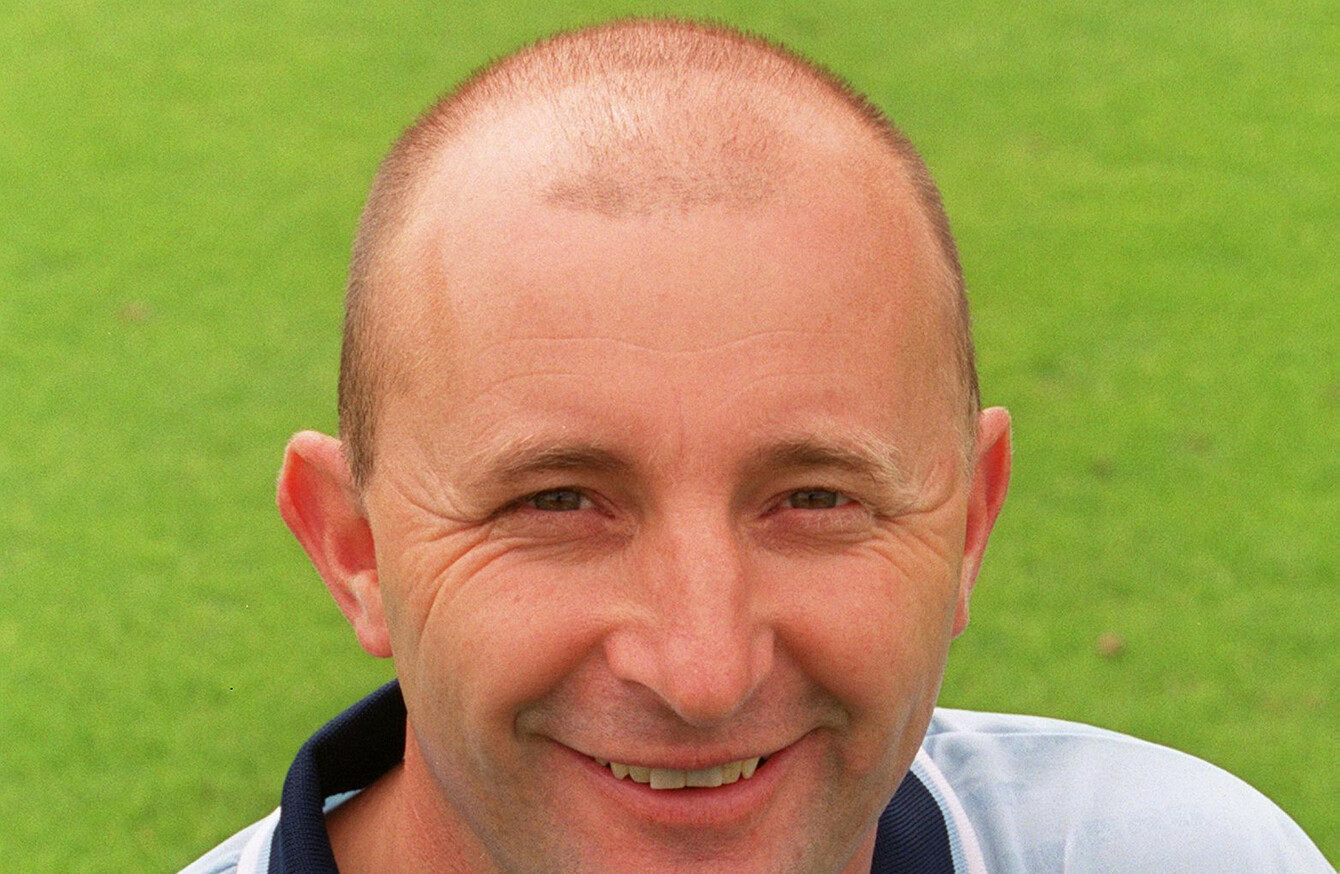 Mick Neville (file pic).
Image: Billy Stickland/INPHO
Mick Neville (file pic).
Image: Billy Stickland/INPHO
SPORT CAN BE the prism through which we view life.  A good example of that perception is the way soccer was once regarded with deep suspicion among many in Ireland.
It is easy to forget it was only through the success of the national team under Jack Charlton in the late 1980s and early 1990s that the sport went fully mainstream.
Even across the water in Britain, English football was a million miles away from the global phenomenon it is now — the negative connotations of a sport associated with hooliganism and thuggery were prominent during that era.
As journalist Tony Evans explained in a recent interview with The42, certain players were almost ashamed to admit they played football for a living and were not the well-known figures they are today due to the rarity of televised matches.
It was through this backdrop that Mick Neville, who would go on to become one of the most decorated figures in the history of the domestic game, fell in love with the sport.
There was a selflessness about Neville as a player. Having started out as a midfielder, he was happy to 'do a job' at full-back before ultimately establishing himself as a top-class centre-half at the age of 26. That selflessness comes through in this interview, as it is the achievements of other players and teams, rather than his own, that he seems most enthusiastic and excited when asked about.
"As a kid growing up, I came from the Leeds United era," he tells The42.
"Billy Bremner was my man at the time, the number four, the Leeds captain. Jonny Giles was his partner in midfield."
Neville was "seven or eight" when he joined Home Farm. He progressed from there, eventually making his debut for the senior team as a teenager in 1979.
"I would have been brought up in the schoolboy league in Dublin," he says.
We weren't allowed use a soccer ball, because GAA would have been the sport in the school.
"It probably honed our skills more because we had to use a tennis ball at playtime. But again, I would have come up in the era when street football was huge. We would have played pole to pole, gate to gate, World Cup, three-and-in, it's all we had to do because there was no Fifa World Cup [the computer game], the nearest we had to that would have been Subbuteo.
"You're out with your mates until 10 or half 10 at night. Your sister would come out to tell you your dinner was ready, but you wouldn't be going home until the game was finished. It would probably be 10-9, 15-14 or something, but you wouldn't be going home."
Neville's family is steeped in football right up to the present, with his nephew, Steven Beattie, currently lining out for Cork.
"Some of my uncles played for St Pat's," he explains. "Another played for Home Farm. Another played for Rovers. But my dad didn't play at all. My dad was into motorbikes. He died the year before last, but he was a huge factor in my life, because he was a great sounding board. I could always ask him, I'd get a different opinion off him, I'd get honesty, so I always knew where I stood after matches. He hurt me at times, but he told me the truth.
"He used to bring me to all the games. He wouldn't have a great knowledge of football, but you'd get an honest opinion from what he had.
My grandad was involved in the start of St Kevin's Boys up in Whitehall. He lived in Beaumount. So there was a big football fraternity within the Neville family, I would never get away from it and I'd love to talk football with my uncles, so that's where it started really."
In particular during that era, the League of Ireland was not for the faint-hearted. As a player you needed to be able to 'look after yourself,' as Neville explains.
"That was probably the hardest, just adapting to it, coming from youth football," he recalls. "The league was a hard place to be because there were a lot of hardmen, a lot of journeymen, a lot of older players and older teams, very few young players coming through. But that's what Home Farm was at the time. You had to pick it up quick enough, otherwise you'd suffer, because of what was going on in the league at the time.
"I actually took Ronnie Whelan's place [at Home Farm] when he went to Liverpool. I remember going up as 14th man to Oriel sitting on a brick beside the dugout watching Ronnie taunting the likes of Dermot Keely and Paddy Dunning, and then proceeding to get the lard kicked out of him. You've got to learn quick enough."
Whelan was inevitably going to be a tough act to follow, but Neville managed to excel during his three years at senior level with Home Farm, winning the club's Player of the Year and establishing himself as one of domestic football's brightest prospects.
Despite this early success though, Neville was on the move in 1982. He got a phone call from former Ireland international and then-Drogheda manager Ray Treacy and was persuaded to make the switch.
"I was working for Kevin Smith in a place called Tools and Equipment. Kevin was a big player in the League of Ireland at the time, he was with Athlone Town. He talked to Ray Treacy about me, Ray then met me and signed me for Drogheda.
We had a really good team at Drogheda and we finished runners-up that year [1982-83]… I got a good grounding there, because Dundalk were the main team at the time with Dermot Kelly, Martin Lawlor, Paddy Dunning, Tommy McConville, all that era. They were a fantastic team, a team of men.
"Martin Murray was there from Home Farm at the time, so Martin kind of took me under his wing. I done most of Martin's running for him, but he did most of the football — just give him the ball — Martin was a magician with the ball. He got PFAI Player of the Year that year."
Neville did not stick around for a second season, having made 26 appearances for Drogheda. Instead he joined Shamrock Rovers and it proved a wise move, as the Hoops were on the verge of becoming arguably the greatest side the league has ever seen.
"Dermot Keely was a really good friend of mine. He told me that Jim [McLaughlin] wanted to talk to me. I met him and Noel King and it kind of went from there."
But regardless of their famous 'four-in-a-row' league success, the journey to becoming a key figure for the team was not exactly straightforward for Neville.
My uncle had played and it was a big step for me. I was only 21 at the time. I joined Rovers and then broke my leg against Bohemians.
"I was out for a long time in the first season. The first game was ironically against Drogheda and I missed it — I missed nearly half of that season because of my leg. I came back and thought I'd broken it again against Bohemians in a tackle with Gino Lawless, but thankfully the x-ray that day when I was carried off in the derby confirmed it wasn't broken.
"I kind of cemented a place then in midfield or right-back and played a couple of seasons there. We proceeded to win everything. We had a brilliant team, it was a brilliant time, brilliant players, great atmosphere in the place, just everyone got on, it clicked. And Milltown was also a special place."
Source: Mare Footage/YouTube
Had Neville done nothing else in his career aside from what he achieved at Rovers, he would still surely be remembered for those feats alone.
In addition to the four titles, he also won three FAI Cups there, two League Cups and two President's Cups. In the 1985-86 season, he was named as the club's Player of the Year. Interestingly though, it still took time for him to find his feet at the Hoops.
"I went into a gym one night, I can actually still remember the conversation, Noel was the assistant manager. Jim was trying to get my confidence back. I'd lost confidence in myself. I went to him and said 'I know I've not been playing well.' They'd been playing me in midfield at the time and Liam O'Brien was starting to emerge as a player.
"He said 'look, I really signed you as a full-back.' So he put me in full-back to get me going again. He took me out of midfield and put Liam O'Brien in and then I got my confidence back again eventually. Liam then went to Manchester United. Alan Campbell at that stage had gone to Santander and Liam Buckley had gone to KSV Waregem in Belgium.
I was only having this conversation when we were away there lately. We went over to Santander to play against Alan Campbell's team. We played against Atletico Madrid. Dermot Keely got injured, he got a couple of broken ribs in the Santander game. Jim told me he was going to play me centre-back. It was my first time playing there. We got beaten 2-0, but I played reasonably well and stayed there forever after that.
"Everyone sees me as a centre-half, but I didn't play there until I was 26. I never played it before — I played all across midfield and right-back or left-back, but ended up at centre-half.
"So I say to kids now when they're coming through at 15 or 16, who am I to tell you where you're going to play."
But for all Neville and co achieved during those glory years in the 1980s, the Rovers experience ended in bitterly disappointing circumstances.
Source: showgies/YouTube
In 1987, Shamrock Rovers' owners, the Kilcoyne family, announced they were moving the club from their Milltown-based stadium in Glenmalure Park, where they had played since 1926. They had decided to sell the ground to property developers and instead intended to move the club across the city to ground share with Home Farm at Tolka Park.
The last match at Glenmalure Park was an FAI Cup semi-final between Shamrock Rovers and Sligo. At half-time, a section of the home support invaded the pitch, with some visiting fans doing likewise in solidarity. They had to be persuaded to vacate the pitch in order for the game to re-start. 'Will greed kill the Hoops?' read one sign held up by supporters.
Shortly thereafter, a 'Keep Rovers at Milltown' organisation was established. Supporters boycotted their games at Tolka Park. The club suffered financially as a result of all this turmoil and were forced to sell their best players.
There was no going back though, as Glenmalure Park was demolished in 1990, with an apartment complex built in its place. Over the years, there have been events remembering the club's former stadium — in 1998, a plaque was erected to mark its existence, while in 2007, there was an occasion held for the 20th anniversary of that infamous Sligo match.
Leaving Rovers was the hardest thing in my life because we had such a great team and such a bond and the Milltown thing came along and it was just a terrible time. No one expected it. It was a bombshell. I know the supporters didn't and we expected it even less.
"The last game was against Sligo. I was taken off injured, but I remember it as if was yesterday, with the supporters coming onto the pitch and Dermot [Keely] trying to get them off. I couldn't believe really what happened. We met the Rovers management at the time and they told us there was no way they could use this asset to the club. But that's what we were eventually going to be used as.
"We didn't want to go but we had no choice. We were playing to empty stadiums in Tolka Park, because the supporters were boycotting it. The whole thing was an absolute mess. I think the league at the time and possibly politicians too could have helped it a lot more.
"Dermot is on record at the time as saying he didn't realise how much it meant to the Rovers supporters and players would probably say the same. We didn't realise the historical sense of it really. When you're later on in your years, you realise what it meant to Rovers and what it meant to football really. It's a shame that it went so badly.
"I don't doubt we would have gone on and won more championships. That year, the heart just wasn't in it at Tolka Park. I think UCD knocked us out of the cup. We just weren't ourselves at all and it was a sad end to an absolutely fantastic time at Shamrock Rovers and for that team in particular. Fellas went different ways then."
Indeed, a number of Rovers' best players ended up back with their former manager, Jim McLaughlin, who was by now in charge of Derry City. Neville, along with Paul Doolin, Noel Larkin, Kevin Brady and John Coady, made the move up north. They were more or less an instant success, winning a domestic treble in their first season with the club.
"The league had put a blocking order on any Shamrock Rovers players signing for anybody until all the affairs had settled at the club.
But Jim had spoken to myself, Paul and Kevin and we knew then that when the order was lifted, we would go to Derry. It was a huge thing for us. I lived in Skerries at the time. You're talking about a two and a half, three-hour trip through checkpoints, army checkpoints, going to places that you didn't really know.
"But when we went to Derry, it was a fantastic time for us. We were welcomed with open arms. We got on so well with other players that were there. Instantly, there was a mix and a bond.
"I think of my first match up in Fanad, I remember playing for Rovers up there and saying: 'I'll probably never be back here again.' The first match for Derry was in Fanad. We got lost on the way up, Paul, myself and Kevin, and we ended up in some unionist area, but we eventually got there.
"I made a mistake in the game, we drew 2-2, people are a bit sceptical of you and you're a bit unsure of yourself, it took time for us to get going. But when we got going, we didn't stop really."
It was, of course, a very different Ireland. Tensions were high as a result of The Troubles, with Derry one of the most fractious areas in the country. Neville, however, insists himself and his fellow Dublin-based team-mates never encountered any serious problems.
"It was an interesting time, because I'm a Protestant by religion," he says, "I was a Protestant playing for Derry, which was probably like Mo Johnston playing for Rangers.
But it was never an issue and I wouldn't be a very religious person. But the only intimidating part of it would be going through the check points on the way up.
"The best part was when we got to the Brandywell. The camaraderie we had with the Derry players was great. We'd play North against South in the five-a-sides in the mornings. Myself, Paul, Noel Larkin and John Coady would go back to the Everglades [Hotel] and we'd stay there overnight, because the games were on a Sunday then.
"We'd play on the Sunday then come home. We'd train with Shelbourne on the Tuesday and Thursday. [Then-Shels manager] Pat Byrne was good enough to allow us to train, so we didn't have to travel to Derry.
"But it was difficult in those days. The league authorities in their wisdom used to play on Bank Holiday Mondays, so you could play on a Monday and a Sunday. But we could travel to Derry on a Saturday to play on a Sunday, then we'd have to travel to Galway to play on a Monday and travel back home on the Bank Holiday that night to work on a Tuesday morning."
Source: John Green/YouTube
So while Neville was clearly enjoying himself on the pitch, off the field, not everything was so simple.
"I was a qualified fitter and turner in CIE in Inchicore," he says.
"CIE were brilliant to me at the time. If I was winning cups, I'd be in the newsletter. I'd have to deal with all the Pat's supporters then in Inchicore anytime they beat us, which wasn't very often.
I'd be banging a bench with my hammer on a Monday morning and the Pat's supporters would be coming down to slag me when they did beat us. I was in the heart of Inchicore, right beside Richmond Road, and it was a real football place CIE, and a lot of League of Ireland supporters were there, mainly St Pat's and Bohs supporters, but the banter would be good.
"I laugh when I listen to players now talking about too many games and that kind of stuff. The schedule we would have had and then to have a job on top of that as well [was tough]. But that's what we were brought up on, we didn't know full-time football then."
In addition to the treble, among the highlights of Neville's time up north was a European Cup clash against a Sven-Goran Eriksson-managed Benfica side.
Source: sp1873/YouTube
Their opponents in the Brandywell that day included Aldair, who would be part of Brazil's World Cup-winning side less than five years later, and legendary Swedish player Jonas Thern, and their quality told, as the Irish side lost 6-1 on aggregate, despite a creditable performance amid a 2-1 defeat in the first leg at home.
"It was a brilliant occasion in the Brandywell and then to play them in the Stadium of Light was fantastic," he recalls.
Be part
of the team
Access exclusive podcasts, interviews and analysis with a monthly or annual membership.
Become a Member
"They had a lot of stars, a couple of Swedish internationals, Portuguese internationals, a couple of Brazilians, so it was fantastic. They beat us 2-1 on the day, but great game.
"Jim and Sven had a great relationship — I think they still do. He would have been a big time manager at the time. I didn't think he would go on to [manage England and] do what he did obviously.
"We had already gone on a trip [to Portugal] with Rovers. We played Sporting Lisbon on a Tuesday night and played Benfica on the Wednesday if you can believe that.
"Harry Kenny scored in the first minute against Sporting Lisbon, we beat them 1-0 on their own ground. We proceeded to get bottles, stones, everything thrown at us. But we scored in the first minute and defended for 89 minutes.
We played Benfica the next night and drew 0-0 with them in the Stadium of Light. That was before we went to Spain and Atletico Madrid, it was an incredible trip for a League of Ireland team."
Despite the precious memories of his time there, Neville stayed just two years with Derry before joining Shelbourne.
"I signed for three years, but I had problems in my marriage then and came back to Dublin. We did the treble in our first year with Derry, which was a fantastic feat. Second year, Pat's pipped us to the league title. We scored 21 goals more than them, but Pat's were an excellent defensive side and really well-organised — they would have won a lot of games 1-0.
"I moved [away from Derry] reluctantly at the time. Jim wanted to put me out on loan just to let myself get sorted at home."
The success did not stop there, however. Shels were building a top side, with a number of Rovers alumnae, including Jody Byrne, Mick Byrne, Anto Whelan and Pat Byrne (who was player-manager at the time) coming onboard.
In just his second season there, the 1991-92 campaign, Neville helped the Dublin side claim the league title for the first time in 30 years. The following season, they won the FAI Cup for the first time in 30 years, with Greg Costello heading home the winner against Dundalk.
Source: retroloi/YouTube
In total, Byrne would make over 200 appearances in eight years as a player with the club. He captained Shels to back-to-back FAI Cup triumphs in 1996 and 1997, in the process lifting that trophy for the sixth and seventh time in his career.
"I would probably class Shelbourne as my club because I finished up with them, I spent the longest time there. And we were very successful.
"We probably should have won more with the teams we had. The Geoghegans came then and there were some great players. Pat Fenlon came in and then Pat took over obviously. Shels was a great club at the time and still is a great club. I'm delighted to see them reviving a little bit under [former player and current manager] Owen Heary." 
Meanwhile, Neville's veteran status meant he was now required to take on an extra level of responsibility at the club.
"I ended up as captain of Shels and I suppose you're responsible for players that come in, new players. You have to look after them and make sure that they settle down okay. Then you're looking at players' contracts.
Players would ask me for advice, so I suppose you would be [changing your approach]. Although I wouldn't be the best man to advise on contracts, because I probably would agree my contract within five minutes. I'm not a good man for haggling over money or bonuses or that sort of thing.
"But that was part of the deal then. You were the captain, you made sure all the players were looked after. The likes of Dermot Keely and Pat Byrne always looked after us, so that was always the captain's job.
"I'd always be on good terms with all the players. I'd never fall out with any of them. You'd always look to be professional. It was very difficult then I suppose. Even Shels at the time, we were training in Harold's Cross, which was a dog track. And it would have been very difficult.
"But you made the best of what you had and that's what you always tried to do. I think Paul Doolin would say the same — he always tried to bring that into management, trying to improve clubs [in terms of] facilities. You want the best for the league."
Source: LewisQ/YouTube
Given that Neville was coming towards the end of his career, he savoured the consecutive cup successes in particular, with the triumphs going some way towards compensating for the disappointment of narrowly missing out on the league more than once in the '90s, finishing two points off Dundalk in the 1994-95 campaign and one point off Pat's in the 1997-98 season. By the time Shels finally tasted Premier Division glory again in 2000 — a victory that started a brilliant run of five title triumphs in seven years — the Dubliner had hung up his boots.
Source: retroloi/YouTube
Against Pat's at Lansdowne Road, Shels went a goal down and had goalkeeper Alan Gough sent off, with Brian Flood required to replace him in nets. Improbably, a brilliant late Tony Sheridan goal forced a replay in Dalymount Park. There was more drama in that game. Neville's side went a goal down again, before the returning Gough saved a penalty, enabling Stephen Geoghegan to score the winner after Sheridan had equalised.
"We were celebrating Stephen's goal up in Dalymount to put us 2-1 up," Neville recalls. "I looked around and we were in a pile of bodies, I'm talking to Stephen and [then-chairman] Ollie Byrne was standing on the pitch beside us.
He's after getting on the pitch, he ran down the pitch and is celebrating with the players. When you think about it, it's unbelievable. He's just on the pitch beside you."
They repeated the feat the following year, beating Neville's former club Derry City 2-0 in Dalymount Park.
Source: retroloi/YouTube
By the time the experienced defender opted to retire, he was in his late 30s and could hang up his boots in the knowledge of having enjoyed an extraordinarily successful, trophy-laden career.
"To this day, I still don't know what Damien [Richardson] wrote in the programme about me. I read his programme notes and hadn't a clue what he was talking about.
"Dermot [Keely] came in as manager and brought me back for a few games — we had an injury crisis, I was still on the backroom staff, and I did reasonably well. But I was getting out of bed in the morning and probably three different parts [ached]. I knew that my time was gone and I was happy, because I'd had a great career.
"I wanted to move into coaching, I was never interested in managing. I asked Billy Young at the time — Billy ran a FAS course. I remember saying to Billy: 'How do I get involved in coaching?'
And his answer shocked me. He said: 'It'll be very difficult.' I was coming from a background of 20 years playing senior football. I wanted to go back in as a coach and was told it'd be very difficult — that's how bad things were at the time. Coaching was a closed shop.
"But again, thankfully Shels came to the rescue. While I was still working in CIE, Ollie [Byrne] offered me a role as a development officer with Shelbourne to set up a schoolboy section. I didn't have a clue how to set up a schoolboy section. A fella called Ken McCarthy, who was a Shelbourne supporter and also connected with Belvedere, he came with me. We set up three teams in Shelbourne in that first year. By the second and third year, we had 26 schoolboy teams. So that was the start of the schoolboy section at Shelbourne.
"My coaching career went from there really. When you've got the likes of Wes Hoolahan, Richie Foran, Richie Baker, we got a lot of players through to Shels' first team, which was fantastic. Ollie was probably a bit ahead of his time to be honest, because obviously it's doing well with the ETBs, and the FAI and a lot of League of Ireland teams did take over FAS. But at the time, we were probably the first ones to do it."
Of all the players he coached, Hoolahan — who would go on to win 43 Ireland caps — was a particular standout at underage level.
"I was probably the most frustrated man in Ireland over the years, because I knew what Wes had. I saw him playing and training first-hand. I remember up in the AUL, U19s, he scored an unbelievable goal. He was just inside his own half, came across the pitch, he's left footed, but he came across from the right-hand side and chipped the goalkeeper from about 35 yards.
"I brought our team in after, we'd won the game. I remember Pat Dolan walked across the pitch, came into our group. Pat and I from our playing career wouldn't have been the best of buddies. But in fairness to Pat, he turned around and said: 'That is one of the best goals I've ever seen.'
"Even when he went to Norwich. Wes was scoring goals, playing in the Premier League, and he wasn't used at international level [under Giovanni Trapattoni].
I couldn't understand it. I know his size and all that, but he should have had double the amount of caps he had. I could never understand it. He was a brilliant fella and an unbelievable player."
In a manner somewhat reminiscent to the culmination of Neville's time at Rovers, Shels went from being comfortably the most successful side in Ireland to on the brink of collapse within a dramatically short period of time. Incredibly, they still managed to win the league title in 2006, but were promptly punished with demotion to the First Division amid a mass player exodus owing to these issues.
"They used to say 'you can only go to the well so often' – I think that happened at Shels. They overachieved. Ollie was probably going down the right road with regard to if we could qualify for the final stages of Europe as Dundalk have done, then the money would come in and probably the club would be financially stable. But with the gamble he took, the gamble didn't pay off — everyone knows about that. But I was probably the last one to get off the ship. Others had gone and I took training with the first team.
"It was a really sad and bad time, but the players themselves were exceptional. They had been told the money wasn't going to be there at the time. It was 'let's go and win the league,' we had taken everything we could. And they went and won the league.
Probably half of them hadn't been paid in two or three weeks, so it's a credit to them as professionals to go and do what they did. When I hear managers moaning nowadays about different things going wrong, they're minuscule compared to what Pat had to deal with that last year.
"I think it put me more so into the coaching side of things. I never wanted to be [a manager].
"Paul Doolin had got the manager's job at Drogheda. So I'd seen Rovers' demise, I'd seen Shelbourne's demise and then Drogheda were the top team at the time and Paul would organise [the training facilities at] Mosney, it was similar to the Shelbourne thing. The players had their breakfast in Mosney and they had their lunch before they left training. They'd laid out the pitch so well, so the set-up was perfect.
"Then Drogheda went [pear-shaped]. So I don't know whether it's me being [cursed], with all the clubs that I've been around, but they were all top teams, top managers and top players — to see them go [into serious turmoil] overnight is shocking.
"That's the delight I have with Dundalk and Cork [in the league now]. To see them come to a stage where they don't owe anybody, they're on their own two feet, I think it's fantastic, and that's the future of the League of Ireland. They're stable clubs and they're not owing anybody. Shels are even coming around a little bit. They're debt-free now, which is fantastic."
Since leaving Shels, Neville has worked as a Development Officer for the Football Association of Ireland in Louth. During that time, he has also had a first-hand view of Dundalk's meteoric rise under Stephen Kenny, with the club having been "on its knees" around the time Sean McCaffrey took charge as manager.
Neville has also worked with former Finn Harps midfielder Tom Mohan, coaching Ireland's underage sides. When we speak, he is just back from Portugal, where the U19s saw their hopes of European Championship qualification end amid a 4-0 loss.
"From a coaching point of view, the analysis is huge now," he says. "Analysing other teams, your individual opponents, analysing next week's team, so there's a lot of work in that as well.
"We were beaten by a fantastic side [in Portugal] — probably some of the best football I've seen in years.
They won the U17 equivalent two years ago and I think they'll go very close to winning the U19 competition. We've only been beaten once in 10 games this year, so we had high hopes going into the elite phase.
"At 17s, two qualify. If that was the way it was, we would have qualified.."
Neville also believes the supposed lack of talent at underage level has been exaggerated, pointing to the excellent recent results of the underage sides as evidence to support the claim.
"It really annoys me sometimes when I hear people saying that there are no players coming through. I'm delighted that Declan Rice is coming through because I've spoken about Declan for the last three years, he was an unbelievable player and has been at U17 and U19 level. He got Player of the Year for us at 17s and 19s, and there are another few players well capable of doing a Declan Rice.
I'm always optimistic about the future of Irish football. I think it's strengthened a little bit with [introduction of the] the 19s and 17s leagues. I know it's affected the schoolboy system and the clubs detrimentally probably in some areas, but from the elite level point of view, I see first-hand what it takes to play U19s. I see what it takes to play U17s. Ireland are punching above their weight and have been for years.
"But you see the structures in other countries that are there for the elite footballers — how we match them at times is unbelievable and how we stay in there and qualify for different tournaments. It's easy to sit there and say 'there are players not coming through'. There are a lot of positive things happening.
"If you look at the 21s, they're going well now. The 19s as I said, we've only been beaten once in 10 games, which is a good record for anybody. And the 17s have a cracking team coming through."
A healthy League of Ireland, he adds, is vital to the success of the underage and senior national teams.
"If you look at Noel King's team, I think he had four or five [League of Ireland players] in it. I know Colin O'Brien from the 17s would be the same. Tom Mohan then would have five with us. We'd be always looking at the home players as well, because the 19s and 17s leagues are getting stronger. The 15s are in there, the 13s are then going to come in.
I did my pro licence, I went to Holland and I see the way the clubs there feed into the main club in the area — that's the way it should have been for years in Ireland. Schoolboy clubs have agreements with League of Ireland clubs and create a pathway for the players through to international football.
"The top tier is international football for any footballer. The top thing is to play for your country. There's a clear pathway now for players going from 13s right through to senior international football through League of Ireland clubs.
"I hope it settles down and things just get stronger and the football gets better. It's going to take time, nothing happens overnight, particularly in Ireland with football. We've been brought up on 4-4-2 — 4-3-3 is the way forward now and that's the way it's been on the continent now for years.
"We've been playing catch-up in a lot of areas and that's been Ruud Dokter's job. He's turned things around to a large degree. He's got these leagues in. He's got the big leagues in Ireland talking to the League of Ireland clubs, which is huge. Most of the League of Ireland clubs now have a structure where they have a schoolboy structure underneath and some of the big [schoolboy] clubs are linked to those League of Ireland clubs. That can only be positive for everybody, surely."
And given all he has achieved in the game both as a player and a coach, it seems appropriate to finish by asking Neville the advice he would give to a young footballer.
"Never give up on the game," he says. "I think nowadays, kids find it very difficult to deal with disappointment.
And practice. Practice, practice, practice. That's it in a nutshell for me, particularly the young players. There has to be repetition, repetition, repetition. A lot of players don't work at their game now, because it's not happening in the streets anymore. It's very difficult in Ireland because we don't get enough time with the players.
"Even with me now as a coach, we train on Tuesday and Thursday, and play on a Saturday. I would love to have three or four days with players and work with them. That's the hard thing.
"As I said in the start of the interview, I would have played and learned on the streets and taught myself a lot. I would have learned a lot from the senior players going into the League of Ireland from a young age. The League of Ireland is a great grounding for people before they go away to England and particularly at the moment.
"It's great to see young players coming back from English clubs at 20, 21 years of age and having the belief to play in domestic football — that says a lot for the League of Ireland at the moment."
The42 is on Instagram! Tap the button below on your phone to follow us!