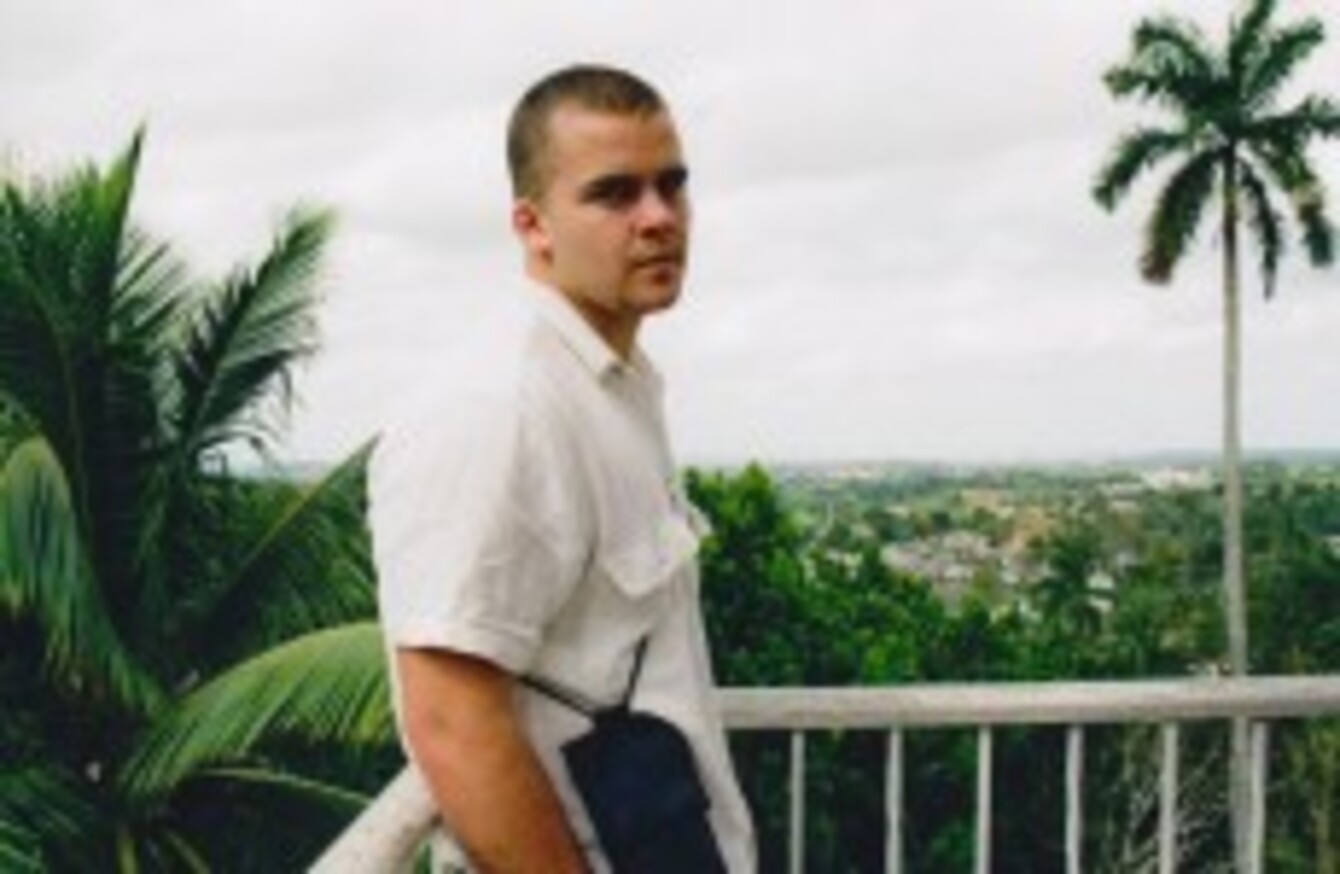 Brin-Jonathan Butler's book is largely based on his 11 years spent in Cuba.
Brin-Jonathan Butler's book is largely based on his 11 years spent in Cuba.
NOT EVERYONE WOULD be brave enough to walk into Mike Tyson's house having never met him before, but then Brin-Jonathan Butler is not anyone.
Author? Amateur boxer? Documentary maker? Freelance journalist? Adventurer? Sports fan? Hemingway enthusiast? Cultural commentator? Butler defies straightforward categorisation.
Butler's new book, The Domino Diaries: My Decade Boxing with Olympic Champions and Chasing Hemingway's Ghost in the Last Days of Castro's Cuba, has been released to considerable critical acclaim.
Of the work, New York Times bestselling author Charles Bock writes: "It delves into the darkness of being alone with your aloneness." Meanwhile, author and Sports Illustrated senior writer SL Price adds:
"There's nothing in the world like America's grasping, oversexed, blundering, blustery, and oft-deadly relationship with Cuba. Charting this fever dream, this illness of love and fear, requires a poet's ear, an outsider's eye, a boxer's clinical cruelty, and an unhealthy attraction to breakage. I give you Brin-Jonathan Butler. Anyone can — and especially now, will — tell you what to think about Cuba. But no one can show you better how the place makes you feel."
So, as the above assertions attest, Butler is an accomplished writer, but perhaps more importantly, he is also a fearless journalist.
The aforementioned Tyson encounter in 2010 is a case in point. The book begins in memorable fashion with renowned boxing trainer Freddie Roach giving Butler Tyson's phone number and, at the same time, issuing a stark warning: "Don't blindside him. It doesn't matter if I sent you. If you see Mike and you blindside him, he's capable of attacking you."
Consequently, a few months later, after Butler manages to somehow blag his way into the star's home, upon encountering the nervous writer, the ex-world heavyweight champion less-than-politely inquires: "So how did this white motherf**ker get inside my house?"
Ultimately, once Tyson is reassured that Butler respects him and even considered him a "hero" growing up, the two chat amicably for an hour.
The Canadian-born, New York-based writer explains how his life changed when Tyson came on his radar as a 10th grader. The some-time freelance journalist who has written for ESPN, The Daily Beast and Salon among several other titles, was badly bullied as a child. Traumatised by these experiences, it was only when he came across Tyson's story, and learned how the legendary boxer was also the victim of bullying as a child, that he was inspired to turn his life around.
Therefore, for a number of reasons, it's no surprise to learn that for Butler, approaching Tyson in the first place was terribly daunting.
"He played a pivotal role in my life," Butler tells The42. "I don't think it's an exaggerating to say he saved my life. He also gave me my entire direction professionally — boxing and books. I was in a very difficult spot with bullying and hearing Mike Tyson's story was sort of what gave me hope that there's a way out, to leave my front door, which was something I was afraid to do for a few years.
"And then there was just the fear that I had no professional business being inside his home. I was not there on the basis of some credential or some business assignment. I just snuck in, basically, harassed an assistant and found a way in, just had an hour with him.
"So that's the first chapter: 'How did this white mother**ker get in my front door'. That was not exactly how I expected to be greeted after walking through a cloud of marijuana, but that's the way it unfolded."
Source: Jumber505/YouTube
On reflection, Butler acknowledges that his younger self's hero worship of Mike Tyson was problematic. As he writes in the book, upon deciding to acknowledge Tyson's role in Butler's own redemption, he was "writing a convicted rapist a thank-you letter".
And Butler acknowledges that when it came to meeting Tyson face-to-face, his questions weren't exactly hard-hitting.
"I did my best. I wasn't trying to get one over on him, I really just wanted to say thank you. It's hard to attack somebody who's there to say thank you — especially somebody like him, as I don't think he's had too many people express appreciation or gratitude much in his life.
"I don't think I'm somebody who has interests, I have obsessions, and Tyson was my first big obsession. I read everything that was written about him. When I was doing amateur boxing, I used to run in the morning, just like Mike Tyson. Every day, I ran thousands of miles all at four in the morning, just because I knew he did it.
"After I finished, I would be shadow boxing to Tyson documentaries. So all of his words, all of the images, became very embedded in my mind, and I kind of used his identity as a foxhole to build my body so I could be built like him and fight like him.
"His identity was a real source of safety for me, and then you read more about him, and you realise he's such a tormented, victimised person. It doesn't detract from the harm that he's done to people.
"But one thing I've always done and tried to do in the Domino Diaries is, rather than judge people, try to understand them and try to get in their skin to understand where they're coming from. I find that when you do that, it certainly becomes a lot easier to forgive people for the harm they do, because you understand where they were coming from when they were doing it. It doesn't excuse it, but I do wish to understand people."
Following his unlikely encounter with Tyson, in many ways the epitome of the American dream, Butler then contrasts it with the dreams of another nation — Cuba.
The book documents Butler's 11 years spent in the land of notorious dictator Fidel Castro, using boxing in Cuba as a starting point to explore deeper questions about the national psyche.
"People ask me now: 'how do I see some of the things you saw or wrote about in the book?' And it's already at the point, even though we're only four years away from when I was last there, that they're already gone. So I think when you have something like that that touches you in a very vibrant way, and you're aware that it's fleeting, it's something that you want to hold onto in writing about it. Those are subjects that I'm always drawn to."
(In this 28 September, 2010, file photo, Cuba's leader Fidel Castro delivers a speech during the 50th anniversary of the Committee for the Defense of the Revolution)
Butler had not initially planned on writing a book about Cuba, but was encouraged to do so by friends entranced by his letters from abroad, which vividly conveyed a life entirely alien to the average outsider.
The some-time filmmaker explains that the Cuba he encountered was somewhat different to the one he'd read about in newspapers and books.
In many senses, life in Cuba is as severely restricted as most western media portrays it as being — owning a car or having internet access is something most inhabitants can only dream of. However, Butler also detected an underlying richness in their culture.
"I first encountered Cuba with literature and

The Old Man and the Sea

," he recalls. "Oddly enough, two days after arriving, I'm meeting [the main character] and he's 103, living in the same town. In terms of the feelings that I had, reading the book, and how he seemed to be emblematic of the Cuban character, that certainly prepared me very well for many things that I encountered in Cuba.
"In terms of what I was reading in the newspapers, being told about the excess poverty in Cuba, that was true in a materialistic sense but it certainly wasn't true culturally. Cuba pointed to how impoverished I was in the culture I came from — the vibrancy of the culture, how rich it was, how diverse it was, how literate Cubans are, how curious they are, their tenacity to read between the lines to think critically, all of that surpassed anything that I came from.
"Nothing that I read prepared me for that, I was so singularly unprepared for it and yet they seemed incredibly knowledgeable about where I came from. They're the ones that are supposed to have the state media where books are banned and that kind of thing, compared to me living in a democracy.
"Cuba forces you to confront yourself in a lot of ways and confront how you've learned things. What you choose to trust. What you believe. If you come to Cuba with some openness, it's a very confrontational place to your preconceived notions."
One of the central themes of the book is the conflict between national pride and financial success, which most Cuban people encounter to some degree. It is an issue that is particularly relevant to their boxers.
For instance, in 1977, when at the peak of his powers and considered a national hero, legendary Cuban boxer Teófilo Stevenson was offered $5million by American boxing promoters to fight Muhammad Ali. Accepting this money would have been widely viewed as selling out in his native land and so, Stevenson issued the famous retort: "What is one million dollars compared to the love of eight million Cubans?"
Since then, however, many inhabitants' patriotism has waned amid a series of broken government promises and an increasingly gloomy outlook in this impoverished nation.
In contrast with Stevenson, some boxers have subsequently tried to defect — sometimes unsuccessfully — including Guillermo Rigondeaux, a two-time Olympic gold medalist widely considered to be one of the greatest amateur fighters of all time, who turned professional in 2009 and of whom Butler has previously written a biography.
Source: KNOCKOUT EXTRA/YouTube
So what makes boxers choose to leave Cuba, or perhaps more pertinently, what compels others like Stevenson to stay, despite having the chance to earn millions in America?
Be part
of the team
Access exclusive podcasts, interviews and analysis with a monthly or annual membership.
Become a Member
"I think fear is a component," Butler says. "Historically, less so. I think a lot of it was the total inability to abandon family. I've never been to a society where more of a premium was placed on family than in Cuba. The sense of family, the sense of a neighbourhood, the identification with being Cuban, all that is so intensively and fervently experienced. It's almost in their blood, their soul.
"And so, for them to never see their mother again, siblings, friends, that was just unthinkable. No matter what money was dangled, they just couldn't lose that. It's not that they didn't want the money — of course they did. But a lot of them were very proud.
"Most of the great boxers were Afro-Cuban. And they knew from their relatives what it was like to be black in Cuba before Fidel Castro. You couldn't walk into public parks, you couldn't get certain jobs, you couldn't go into a hotel. You were a second-class citizen. It was not South African apartheid, but there was a kind of apartheid to it that was viscerally felt and hated.
"And the biggest beneficiaries of the revolution were the bottom of that society. They really were able to give their kids a future that they could never have dreamed about themselves. Free education, free healthcare, having a roof over their heads, that was guaranteed.
"They got a lot and they were very appreciative of that, and they felt they were part of a society that was better on the whole for the next generation. But I think that changed and with Guillermo Rigondeaux's defection, you saw people saying: 'You know what, I don't think my kids are going to do better than I have it… There's a lot of inconsistencies here and I don't want to wait around for some of these broken promises. I want to see what I can get for myself.'
"So I guess what I was trying to say in the book is that Cuban society would say, all those people who turned down money, they'd say there was no cost for that decision, which I think is totally untrue. There was definitely a cost to that decision.
"But America would say, nobody in Cuba would ever stay [wilfully] because of the principles of that society. And that's just flat-out wrong. Many of the people who even left believed in a lot of the social justice principles of the revolution. It's all very complicated and nuanced. It differs from person to person. So there is no general position that is going to fit neatly with people who stay or leave."
(Cuba's Teofilo Stevenson, the eventual gold medallist, catches Hungary's Istvan Levai with a jab at the 1980 Olympics)
Moreover, outsiders are not exactly immune to the level of scrutiny that acclaimed boxers and ordinary Cuban citizens alike are continually put under. At one point, Butler is told by one of the natives that "for every two [security] cameras in Havana (which in many areas was nearly every block) there was one policeman assigned to monitor all movements".
A foreign journalist attempting to track down well-known figures such as Stevenson (who has since passed away) is likely to arouse particular suspicion, so it's no surprise that Butler felt intensely paranoid at times. He even took to moving apartments as a security precaution, but ultimately says he was lucky to avoid serious interrogation.
"I think the smart thing I did, which was just luck, was to not listen to anybody who said 'you can't talk to these people,'" he says. "I'd just find out where they live, knock on their door and talk my way in.
"I guess I was scared and nervous, especially talking to the young boy at the end of the book who has his future ahead of him. I suspected that the police would interpret that as me trying to ascertain whether he wanted to defect and trying to negotiate some sort of deal for him as a broker for the people who got Rigondeaux out and some of the other boxers. And if that's how it was interpreted, I could have gone to prison for 10 years.
"It was very unsettling. I'm not somebody who's trying to get into trouble. I'm not skydiving. I'm not a thrill-seeker in that way. I'm just a junkie for a story."
And while there is no shortage of tension in the book, one of the lighter and more amusing anecdotes describes Butler's fling with the apparent granddaughter of Fidel Castro.
"She was a very memorable person, even if she hadn't been Castro's granddaughter, which was quite a surprise. She had my eye before I knew that was the case. That wasn't the primary selling point that got me interested. But then it's just one of those weird things that you discover and this whole story, you think: who the hell are you to think that you can meet some of the most interesting people that society has to offer?
"That's kind of what the book was — I hoped people would find these characters as interesting as I did. The book that I wanted to read was the one that I wrote. It sounds like a selfish objective but I think it has a kind of vitality to it.
"I wanted to track these people down and to explore what Cuban society meant because I couldn't find that book to read. And I was looking for it — I researched a lot. But I didn't see that book available so I tried to write it."
(A fisherman casts his line along the Malecon at sunrise in Havana, Cuba)
Indeed, Cuba and boxing are the twin obsessions which permeate this book and it is the latter subject our conversation returns to ultimately.
Butler has a degree of first-hand knowledge into how his subjects feel, having dabbled in amateur boxing himself briefly. The experience, he says, only heightened his respect for these unique individuals.
"With boxing, you just get this incredibly raw distillation into who people are. You find out a lot about people by learning what they're willing to stand up to. What they stand for. What they try to avoid. What they run away from.
"I have limited experience as an amateur boxer, but some of the most intense nervousness and anxiety I've ever felt leading up to a fight and I think my biggest reaction leading up to a fight is just how courageous these guys are.
"Some of us are envious of it, some of us are filled with admiration, but it is mindblowing that somebody can face that kind of adversity and conflict. It's almost an indefinable majesty — how they're able to confront what so many of us in our lives do everything possible to avoid, and do so in a way that's so poetic — I just find it irresistible. And at the same time, boxers are some of the sweetest people I've ever encountered and some of the most compelling.
"I think boxers are the only artists that even when they succeed, they're a little bit less than when they got in the ring. They're the only artists that damage their instrument. Every time they work, they damage themselves. So this tragic element adds to their majesty in many ways.
"Others are probably running from a history that many people probably couldn't even escape, despite their best attempts. And here boxers are with some tragic circumstances — almost all of them came from nothing or worse — humiliation, degradation, very challenging circumstances.
"And from that, they're kind of sling-shotted into facing some of the toughest people that have ever existed. I'm still thrilled that every time I enter into Madison Square Garden to watch a fight, I still am not beyond my initial total inability to conceive how these people come to even get in the ring, let alone do what they almost always do once they get in there."
Furthermore, boxing — arguably more so than most sports — seems to attract deep, intellectual writer types. Much-loved authors such as Ernest Hemingway and Norman Mailer, for instance, were big fans of the sport, and Butler feels there are connections between these two ostensibly disparate pursuits.
(Butler sees similarities between Manny Pacquiao and Mike Tyson)
"I think there's a dark side to anyone who's compelled to write. It's a dance that speaks a lot more to our demons than the good side of our nature. I think the dark side is there with anybody. I wonder, with every person, how much where they're going in life is a result of what they're trying to move towards, or what they're trying to get away from.
"And I think, with boxers, there's that feeling that they can never escape where they came from. No matter how high they rise, really they're only one punch away from heading back there.
"It's quite something for Mike Tyson to go from $400million and probably the world's most known face to bankrupt, a complete punchline and sort of on the brink of killing himself, to yet another act with what he's doing with himself right now, where I think he's in the process of really redeeming his image. He's moving towards a real honesty and awareness of himself and the society he's in and being much more of a family man.
"The last time I saw him, I interviewed him for Amazon.com, and it was extraordinary seeing how much he changed in four years. I still think he's easily one of the brightest people I've ever met in terms of emotionally reading people. I think he's very gifted at looking at complex things and distilling them to their essence.
"He started at 18 when he was on the cover of Sports Illustrated. 30 years later and he's never really left being global news behind. And that didn't just happen, that's not just a by-product of his instincts or anything — he has created Mike Tyson as much as a spirit as he has as a brand. And it's very rare that a spirit can remain relevant for 30 years, and I'm not saying that's a good thing in his case, because he's done some pretty ugly things.
"I meet so many people who say 'after Mike Tyson left boxing, why would I care? Who could ever be as interesting as him?'
"I've often thought that with [Floyd] Mayweather and [Manny] Pacquiao, if you split Mike Tyson in half, the pre-Buster Douglas Tyson to the post-Douglas Tyson, the pre-Douglas Tyson is Manny Pacquiao — a beloved athlete, exciting in the ring up until very recently, just a scintillating performer who crowds are thrilled to see.
"And then the second half of Mike Tyson is darker, cynical, ugly, angry, racially charged — everything that Mayweather seems to have marketed himself towards, the 'baddest man on the planet' marketing jingle that Tyson had, which I think was a really ugly stain on the sport, but it was incredibly popular."
The Domino Diaries is published by Picador USA. More info here.