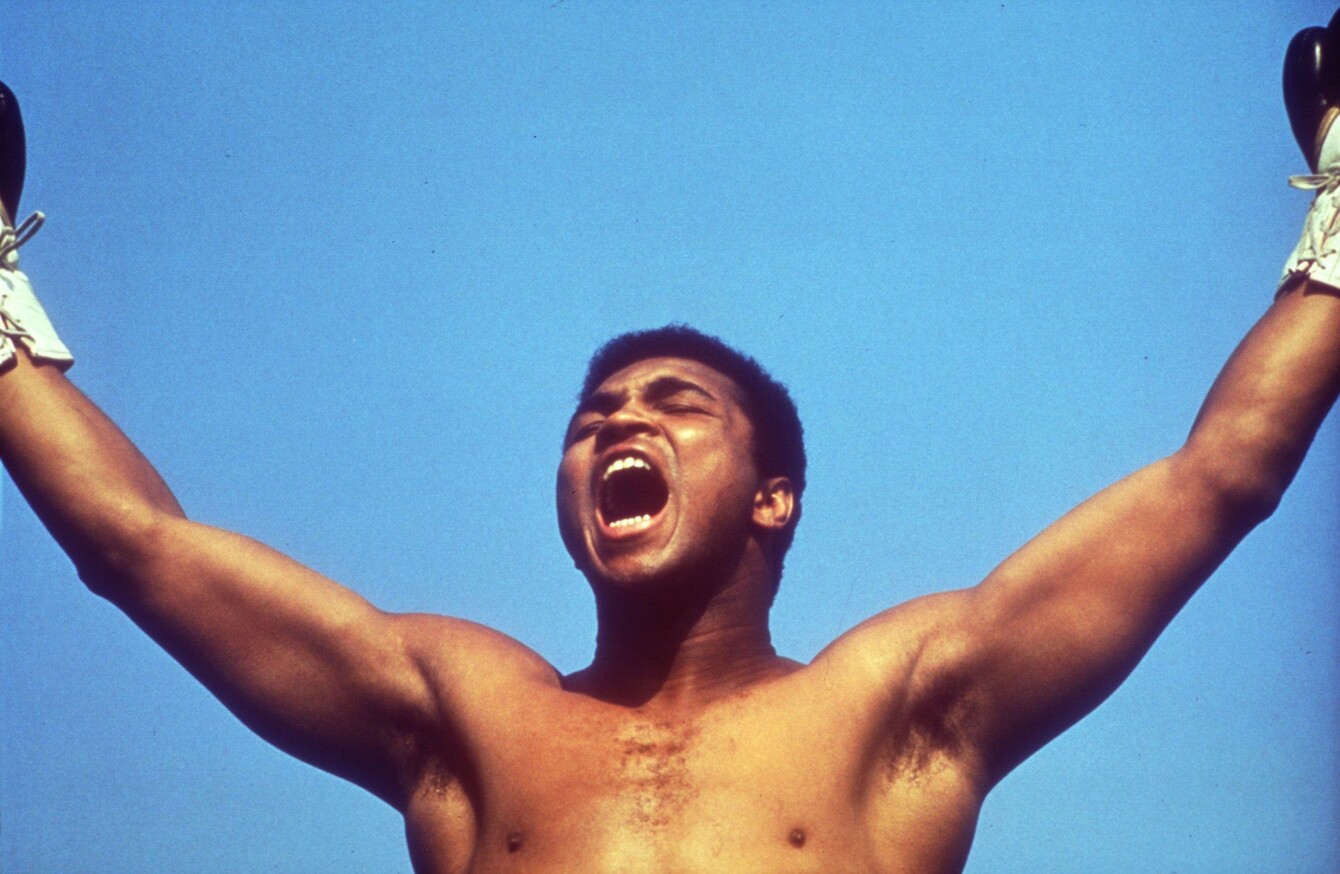 Muhammad Ali pictured during a training session before his fight against Al "Blue" Lewis in Croke Park.
Image: Allsport/INPHO
Muhammad Ali pictured during a training session before his fight against Al "Blue" Lewis in Croke Park.
Image: Allsport/INPHO
FRANK BRADY HAS seen it all.
The voluntary steward has been patrolling the surroundings of Croke Park since 1968, and in that time, he has witnessed some iconic moments in Irish sports history from every stand at GAA headquarters.
He was there for the unprecedented sit-down protest after the 1998 All-Ireland hurling semi-final replay, when the Offaly spectators poured onto the pitch after referee Jimmy Cooney prematurely blew the full-time whistle.
"You couldn't stop the sit-down protest," Brady tells The42. "If you tried to stop that, you'd end up in trouble."
He was also on duty for the hostile ending of the 2010 Leinster final when a small pocket of Louth fans charged the pitch after referee Martin Sludden had allowed Joe Sheridan's match-winning goal to stand.
The absorbing contests played out between Kerry and Dublin in the 70s are among the best days in his memory of stewarding at Croke Park, but there were many anxious moments as well.
Brady's early years of stewarding coincided with a chaotic era in Ireland as far as crowd control was concerned.
This was a time before tickets were needed to gain entry to the grounds and admission was said to be guaranteed for anyone who wanted to get in.
According to Brady, going to games in Croke Park brought discomfort as well danger to the fans.
"The Hill and the Canal End under the Cusack Stand — they were all terraces that time. It was just a mad rush. You see now, the spectators might only be in five minutes before they go out to the toilet.
That time, when you were in, you were in, and if you wanted to go to the toilet, it was hard luck.
He continues: "At that time, whoever turned up would get in. They shouldn't have but they used to because they just kept pushing and pushing.
"People used to pay into matches and they wouldn't see a bit of football. They'd get to the top of the steps and all they'd see is somebody's head.
Everyone was squashed in like sardines. How people weren't killed, and when you look at what goes on now, it was different back then."
So when Muhammad Ali arrived for a heavyweight clash against Al "Blue" Lewis in July 1972, the stewarding protocols at Croke Park appeared to be ill-equipped to handle the occasion.
Brady remembers it as one of the most terrifying days he has ever worked in Croke Park.
It was utter chaos. Everybody seemed to be selling tickets except the promoter and they were coming in everywhere. There was a group of us GAA stewards but there was a whole lot of other type of stewards there as well and I don't know whether they were official or not.
Disorganisation seemed to be the overarching theme of the fight. According to Dave Hannigan's book 'The Big Fight' which documents the story of the clash in Croke Park, there were several examples of mismanagement surrounding the event.
The Ali v Lewis match programme only contained photos of Ali and other boxers, but none of Lewis. There were no articles about the fight and the American National anthem, which was played before the fight, was paused shortly after the recording began.
Assuming that the anthem was over, the famous sports broadcaster Michael O'Hehir, who was the master of ceremonies for the occasion, tried to address the crowd before the anthem started up again.
There was controversy surrounding the length of time allocated to a count for Lewis after he suffered a knockdown in the fifth round. Many speculated that it lasted for over 20 seconds instead of the stipulated 10.
The referee however, has rejected these claims and says he delayed the count until Ali went to a neutral corner.
Even the boxing gloves weren't located until the day of the fight, when it was discovered that there were none of the required standard available in Ireland. Somebody was summoned from London to get some from the British Boxing Board of Control with just hours to spare.
That sense of disorder appeared to also extend to the security arrangements in the stadium that day.
According to Brady, there was no formal announcement for the stewards regarding Ali's fight in Croke Park. He discovered the news of the impending event in the newspapers, and preparations for the fight were to remain the same as any other sporting event held in the stadium.
Ticket sales were poor from the outset — mainly due to the high prices — but also due to the worry that those who regularly attended GAA games were planning to charm their way inside the gates, through their connections among the stewards.
Although Brady worked primarily inside the stadium, he was reliably informed by those stationed at the gates that that was the case.
That's how it was, a nod and a wink.  And there was a lot of people who came that wouldn't be GAA people and they might have known you or your brother and that might have got you in. It was utter chaos."
As predicted, huge crowds arrived in Croke Park to the tune of around 18,000, and they were difficult to contain. There were even reports of a gate being smashed down due to the swell of people, and spectators were seen invading the ring after Ali's 11th-round knockout victory.
At times like that, Brady says that the best course of action for stewards was to flee to safety.
"I was supposed to be on the Cusack Stand side but after 10 minutes, it was a matter of getting the best view you could and (get to) the safest place you could be."
"The (boxing) ring was out on the pitch and there was people there on big seats but they might as well have been out on Jones's Road. People just got in and went everywhere.
"I was gone long before the stadium was cleared. I had to get a bus and that was my priority. I was married that time and I had to be home.
The same with everybody else. It's not like now, where stewards have to wait for stand downs. That time, if you saw chaos, you just got out."
Brady also has experience of stewarding at Richmond Park and Lansdowne Road. He says there were controversial approaches to crowd management in the latter arena at that time as well.
"For the big matches, we used to have a rope that we used to push the people back in further to let more in. It was a disaster. There were no alleyways or anything.
"Five or six of us used to get 20 yards of a rope and push the people back up the terrace and more would come in and you'd do the same again. It was madness but that's what went on. Now it's all seated, so it's grand."
There was a sense of solitude however, amidst the madness in the Croke Park stands. Brady engaged in banter with the spectators and often witnessed fans from competing counties putting their rivalries aside to share sandwiches.
Over the years, due to tragedies such as the Hillsborough disaster, new measures were introduced to make crowd control much more manageable in Ireland.
Brady stresses how the new protocols emphasise the importance of crowd safety today.
"They brought in the all-ticket system for matches. It's all geared now towards spectator safety and making sure that everyone can get in and out safely. It doesn't matter whether you're nine or 90, the same kind of care is given to everybody.
"We have training for this job now once or twice a year. I'm a supervisor so we do more than most. We have meetings in different places and they're all geared towards what's expected of you (the steward)."
Brady has had plenty of interesting days donning the steward gear in Croke Park and beyond. Having just turned 71 — and provided he continues to find enjoyment in the work — he's eager for more days out to come.
"As long as I can walk, I'll do it."
The42 is on Instagram! Tap the button below on your phone to follow us!