Liveblog
Hello and welcome along to The42′s coverage of today's final Heineken Champions Cup pool games.
It's Munster v Exeter Chiefs at Thomond Park where a win for Johann van Graan's side will see them qualify for the quarter-final of the competition. Cian Roche will be guiding you through the live coverage this evening.
So, what do Munster need?
A win or draw will be enough for Munster to top the group
A defeat with a losing bonus & no winning bonus point will be enough to top the group
Defeat without a losing bonus point would mean they would finish second in the group because of their head-to-head record with Exeter.
Stay with us to find out as we look forward to the 5.30pm kick-off.
We'll have the team-line ups for you in the next few minutes as well as any changes to either side before the action begins.
As always, we want you to get involved in the coverage so simply post a comment below or send a Tweet to @cian_roche.
Enjoy the game!
Let's have a look at the teams…
No changes for either side as we're just 40 minutes from kick-off.
Munster:
15. Mike Haley
14. Andrew Conway
13. Chris Farrell
12. Rory Scannell
11. Keith Earls
10. Joey Carbery
9. Conor Murray
1. Dave Kilcoyne
2. Niall Scannell
3. John Ryan
4. Jean Kleyn
5. Tadhg Beirne
6. Peter O'Mahony (captain)
7. Tommy O'Donnell
8. CJ Stander
Replacements:
16. Rhys Marshall
17. Jeremy Loughman
18. Stephen Archer
19. Billy Holland
20. Arno Botha
21. Alby Mathewson
22. Tyler Bleyendaal
23. Dan Goggin
And for the visitors…
Exeter Chiefs
15. Jack Nowell
14. Santiago Cordero
13. Henry Slade
12. Ollie Devoto
11. Tom O'Flaherty
10. Joe Simmonds
9. Nic White
1. Alec Hepburn
2. Jack Yeandle (captain)
3. Harry Williams
4. Dave Dennis
5. Jonny Hill
6. Sam Skinner
7. Don Armand
8. Matt Kvesic
Replacements:
16. Luke Cowan-Dickie
17. Ben Moon
18. Greg Holmes
19. Mitch Lees
20. Sean Lonsdale
21. Jack Maunder
22. Gareth Steenson
23. Ian Whitten
Let's get you sorted out with some pre-game reading…
Ahead of today's game, Sean Farrell assesses Munster's performances thus far and asks whether Johann van Graan's side can see it out…
Whether backed into a corner or simply needing to apply a coup de grace, Munster tend to deliver when the finish line of the long slog through the pool is in sight.

It helps being at home, as they have been for five of the past seven seasons, but their execution in these scenarios continuously reveal innate hunger for Europe.

Since the scarring loss to Leicester in 2007′s round six, Munster have gone and won the last 11 pool finales.
You can read his full piece here.
It's got that 'big game feel', hasn't it?
Source: Bryan Keane/INPHO
Prediction Time
Who do you fancy to pick up the victory at Thomond Park this evening?

Did you catch the other results today from the Irish provinces?
Ulster make the quarter-finals after victory over Leicester Tigers at Welford Road.
Connacht, not to be outdone, snatched a late victory away to Bordeaux in the Challenge Cup.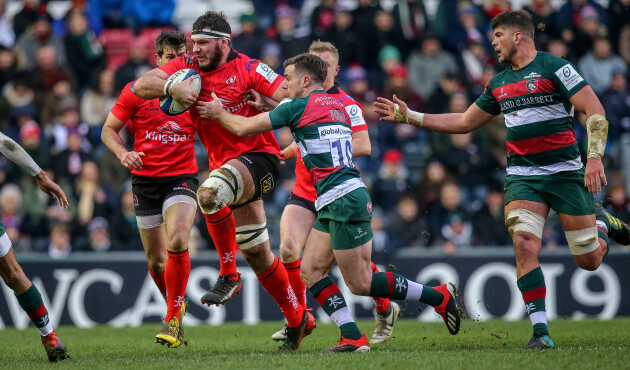 Tigers' George Ford with Marcell Coetzee of Ulster. Source: Gary Carr/INPHO
With two of the four Irish provinces having picked up a win, are we set for another clean sweep this weekend?
Shane Jennings gives his thoughts to Virgin Media ahead of this evening's game…
With 10 minutes until kick-off…
A whopping 90% of you are backing a Munster victory under the lights at Thomond.
We might be a little biased…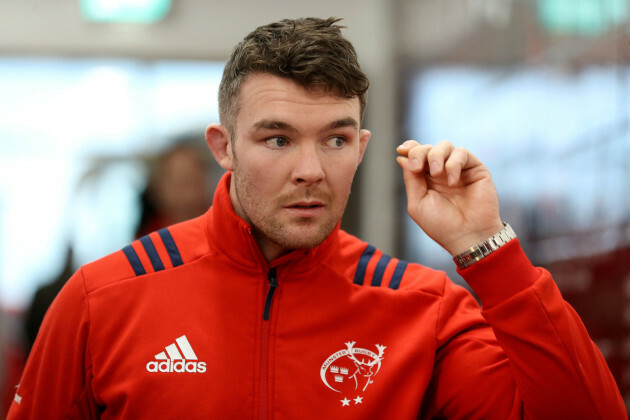 Peter O'Mahony ahead of tonight's game. Source: Bryan Keane/INPHO
Couple of Chiefs spotted ahead of kick-off…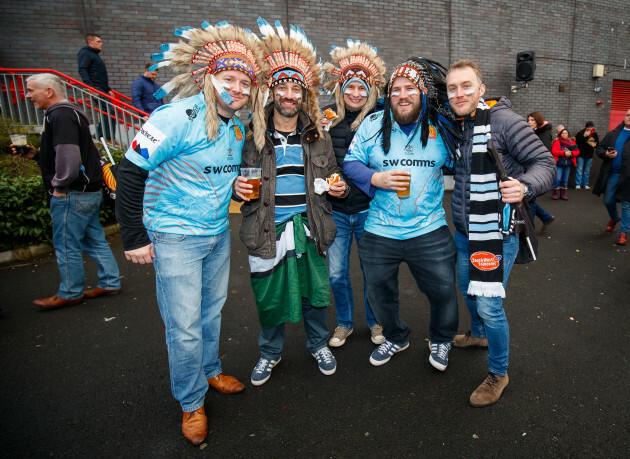 These chirpy visitors are hopeful ahead of tonight's game. Source: Oisin Keniry/INPHO
We're all geared up for kick-off
Any last minute thoughts? Get them into us – comment section below or you can tweet me @cian_roche
Here we go!
"It's nights like this I miss the privilege of pulling on that Munster jersey"
Alan Quinlan on comms says the atmosphere is electric…
Flag
1 Min: Munster 0, Exeter 0
Game on.
4 Min: Munster 0, Exeter 0
Good start from Exeter, very physical so far. They're probing the Munster defence looking for the gaps.
Joe Simmonds tries a chip through but gives away possession for Exeter.
Munster now have it. Murray box kick, ball is chased and Conway has his run checked.
Penalty Munster.
5 Min: Munster 0, Exeter 0
Munster put the ball in touch. Line out from Niall Scannell.
Ball is gathered by Stander. Maul is excellent, advantage given to Munster…
We come back for the Munster penalty. Excellent from Munster. So simple but very effective.
PENALTY! Munster 3, Exeter 0
Carbery splits the posts for the home side. Murray receiving some treatment on his shoulder – seems OK after a heavy fall on it.
12 Min: Munster 3, Exeter 0
Wonderful intensity at the start of this game.
Exeter have the scrum, first of the evening… Fields of Athenry rings out around Thomond Park.
We reset after the first attempt.
Munster win it but turn over possession out on the left wing… Exeter win the penalty – Scannell doesn't release and Munster penalised at the breakdown.
13 Min: Munster 3, Exeter 0
Exeter kick for touch and collect from their penalty. They maul and are camped just short of the Munster line.
TRY! Munster 3, Exeter 5 - Don Armand
15 Min: Munster 3, Exeter 7
Try is converted. Armand, Exeter's ever-present, makes Munster pay after some early pressure.
Came from Scannell's mistake at the breakdown. Relentless pressure on the Munster line, Armand finds the gap. Game on.
19 Mins: Munster 3, Exeter 7
Munster respond, but both sides sending the ball back and forth with their box kicks.
John Ryan chases one such kick and wins it back for Munster. Earls strides clear, but he's taken down.
Munster can't punish them however and fumble the ball. Exeter scrum.
22 Mins: Munster 3, Exeter 7
Exeter opt for a scrum – Munster produce a monstrous scrum! That was something to behold.
They win back possession. Carbery feeds, Farrell. Recycled.
Murray to Mike Haley. They can't make any more ground, but we come back for a Munster penalty.
Cabrery steps up.
PENALTY! Munster 6, Exeter 7 – Joey Carbery
24 Mins: Munster 6, Exeter 7
Munster cut the gap to just a single point.
As Quinlan points out, Munster haven't had a huge amount of possession in the opening 24 minutes but are punishing Exeter when they do get their hands on the ball.
Carbery makes it two kicks from two.
26 Mins: Munster 6, Exeter 7
Carbery attempts a tackle and seems to be holding his wrist a little bit. We'll keep an eye on that.
Exeter kick for the corner. Line-out for the visitors. They take their time feeding it in – penalty Munster. Those little pauses during the put in weren't tolerated by the referee.
What a good chance wasted for Exeter.
Some big celebrations after the games opening try…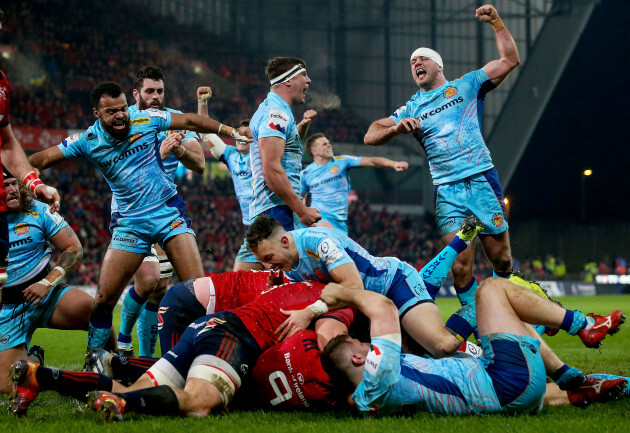 Exeter take the lead at Thomond Park. Source: Tommy Dickson/INPHO
30 Mins: Munster 6, Exeter 7
We've got 10 minutes to go until the break.
Exeter maul causes Munster trouble as the home side struggle to contain the Premiership side.
Armand physical in his collisions… But Tadhg Beirne wins the turnover. They needed that.
Carbery kicks to touch.
Here's the opening try of the game…
34 Mins: Munster 6, Exeter 7
Munster can't make any ground from the line-out.
Exeter opt for the scrum after winning a penalty.
Exeter dig it out and kick out wide. Munster end the attack after putting the ball into touch and then it all spills over – pulling, dragging, handbags whatever you're calling it yourself.
Short-lived, thankfully. Back to the game.
38 Mins: Munster 6, Exeter 7
It's frustrating for Munster. They're finding these little moments and the crowd erupts in applause, but somehow Exeter always seem to fish out possession.
The visitors will likely be happy to in at the break with this lead.
Exeter box kick from halfway. Haley collects but the visitors win it back… Munster living dangerously.
They win it back – neither side can hold on to this ball.
40+ Mins: Munster 6, Exeter 7
Munster look to run it from deep but end up giving up possession. There will be one last chance before the break as Exeter kick for the corner.
Can Exeter extend their lead?
Flag
HT: Munster 6, Exeter 7
Munster trail at the break. It's not been classic Munster, but they've done enough to stay in touch.
Carbery kicks two from two, but Exeter have the lead after Don Armand's try.
What did you make of Munster's first-half performance?
Without a doubt the moment of the first half…
CJ takes exception to the Exeter jersey.
Almost ready to get back underway…
What needs to change in this second half?
"Jesus, Exeter really putting it to Munster. Munster discipline is killing them. Great intensity," says commenter Anthony.
40 Mins: Munster 6, Exeter 7
Game on.
43 Mins: Munster 6, Exeter 7
Botha comes on for O'Donnell at the break.
Nervy start for Munster, Exeter win a line-out. Throw isn't straight.
We'll have a scrum.
Munster take it away with Scannell. Beirne charges through next. Then Stander takes up the ball and tries to barge over the Exeter line.
Munster making ground slowly but surely. Murray kicks at half-way. Jack Nowell collects for Exeter.
The visitors kick clear.
49 Mins: Munster 6, Exeter 7
Another series of kicks back and forth. No real fluency at the moment.
Simmonds causing Munster a lot of issues. The visitors quick in their ruck and aren't turning anything over – until Kilcoyne comes in and collects the ball.
Carbery kicks for touch. Now, Munster need to make them pay.
50 Mins: Munster 6, Exeter 7
Munster maul is good. They resist going into touch.
Murray inside to Scannell, he's brought to ground by Simmonds.
Conway knocks it on and Exeter win the penalty. It's error-strewn, nervous stuff from Munster.
Mitch Lees in for Dave Dennis (Exeter sub)
54 Mins: Munster 6, Exeter 7
Beirne with the block down from the box kick – but he's offside.
Exeter come forward with it. Simmonds to Devoto and then to O'Flaherty.
Murray tackle brings their attack to an abrupt end. Munster line-out.
Maul is good once again – kick is collect by Conway and the home side are pushing forward now.
Conway wins another kick! Claims it from the air. Kilcoyne gets away from the tackle.
They have a little bit of momentum building now…
57 Mins: Munster 6, Exeter 7
John Ryan comes off for Stephen Archer
Archer gives away a penalty pretty much as soon as he's on the pitch. Exeter again taking the pace out of the game.
Another period of the ball being back and forth once again. No scores almost 20 minutes into the second half.
Dan Goggin comes on for Rory Scannell.
61 Mins: Munster 6, Exeter 7
Munster begin to swarm. Earls and Conway leading the charge to try push for Munster's first try of the evening.
Murray collects the ball and darts wide. Just metres short. Turned over. Exeter kick for touch.
Closest Munster have been all game. Line out Munster.
O'Mahony collects. Maul goes down but they reset and push Exeter back.
Conway gets it wide and chips – looks like he has a bit of space! But he kicks into touch as the ball comes off the side of his boot.
It's just been one of those games…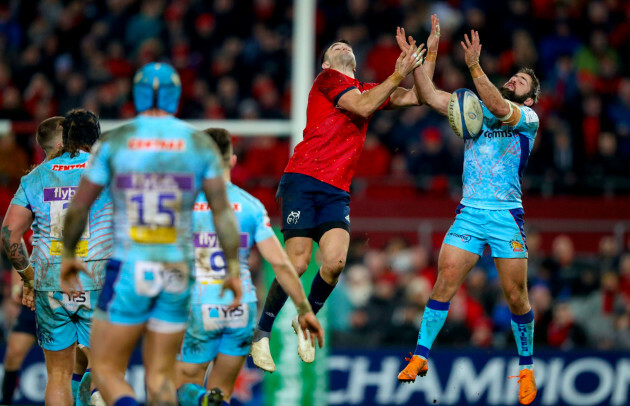 Conor Murray with Santiago Cordero contesting a box kick. Source: Tommy Dickson/INPHO
63 Mins: Munster 6, Exeter 7
Exeter can't really get out of their own half but they look comfortable enough on halfway.
They break up field with Slade and kick into the corner. Murray makes way for Matthewson.
Exeter ready to launch an attack from a dangerous position.
67 Mins: Munster 6, Exeter 7
Beirne wins the line-out for Munster. Super take from him.
Exeter win a penalty after O'Mahony penalises from the line-out.
Billy Holland comes on for Beirne.
Jeremy Loughman comes in for Kilcoyne.
Beirne shakes his head as he comes off… His replacement wins Exeter's line-out and there's a huge roar ringing around Thomond.
67 Mins: Munster 6, Exeter 7
That felt like a huge steal from Holland. Munster try and make ground from it – but Exeter win the penalty.
This is desperately frustrating from Munster. Exeter scrum-half Nic White has been wonderful this evening.
71 Mins: Munster 6, Exeter 7

We're into the last 10 minutes of the game. Munster penalty. 13/13 with their own line-outs.
Excellent stuff. Munster win another penalty. Do they take the points? They are. Carbery can put them ahead with an accurate kick.
They really, really need this psychologically.
PENALTY! Munster 9, Exeter 7 – Joey Carbery
73 Mins: Munster 9, Exeter 7
They really needed that. On that occasion, the decision making was spot on. Kick your points and go ahead.
Carbery's kick was never in doubt.
Exeter now need two scores to claim top spot in the group. There's been a lift around Thomond.
You'd almost forget that that was the first score of the second half, so you would.
76 Mins: Munster 9, Exeter 7
Munster now with the wind in their sails.
They win possession after some crunching tackles. Carbery kicks into the corner. It's taken quickly.
Exeter scrambling. Slade looks like he has a lot of room in front of him, he's grounded by Earls.
Earls concedes the penalty.
79 Mins: Munster 9, Exeter 7
Into the dying embers of the game now. Surely Exeter couldn't muster two scores at this stage.
Locked on halfway. It's grit, determination from Munster. They're doing their best to contain the visitors.
Nowell again involved – he's been excellent tonight.
Munster put the ball in touch – GAME OVER!
Well, that was not the easiest game in the world to watch…
Balls kicked back and forth, handling errors, poor decision making.
But, Munster never gave up and Carbery's boot once again guides them to victory.
Three from three in games like these make all the difference. Munster make it through to the quarter-finals as group winners.
"They've shown incredible character today," says Quinlan.
And, you know what? He's right. They squeezed by them today but determination to get something out of the game was enough for the win. The relief is palpable.
You can all breathe now.
Your thoughts from today's game?
"Jesus, my heart, played terrible,defended great but lucky to get win," says Martin McKenna.
"Holland big impact. Murray poor game which is a worry."
Game changer. Source: Tommy Dickson/INPHO
"Holland won that game with that steal," is the take from William Finnegan. "Great win which is all that mattered."
Here was Carbery's game-winning kick.
Before we go tonight, we'd be remiss not to bring you Sean Farrell's report from Thomond Park – so here it is.
Munster are currently in the home QF bracket, but should Leinster or Toulouse win tomorrow they'll be consigned to an away game in the first knockout round.
We can all dream.
Thanks for joining us tonight – we hope you enjoyed the game.
Bye!
Contribute to this story: