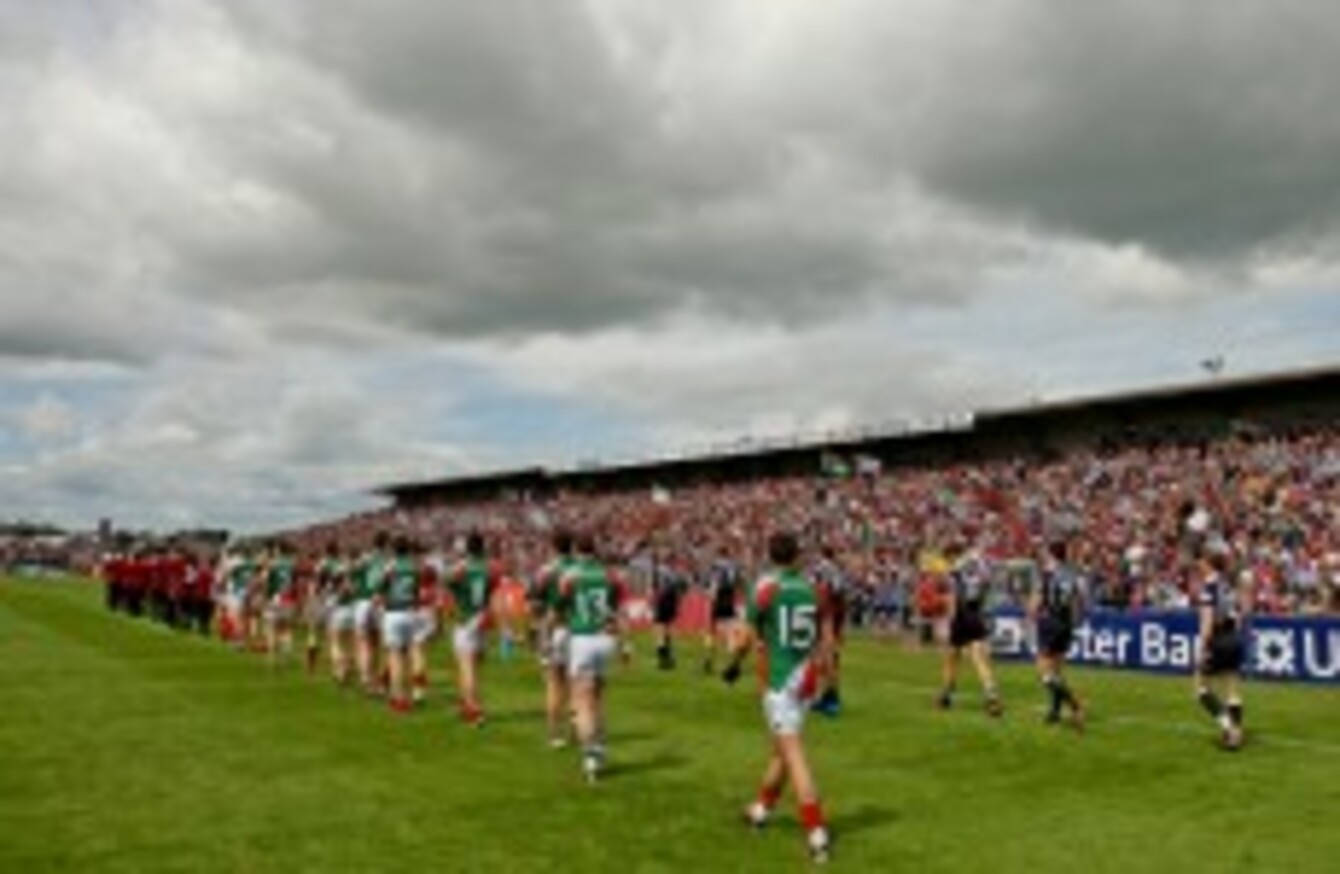 The Mayo and Sligo players walk out at Dr Hyde Park.
Image: INPHO/James Crombie
The Mayo and Sligo players walk out at Dr Hyde Park.
Image: INPHO/James Crombie
AS A RADIO broadcaster one should always be open to the newest developments in one's craft, so it was with an open mind that I approached Midwest Radio's Sunday morning output, which is the product of choice in my parents' kitchen at that time of the week (I can't speak for 7-10pm on weeknights, but I presume their attention is elsewhere on the dial).
I was back west for the Connacht final of course, and so as my breakfast accompaniment, I had a half-hour long interview… with a nun. Given the day that was in it, the only surprise was that Midwest didn't ask the nun in question how she thought the game would go. I'm sure she'd have told them that the seniors would have it tough, and Roscommon are flying it in the minor at the moment, but they never asked her.
That seemed to be the consensus view however among both the lay and ecclesiastical among Mayo's support, and it's exactly how it worked out.  Mayo were bad for large parts of the game, took the wrong option more often than not, and still managed to escape with a win. They say you learn a lot from a defeat, but you learn your fair share from scrappy wins like this too, and Mayo are into the All-Ireland quarter-finals, which is where the real fun begins for them.
If they're a serious team, they had to win yesterday, and they have to start hoovering up Connacht titles over the next couple of years.  They are by a distance the best team in the province, and they should be able to win the next 1 or 2 easily enough given the age profile of the team they have now. If they can do that, they give themselves more and more chances at Croker in August and September.
One thing that will really have pleased James Horan is the way his two wing-backs, Lee Keegan and Colm Boyle went upfield in the closing stages and kicked the winning points. Too often in the past Mayo have looked to Alan Dillon and Andy Moran to lead the way – but in Roscommon on Sunday it was the younger generation, and Aidan O'Shea in particular after his introduction in the second half, that seized the initiative.
Despite an off-colour day on the frees, Cillian O'Connor came into it in the last quarter too and showed the sort of leadership required. I also found out, courtesy of this parish, that O'Connor shares a house in Dublin with ELEVEN other students, including his opposite number for Sligo, Pat Hughes, who had to cry off injured just before throw-in. 12 lads in one house. The mind truly boggles.  I was tweeting about their rather outrageous living arrangements on Friday night, and 3 of the 12 apostles, as well as Cillian, were immediately in touch so watch this space… a 'Geordie Shore'-style reality TV show is surely in the offing.
If you could pick the last place for me to be the day AFTER Galway get dumped out of qualifiers by inferior opposition, then being stuck in the middle of 23,000 Sligo and Mayo people out celebrating their continued involvement in the Connacht Championship would probably feature pretty high up the list.
But that was the situation in which I found myself, after the chastening result that came in from Casement Park on Saturday evening. Another year, another heart-breaking one point defeat for Galway in the championship. And while you might say that all these one-point defeats that Galway have been suffering in the championship would suggest we're not too far away, it would be of more use to the Galway footballing public to try and get to the bottom of why we keep failing to come out on the right side of tight games.
In the final analysis Galway have pretty decent footballers, but no real leaders. In the middle sector we just don't have enough players willing to take on responsibility. And having gotten ourselves ahead through the efforts of Padraic Joyce, who had only been introduced 10 minutes from the end, we couldn't win consecutive kick-outs, possessions on which our entire season depended.
What are they
really like?
Rare insights on sport's biggest names from the writers who know them best. Listen to Behind the Lines podcast.
Become a Member
I was heading home after our live Saturday game, Tyrone/Roscommon anyway, so that night I went into Tuam and had a few pints to try and gauge the mood. There's absolutely no appetite for another change of manager, which is both obvious and also a relief, but there was a really down-beat mood; that we're a long way now from any sort of success. If there were a better manager out there, or if there had been some hints of discord in the camp, or if there were better footballers in the county not being selected, then, perversely, in some ways that would make it easier.  But that's not the case – which makes it all the more difficult to take.
But anyway, (ahem) here's hoping that (cough) Mayo can continue to lead the way for (swallows hard) Connacht football…
This Week Murph Was – feeling no sympathy whatsoever for the legions of folk who were left penniless by the bookies after a spectacular series of events this weekend.  Limerick beating Longford after extra-time had the look of an accumulator-buster from early on, but Laois beating Monaghan, Antrim beating Galway, Westmeath beating the handicap… there were a lot of people left looking very foolish indeed.