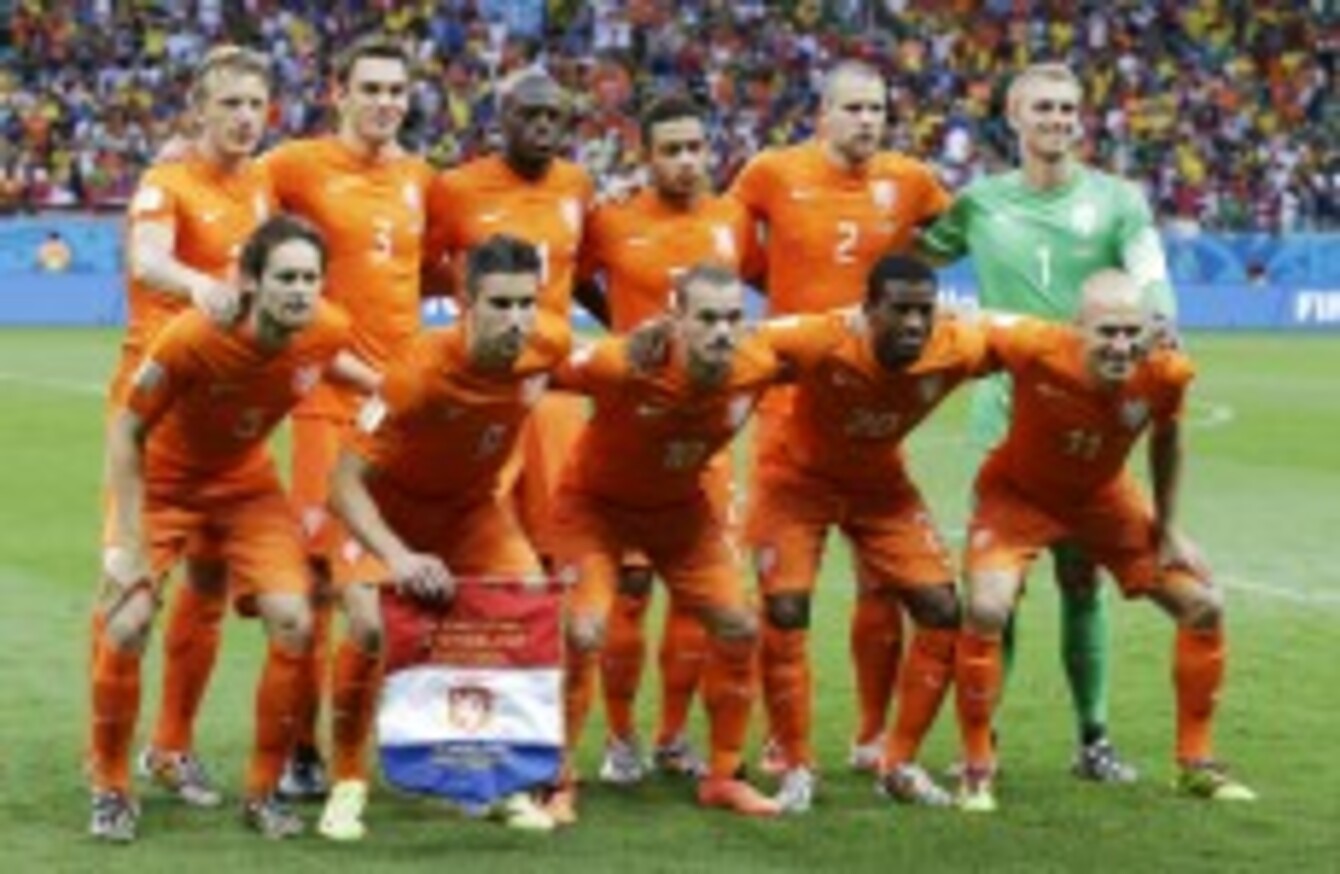 Image: Natacha Pisarenko
Image: Natacha Pisarenko
How many times have they won it before? Never, although they have finished runners-up on three occasions — in 1974, 1978 and 2010.
Predicted starting lineup v Argentina: Cillessen; De Vrij, Vlaar, Martins Indi; Kuyt, Blind, Wijnaldum, Depay; Sneijder, Robben; Van Persie.
Random fact: Before their back-to-back runners-up finishes in 1974 and 1978, the Netherlands had previously only qualified for two World Cups before then — in 1934 and 1938, failing to get past the first round on both occasions. Their barren spell would continue after 1978, as they also didn't qualify for the two World Cups thereafter.
What are their strengths?
In attack, they are extremely proficient, particularly on the break. Arjen Robben's speed and technical ability is something that few sides so far have been able to successfully stem, while Van Persie's footballing intelligence and ruthless finishing ability further elevates the Dutch team.
Elsewhere, there is a shortage of individual class, aside perhaps from Daley Blind, who has shown glimpses of brilliance with his impressive passing range, thereby indicating why he was chosen as last season's Dutch Footballer of the Year.
Yet the Netherlands remain extremely efficient as a unit, continually proving difficult to beat, and looking assured despite Van Gaal's regular tinkering with formations and personnel.
(Daley Blind is the reigning Dutch Footballer of the Year)
And speaking of the incoming Manchester United coach, he is perhaps the most tactically astute manager of all the coaches left in the competition, consistently showing a capacity to change games over the course of this tournament with his intelligent decision making, as was particularly evident in his brave decision to take Van Persie off against Mexico. The 62-year-old has also long been known for his maverick touch, which was especially evident in the last round, owing to his ultimately inspired move of bringing Tim Krul on in the last minute prior to the Netherlands' shootout success against Costa Rica.
What are their weaknesses?
Their midfield is not the strongest and lacks creativity. The absence of Roma's Kevin Strootman — who offers genuine ingenuity as well as the type of robust tackling that characterises the likes of Nigel de Jong's play — was a big blow to their hopes.
Their other primary source of creativity in midfield, Wesley Sneijder, hasn't had the best of tournaments, but has played in a deeper role in recent matches, growing more influential and generally performing better as a result. That said, even at just 30, he appears past his best, and looks a pale shadow of the player who lit up the 2010 World Cup with numerous goals and assists.
(There have been concerns about the Dutch defence's inexperience at the highest level)
Moreover, none of the other players tried in midfield, whether it be Georginio Wijnaldum, Nigel de Jong or Daley Blind, have shown an ability to dominate games, which was why the Dutch have generally preferred to play on the counter-attack, allowing their opponents considerable possession in the process. This lack of creativity was an issue against Costa Rica, who play a similarly defensive style, while Van Gaal's team were unusually wasteful in front of goal when they did get opportunities to score.
Elsewhere, while their defence has normally looked solid enough during this tournament, they have rarely been properly tested. On the one occasion where they did come up top-class attackers against Spain, although the final score was 5-1, Van Gaal's side were somewhat fortunate to survive a few difficult moments during decisive points in the game.
What is normally a back three of Ron Vlaar, Bruno Martins Indi and Stefan de Vrij often tends to play a very high line, which can be risky, particularly against attackers as clever and potent as Lionel Messi. In addition, though Martins Indi and De Vrij both have a good understanding, given that they play together on a regular basis with Feyenoord, they are both only 22 and lack consistent experience of playing at the highest level. Similarly, Vlaar, while he is a bit older, would hardly be regarded as a top-level centre-back.
Who is their star man?
(Arjen Robben has been the Netherlands' standout player during the tournament so far)
Prior to this tournament, it would have been a toss-up between Van Persie and Robben, but as excellent as the Manchester United striker has been at times, he has been overshadowed by his attacking counterpart of late.
Robben has made an impact in every game so far — even though he didn't score (not counting the penalty shootout) against Costa Rica, he was still a palpable influence in driving his team forward, and without the Bayern Munich star's telling presence against Mexico, the Dutch would surely no longer be in the competition.
Prediction
Runners-up. Van Gaal's tactical know-how and Argentina's lack of attacking quality apart from Messi should be enough to see the Dutch into the final.
However, assuming Germany beat Brazil, they may struggle against Joachim Löw's side, who are just as tactically astute as them, while boasting a technically superior midfield that may possess too much class to combat.
Look out for our similar in-depth look at Argentina later today.
This piece was originally published at 08.45 then updated at 16.25.