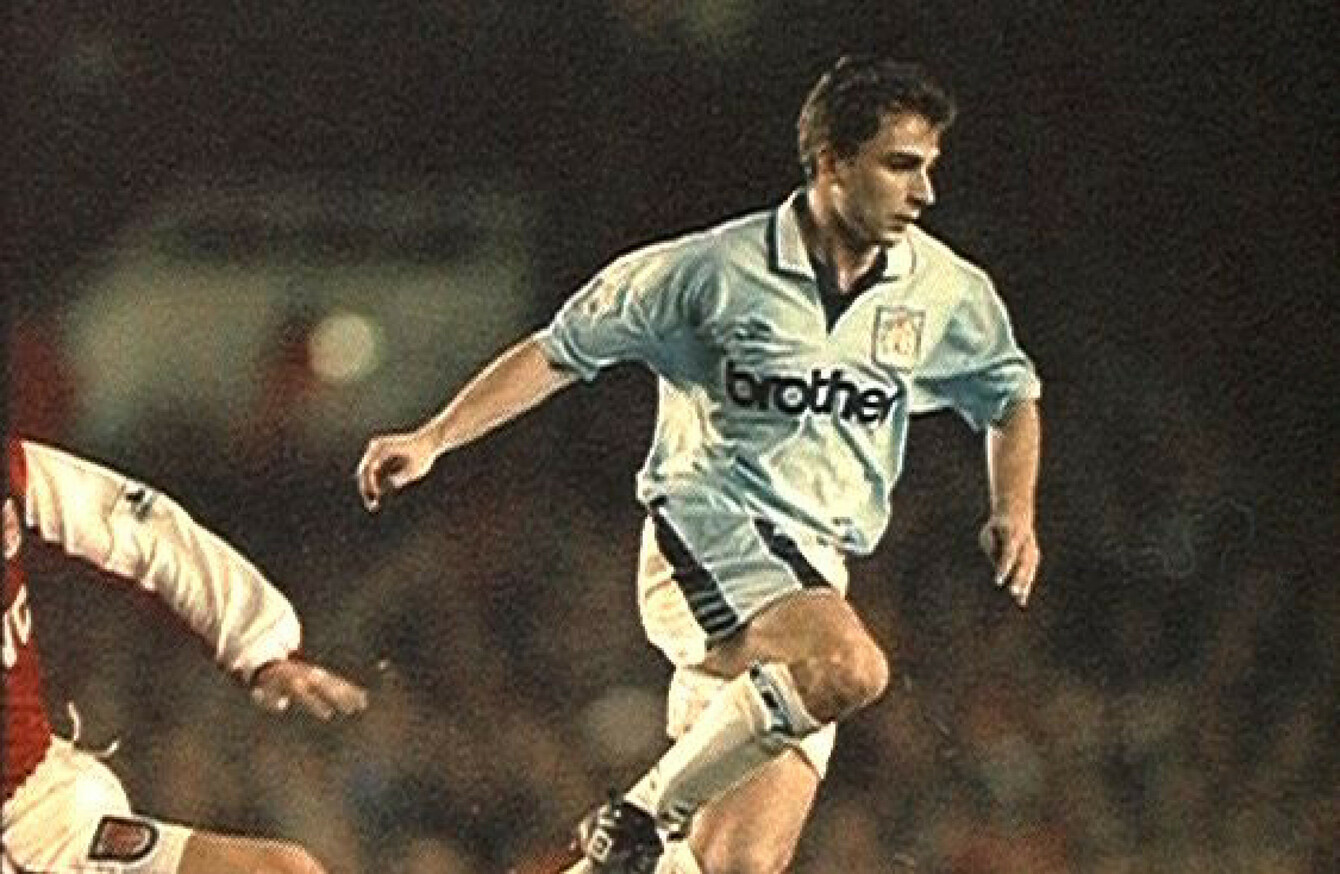 Georgi Kinkladze was a star for Man City in the 1990s.
Image: EMPICS Sport
Georgi Kinkladze was a star for Man City in the 1990s.
Image: EMPICS Sport
IT'S BEEN OVER a year since Niall Quinn analysed a game of football.
Last August, it was announced that the former Ireland striker had quit his role as a Sky Sports pundit to focus on a business venture.
Just over 12 months later, however, his return to punditry as part of Virgin Media Sport's line-up has been confirmed.
After time spent in the unusual position of watching sport as a fan, Quinn felt the itch to get involved again in a more official capacity.
"I've kept a very close eye on things, and you're drawn to it," he explains. "You tend to be sucked right back in, it's like a magnet. I enjoy it. The World Cup was something we all got a kick out of. We went into it with such low expectations, offset against this idea that Russia could not host a good World Cup. Yet they were phenomenal.
"And look, I didn't go looking for [a return to punditry], I got a knock on the door, but I was delighted to get it.
"I got the call a few weeks ago just after the World Cup, and I thought it would be good to speak to the guys. Then when I saw the momentum that's in place with this station, the seriousness of their efforts over the next few years to push this to a bigger place, that obviously was huge.
Then obviously meeting the people themselves. I was a little apprehensive because I thought, 'Okay I'm meeting these people, but I've stepped out of it so what will they think'. But I went to see them a couple of times and met the people who make it all happen behind the scenes; the people I have had great respect for when I worked elsewhere. They don't get any credit publicly, but I felt there is an energy and positivity here that it will be a great thing to be a part of. This isn't like digging a start-up business out of the ground, which I've been doing for the last year with sweat, blood, and tears, but this is something that is really buoyant and it was an easy decision to make."
Quinn's forays into the business world have not been without setbacks. A broadband company he set up encountered serious problems last year.
"It didn't quite end," he says. "We spun it out into a security business. We have a company now called Netcelero. We have a security offering for visual security that keeps the recording or the live visual shots of people breaking and entering regardless of whether wires are cut, or whatever. There are six different ways of keeping it on.
"We've been selected to go off to America with Netwatch. Netwatch have done a big purchase of security companies in America, and we are on that journey with them.
"[The broadband company] was QSat, we spun the security business out of that. I think we made two redundancies as a result of that, and moved everything over to Netcelero. We had an unfortunate demise, still not 100% clarified that it has ended. That's legal, and I don't want to go into it."
He continues: "I have a small business that I'm trying to make bigger. I haven't spoken publicly about it, but we have an e-commerce project that we have trialled in India and we are ready to push it to a bigger stage.
"It's a retail e-commerce project and it's gone very, very well. We've had a lot of backing from private investment. My job is to dig it out of the ground and get it into a platform, and we are on the brink of doing that, so the timing is good as well.
FanzFirst

[is the name]. Technically we are called Global E-Shop Solutions. So we build shops for people online, stock them with goods and organise delivery. We have a modern play on helping the world of retail, helping entrepreneurs and helping people who never thought they could have their online store. We can do that for them.
"Netcelero, I just sit on the board and don't have a day-to-day involvement. With Global E-Shops Solutions, I've driven that. I'm CEO of that and will continue to drive that until it reaches its potential. The hardest year in starting up in tech is your first year, and to be able to say we are going live in a global market having trialled in a large a market as India is progress.
"We will know our fate soon enough, when it does go live. My job was to dig it out of the ground, and bring in investment, to give the technology we have built an opportunity to go on a journey and we are 90% there."
Quinn is consequently confident he can balance all these responsibilities with his renewed career in football punditry.
"The timing is good [for Virgin punditry offer]. And it is only 15 minutes to go to Ballymount [Virgin Sport studios] from the office, so logistically it wasn't an issue. I wasn't going to go missing for two days on flights to go to games.
"I have a bit more work to do in the business to get it to where it needs to be, and I owe the shareholders that, and to bring it to its fruition. I imagine it'll get bigger, that's the aim. If it does, you are coming out of start-up and then it may be time for a more experienced tech CEO to come in and drive it. But I'll stay until that happens, at least.
"12 months ago I left football to do this. The foundations are dug out now, and I'd been finding a little too much time to play golf. I like working, I like jumping out of bed and doing things, especially if you love what you doing. That's the big plus of the Virgin Media guys coming in for me. I love football.
I have one piece of advice for anyone: if you have the opportunity to do something you love, and it is a slightly smaller fee than something you don't like, go where your enjoyment is at all times.
"I really enjoy the start-up world, I'm still in it and I still have some work to do. But football is like a magnet, I find it hard to resist it. I found myself going to games last year, which I hadn't done in a long time because I'd been involved and working with a club. So I headed off with a few friends and saw Aston Villa play, saw Fulham play, and went along to a couple of League of Ireland games."
More than a decade has passed since Quinn's acquisition of Sunderland with the Drumaville Consortium. In 2011, Ellis Short, the club's current owner, replaced the Irishman as chairman. Earlier this year, the former Arsenal forward was linked with another takeover of the Black Cats, but he ultimately decided against pursuing this opportunity.
"Some people interested in buying Sunderland approached me, and it was the first time I thought about it in five or six years.
"I compared the playing field now to the innocence of when we went in with the Drumaville Consortium, and that's 12 years ago now. The world has changed. The money is ferocious now. 12 years ago, we bought an incredible football club for less than the club paid for a left-back six years later. It's amazing to think that.
"The left-back didn't work out too well. It's so different now. Football is such a serious business now. If a football club is coming together now, it's not about having a football-inspired person leading the club, but a business person who is going to treat it as the most important business they have ever had. Someone who can be accountable for absolutely everything that goes on at that club.
"It's very hard for a club outside of that top six, seven in the Premier League to go in and make a long-term plan based on becoming a top six, seven club.
"In the old days, you could dream a little, and make it to the top eight. But top 10 is the holy grail now for too many clubs. So I haven't got any desire to get back in and do all of that."
Another dramatic change in recent times has been the rise of Manchester City. As recently as 1999, they were competing in English football's third tier, but now they are the dominant side in the country, having won three Premier League titles in the last six years.
"I was invited over recently and got a tour of their academy. It is a university in my book, it's not an academy. The infrastructure that's there: the physical infrastructure in terms of stadia… It's like landing in another place and looking out the window at these spaceships, which are actually mini-stadiums behind closed doors.
Stadiums for the senior team, the women's team, the U23s: and I'm talking about stadiums, not pitches. There are 14 other pitches there. There are probably more groundsmen than players. It's a frightening aspect of their attempt at world domination.
"When you compare: we tried to build an academy at Sunderland and it took us nearly six years. We got the planning permission eventually, and ultimately Ellis Short built it after my time.
"It was a long, painful slog to get it going. But with Man City, things appear to be growing and growing, the brand is getting bigger, they have their other clubs around the world. It's frightening. It's a truly global play."
Everything has consequently changed considerably since Quinn's days as a striker with the club. The Dubliner made over 200 appearances for City between 1990 and 1996, when they were nowhere near as dominant as they are today, and ultimately suffered the disappointment of relegation.
"When I look back: we weren't allowed to swap our shirts. We had a long sleeve and a short sleeve, home and away. After the last game, if you had done okay that year, you could give them away at the end of the season. Most of the time, they wanted to keep them for the reserves the following year.
"Our tracksuits were handed down to the reserves the following years. This was at the turn of the century. This isn't a hundred years ago, before colour TV and stuff.
Another thing: if you were a young lad at Man City and the kitman gave you another pair of boots, that was a sign that you were getting a new contract. That was a sign: 'Okay, you're staying another year, so we'll give you another pair of boots'.
"There was a cobbler nearby, and he was sent boots to stitch up and repair. Suddenly, guys started to get deals and so on and it became easier. It's just a mad world, for me, when I look back. I try not to look back too much as you can get caught up in it. You can just applaud what's happened."
In this new era of unprecedented financial might, cynics might suggest that for all their global power and increasing profit, some of the heart and soul along with the club's traditional values have been lost amid this rapid transition. Quinn, however, disagrees with this assessment.
"I think they've shown great respect to the history, previous teams and past glories," he says. "Each time a title is won, you see the likes of Franny Lee coming in… They really look after their ex players.
"I know Paul Lake, Ian Brightwell, people like that are given plenty of work, plenty of ambassadorial roles. They understand that it could be perceived as a buy-in for ulterior motives, so I think they have been keen to show that they are buying into everything that is good and great in the history of the club.
"I got a call out of nowhere at the back end of last season to come and appear pitchside with a number of kids, the day, I think that Aguero broke the record. Apparently, I was somewhere in the top 10, don't know how, that will tell you maybe how bad things were at City, but I was asked to be there and it was amazing to see how we were looked after.
"There were older people than me, people from the great City teams of the '60s and it struck me that these people care that at the very least, the order had been sent down to do this thing right and so with all the money coming in, there has been a softer landing.
They are giving the fans what they want: trophies, success, great players… It must be a thrill to go and watch David Silva play every week with all that he brings to the party. They had one in my time, Georgi Kinkladze, but it was a different time.
"You can see the pain that City fans had. They had this God that they looked up to in Georgi Kinkladze, but the team got relegated twice. They were clutching at straws in many ways, but now they have this flow of riches and flow of talent."
The42 is on Instagram! Tap the button below on your phone to follow us!