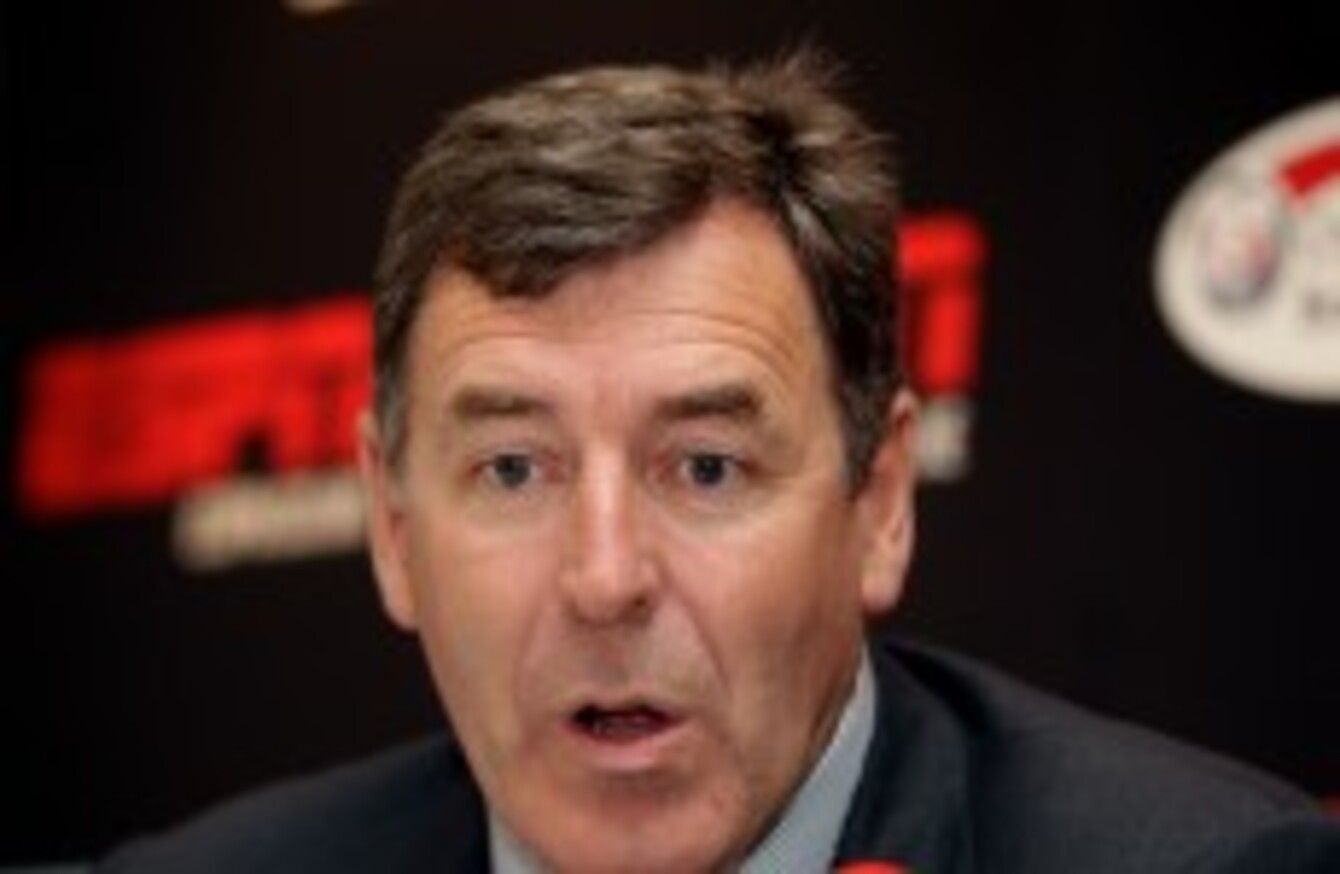 Packie Bonner feels Ireland should opt for Shane Long in attack against Germany.
Image: Cathal Noonan
Packie Bonner feels Ireland should opt for Shane Long in attack against Germany.
Image: Cathal Noonan
Updated at 18.16
PACKIE BONNER ADMITS Ireland have a "tough" task ahead of next week's vital Euro 2016 qualifiers against Germany and Poland.
Ireland host Germany on Thursday 8 October before travelling to face Poland three days later, and the Irish goalkeeping legend suggests they will come up against a better German team than the side they drew 1-1 with earlier in the qualifiers.
"I do think Germany is an improved team from when Ireland played them last," Bonner tells The42. "They've improved as the qualifying competition has gone on.
"In Scotland, they were superb. They still had a couple of levels to go in their own performance. They moved the ball so well.
"I think Ireland will have to defend really well against them. But Ireland have showed that they have a fighting spirit, they showed that they can get in and about people. If they can hang in there, they might get something out of it, but it's going to be very tough.
"I'd be more optimistic if Scotland beat Poland that [Ireland] could get a result out in Poland, funnily enough. It's the last game and Poland might be very nervous knowing that they have to win it."
Bonner also feels Martin O'Neill made the "right call" in bringing Shay Given back into the starting XI. Millwall's David Forde had occupied the number one jersey for a sustained period, but Given ultimately reclaimed the starting spot after coming out of international retirement.
"Shay's experienced. If he comes back, he's got to play," Bonner says. "He's a communicator. If there was a really outstanding young goalkeeper, I think he would have stuck with him and let Shay nurture him. Fordey's done well — he's not let us down. But Fordey's not a young goalkeeper."
Nevertheless, Bonner feels O'Neill might be best advised to place faith in another youngster at the expense of one of the team's more experienced members.
(Martin O'Neill will likely choose between Shane Long and Robbie Keane up front in Ireland's upcoming clash with Germany)
Robbie Keane's goalscoring prowess will always make him an invaluable squad member, but Shane Long replaced the record goalscorer at half-time of the recent match against Georgia and subsequently impressed up front.
"Robbie will score goals given the opportunity. But there's more to centre forward, especially if you play up on your own. You've got to work the centre-halves, you've got to run the channels — that's not Robbie's game at the moment.
"We need him. We don't have that many goalscorers. I would like to see Robbie maybe coming off the bench. He would bring fresh legs and sharpness.
Be part
of the team
Access exclusive podcasts, interviews and analysis with a monthly or annual membership.
Become a Member
"Let [Shane Long] do the hard work. Shane's a different type of player — he's good in the air, he runs the channel well. Keep Robbie fresh to come on and score the vital goal in the last 10 minutes."
He also says that the Irish team and supporters should "move on" from the Jack Grealish saga after the youngster confirmed his decision to declare for England during the week.
"Jack's gone through the [Irish] system so there's probably a disappointment in terms of the international managers that handle him that he's made the decision to go with England at this late stage, but that's happened with us and Northern Ireland. It's a common thing in the game — people do move across.
"Will he get a game for England? I'm not 100% sure. Would he have developed better in an Irish system? Possibly. But he's only a young boy learning the game and at the end of the day, move on. I'm glad the decision's made now and we can focus on someone else."
Source: sp1873/YouTube
Though he didn't play in the match itself, Bonner was part of the last Irish squad to beat Germany in the run-up to the 1994 World Cup, with goals from Tony Cascarino and a deflected Gary Kelly strike earning the Boys in Green a morale-boosting win. They also beat the Netherlands just prior to the competition, in addition to earning a famous 1-0 victory over Italy in the group stages. Was there a feeling of invincibility in the squad around that point?
"Probably, but that took a long time to change," he says. "When you think back to the early 80s, that period was difficult and it wasn't in our psyche to win games away from home. Jack [Charlton] came in and changed the level of confidence, once we got a few results [away from home].
"That confidence then touched the younger group of players — the likes of Jason McAteer, Phil Babb and Gary Kelly believed that they could take on the world. That was the legacy of the group and the stuff we did. Those young kids had no fear and Jack instilled that in them. He made it simple and gave us confidence, and the game is about confidence.
"It was a simpler time. There was no real analysis done. Yes, you had to point out one or two things about the opposition, but we kind of knew the opposition anyway, because most of us had played in European football.
"You were coming up against these players on a regular basis. I knew [Holland] through playing Ajax. But now, everybody knows everything about everybody. So there should be no fear for everybody stepping out into an Irish jersey."
This level of European experience is one crucial attribute that Bonner feels the current team are lacking.
"They were playing with bigger teams. Look at the Leeds lads — Gary Kelly and Ian Harte — they were playing in the Champions League. International football is absolutely important for ourselves and Northern Ireland, now that we don't have that.
"It's important to allow those players to get a platform, hopefully qualify, take on the world and tell these clubs that they're good enough to play Champions League. There are too many foreigners coming in that we don't know anything about. You're looking at them and saying our guys are as good but they don't get the opportunity."
Packie Bonner will be signing copies of his new book 'The Last Line' at Eason O'Connell Street, Dublin at 12pm tomorrow. A further interview with Packie on his time with Ireland will be published on the site tomorrow morning.
Originally published at 17.09