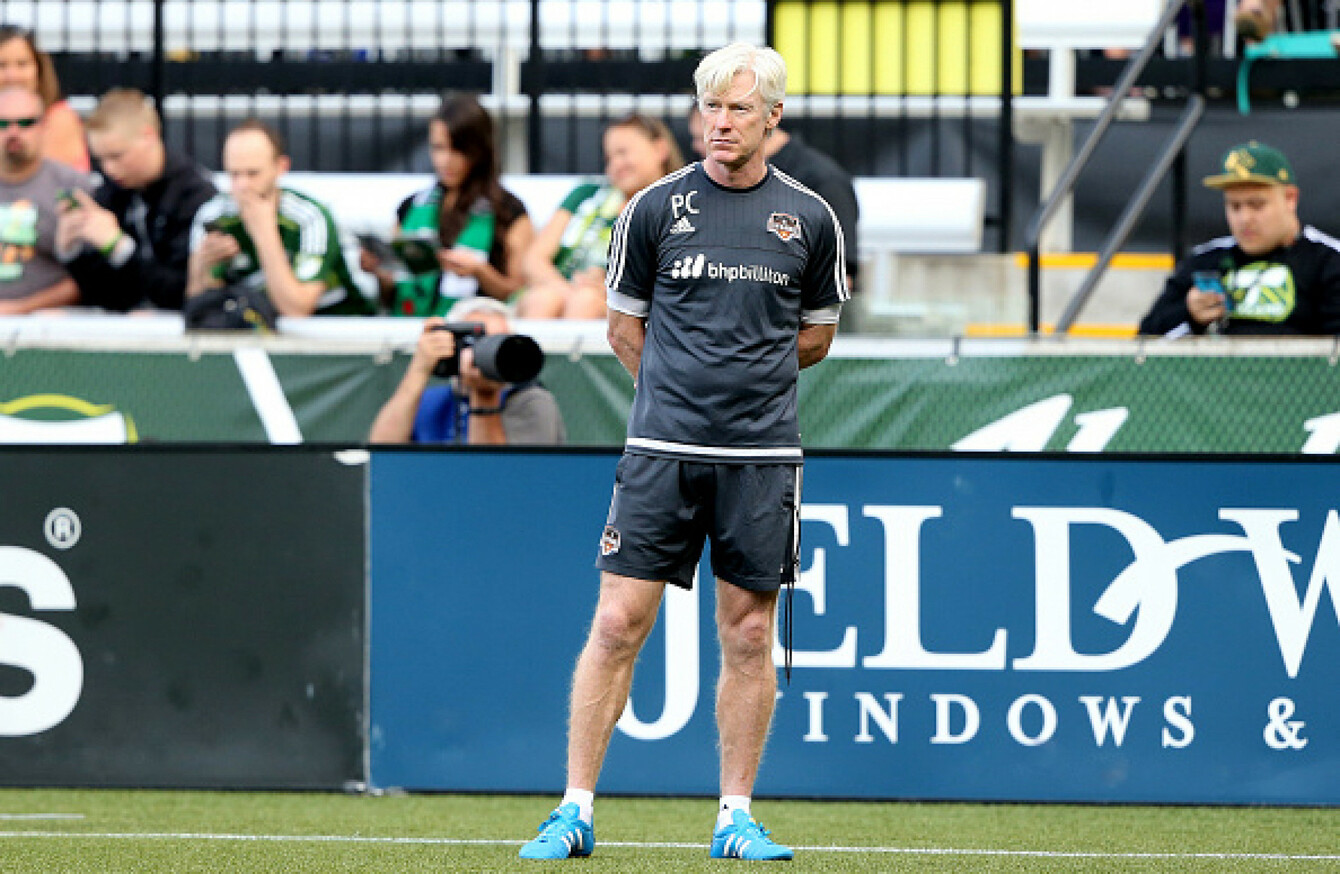 Image: Icon Sports Wire
Image: Icon Sports Wire
IT'S OVER 34 years ago now but Paul Caffrey remembers every second clearly.
"It was Roy of the Rovers that day and it was all downhill after that," he says, wryly.
UCD had won the FAI Cup months earlier but were drawn to face heavyweights Everton in the first round of the European Cup Winners' Cup.
In the first leg at Tolka Park, the Students dug in gamely, delivered a resolute defensive performance and conjured a magnificent scoreless draw. Still, the general consensus was that Howard Kendall's gifted side – boasting the likes of Neville Southall, Peter Reid, Trevor Steven, Adrian Heath, Paul Bracewell and Graeme Sharp – would win handily back on Merseyside.
Sharp netted after just 10 minutes and it looked like the pre-game predictions would ring true. Except, Everton couldn't pull clear. They struggled to create chances and when they did, goalkeeper Alan O'Neill was there to keep UCD in the tie.
Then, late on, the guests – sensing the possibility of a shock – went for it. Off came Paul Roche and the blonde-haired teenager Caffrey, wearing number 12 on his back, was introduced.
"I got about 20 minutes, I think."
Graeme Sharp scores for Everton against UCD pic.twitter.com/SocoI4AJVz

— The League Magazine (@Theleaguemag) October 29, 2013
"Kevin Ratcliffe was their centre-back and I remember picking the ball up in midfield and seeing him and Mountfield in front of me and I'm thinking, 'This guy is like greased lighting – I'm not taking him on'. And I wasn't the slowest, y'know? So I ended up taking a shot and it hit the top of the crossbar. Later, they credited it to Joe Hanrahan and he even said years later that it wasn't him. It was an unusual one in that Southall probably would've got to it easily if it was on target. But it hit the frame. Later, I went down the left and chipped in a cross for Ken O'Doherty, our centre-back, who went close with a header."
Everton held on and enjoyed a spectacular season, winning the First Division title and only missing out on a domestic double thanks to Norman Whiteside's winner for Manchester United in the FA Cup final. But, in between, they were crowned Cup Winners' Cup champions too, beating Rapid Vienna in the decider.
"We were the closest team to knocking them out," Caffrey says.
"And that was a huge moment for me. I was only 17 and had been capped underage for the Republic of Ireland too. So, from a football standpoint, it was a great year."
That Everton game represented a bit of a metaphor for Caffrey's playing career: close but not close enough.
At the end of the season he signed for Bohemians but struggled for game-time. He spent most of his brief spell at Dalymount growing increasingly agitated at his lack of minutes while salivating at the talent of Jackie Jameson.
"He was a different character in terms of his personality – a type I hadn't come across or been around when I was growing up and playing in various leagues," Caffrey says.
"He kept himself to himself but, Jesus, the quality was truly remarkable. He was very quiet and unassuming and I don't think I ever heard him raise his voice or have a bad word to say about anyone. But on the field he was a beast. You'd marvel at how effortless some of the games seemed to him. He was on a different level personally but also as a player."
When the opportunity of a scholarship to Adelphi University on New York's Long Island presented itself, the timing seemed right. Caffrey was young and eager to play. But it was also Ireland in the mid-1980s and he was being offered a way out.
"Growing up, you always watched the shows and saw the movies and thought about what America was like," he says.
And there's the immigrant tradition too. Around this time – 1985/1986 – it was very hard for people my age to get a job. The economy wasn't the best. So I went over and the first year I didn't really enjoy my time there. I still wasn't at the place where I called myself an academic. Instead, I was someone who was pursuing an opportunity. So, after three months I went home for Christmas and brought all my stuff back with me. I was saying, 'This is shite – I'm not staying here'. And I saw all of my friends – some were working and some were struggling – and I said, 'Right, if nothing else I can always come back to this'. So I gave it another go and went back and little by little, the penny started to drop. I always knew education was important and I always had done enough to get by. But it got to the stage where I had to get serious and I got better. My grades picked up and I ended up with two Masters degrees."
At Adelphi, Caffrey blossomed and was named the university's Male Athlete of the Year in 1991. He was a natural captain and is a well-known alumnus, having been inducted into the school's Hall of Fame in 2008.
"My experiences – playing in Europe with UCD, being at Bohs, playing with men – some of the other guys didn't have that so it was easier for me to be a leader. As a sophomore, I was already captain. I was a bit older too – I was 19 when I started so I wasn't a true freshman. And three out of four years we reached the playoffs."
You're in New York which is easier. When I came out of JFK and out of the doors and it felt like I was walking into an oven, I was like, 'Jesus, how am I going to play in this heat?' But you get over that pretty quickly and the college environment is a very supportive one and it's a pretty sheltered one. You have a brotherhood right away. You have an identity on campus already. And that can shelter you. Also, in Ireland you had to be really serious about your studies by the age of 17. You had to know what you wanted and what you had to get in the Leaving Cert and you had to be able – on some level – to support yourself also. But in the US, you had a bit more time to figure it out, to be mature about your decisions and there's a benefit to that." 
"It started to feel more like I could flourish there. I studied Physical Education and it was very difficult to get a degree in that in Ireland – many people I knew had to got to St. Mary's in Twickenham. So it wasn't that easy. The options were greater for me in the US than Ireland and the passion for football wasn't enough for me to secure a future. I was involved in coaching youth teams but I'd become more serious about my studies because it was a way of staying permanently in the US."
At the time, the professional football environment in the US was vastly different to what it's like now. Major League Soccer didn't start up until 1996 so it made sense for Caffrey to invest in academia rather than chase a pro career.
"There were so many indoor leagues around and I was offered a contract by Tacoma and it was 24,000 per year – not enough when you were trying to support yourself," he says.
"Sometimes it was indoor, sometimes it was outdoor. I was still getting my fix with teams like Brooklyn Italians and some top players like John Harkes and Tony Meola were playing with us. It was still the best league around and you were training with these guys during the week and getting a few bob as you were doing it. But you weren't going to make a living from the game. Education was going to be the way for that. And then once I had the education and then the leagues started to develop, then there was more opportunities and the opportunity to make a living started."
Caffrey picked up his MBA in 1994 and added an MA in physical education in 1999. Shortly after, he took over as coach of Suffolk Community College but it was 2007 when he got his big break and stepped up as assistant coach to the United States U-17 side and worked alongside former Colombia international Wilmer Cabrera.
"I took the road less travelled when I came to America in terms of going into football full-time because I was a tenured assistant professor which is a good job and safe job and good money," he says.
"But I had the chance to go and work with the Under-17s and my wife said, 'Listen, I'm not fortunate enough to truly have a passion for anything like what you have for football so we should do it'. And we did it and we're still here now. And that's carried over since I was a kid.
There's a lot of stress and pressure but it's in my blood and that's why I'm still in the game now. This is where I belong. You can't get away from it. Growing up, you went out in the backyard and kicked a ball around. Rain, sun, hail – you were out there. In school, you had a Coke can, squashed it into the ground and played with that. Or it was a tennis ball. Whatever you could get, you played football. It was just in you."
It was January 2012 when Cabrera and Caffrey both joined the coaching staff of MLS side Colorado Rapids. Two years later, when Cabrera was appointed boss of Chivas USA, Caffrey joined him as assistant. But by the start of 2015, Caffrey was on the move again and was hired by Houston Dynamo, where he's remained ever since as Head of Performance.  
Be part
of the team
Access exclusive podcasts, interviews and analysis with a monthly or annual membership.
Become a Member
In late-2016, the old team was reunited as Cabrera arrived as manager.
"I definitely wanted to play pro football and that didn't really work out but still, with all the time and effort I've put in, the game has given back to me," he says.
"It's been a gradual process and I never would have dreamed of being here, though it wasn't necessarily a dream of mine either. It was a product of the work I put in and taking the opportunities presented to me because of the work I put in. And then you have to make a decision: do I stay here or go somewhere else? A lot of people are in situations that they don't want to be in but they don't have the wherewithal or the balls to go somewhere else. But I've never been afraid of that. I had a cushy job – tenured for the rest of my life, making good money – and I left that for a passion of mine.
But, I had a very supportive wife who was on board and the reality in this game is that your bag is always half-packed. You can't go anywhere and unpack totally. The average contract is three years and you and your family have to be willing to be on board with that because there's a lot of stress. You've got to live it and be able to handle it. Some guys in this game want to be here for the glitz and the glamour but after a year-and-a-half or two years of the stress, it finally takes its toll and they're gone."
The Dynamo have been crowned MLS champions in 2006 and 2007 and finished runners-up in 2011 and 2012. But, the last number of seasons have been mixed. Since 2014, they've only reached the playoffs once and that was last year when they made it to the Western Conference final. The current campaign has been tough (languishing 10th from 12 teams in the conference table) and they won't make the postseason.
Still, it's another reminder of how competitive the league is getting. Expansion continues, attendances increase and it's in stark contrast to how things were even a few years ago.
"Up until two or three years ago, you were saying to yourself, 'This league could just go at any moment' because others have in the past," Caffrey says.
"But the management group have done a great job at – step by step – building this league to a sustainable level. You see some of the resources at Premier League clubs sometimes and what MLS teams have is far superior – you look at the likes Kansas City, Atlanta, Toronto, LAFC, Seattle – some of the facilities they have are just outstanding. And then the crowds…even Minnesota…some are saying they're going to have 50,000 at their last home game this season and that's a team that may not even make the post-season."
Late last month, Houston beat the Philadelphia Union to claim their very first US Open Cup – the North American version of the FA Cup – and ensure qualification to the 2019 Concacaf Champions League. It was the franchise's first major trophy in 11 years and for Caffrey it was a small reward.
He's not one to dwell too much on the past but with the victories come some vindication.
"The longer you spend in the environment, the more that becomes the environment you're more comfortable in," he says.
"The fact I was born and grew up in Ireland is a massive thing that never goes away and it's great to go home and visit. But I feel I'm better suited to this place. I couldn't really work in pro sports or make a living from being with the youth national teams – I probably would have had another job. I just became a little more suited to this. But if America played Ireland tomorrow, I'm shouting for Ireland. The other day, we're watching the Ryder Cup and my wife goes, 'You're losing' and I'm like, 'No, you're losing – I'm winning'. It's always a big part of you. If the US is playing anyone else, I'm supporting them but if you ask me who I am…I'm Irish."
The42 is on Instagram! Tap the button below on your phone to follow us!