EARLIER THIS MONTH, Cobh Ramblers got the better of Wexford FC in the first round of the EA Sports Cup in Ferrycarrig Park.
The game finished scoreless and extra-time followed. Still, neither side could find a breakthrough. So, the game went to a shootout.
18 penalties were taken and Cobh goalkeeper and captain Paul Hunt managed to save two of them to help secure an 8-7 sudden-death win for his side and ensure their place in the next stage of the competition.
Later, as the team bus made its way back to Cork, Hunt posted a message on Twitter.
It was a stark reminder of the realities of League of Ireland football, particularly outside the top division.
When we chat, Hunt has just landed in Dublin ahead of Ramblers' clash with Shelbourne. It's been another long work day followed by a bus trip. But he's well used to it at this stage.
"I deliver linens to hospitals and hotels and nursing homes," he says.
"Physically it's tough – it's a lot of pushing heavy sheets and trolleys. I wouldn't say it's taxing on my body but, at the same time, you have to listen to what your body tells you. If I need a rest or to need to take the day off from going to the gym then I will."
5-1 in work followed by bus to Wexford, 120 Minutes and a penalty shootout, home for about 1 to be back up for work at 4. Ladies and gentlemen welcome to playing LOI football #whatotherwaywouldwehaveit

— Paul Hunt (@hunty_1) March 13, 2018
There are no shortcuts for Hunt and no lax work schedule. If he needs time off to travel for a game, he has to put in the hours earlier in the week.
"On a Thursday, I'll have to do what I would do on a Friday," he says.
"So, I'd get up at about 4am and then start work at 5. I'd work straight through until about 3.30 or 4 o'clock that afternoon so that I can get off earlier on Friday. On a Friday – if we have an away game – I'd finish up at about 1pm just so I can get to the bus for 1.30. Heading to Dublin wasn't bad. I got a good sleep on the way up. I was in an hour later this morning and I got an early night too."
The Wexford game was on a Tuesday night. Just three hours sleep before the day begins again. Surely it's a struggle to recover the body properly?
"It's alright,"Hunt says, almost with an implied shrug.
"We're on a bigger bus so we can lay across the seats a little. You'd be sore the next day but a bit of gym and foam-rolling and the recovery we put in place and it's okay for the following week then."
Hunt is in his third season at St. Colman's Park and was named the club's Player of the Year for 2017. The 27-year-old, who cut his teeth at Bohs and St. Pat's before a five-year stint with Longford, admits the initial move south and the early days of the job took its toll.
"When I first started in Cobh and first got the job, it was a tough balance," he says.
"You struggle. My body clock has adjusted a bit. The days when we're not training I try to get to bed early. I'm used to it a bit now but there are still some weeks when you feel exhausted and you're just looking forward to the weekend."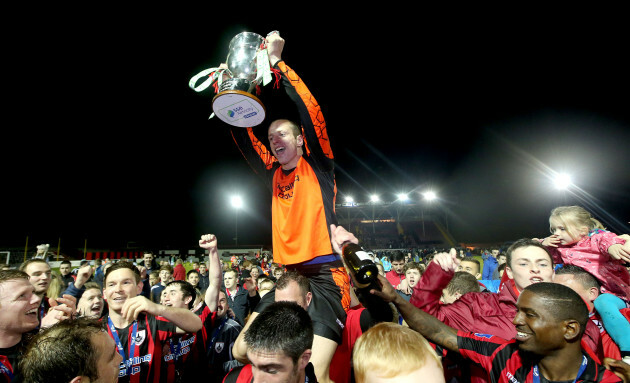 Ryan Byrne / INPHO Hunt has already tasted First Division glory with Longford Town back in 2014. Ryan Byrne / INPHO / INPHO
But, that's the other contrast.
When Hunt is finished a work week, he still has to reenergise and refocus and prepare for an intense 90-minute game. He has to get in the right physical and mental space so he can peak on a Friday evening. Easier said than done when you've been up since 4am.
"You have to sacrifice a lot to play in this league, especially the First Division," he says.
As everyone knows, the wages aren't there to support you. There are lads in full-time jobs here, some are teachers, others are in college. So, there's a big sacrifice and you need a partner to understand that too. I'm married now as well and you can't be going to bed at 4 o'clock the day after a game either because you have to make time for your partner. And the same goes for the other fellas who have girlfriends. I think back to the game against Wexford and that was a long week but it could be worse: I could not be playing sports. I could not be able to play sports."
As a goalkeeper, Hunt is also a different breed. He's part of a select group where resilience is a pre-requisite. Nobody remembers a save but everybody remembers a mistake. So, from an early stage of development, a goalkeeper's mental strength is honed and cultivated.
"I think most goalkeepers need to be strong characters because in some games you can be busy and it's fine," he says.
"But there could be other games where you could be doing nothing, be 1-0 up and then you have to make a save. You have to keep concentrating all the time. If something goes wrong or if you make a mistake – which we all do, we're all human – you have to be able to switch back on and forget about it. Which isn't always easy. The more experience I've got, the more I've learned to deal with it and handle it better."
It's no surprise that his manager is also part of the same union.
Stephen Henderson has that doggedness and grit, as Paul Dollery of this parish found out last month. Unsurprisingly, he's been a key influence on Hunt.
"I really enjoy working with Hendo and I think it helps that he's a goalkeeper too," he says.
"He understands the role and he's up for work early too. He's doing another job along with the football. He understands the sacrifices as well. It's not like he's not doing it. But, all the people around Cobh Ramblers are excellent. I love it here. It's a club on the way up.
When we were younger, we all wanted to play at the top level. And for some of us, that's the League of Ireland at the moment. That's where we're willing to play and why we're willing to sacrifice so much to do it."
The42 is on Instagram! Tap the button below on your phone to follow us!