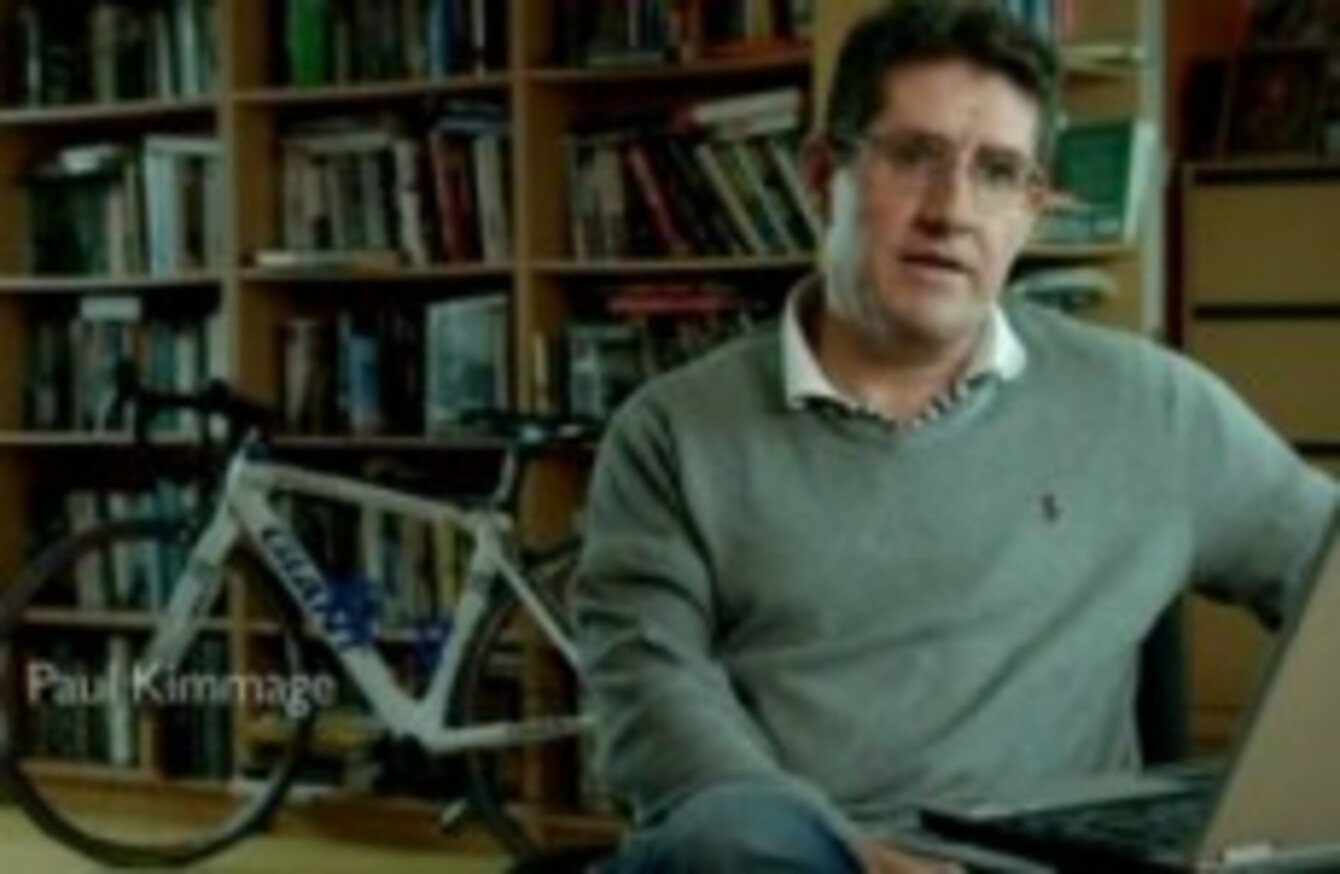 Paul Kimmage: funds were raised for legal battle.
Image: Vimeo
Paul Kimmage: funds were raised for legal battle.
Image: Vimeo
PAUL KIMMAGE ADMITS he was plunged into a 'black hole' this week when he learned that thousands of dollars of his legal defence fund are now seemingly unavailable to him.
The money was donated by cycling fans around the globe to help the Irish journalist, when he was faced with a defamation case against UCI chief Pat McQuaid.
Questions were raised about the fund in recent days however as it emerged that up to $65,000 had allegedly been moved from a PayPal account by a fund administrator.
"It's been, in a word… devastating is a very strong word but I've spent the past few days in a black hole," the award-winning writer told Matt Cooper on Today FM's The Last Word this evening.
"Ah… unsure of whether I wanted to have anything to do with cycling again. Very, very upsetting yeah. Because something that had been set up and had been so positive to turn so negative has just been very hard to take. I just feel my life has turned into a bloody circus act."
Having lost his job at the Sunday Times, Kimmage admits he was left vulnerable in the face of the battle with former friend and now world cycling boss McQuaid. But when almost $100,000 was raised by supporters throughout the world, he vowed to fight the case.
McQuaid and the sport's chiefs have since suspended the action but Kimmage was urged to use the fund to go on the attack. He talks about it here, 4 minutes in or so:


Last weekend, Kimmage admitted on RTÉ radio that last year had been the toughest of his life. Then he got more bad news when he left Montrose.
"I walked out of the studio with Marian Finucane on Saturday and there an email on my phone from Lesli Cohen who was one of the people who was responsible for setting up the fund for me," Kimmage said on Today FM earlier.
"She said she she had some serious concerns about where the money was. And that if she didn't get to the bottom of that she would be issuing a statement disassociating herself from the fund. So I called her when I got home; I asked her what her concerns were and she directed me to Aaron Brown, who was a partner with her in Cyclismas. That was one of two websites that set the fund up initially and they essentially took over the running of the fund. So she directed me to Aaron Brown, who had been in my house a week earlier.
"And I called Aaron and my first question to him was: Have you been using this money for your business. And he said no. So I said fine, okay, we need to get to the bottom of this. I need a statement showing me all the details of where the money has gone etc, etc… and he said grand. And this was late Saturday and by Monday I still hadn't got the statement.
"He'd given me a blank PayPal sheet with $64,000 under his name. And I said that's good to know, buddy; I need details of the payments that were made from the account and again he said he'd give that to me. And I said in the meantime, I need you to transfer that money to a neutral account and two days later I hadn't got the statement and he was refusing to  transfer got the money. And that's where we are now, I contacted a couple of reporters and said we've got some problems here."
Brown who runs a parody Pat McQuaid account tweeted: